The final chapter is almost written. As Drew Brees enters his 20th and possibly last NFL season, he does so with arguably the best team he's been around since 2011. After three straight playoff heartbreaks, the window is closing on Brees' dreams of a second Super Bowl title. Already on a Hall of Fame trajectory, the Texas native has reinvented himself at the twilight of his career. With the Saints wallowing in perpetual mediocrity following three straight 7-9 seasons, all Brees did was become one of the most efficient passers in NFL history. From his footwork to his accuracy to his decision making, he has embraced his physical limitations and become the quarterback equivalent of a metronome. It's simply stunning.
[Editor's Note: PFF's advanced statistics and player grades are powered by AWS machine learning capabilities.]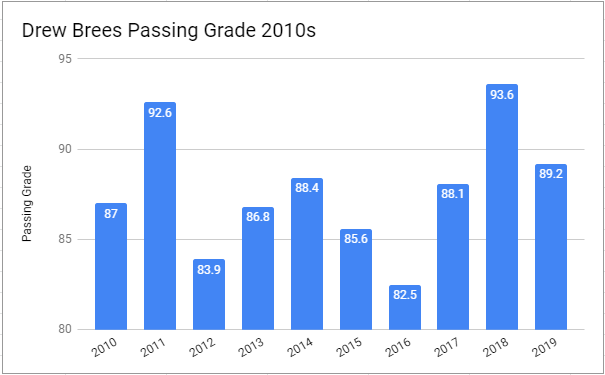 While the team around Brees was worse than him during the lean years in New Orleans, we can still see this late-career resurgence from 2017 on in his PFF passing grades. At age 40, Brees' 2018 season rivals his immaculate 2011 season at age 32.
Brees' arm strength has waned over time, with his average depth of target dropping below 8 yards in 2017 and not recovering since. His big-time throw rate has dropped, too. Most quarterbacks can't live in a world without the big play. To have to march down the field on every drive would make some younger quarterbacks insane. Brees doesn't mind, though. He continues to complete passes on every down.
Subscribe to PFF Edge to continue reading
Already have a subscription? Sign In