• Green Bay Packers QB Aaron Rodgers and others are worried about the team's young wide receivers.
• Joint practices between two teams during training camp can be beneficial, but they have recently ended in fights between players.
• New England Patriots CB Jalen Mills could have a huge season after a great training camp.
---
Green Bay Packers quarterback Aaron Rodgers recently went on a rant about his team's young wide receivers, prompting a reader to ask about the level of concern warranted about the group.
We tackle that, New England Patriots cornerback Jalen Mills' strong summer, potential wide receiver trades and more in this week's mailbag.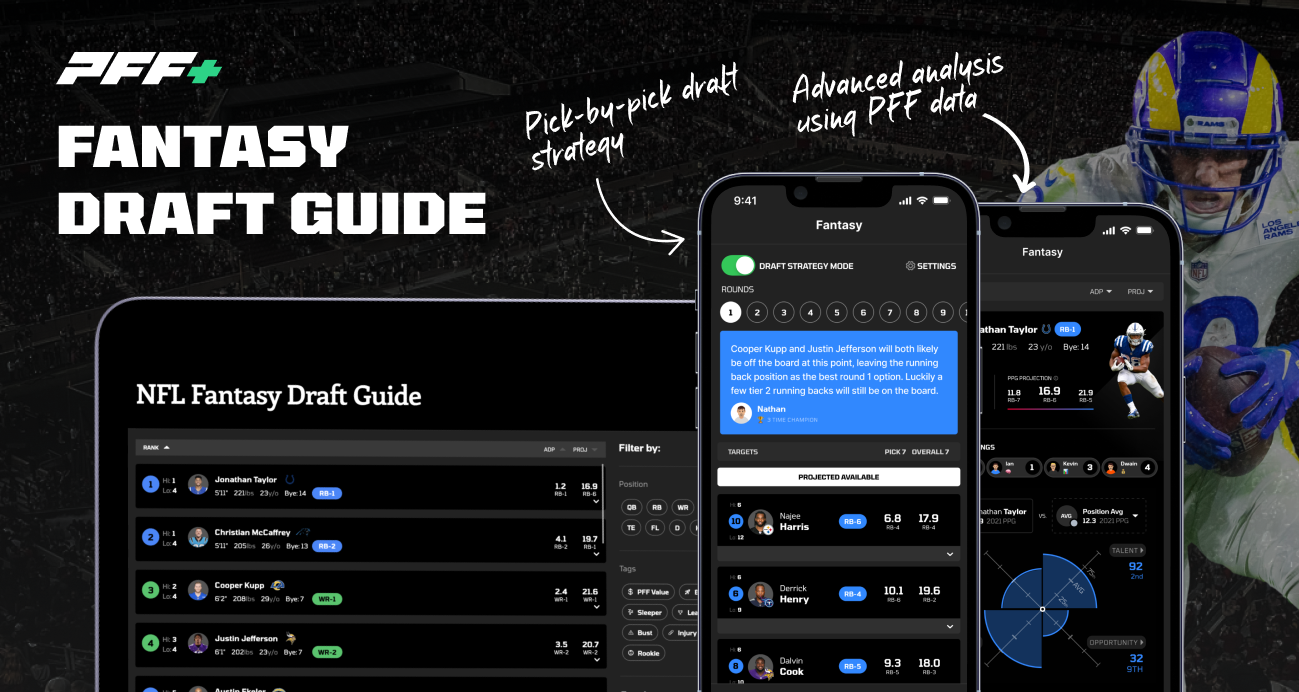 I think you'd have to be very optimistic to not be worried about the Green Bay Packers' wide receivers, and it seems like quarterback Aaron Rodgers has his qualms about the situation, as well.
"The young guys, especially young receivers, we've got to be way more consistent," Rodgers said Tuesday. "A lot of drops, a lot of bad route decisions, running the wrong route. We've got to get better in that area."
As it stands, the Packers' current wide receiver corps is made up of veterans Allen Lazard, Sammy Watkins and Randall Cobb, rookies Christian Watson, Romeo Doubs, Samori Toure and Danny Davis and inexperienced wideouts Amari Rodgers, Juwann Winfree and Ishmael Hyman. They also claimed Travis Fulgham on Wednesday.
There are question marks about all of them: 
Lazard has never had more than 40 catches or 513 yards in a season. He's topped out with a 72.4 PFF grade in 2020. 

Watkins has struggled to stay healthy throughout his career, has one 1,000-yard season seven years ago and has earned a 73.2 PFF grade since 2017. In the last four seasons, Watkins has only topped 600 snaps once. We heard good things about his training this offseason, but he's certainly no sure-thing for 2022.

Cobb is 31 and hasn't topped 450 yards since 2019. His last 1,000-yard season was in 2014.

Fulgham is on his fourth team in two years.
The rest of the group is young. Watson was a second-round pick this year but missed time with injuries. Doubs, a fourth-round pick, has shown the most potential but also has had some issues with drops.
Rodgers wants Lazard, Watkins and Cobb to start, but Doubs has worked with the first-team offense and could boot someone from that group. Perhaps Watson could catch on quickly, as well. Rodgers has said he wants Lazard to be the top option.
There's potential there. Lazard could make a leap, Watkins could stay healthy and Doubs or Watson could ascend. But even with Lazard in the mix there's no clear-cut No. 1 option, far too many questions and it's telling that Rodgers called the group out this week.
---
That depends on who you ask. Some players like joint practices more than preseason game since they know they have to practice anyway. So, they might as well practice against another team then play less in the preseason.
There are people around the NFL who believe that the decrease in preseason game and increase in joint practices didn't do much to curtail injuries and to help player safety.
In Wednesday's practice, New England Patriots wide receiver Kristian Wilkerson was on the receiving end of a blindside hit from Carolina Panthers safety Kenny Robinson during a joint practice. He was knocked out, suffered a concussion and now won't play in Friday's preseason game while he's fighting for a roster spot.
That doesn't really help anyone.
More discipline is definitely needed in joint practices. All of the fighting during the Patriots-Panthers joint practices got ugly and was out of control at times.
---
If you take this year's training camp and put it in a vacuum, then, honestly, yes. Jalen Mills has been a lockdown defender this summer. I thought that was notable, and I kind of tucked it away when it was happening against his own teammates, but I really took notice when it continued against the Panthers. Carolina quarterbacks couldn't complete passes on Mills, even when targeting D.J. Moore and Robbie Anderson.
But there's really nothing about his career that would hint that this type of performance would be coming, which is why I have questions about whether or not it will continue into the regular season.
Mills is 28 years old and has been in the NFL for six seasons. 
He had a 63.4 coverage grade last season, and he's earned a 66.8 coverage grade over his last two seasons. 

He has a 70.5 coverage grade in zone and a 58.8 coverage grade in man over the last two seasons. 

He has a 58.0 coverage grade as a wide corner and a 77.9 coverage grade as a slot corner over the last two seasons.

When Mills is aligned outside and plays in man coverage, he has a 53.0 coverage grade over the last two seasons.
He's been playing outside during training camp, and when he's been excelling in 1-on-1 drills, it's been man coverage.
Mills has been phenomenal, and one team source said the defense has been playing more zone coverage during 7-on-7 and 11-on-11 drills, which has helped him. He's also able to play faster since it's his second year in the system, and he knows where his help is and what chances he can take.
History suggests that Mills won't be a lockdown defender during the regular season. But if the Patriots continue to play more zone, and if Mills remains comfortable within the system, then he can definitely continue to play better than he did in 2021.
---
I wouldn't be surprised if there were a handful of wide receivers traded around the league before roster cuts. We already saw J.J. Arcega-Whiteside traded from the Philadelphia Eagles to the Seattle Seahawks. It wouldn't be shocking to see Darius Slayton, Preston Williams, Lynn Bowden or one of the Patriots wide receivers dealt, as well. Teams get low on depth and are willing to make player-for-player swaps or trades that involve late-round pick swaps. I think that's most of what we'll see.
I know there are teams interested in wide receivers and have been calling around, and perhaps the next cutdown dates will precipitate some trades.
Maybe not ever. I have fond memories of the Cincinnati Bengals and New York Jets seasons in 2009 and 2010, but this is the first season I've looked forward to watching in a really long time.
There are a lot of entertaining personalities on the 2022 Detroit Lions, and I'm excited to see what the team can do this season. A good "Hard Knocks" season makes you cheer for a team.