The AFC and NFC championship games are on the horizon, but NFL fans have questions about coaching hires, the 2022 NFL Draft and which quarterbacks will have new homes this offseason. Let's dive into this week's mailbag for answers to those questions.
---
Click here for more PFF tools:
Rankings & Projections | WR/CB Matchup Chart | NFL & NCAA Betting Dashboards | NFL Player Props Tool | NFL & NCAA Power Rankings
Best Bets Tool
---
Absolutely, though first we have to figure out if Aaron Rodgers wants to retire, stay with the Green Bay Packers or play elsewhere.
Before the 2021 season, I would have told you Rodgers would most likely be leaving this offseason, since that's what I was hearing at the time. Now? I'm not quite as sure after fences were mended between Rodgers and the Packers organization, including general manager Brian Gutekunst.
Rodgers said this week on "The Pat McAfee Show" he'll make his decision before free agency out of respect for the Packers. Green Bay's deadline to tag wide receiver Davante Adams also plays a factor. The decision whether or not to keep Adams (they should) also matters. It seems unlikely the Packers will be able to bring back Adams and fellow free-agent WR Marquez Valdes-Scantling. Rodgers isn't going to want to go back to a worse offense in Green Bay.
If Rodgers does decide to keep playing elsewhere, the Denver Broncos would have to be favorites after hiring ex-Green Bay Packers offensive coordinator Nathaniel Hackett as their new head coach.
Rodgers said this about Hackett in November 2020: "I love him. I hope he doesn't go anywhere. Unless I do."
Take that as you will. The Broncos also have a young pass-catching nucleus in place with Javonte Williams at running back, Jerry Jeudy, Courtland Sutton and Tim Patrick at wide receiver and Noah Fant and Albert Okwuegbunam at tight end. Their offensive line finished 19th in Sam Monson's final O-line rankings.
It could be difficult to acquire Rodgers and Adams in the same trade (it's fun to imagine what that would even look like), but Denver is set to have plenty of cap space this offseason and could potentially include one of those top wide receivers in a trade package.
If Rodgers would prefer to be nearer to the west coast, Denver is certainly closer than Green Bay.
This was a good first step if the Broncos' goal this season was to add Rodgers.
If anything, the New England Patriots should be trying more. They've spent only one Day 1 or 2 pick on a wide receiver in the last eight drafts, and that was N'Keal Harry (32nd overall in 2019). The Patriots have spent just seven Day 1 or 2 picks (first, second or third round) on wide receivers since Bill Belichick was hired in 2000, and there have been 289 wide receivers taken in the first three rounds of the draft since 2000. New England has taken just 2.4% of those players. Every other team has taken an average of nine wide receivers in the first three rounds.
To take this further, there have been 88 wide receivers taken in the first round of the NFL Draft since 2000. The Patriots have taken one (Harry). Every other team has taken an average of 2.8 wide receivers in the first round in that span of time. The Green Bay Packers, New York Jets, Los Angeles Rams and Seattle Seahawks are the only other teams who have taken just one since 2000.
Drafting a wide receiver in the first three rounds — or even the first round — doesn't guarantee success, but it's worth taking more swings in that span of time. I think there's certainly something to the idea a young quarterback like Mac Jones might give a rookie wide receiver a longer leash than Tom Brady did in the back half of his career.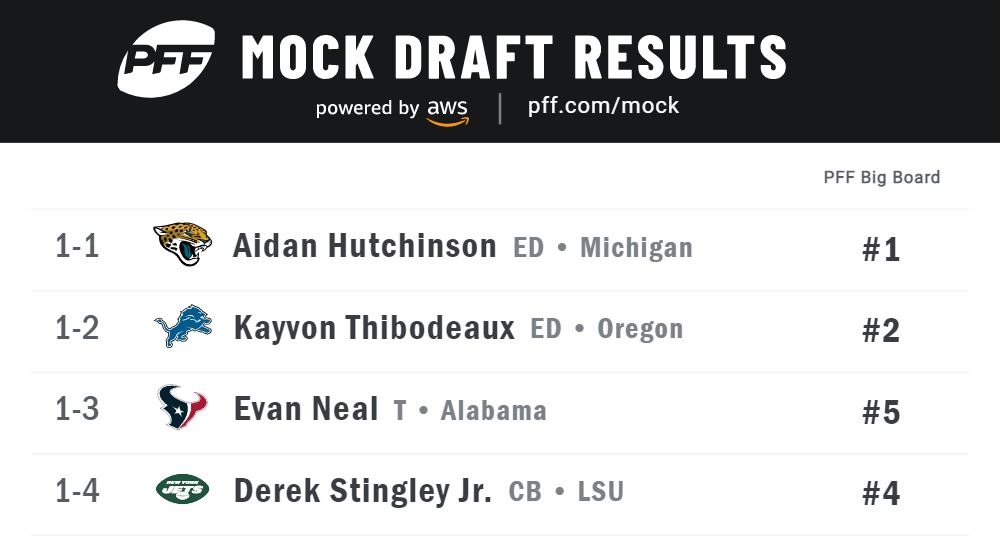 PFF's grades only go back to 2006, so we're losing 26 games of Ben Roethlisberger, 23 games of Eli Manning and four games of Philip Rivers, but here's how all three QBs graded out in our database:
| | | |
| --- | --- | --- |
| Player | Overall Grade | Passing Grade |
| Philip Rivers | 92.6 | 93.1 |
| Ben Roethlisberger | 91.5 | 91.4 |
| Eli Manning | 80.5 | 82.0 |
That being said, Roethlisberger and Manning both had better careers than Rivers since they both won two Super Bowls.
Related content for you:
Jimmy Garoppolo's future? NFL sources weigh in on how the San Francisco 49ers should handle their QB situation via Doug Kyed
I asked people around the NFL about Jimmy Garoppolo this week, and the two teams that came up were the Houston Texans and Pittsburgh Steelers.
The Texans make sense since their general manager, Nick Caserio, had a hand in drafting Garoppolo in the second round of the 2014 NFL Draft with the Patriots. Houston could go into the 2022 season with all of their eggs in the Davis Mills basket, but it would probably be smarter to also have a veteran option in case they needed to bridge the gap. We still don't know who Houston's head coach or offensive coordinator will be in 2022, however, and that will be a major deciding factor. Deshaun Watson is still under contract in Houston, but Caserio recently said he doesn't expect him to stay on the team this offseason.
The Steelers need a new starting quarterback with Roethlisberger officially retiring on Thursday morning. There's a chance they could go into 2022 with Mason Rudolph and a draft pick, but Garoppolo is a much better — albeit more expensive — option than Rudolph.
One league source I talked to predicted that Steelers head coach Mike Tomlin would be able to "pull a higher-tier guy" like Russell Wilson, however. That source did predict Wilson ultimately would be traded by the Seattle Seahawks this offseason.
The most likely scenario is that Jalen Hurts will be the Philadelphia Eagles' starting quarterback in 2022, and I think that's why general manager Howie Roseman committed to him after the 2021 season.
That being said, there are some wild cards out there. If a top-tier quarterback like Wilson, Rodgers or Watson comes available and wants to be in Philly, then it would be understandable to say, "Hey, we expected Hurts to be our quarterback this season, but we couldn't pass up this opportunity." Having three first-round picks allows the Eagles to make pretty much any deal that's on the table.
Hurts is a quarterback that looks like he's worth continuing to work with, however, especially on a second-round rookie contract. 
The Eagles proved they could build a winning team around Hurts this season, and he should improve over the course of his career. If the Eagles, who are in a pretty good spot with the cap this season, could acquire a top-tier quarterback that gives them a chance to win a Super Bowl in 2022, though, that's hard to turn down.
Jalen Hurts rankings in 2021
| | | |
| --- | --- | --- |
| PFF Grade | 77.1 | 15th (of 38) |
| Passing Grade | 69.2 | 20th |
| Run Grade | 86.9 | Third |
| Big-time throw % | 5.0% | 12th |
| Turnover-worthy play % | 3.9% | 30th |
| Average depth of target | 9.5 yards | Fourth |
| Accuracy % | 57.2% | 21st |
As I said, the most likely conclusion is that Hurts is the starter in 2022, but there are other options on the table that would be difficult to pass up.
After watching the playoff, I've heard multiple people from teams around the league say they want a "Top-8 quarterback." Until those teams have a player who they believe could be a "Top-8 quarterback," then I think they'll keep searching. That's why the 49ers took Trey Lance in the first round of the 2021 NFL Draft when they already had Garoppolo. I don't think there are any quarterbacks in this year's draft who are surefire "Top-8" guys, but some of those "Top-8" guys look like they could be available this offseason.