A leg injury to star pass-rusher Von Miller suddenly leaves the Denver Broncos with a major question mark on the edge and places a lot of pressure on the shoulders of Bradley Chubb as he enters his third season in the league.
Per ESPN's Adam Schefter, Miller injured a tendon in his ankle in Wednesday's practice and is expected to have season-ending surgery.
Miller is unquestionably one of the best pass-rushers in the NFL and has been since he was drafted back in 2011. He began his career with eight straight seasons with an overall PFF grade of at least 90, and though last season was a notable downturn (79.3), he still had 77 total pressures, good enough for seventh in the league at the position.
The Broncos would likely have been expecting Miller to bounce back to something like his best play this season, and without any chance of that, they now need to replace the production of a premier pass-rusher without any proven options.
As a former top-five overall pick in the draft, Chubb is the most obvious player to pick up the slack, but so far in the NFL, he hasn't looked like somebody likely to become a top tier pass-rusher. He also isn't 100% healthy coming off an ACL injury in 2019, per NFL Media's Tom Pelissero. 
Chubb was an excellent college player and was the No. 13 player on PFF's Big Board the year he was drafted, but even at the time, we had concerns about how potent he could be as a pass-rusher, noting that "He never quite dominated like the man ahead of him on our list [Harold Landry], and that's why he takes a backseat for us."
Miller has some of the most athletically perfect skills to rush the passer in the NFL. He has freakish burst, acceleration, bend around the edge and the strength to convert that speed to power when he needs to. He is, in many ways, the prototype for an elite edge rusher at this level, and has been the best one of his generation, but Chubb is from an altogether more mortal design.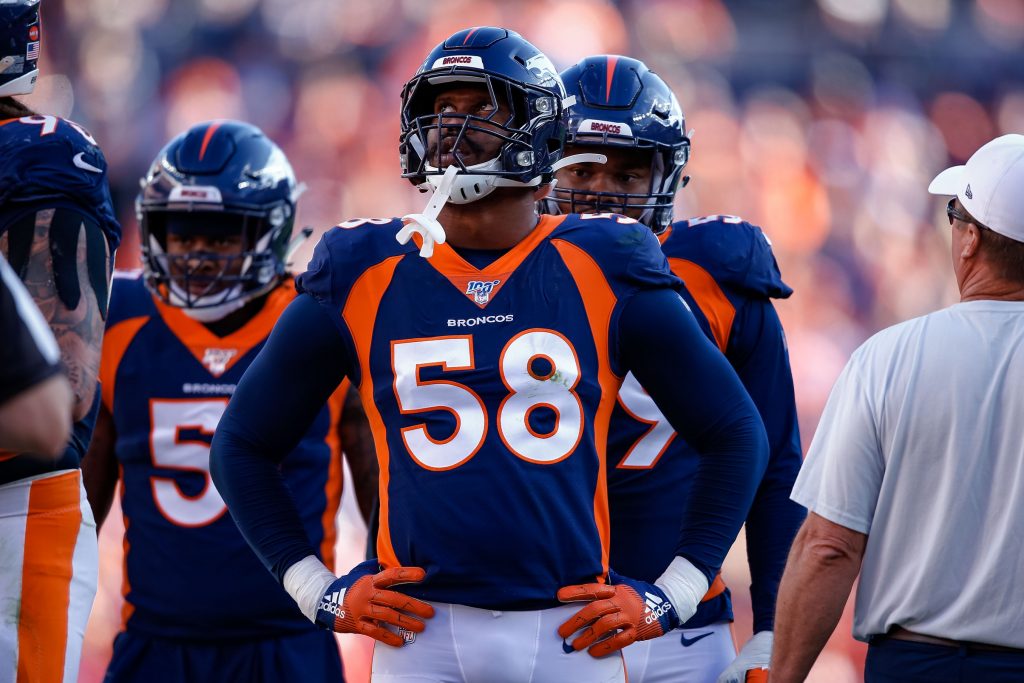 Though Chubb hit the ground running as a rookie from a sack perspective, with 13 official sacks, his PFF pass-rush grade was only 72.7, which is solid but unspectacular. He had 57 total pressures from 426 pass-rushing snaps, which is a long way short of the most productive pass-rushers in the league. Of course, this was Chubb as a rookie, and not every top pick hits the NFL running the way Miller did in 2011 or Nick Bosa did last season, but it did reinforce the image we had of Chubb based on his college career, which is one of a player that was good but not great and somebody that just doesn't have the freakish skills needed to replace what Miler brings.
Chubb played only 233 snaps in Year 2 of his NFL career before being shut down by injury, but he wasn't playing well at any point in the season. As a former top-five pick, Chubb certainly has the potential to be better than he has been to date, but it would be wildly optimistic to expect him to replicate what Miller has been able to do each year for the team. Picking up that slack will have to be a platoon effort between Chubb and others.
The other two designated edge rushers on the roster at present are Jeremiah Attaochu and Malik Reed. Attaochu has 102 total pressures across six seasons in the NFL and as many years grading below average as a pass-rusher as he has grading better than that. Reed was an undrafted rookie in 2019, but he ended up playing significant snaps as a rookie when Chubb got hurt. Reed saw 468 snaps of action and while his overall PFF grade was solid (69.0), his pass-rush was significantly less impressive (60.1). Reed notched 20 total pressures, but it took him 234 pass-rushing snaps to get them.
Outside of Chubb – whose performance to date hasn't really shown he can get to that level – the team doesn't have the options in-house to replace what Miller brought to the table and maybe cursing their luck that this didn't happen a week before when they still had the chance to acquire the likes of Jadeveon Clowney or Yannick Ngakoue. The lack of a premier pass-rusher to this defense isn't just a problem and an unexpected weak area, but it could be a much bigger issue than that to the integrity of the entire scheme.
Vic Fangio runs a defense that desperately wants to generate pressure with just the front four. Last season, Denver ranked 23rd in the NFL in blitz rate, sending extra rushers on just 24.8% of their rushes. With no Miller bringing a guaranteed volume of pressure and no obvious solution already on the roster outside of a huge leap in production from Chubb, the Broncos may need to get creative on defense and scheme up pressure in a way they don't typically want to. That would have a knock-on effect on the secondary, that is typically one of the best-protected in the league from a schematic point of view. Losing Von Miller doesn't just hurt the team's ability to rush the quarterback, but it may undermine the very foundation of Fangio's defense and make it very difficult to execute his scheme at a high level.