The Dallas Cowboys have been battling against history for years. As one of the NFL's great storied franchises and owner of five Lombardi trophies, they haven't added to that total this millennium and are growing ever-more frustrated with that lack of success.
How should they approach free agency and the NFL draft to right those wrongs?
---
Click here for more PFF tools:
Draft Guide & Big Board | Mock Draft Simulator
Dynasty Rankings & Projections | Free Agent Rankings | 2022 QB Annual
Player Grades
---
Winning playoff games is becoming a bigger focus for the Cowboys than taking home a sixth championship, as Dallas hasn't won more than one playoff game in a singular postseason since their last Super Bowl victory in 1995. The Cowboys have been bounced from the playoffs in their first game seven times since that championship. Typically, that means a team has been good but not great — one that can beat bad teams but is exposed against the better ones in January when the field shrinks to contenders only.
So can Dallas get over the hump in the space of an offseason? Let's run through their offseason and give them a point-by-point strategy to contend for a championship next season.
Retaining players
The first, and often most overlooked, part of the NFL offseason is retaining free agents. Dallas has some significant pieces hitting free agency, and if you were to just look at the Cowboys' headline salary-cap figure, you would think they have little-to-no ability to be players in the market, but it's always more complicated than that. It's not that the salary cap is a myth, but it's an accounting tool that can be manipulated, and one number at a given point in time — particularly late February — is misleading. Dallas is over $20 million in the red right now, but it has one of the largest capacities in the league to free up cap space with simple contract restructures from players currently on the roster.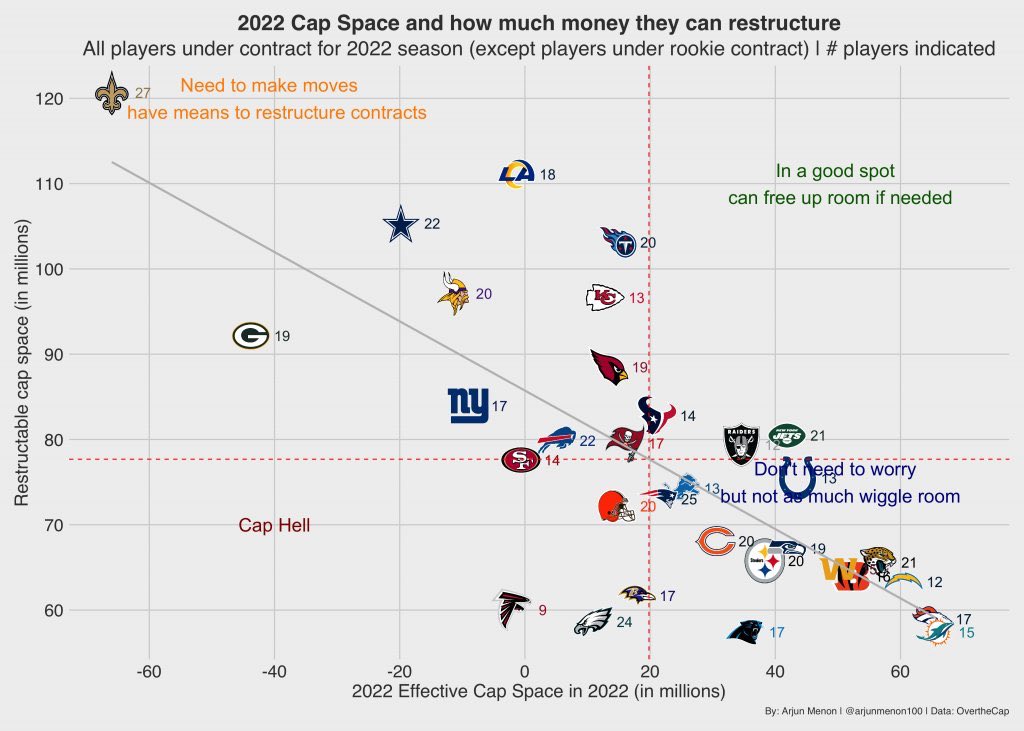 Dallas could free up over $100 million in space if they took things to the extreme with those restructures. Simply put, the Cowboys have the capacity to make whatever free agent moves they want, including retaining their own players.
Gallup has been a huge part of the Cowboys' offense over the last couple of years, and while much of his value has occurred during his rookie contract, his true impact is that he allows Dallas to threaten teams with at least three different receivers in the passing game. Gallup has the ability to beat No. 1 corners on the outside, which gives Amari Cooper and CeeDee Lamb the freedom to move around the formation to find favorable matchups.
He has caught at least 50% of contested targets in each of the last three seasons. PFF's free-agent rankings predict that he will receive a $12.5 million per year contract with $25 million guaranteed, and for that price, Dallas shouldn't think twice. 
Currently, the tight end franchise tag is a steal in the NFL. While the cost to tag a wide receiver is $19.1 million in 2022, the cost for a tight end is just $10.8 million.
Schultz broke out last season as an all-around productive player. At the halfway point of the season, he had All-Pro aspirations before cooling off a little down the stretch. A one-year deal would keep the elite playmakers that made Dallas so difficult to stop at their best intact and would also buy the team some insurance in case Schultz is a one-year wonder.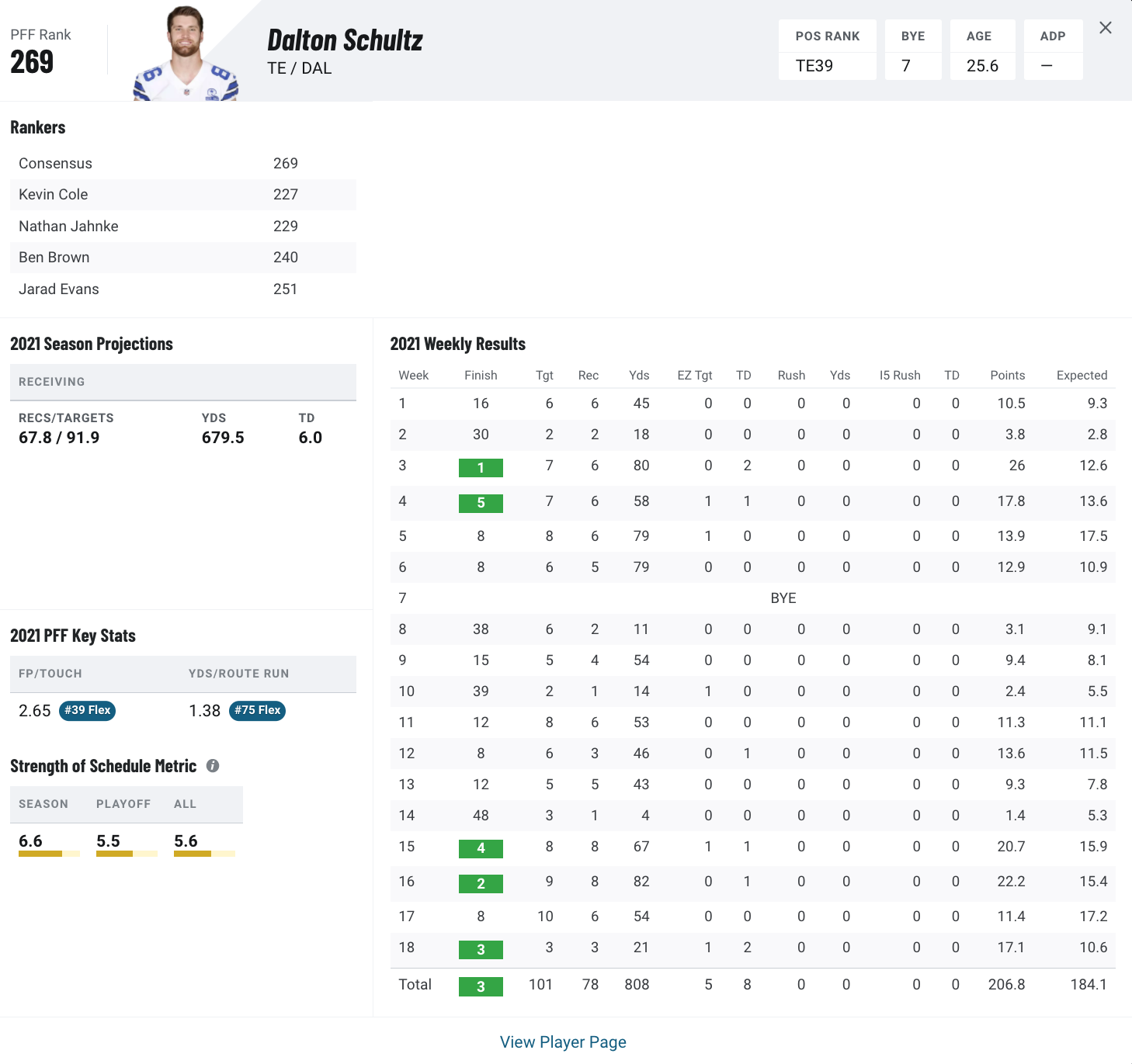 These are moves that need to be cost-controlled. It's difficult to know what offers these players will receive free agency, but both were important parts of the Cowboys who would be worth retaining if the money makes sense. PFF projects Williams to earn around $6.7 million a year on a three-year deal while Gregory receives $12.5 million over two. Gregory may be the better player, but Williams could prove to be the better value. As much as Dallas fans often highlight Williams' failings, he was the No. 11-ranked guard in PFF grade last season and allowed 15 pressures across over 600 pass-blocking snaps. 
The safety market hasn't been strong lately, and Dallas can likely pick up replacements in free agency if it needs to, but Kearse played well in a creative role last season, and his price tag figures to be reasonably low — $5 million over a couple of years is a bargain to keep a player who had his versatility.
Free Agent Shopping List
Assuming Gregory departs, Dallas needs to add some pass-rush prowess before the draft to guarantee it can still pressure the quarterback in 2022. Hughes is now 33 years old and likely declining, but he still generated 55 pressures last season and recorded an 81.2 PFF pass-rushing grade. He'll likely be significantly cheaper than Gregory's given their age, as he may be entering the bargain phase of his career.
Dallas ranked 27th in explosive run play rate on defense last season and 23rd in yards per attempt allowed. The Cowboys have some young bodies upfront, but they need a run-stuffing specialist, which still has value in today's NFL, and few players in the league do that as well as Fatukasi, who had back-to-back 86.0-plus PFF run-defense grades before a poor 2021 season. That poor contract year, coupled with his run-defense specialty, likely makes him a cheap addition who would have a disproportionate impact on the Cowboys defense.
Somehow, Diggs is still only 29 years old, and he would bring the kind of solid play and versatility that the team wanted but wasn't getting from Damontae Kazee at safety. Diggs earned above-average PFF grades in all aspects last season (except pass-rush, on five blitzes). He has experience playing as a deep free safety but also can cover the slot and would likely upgrade the secondary to offset some of the turnover regression the team is bound to suffer.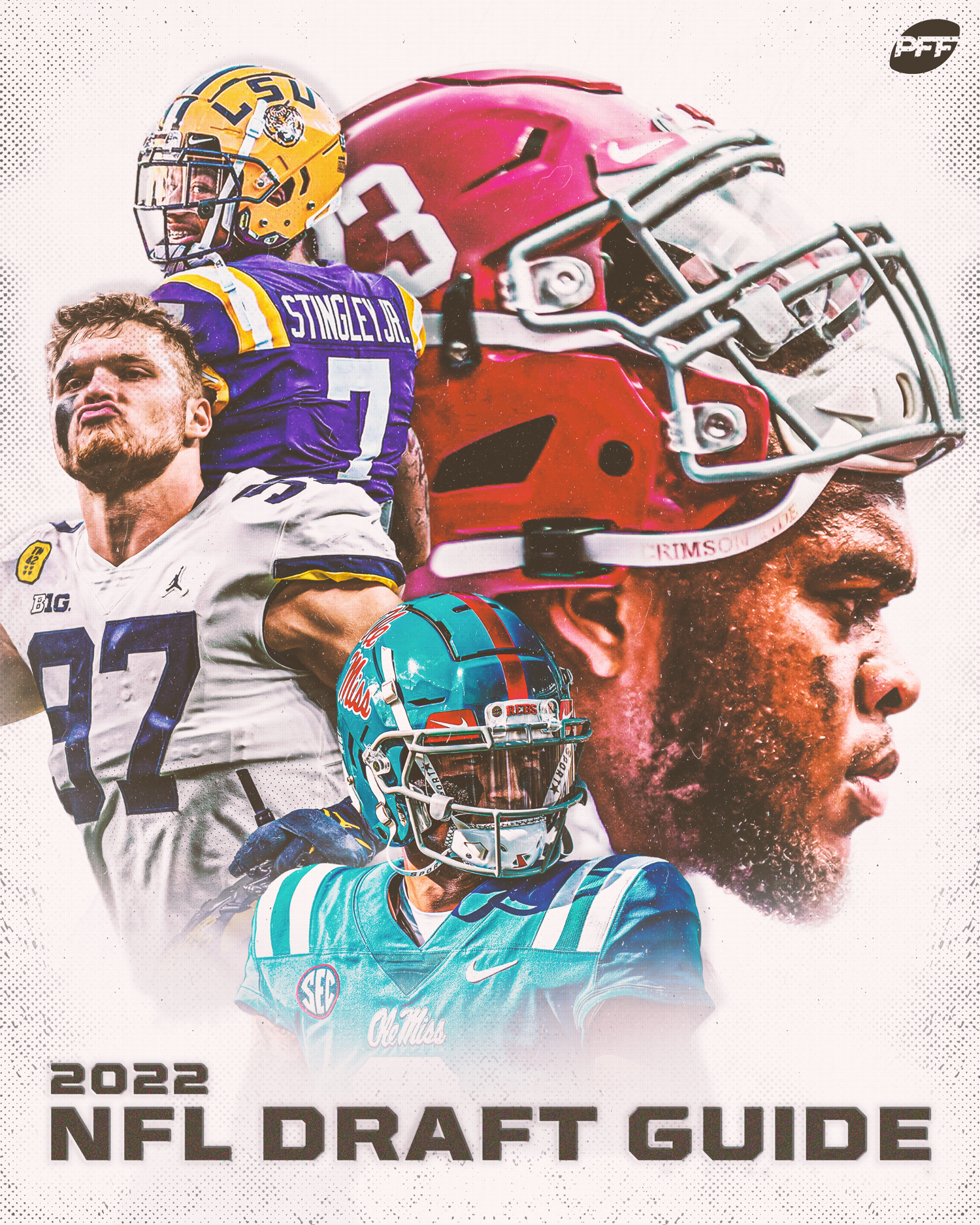 First round in the 2022 NFL Draft
This might not be the most exciting pick in the world for fans that always want an impact addition in the first round, but it may be the smartest thing Dallas can do. Obviously, picking at No. 24 overall means any number of scenarios could unfold that presents them with a better value pick, and the team should absolutely play the board as it falls, but snagging a contingency on the offensive line could be very important. Tyron Smith earned his first 90.0-plus PFF grade since 2015 and still missed six games due to injury. Penning has a nasty streak and performed well at the Senior Bowl. His run-blocking grade was the highest PFF has ever charted, admittedly against largely FCS opposition. 
Cornerback and wide receiver would also certainly be in play in the first round.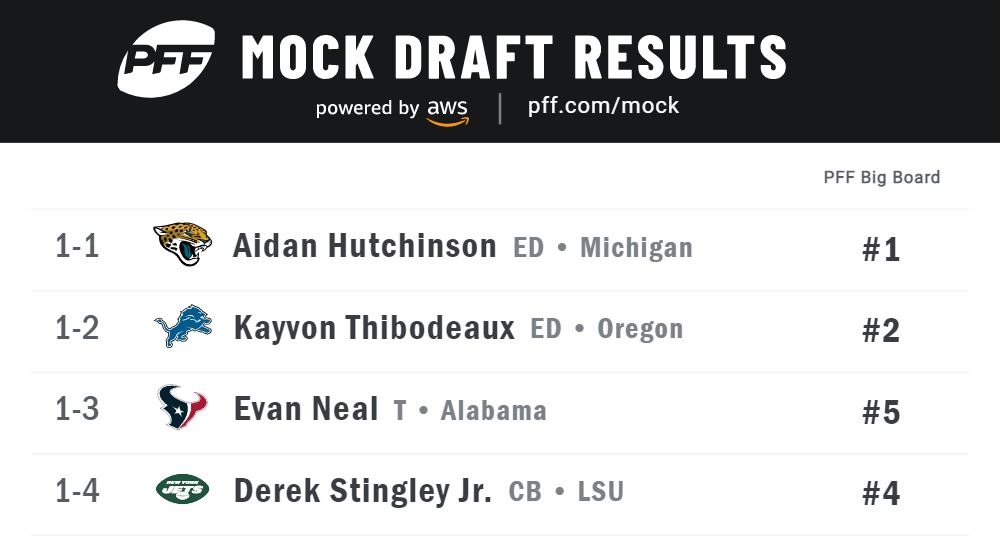 Rest of the draft
The Cowboys guaranteed themselves pass rush earlier in this offseason plan with Hughes but now need to secure the long-term future and improve the rotation's depth. Bonitto has excellent speed and burst, and while he may be one-dimensional initially at the NFL level, this is a perfect situation for that to be useful.
Florida doesn't have the best recent history of producing NFL cornerbacks, but that's no reason to stop going back to the well when an impressive prospect comes along. Elam has prototypical size and measurables and enough high-end play on his tape to project to be a good NFL starter. Dallas has already taken a recent shot on a cornerback that could have been described in similar terms, and he just finished the season with 11 interceptions. Elam allowed just 19 catches in 2021.
It's not that the Dallas offense is bereft of elite speed at this point, but Austin would certainly bring something different to the table. Austin is very small (5-foot-7, 173 pounds) but has blazing speed and quickness. He was a problem for opposing defenders all week during the Senior Bowl practices and averaged 2.99 yards per route run last season.