Too often, injuries can derail the momentum of building narratives. Quarterback Dak Prescott's injury in Week 5 of 2020 got in the way of what looked like an MVP-level campaign and an evolution of the Dallas Cowboys offense with Kellen Moore at the helm of calling plays.
Now that everyone is healthy again, Prescott is taking off as an elite quarterback and the offense looks Super Bowl-contention ready. What Moore has done is what fits this offense best: paring down his play sheet to a handful of concepts that sets out to hit defenses where they're weakest.
Click here for more PFF tools:
Rankings & Projections | WR/CB Matchup Chart | NFL & NCAA Betting Dashboards | NFL Player Props tool | NFL & NCAA Power Rankings
---
Free Access in 11 Personnel
Dallas' design in the passing game isn't meant to be the greatest show on turf, but it punishes defenses for backing off their talented receiving corps.
It's rare to be a team like the Buffalo Bills, where each receiving threat fits into their proper slotting — Stefon Diggs as the anchor, Emmanuel Sanders as the secondary piece and Cole Beasley working underneath and across the field with Dawson Knox.
The Cowboys' embarrassment of riches includes two legitimate No. 1 options between CeeDee Lamb and Amari Cooper, and an ideal secondary option in Michael Gallup. What's worse (for defenses) is each player's ability to work inside and wide.
| | | |
| --- | --- | --- |
| Player | Snaps aligned outside | Snaps aligned in the slot |
| Amari Cooper | 144 | 70 |
| CeeDee Lamb | 162 | 51 |
| Michael Gallup | 41 | 4 |
*Through Week 4, 2021
Through the first four weeks of the 2021 season, the Cowboys are seeing the fourth-lowest rate of Cover 1 in the NFL in 11 personnel. More than just seeing zone coverage, defenses know that the seams and sidelines have to be protected with the kind of talent Dallas employs. Only the Atlanta Falcons had seen more Cover 4 on passes out of 11 personnel through Week 3.
Coverages faced on 11 Personnel Passes
| | | | |
| --- | --- | --- | --- |
| | No. 1 | No. 2 | No. 3 |
| 11 Personnel | 24% Cover 4 (2nd) | 24% Cover 3 (12th) | 11% Cover 1 (31st) |
Soft coverage and two-high safety shells eliminate the deep crossers that have blown up in the NFL, but every defense comes with its holes. With cornerbacks bailing out and linebackers sitting hard inside of slot receivers to protect against zone 'beater' concepts (deep in-breaking routes between second- and third-level defenders), Kellen Moore routinely calls vertical passing concepts with route conversions or quick-game concepts with "iso" routes. Receivers press up the field to sell a go route and then settle underneath for easy completions.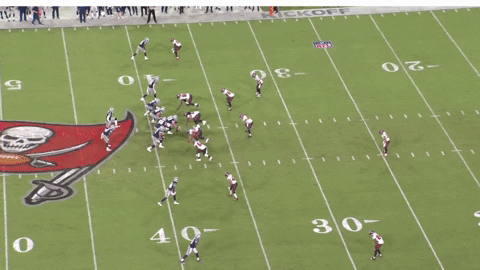 If the defense opts for soft Cover 3 instead, Moore and his offense are comfortable condensing receiver splits and running speed-outs into open areas for easy completions. This operates just as the fade/stop conversion does in a quarterback's progression: if there's access (space) to throw it, don't give it a second thought. You'll never go broke taking a profit, as the overused axiom goes.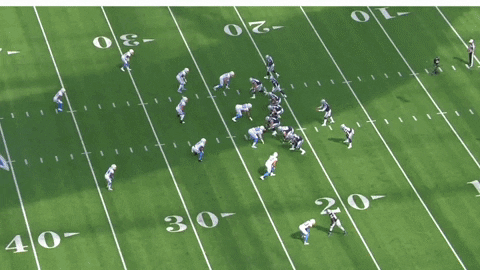 If teams try to disguise the zone coverage with pressed corners, Prescott is pleased to take a chance on what amounts to one-on-one coverage against a fade route. This offense has connected on only one of its nine tries in 11 personnel so far, but if that number comes back to the 2021 average (about 38% so far this year), playing press against this explosive receiving corps may be a fruitless effort.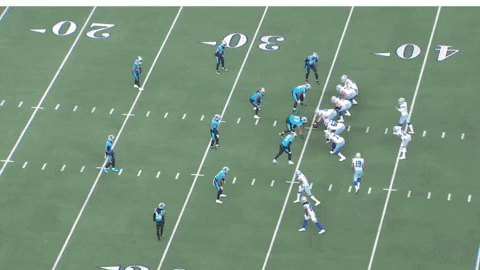 Every answer doesn't inherently have to be downfield, though — the revelation of the 2021 season has been a resurgence of Dallas' run game, even when in 11 personnel.
The health of the offensive line is a major component in its own right, of course. But the mark of a smart process is the ability to punish a defense for what it's willing to concede, and if teams want to commit to playing two-high safeties against spread sets, an offense has to be able to run the ball into lighter boxes.
On designed runs in 11 personnel, Dallas is averaging a healthy 5.8 yards per attempt against split safety shells — and a .232 expected points per play rate (ranking sixth in that situation).
11 Personnel Runs vs. Safety Shell
| | | | | |
| --- | --- | --- | --- | --- |
| | Attempts | Yds per carry | % of yds before contact | Explosive runs |
| Middle Of Field Closed | 25 | 4.5 | 31% | 3 |
| Middle Of Field Open | 21 | 5.8 | 42% | 4 |
Smashmouth in 12 Personnel
When it's truly time to get downhill and use the running game as the feature of the offense, Moore brings the second of his versatile tight ends on the field. Blake Jarwin allows Dallas to do something Moore knows better than anyone from his playing days at Boise State: create four-man surfaces (putting both tight ends beside each other) to stretch the edges of a defense.
Formations in 12 Personnel
| | | | |
| --- | --- | --- | --- |
| | Snaps | Offensive Grade | EPA/Play |
| Trips – Multiple TE | 33 | 93.6 | 0.124 |
| Doubles – Multiple TE | 30 | 85.6 | -0.066 |
With those wide edges, Dallas will toggle between a perimeter run (outside zone) and an inside run (duo) to stress gap-fitters and run-support players, respectively.
Related content for you: Grading all 32 first-round picks after Week 4 of the 2021 NFL season via Sam Monson

Outside zone, a play designed to attack the outside hip of a tight end, is difficult to deal with against this formation as a linebacker. If you play too patiently or true to your original gap, the ball can hit the edge before you can get the proper leverage to make a tackle. If you play too much off the flow of the back, the ball carrier can press the outside and cut back underneath you. 
Second-level defenders are counting on penetration from interior defensive linemen to make their jobs easier, and if you don't generate it against this offensive line unit, there are explosive runs to be found.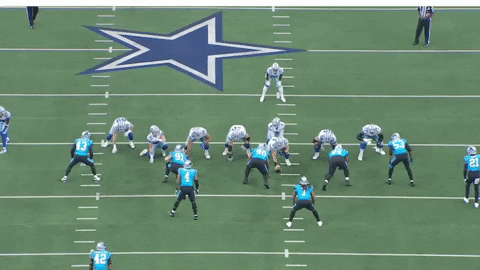 Duo, Dallas' secondary concept, creates the same kind of run fit conflict for the linebacker in spite of being vertical where outside zone blocks are more lateral. If linebackers fit downhill, the ball bounces wide for a one-on-one tackle with a run-support player. If you play too slowly or guess the bounce is coming, the ball gets mashed into an interior gap.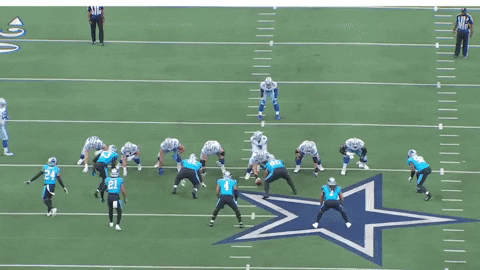 Tied to this run game are the Cowboys' play-action passes, looking to push the ball vertically. Just as is designed in the dropback game, Moore wants to push routes vertically and in the intermediate areas where defenders have been vacated.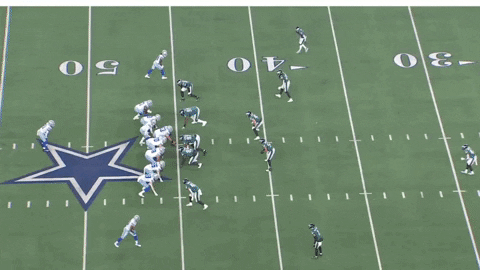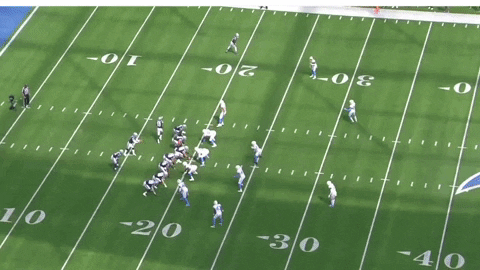 12 Personnel Play Action
| | | | | |
| --- | --- | --- | --- | --- |
| | Dropbacks | Avg. Depth of Target | Gains of 15+ Yards | Passing Grade |
| Cowboys | 18 | 10.4 | 4 | 72.1 |
Some offenses — too many — rely on "playing the hits" to move the ball. What Dallas is doing asks a ton from its quarterback — process the coverage shell, identify where the free access is and take it regardless of the typical progression within the play call.
Prescott has the ability to do exactly that, and with the run game back in a rhythm we haven't seen from the Cowboys in years, an MVP and a Lombardi Trophy are within reach for America's Team.