The Kansas City Chiefs' Patrick Mahomes is the consensus best quarterback in the NFL, and he is still the favorite to win the MVP award in 2022, per BetMGM. For a while, there wasn't a team or a quarterback in the AFC who truly rivaled him. Until now. 
In Week 13, Joe Burrow and the Cincinnati Bengals defeated the Chiefs for the third time in the calendar year. After knocking them out of the playoffs last year, the Bengals beat them again with the same final score: 27-24. The loss momentarily pushed Kansas City out of the No. 1 seed spot in the AFC, which the Buffalo Bills happily claimed.
While the Bengals got a few big stops on defense and were able to force a key turnover on tight end Travis Kelce in the contest, the reason they improved to 8-4 was Burrow. He's the Chiefs' kryptonite, thoroughly outplaying Mahomes in each meeting. And that's no easy feat; Mahomes doesn't get outplayed often. Here is how the two have compared to one another in their past three meetings: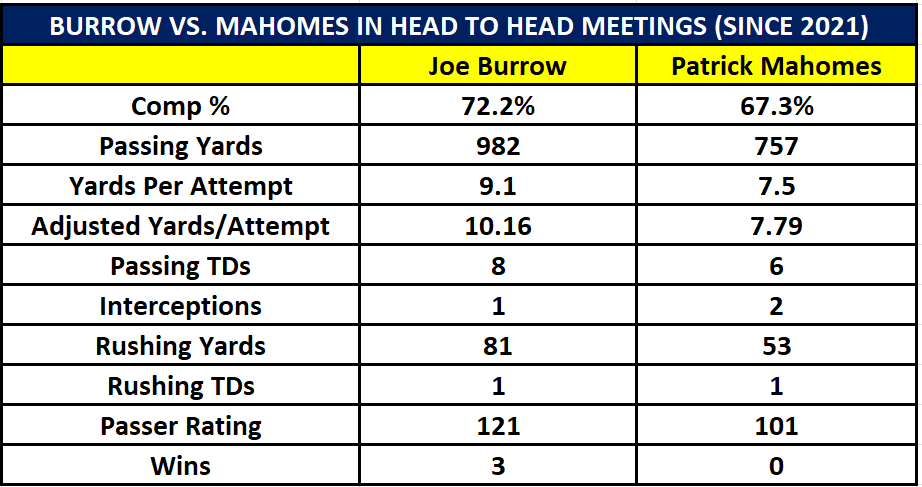 For the third time in a row, Burrow outplayed Mahomes. And this was probably his best performance of the three games. It's hard to envision a quarterback playing a better game than what Burrow did in Week 13. Sure, quarterbacks have posted better stat lines, but Burrow was in complete control and made every last play when the Bengals needed it. 
His best throw of the game might have been his last. Up by three, the Bengals needed to convert on third-and-long in order to avoid giving the ball back to Mahomes with plenty of time left on the clock. But instead of just running the ball and wasting some more clock, the Bengals trusted their all-world quarterback to make a play. 
Joe Burrow to win the game: pic.twitter.com/C9enoV6rN1

— Marcus Mosher (@Marcus_Mosher) December 5, 2022
On third-and-11, most teams would just run the ball to ensure that the clock keeps moving and to make the upcoming field goal attempt a little bit easier. But when you have a quarterback like Burrow, you can go for the kill shot, ensuring that Mahomes never touches the ball again. The Bengals have complete trust in their quarterback to make the right decision at all times, and that's where his greatness lies. 
Burrow finished the game with 286 passing yards and two touchdowns while adding in another 46 yards and a score on the ground. He averaged an absurd 9.2 yards per attempt, and that could have been even higher if it weren't for a few drops, including what would have been a walk-in score by Tyler Boyd. This was the fourth time Burrow averaged over nine yards per attempt this season and the fifth time he generated a 114.0 passer rating or better. 
Burrow has been great all season, despite a rocky start. In the first two games of the campaign (both losses), he produced a 73.1 passer rating with five turnovers. However, he did rupture his appendix in late July, which caused him to miss most of training camp and the entire preseason. As a result, he was rusty out of the gate. He quickly got back on track, though, as the Bengals have now won eight of their past 10 games. 
Those wins just so happen to coincide with Burrow playing lights-out football. In his past 10 games, Burrow is averaging 8.29 yards per passing attempt, second-best in the NFL. He leads the NFL in passer rating during that span (111.4) and is completing an absurd 70.4% of his passes.
On the season, he is PFF's fourth-best quarterback in overall grade. Removing those first two games of the year, he jumps to the second-highest-graded passer (91.2), behind only the Miami Dolphins' Tua Tagovailoa (91.4). What's also great about Burrow is that his scheme does not really aid him and the coaches don't have to hide him at all. Burrow is the NFL's highest-graded passer on non-play-action passes (91.7) since Week 3. He has a stellar 83.3% adjusted completion percentage in that span, as he can deliver the ball accurately and on time, even when the defenses know what's coming. He leads the NFL in touchdowns on non-play action passes (21) while averaging 7.8 yards per attempt. In short, no team in the league can drop back and throw it more efficiently without play action, RPOs, etc., than the Bengals.

Burrow has been fantastic for so many different reasons this year, including his poise, accuracy and ball placement. But a relatively new development to his game has been an ability to make plays on the ground. This season, he's already rushed for 221 yards and five touchdowns. That's a big leap from his 2021, when he rushed for only 118 yards and two touchdowns. 
Part of the reason for the uptick in rushing yards is him being healthier than he was last season and having more confidence in his knee. Nobody is going to confuse Burrow for Josh Allen or Lamar Jackson. But if he can continue to make key runs like this, it will make the Bengals that much scarier on offense.
Joe Burrow runs it in ????

(via @NFL)pic.twitter.com/3dxbqK7FoW

— Sports Illustrated (@SInow) December 4, 2022
These are the types of plays that Burrow couldn't make last year as he regained confidence in his repaired knee. We are now starting to see him really heat up. And that is a scary sign for the rest of the AFC. 
Burrow has dealt with a lot this season, too. His top receiver in Ja'Marr Chase (79.9 PFF grade) missed a month of the year. Running back Joe Mixon (76.2 PFF grade) has missed most of the past three games. He's playing behind a new-look offensive line. But Cincinnati is sitting at 8-4 and in a great position to steal the AFC North.
With Burrow playing like a legitimate MVP candidate and arguably better than any other passer in the league, the Bengals look like a Super Bowl contender once again — one the Chiefs and Bills atop the AFC will be looking to avoid in the playoffs. Because despite how well Patrick Mahomes and Josh Allen have been playing, Burrow might be better in 2022.