The 3-2 Cincinnati Bengals are not a good football team. Only a week ago, they were flying high after a comeback win against the lowly Jacksonville Jaguars, but they have come crashing down to Earth after a wild loss to the Green Bay Packers in Week 5.
The team, as noted, still sits with a winning record, but there are major cracks beneath the surface that need to be addressed. If they aren't, Cincinnati will not only fall out of playoff contention quickly, but it will also be picking near the top of the draft again. 
Click here for more PFF tools:
Rankings & Projections | WR/CB Matchup Chart | NFL & NCAA Betting Dashboards | NFL Player Props tool | NFL & NCAA Power Rankings
---
The Bengals' issue, as it seemingly has been every season of the Zac Taylor era, has been the offense. The man who, as far as we can tell, was at least in the same room as Sean McVay for parts of his life was hired to bring that McVay magic to Cincinnati's offense. It hasn't happened. The unit ranks 29th in expected points added per play in the regular season since his hiring and 28th since the team drafted quarterback Joe Burrow first overall in 2020. 
The offense continues to be bad in 2021, ranking 21st in overall efficiency. Not being able to move the ball effectively could spell disaster going forward, as the Bengals face a much harder second half of the schedule. They have played the second-easiest schedule thus far but will take on the second-hardest remaining schedule (based on numbers entering Week 5). That 3-1 record after their win against Jacksonville might look like a distant memory in the coming weeks.
Let's turn to head coach Zac Taylor. He was brought in to ostensibly run the Sean McVay offense, and while some core concepts are present between the two play callers, Taylor seems to run just the surface-level ideas. With Burrow being a No. 1 overall pick, some thought he could be a transcendent figure capable of running any offense. It seems clear at this point — especially after a gruesome leg injury that ended his 2020 campaign prematurely — that Burrow needs more help from his offensive coordinator than previously thought.
The Burrow who consistently scrambled around and made plays en route to a Heisman Trophy and a national championship win for LSU in 2019 is probably not coming back. 
Here are Burrow's stats from plays outside of structure since 2018:
| | | | |
| --- | --- | --- | --- |
| Season | PFF Grade | Yards/Attempt | Passer Rating |
| 2018 | 50.1 | 2.7 | 47.5 |
| 2019 | 90.6 | 10.4 | 116.9 |
| 2020-21 | 71.1 | 6.6 | 48.6 |
The 2019 version of Burrow is probably lost forever. That's not the end of the world for him, though, because he is still supremely accurate. The problem is that the offense still treats him like this kind of player. He just isn't. 
The Taylor offense, which to a certain degree is molded around trying to give Burrow concepts and ideas that he feels comfortable in, is not getting the job done. It's a spread offense that relies on receivers winning one-on-one battles and the quarterback, like 2019 LSU, being able to create off his own one-on-ones.
Since the start of 2020, the Bengals lead the league in 11 personnel rate. Their shotgun rate is eighth-highest and their empty formation rate is second-highest, while their pre-snap shift/motion rate and receiver bunch/stack alignment are both below league average at 20th and 21st, respectively. They live in a spread world, and there just aren't many quarterbacks who can handle that. Burrow might be able to one day, but it's not happening right now. 
The crazy part is that Burrow is playing well. He's the league's ninth-highest-graded passer, yet the offense can't move the ball. 
If the Bengals are going to actually make a run at the playoffs, the two main features they have to change are their run game and their use of empty formations. 
Run Scheme 101
The Bengals can't run the football, and to make matters worse, they can't move the ball when they call play action off their run looks. One of the issues is Taylor's lack of creativity in the run game. Between 2018 and 2020, Sean McVay created a run game built around one core concept — the outside zone play — but bedazzled with shifts, motions, orbits and jets to make one play look like a kaleidoscope of different runs to the defense. 
The Bengals, being that they felt the need to align in the shotgun for most of their snaps, chose to call inside zone for most of their running plays in 2019 and 2020. Inside zone has always been a good friend to the shotgun, but NFL teams are realizing the power of going under center to run outside zone. The 2021 Bengals have made the change, as well.
In the first two years of the Taylor reign, 45% of the team's runs were inside zone and only 18% were outside zone. The Bengals have flipped that this year, as their shotgun rate has decreased, too. They are running outside zone on 44% of their runs and inside zone only 21% of their runs in 2021. Still, they rank just 22nd in overall rushing efficiency and 16th in outside zone efficiency.
A big issue is the lack of creativity surrounding their base run. The Bengals have run one jet motion attached to an outside zone run this season. The 2021 Los Angeles Rams have done it 21 times, which leads the league, even though they are actively trying to get away from this under-center outside zone scheme. With Matthew Stafford, they don't feel the need to anymore. Last year with Jared Goff, they led the league with 73. 
When the Bengals line up under center, they run the ball 80% of the time — and 60% of those runs are outside zone. They don't do any motion at the snap and rank only 11th in pre-snap shift/motion rate from under center. They line up and try to win without any disguise. Cincinnati is not good enough to do that, but most teams aren't, for that matter. Outside zone relies on a good push from the interior of the offensive line, and the Bengals' guards and centers this year rank 31st in cumulative run-block grade (50.4).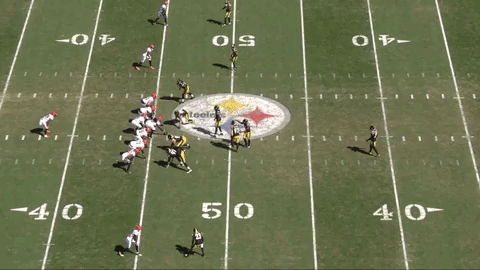 Cincinnati can't just win straight-up one-on-one battles inside. One of the best ways to mitigate that is with disguise. Let linebackers flow the wrong way to open up lanes for the running backs. This team doesn't do any of that, and it doesn't call enough play actions — given that its run rate is so high — to try to create offense in that direction. Taylor is not doing enough to cover up the Bengals' offensive line issues — which they've had for years now — nor enough to create an environment for his quarterback to succeed with easier opportunities.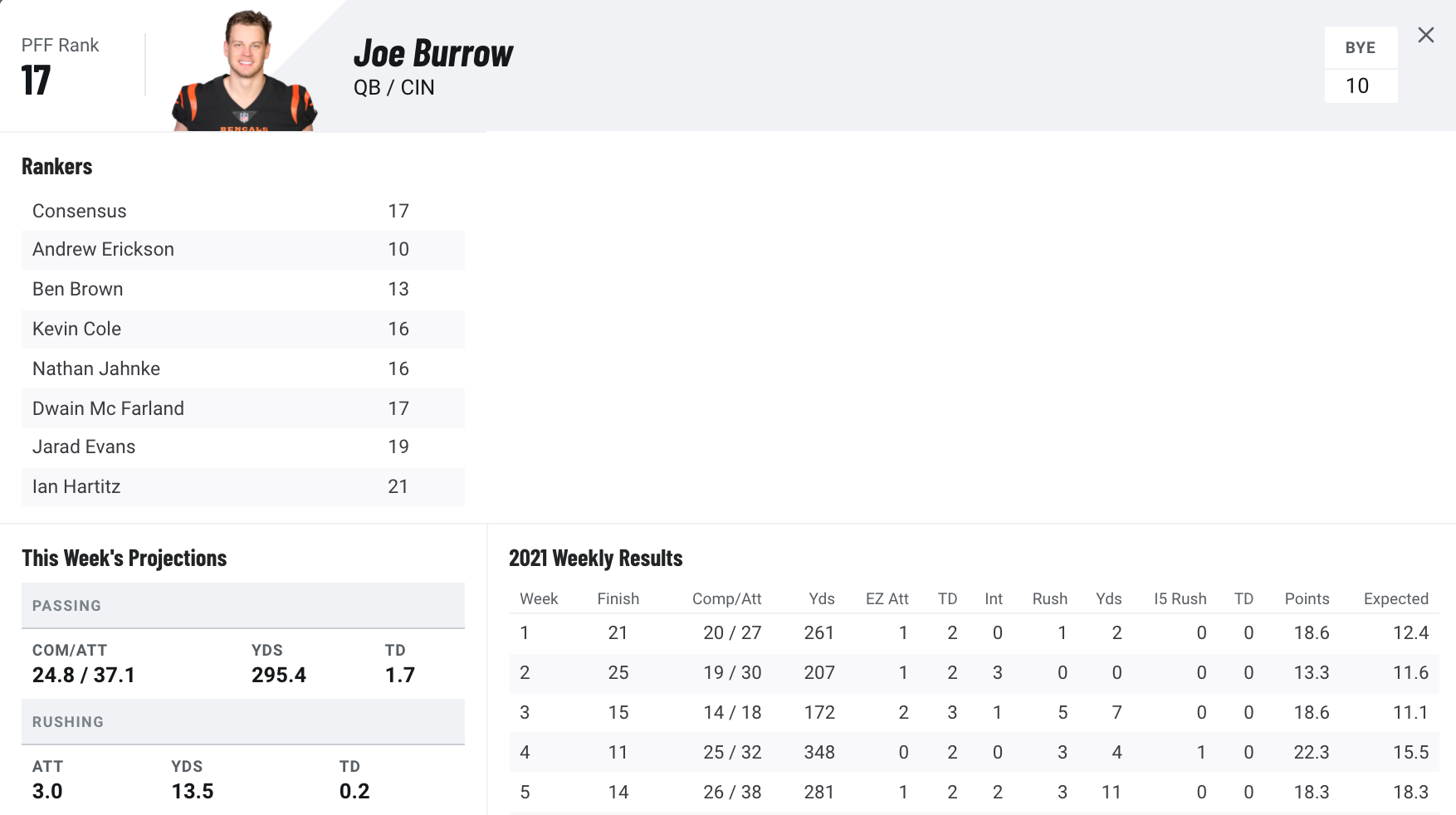 Empty Calories
To provide Burrow with some carryover from his magical 2019 season at LSU, the Bengals have used empty — a formation with no running back in the backfield — more than any other team in weeks that he has started during his NFL career. Cincinnati ranks second this season, behind only the Los Angeles Rams, but they're still seven percentage points higher than the third-place Kansas City Chiefs. The issue, like everywhere else, is that they can't move the ball with any efficiency in that formation, ranking 23rd in EPA per play.
Cincinnati is tied with the Rams for 29th in pre-snap shift/motion rate when playing out of empty. Where the Rams try to create offense without shifts is with formations that allow their receivers easy releases. They are above league average in their rate of receiver bunches and stacks when lining up in empty. Here, the Bengals are 31st in the league. Interestingly, the Chiefs are right below them at No. 32. The big difference is that Kansas City has Patrick Mahomes' ability to create offense himself and still ranks fourth in shift/motion rate. 
They line up in spread and force their receivers to win. The Bengals' receiving corps is good, and it has the potential to be very good with the addition of budding superstar Ja'Marr Chase, but it's not there yet. The Packers knew this in Week 5 and sat on all the short option routes that the Bengals like from empty. Green Bay is a two-high safety team, so against empty formations, it can put tremendous stress on inside linebackers. 
That was no issue for the Packers, who just chose to play their safeties shallow because they knew the Bengals couldn't hit them over the top in the middle of the field.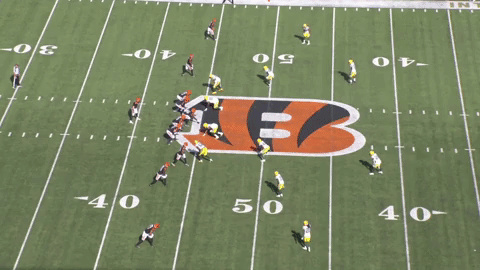 The Will linebacker gets help from the safety to essentially double Chase on the top of the screen, and the Mike linebacker gets help from the other safety, so when Tyler Boyd makes the catch, he still can't get the first down. 
Without condensing receivers together, they have no way of creating easy releases into open space for their pass catchers. It's all one on one.
This issue is front and center for the Bengals right now. They have fixed a part of the problem from last season's offense when they couldn't throw the ball down the field. They did this by simply drafting Chase, but other dilemmas still linger. The offense's insistence on trying to just win a lot of one-on-ones, whether it's in the passing game or running game, is at the forefront. 
Fix that, and the team has a chance to improve offensively and actually make a push for the playoffs going forward. If not, all the goodwill they built up with a 3-1 start will be forgotten quickly.