After the first four games of the 2022 season, it felt like Chicago Bears quarterback Justin Fields — in his second NFL campaign — was trending toward being a first-round bust. In that span, he had a 58.7 passer rating and completed barely 50% of his throws. The Bears were averaging just 16 points per game, and Fields had seemingly regressed from his rookie season. 
But over the past five weeks, a far different quarterback has been behind center for Chicago. Fields finally looks confident, and the offense is humming. It's night and day compared to what we saw in the first month of the season.
How drastic has the difference in play been for Fields this season? Since Week 5, he has a 77.4 overall grade, compared to a 49.7 mark in the four games prior. He was the league's lowest-graded quarterback in the latter span. But since then, he sits at No. 9 in the NFL among qualifying players. In all, he is now the No. 18 quarterback in PFF grade on the season, one who is rising with each passing week.
JUSTIN FIELDS WEEKS 1-4 VS. WEEKS 5-9 | 2022
Weeks 1-4
Weeks 5-9
Overall Grade
49.7
77.4
Passing Grade
43.5
58.7
Rushing Grade
65.6
93.0
Big-Time Throw %
1.4%
4.5%
Turnover-Worthy Play %
5.8%
4.3%
Adjusted Completion %
59.7%
69.9%
Dropbacks
103
184
Scrambles
17
32
The running game has helped buoy that ascent. Over the past five games, Fields has the highest rushing grade (93.2) among quarterbacks, averaging 91 rushing yards per game. Only the Buffalo Bills' Josh Allen (92.8) has a better rushing grade than Fields (91.4) overall for the 2022 season.
But aside from more ground game production, what's changed for Fields and the Bears? What are they doing so differently now that's allowed him to play better football? The answer is actually pretty simple. They have taken the reigns off the second-year quarterback, finally trusting him to make the right decisions with the ball in his hands.
Chicago knows that forcing Fields to throw the ball 40-plus times a game isn't a winning strategy. Very few NFL quarterbacks can succeed that way. Taking the ball out of his hands ultimately doesn't work, either. Unfortunately, that's what the Bears tried to do early in the season, and it led to them fielding one of the worst offenses in the league. 
Fields was averaging only 25.8 dropbacks per game in the first four weeks of the season. That led to him scrambling only 6% of the time, with the Bears trying to make him a pocket passer first.
Chicago has since upped his dropbacks average over the past five weeks to 36.8. Instead of taking things off his plate, the team has added to it. And with that added trust, Fields is more often than not making the right decisions.
Trusting one's quarterback with more plays with the ball in their hands is one of the secrets to developing the position. Coaches can be reluctant to do so, as it gives them less control over what may happen on any given play, but those reps and snaps are needed to both develop the quarterback and manufacture big plays.
Lamar Jackson averaged just 29 dropbacks per game in his rookie campaign with the Baltimore Ravens, but in Year 2, the Ravens bumped that up to 37.6. The same was true for Josh Allen, who went from 37 dropbacks per game in 2018 to 39 in 2019 and 51 in 2020. At some point, coaches have to give up control and let their franchise quarterback sink or swim.
What's also helped is that Fields is scrambling more (6.4 scrambles per game since Week 5), which has resulted in some big plays. No quarterback in the league has more scrambles (49) than Fields this season. Yes, the Bears are also designing more runs for him, but they are giving him more opportunities to either make plays with his arm or his legs.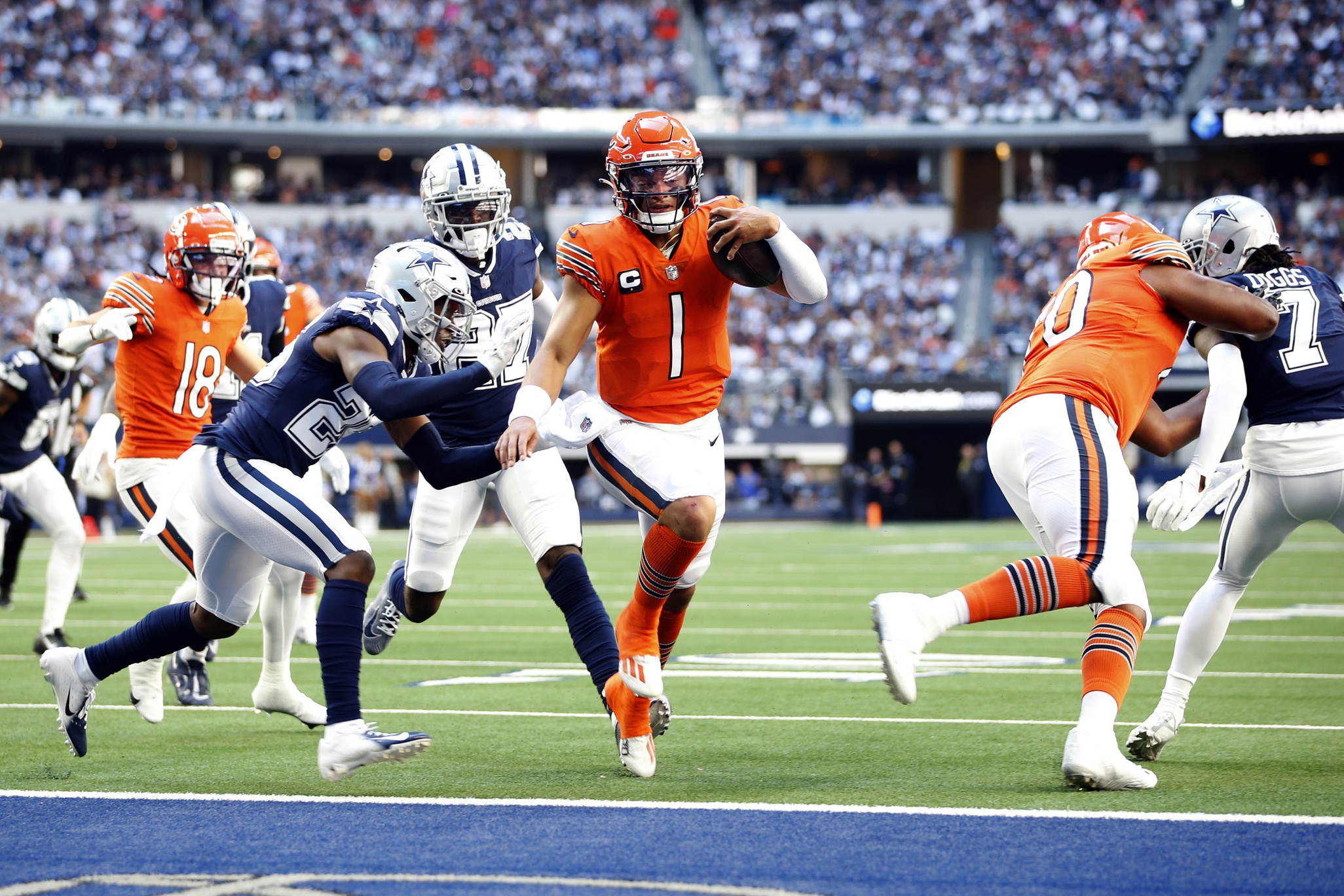 Chicago is also providing Fields with more "layups" to get him comfortable and in rhythm. An excellent example of that is the uptick in wide receiver screens. In the first four games of the season, Fields threw just six screens. But since Week 5, he's thrown 20 and completed 17 for 126 yards and one touchdown. While those aren't incredible numbers (6.3 yards per attempt), they are easy throws that have allowed him to build confidence.
Then there's the general improvement as a passer who has more experience at the NFL level. One example of this is on go routes. Fields' 93.1 passing grade on such plays this year is up from 81.3 as a rookie, and the Bears have leaned into him throwing the ball downfield more. As a rookie, he had just 13 passing attempts on go routes. This year, he's already thrown 16 and has a 106.0 passer rating on said routes. It's really as simple as finding the things that Fields does well and increasing those reps.
Fields still needs to improve across the board when it comes to passing the ball. But his insane rushing ability will allow him to continue to be successful until that happens. It isn't all that different from Lamar Jackson in 2018, Josh Allen in 2020 or Jalen Hurts in 2021. 
Make no mistake, though: Justin Fields has officially broken out in Chicago and is improving nearly every week. That should be terrifying for the rest of the NFC North. And if he continues to make strides as a passer, he could become a top-10 quarterback in the NFL sooner rather than later.