Indianapolis Colts quarterback Carson Wentz will have surgery to excise a bone in his foot, head coach Frank Reich announced Monday, putting Wentz out of action for 5-12 weeks in a move that has far-reaching ramifications for the franchise.
The Colts sent a conditional draft pick to Philadelphia to acquire Wentz, a pick that was tied to playing time. And with Wentz on the shelf, they would be sacrificing next year's second-round pick instead of the first it was assumed to be. The Eagles look to have built their strategy heavily around the assumption that they would have an extra first-round pick to play with next offseason, and the timetable for Wentz's recovery now makes that extremely unlikely. Philadelphia's plan to attain a new quarterback if Jalen Hurts doesn't pan out in 2021 has been dealt a big body blow.
News keeps getting worse and worse. I am concerned this is a season ending Lisfranc injury! The "pop" is classic sign of subluxation. https://t.co/xT1XlSw2k2

— Mario Pilato (@mario_pilato) July 30, 2021
For the Colts, it means they have an indefinite period in which they need to survive without their starter, hanging in contention long enough that Wentz can potentially rescue them whenever he makes it back into the lineup.
Foot injuries are pretty common in the NFL. In a recent data study, foot injuries have been the fifth-most common injury among players. They have also caused the fifth-most WAR-Adjusted Injuries Lost (WAIL) since 2012, with 10.22.
In 2019, Cam Newton suffered a Lisfranc fracture that kept him out for the entire season following Week 3. In the 14 games he was injured, he accumulated 0.16 WAIL. Because the injury happened so early in the season, WAIL takes into account how the player performed the year before. In 2018, Newton generated 1.24 Wins Above Replacement (WAR), which was good for 20th in the league.
Though Wentz is apparently not dealing with a Lisfranc injury, the idea of it lingering deep into his season is a real one. In 2020, Wentz ranked 44th among all quarterbacks in WAR (0.08), which means his projected WAIL going into Week 1 is 0. 
The Colts can't seem to catch a break at quarterback.
Subscribe to
Philip Rivers' retirement left the Colts in a familiar position — with a good roster badly in need of an answer at the game's most important position. They lived that a year before when Rivers was the short-term answer, and their solution this time was to roll the dice that a reunion between Frank Reich and Wentz could lead to a rediscovery of his best play or something close to it.
It was already a risky move before the injury risk was considered. Wentz is coming off a season in which he ranked 34th among 42 qualifying quarterbacks in PFF grade. He was bad enough that the team was eventually forced to sit him down in favor of Jalen Hurts and ultimately look to rid themselves of his big-money contract, which hadn't even technically kicked in.
Earlier in the offseason, I wrote that Wentz wasn't worth the gamble because his realistic baseline is not going to be close to that 2017 season that propelled the Eagles toward a Super Bowl that Nick Foles eventually won for them. Outside of that year, Wentz has been good but not great, and that championship season was built on a foundation of unsustainable, volatile facets of play.
Still, he was the gamble the Colts took. And now they have to survive for a portion of the season without him as the starter while also without the second-round draft pick it took to acquire him. 
With Wentz no longer expected to miss the entire season, the chances the Colts look to the trade market for a quarterback are greatly diminished. The options already weren't great if they wanted to go that route. One obvious move would have been to call the Las Vegas Raiders to see what it would take to trade for Marcus Mariota. A former No. 2 overall pick, Mariota also played his way to the bench in the AFC South but looked excellent in a cameo performance for the Raiders last season and may be somebody the team believes has put his game back together from the bench.
At the same time, Jimmy Garoppolo is now a lame-duck quarterback after the San Francisco 49ers selected Trey Lance with the third overall pick of the 2021 NFL Draft. If the team believes Lance is ready to start this season, they may be willing to cash in on a quarterback that still has some value. Garoppolo has been a durability nightmare in his time as the starter in San Francisco, but he has consistently earned higher PFF grades than Wentz when he has been healthy.
Two other and increasingly desperate options are Nick Foles and Gardner Minshew. One of those requires a trade within the division, which seems unlikely. And for as much as Foles has rescued a Reich offense in the past, the shine has come off his career since. He may nonetheless represent the best veteran option they have.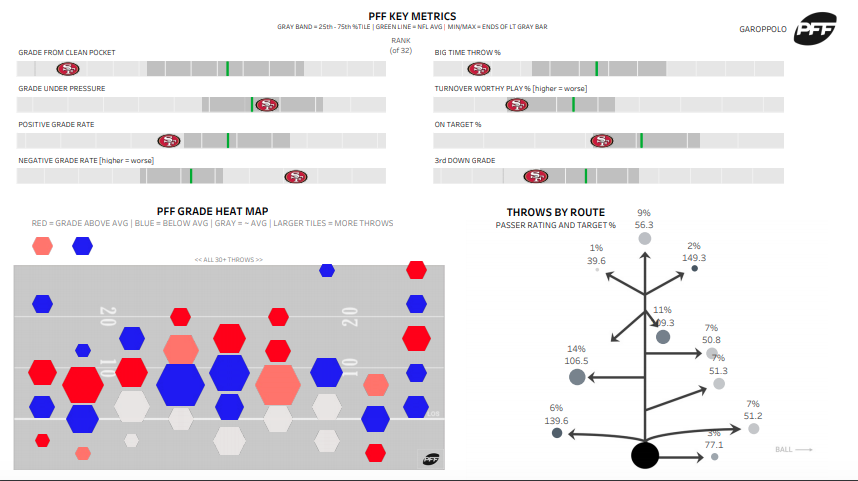 Indianapolis signed Brett Hundley in the immediate aftermath of the Wentz news, which suggests the team believes its best options remain in-house — second-year quarterback Jacob Eason and rookie Sam Ehlinger. Eason is a big-armed signal-caller out of Washington who never really put it all together in college, topping out with an 84.3 overall PFF grade in his final season with the Huskies. Still, there has recently been a solid track record of "toolsy" quarterbacks having success in the NFL. He had no chance to show anything last season in the preseason because there wasn't one, but he will now get an opportunity to impress in camp while Wentz is sidelined.
Ehlinger graded better in college, posting a season above 90.0 in 2019 and a completion percentage over expectation (CPOE) of +5% for his college career. However, he has a marginal NFL arm and a style that lends itself to success at the college level but not necessarily to the pros. He tends to bail from clean pockets and rely on athleticism to extend plays and make things happen with his legs. And while he isn't a bad athlete, his 4.84-second 40-yard dash ranks in the 32nd percentile among quarterbacks and makes him far slower than a lot of the players who will be chasing him down.
As you would expect, the options aren't great when a team loses its starting quarterback on the eve of the preseason, particularly when it remains in the limbo of not knowing exactly how long he will be missing. It also makes evaluating Wentz as a long-term option extremely difficult, given the big-money contract he comes attached to. The Colts have the No. 2 offensive line in the NFL on paper as we head into the season and may elect to give one of their young quarterbacks a shot before doing anything more drastic, but this throws a torpedo into the side of a team that will have been looking to win the division in 2021.