There are plenty of ways to contextualize quarterback play beyond the box score statistics. 
A screen pass taken 80 yards to the house because of an impressive individual effort by the receiver is not the same as an 80-yard touchdown pass on a downfield dime that hits a receiver in stride against tight coverage. Similarly, an interception deflecting off a receiver's hands should not be penalized the same way as a pass thrown straight into the chest of a defender. A quarterback shouldn't be absolved of blame for a dropped interception simply because the defender couldn't finish the play. 
That's where PFF comes in and cuts through some of the noise. Through play-by-play grading, accuracy charting and a number of beyond-the-box-score statistics, PFF attempts to portray a clearer and fuller picture of quarterback performance. The 2022 PFF Quarterback Annual is filled with 441 pages of such data on 36 quarterbacks who saw significant playing time during the 2021 NFL season. 
---
Click here for more PFF tools:
Rankings & Projections | WR/CB Matchup Chart | NFL & NCAA Betting Dashboards | NFL Player Props Tool | NFL & NCAA Power Rankings
Best Bets Tool
---
The full QB Annual can be downloaded here with a PFF EDGE or ELITE subscription. Here are some of the bigger takeaways I had when putting it together. 
It's difficult to have consistent success with a high average Time to Throw and a low ADOT
This is the full list of quarterbacks who had an above-average time to throw and a below-average depth of target over the course of last season: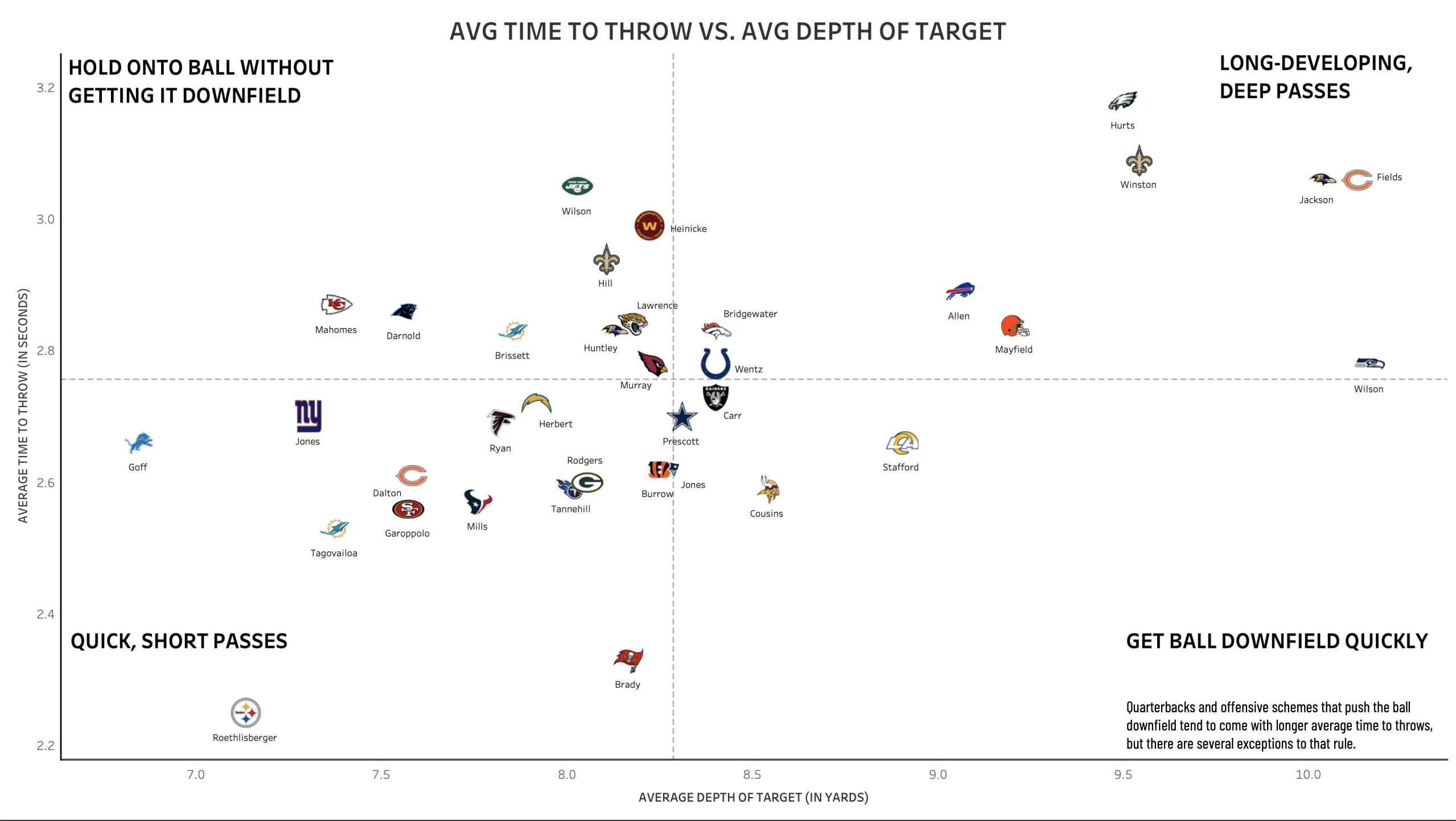 Let's remove Murray from that group, given he's almost dead-center in the plot. That leaves Mahomes as the only above-average quarterback without any projection forward for a younger player like Lawrence. 
It shouldn't be all that surprising that a high average time to throw and low average depth of target isn't an optimal combination. Holding onto the ball opens up the risk for pressure, which tends to lead to less success on offense. Also, you're leaving meat on the bone if you're not capitalizing on the longer time to throw with downfield shots to more valuable areas of the field.  
Mahomes is the outlier in that group. He should be at or very near the top of any list of the league's best quarterbacks, given his track record over the past four seasons, but he did earn the lowest PFF grade of his career in 2021. 
Much was made of the schematic changes that defenses made in defending Kansas City this season, which included a league-high 68% of offensive snaps against two-high safety looks pre-snap and a league-low 15% of passing snaps where Mahomes was blitzed. Those two are conducive to a lower average depth of target — with coverage limiting anything deep — and a higher average time to throw where fewer pass rushers were forcing a quick throw. 
The demise of the Chiefs' offense was overblown. They still finished the league ranked second in Expected Points Added (EPA) per pass play at 0.21 — even if that was a step back from their success from 2018 to 2020 (0.27) — but there was still a step back for both Mahomes and the offense. It's not a stretch to say the combination of low aDOT and high time to throw contributed to it. 
Any team targeting Jimmy Garoppolo in a trade needs a stable offensive line situation
It's easy to pick the point that stands out on this plot of PFF grade in clean and pressured situations.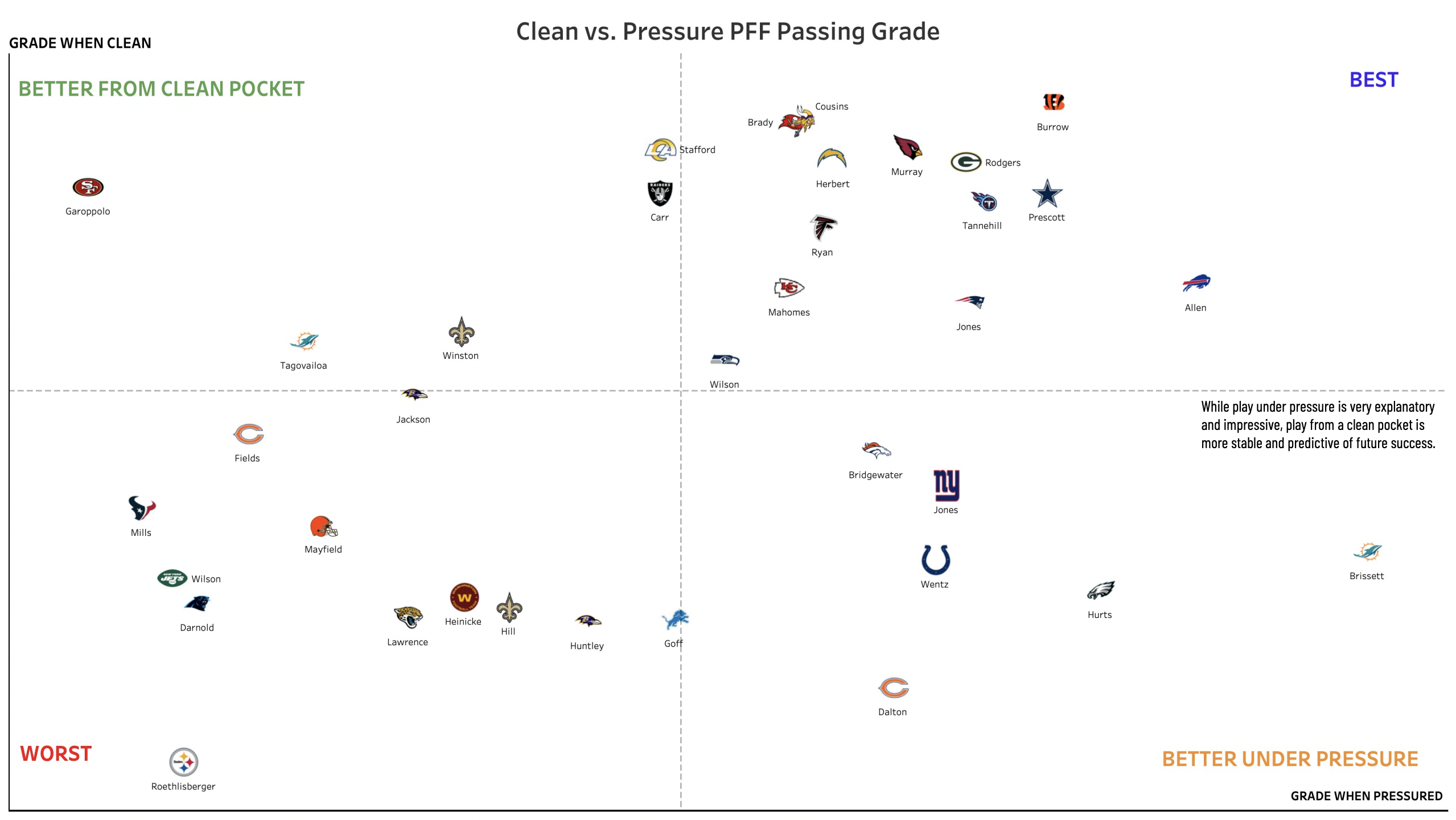 Garoppolo had the largest gap between clean and pressured performance of any quarterback in the league last season — that's been a consistent theme in recent years for San Francisco's signal-caller. Over the past three seasons, Garoppolo ranks dead last out of 32 qualifying quarterbacks in PFF grade under pressure (30.0). He ranks 14th with a 91.1 passing grade from a clean pocket during that same stretch. 
His deficiencies under pressure were put under the microscope in the NFC Championship game with Aaron Donald and Von Miller breathing down his neck on a drive when San Francisco needed its quarterback to make a play. It didn't look like he had a chance with things breaking down around him. 
That's a consideration any team who has interest in trading for Garoppolo has to make. He has shown he can make a deep playoff run with a strong system in place around him, but things could get ugly behind a shaky offensive line, especially if receivers aren't getting schemed open. 
Joe Burrow's accuracy was on another level
Per PFF's accuracy charting data, Burrow was the most accurate quarterback in the NFL last season. It's a big reason why he made the leap into the upper tier of quarterbacks in just his second season out of LSU.
Those numbers really shone in the intermediate range on passes 10 to 19 yards downfield.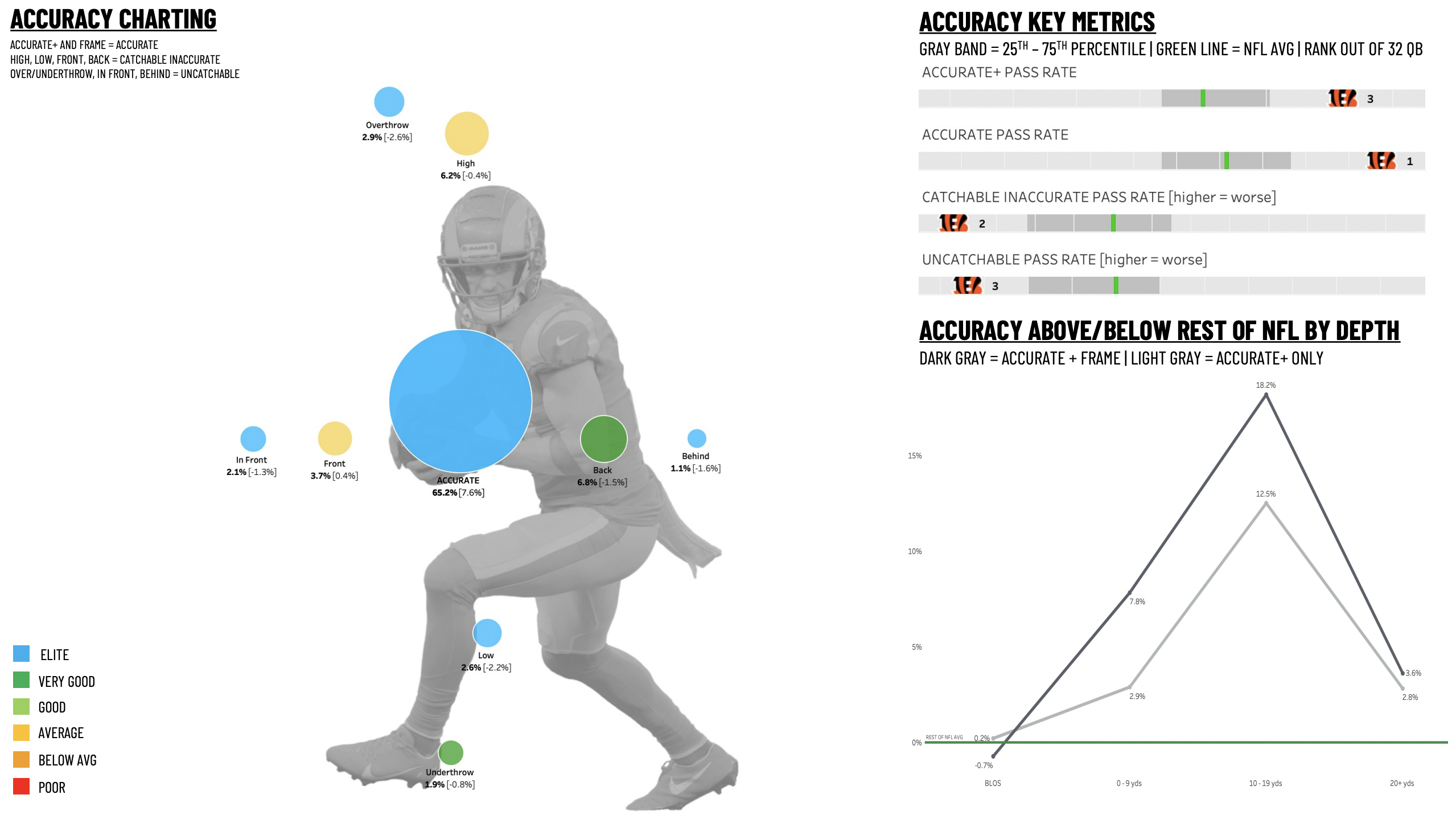 Those are typically throws where the ball has to be fit into a window, rather than underneath passes to receivers getting cushion or deep balls that can be lofted over the top of a defense. Burrow doesn't have a cannon like some of his other young counterparts at the position, but he's able to make up for that with his ball placement. 
Getting the ball out accurately to a wide receiver trio of Ja'Marr Chase, Tee Higgins and Tyler Boyd is a recipe for offensive success. The AFC isn't lacking quality competition, but the pass-game talent that Cincinnati has put together sets them up to contend moving forward.
---
Related content for you:
2022 NFL Free Agency: Updated landing spots for PFF's top 50 free agents via Arjun Menon
---
Derek Carr thrived over the middle of the field
Carr's PFF passing grade heat map lit up red when targeting receivers between the numbers, particularly when pushing the ball 10 or more yards downfield.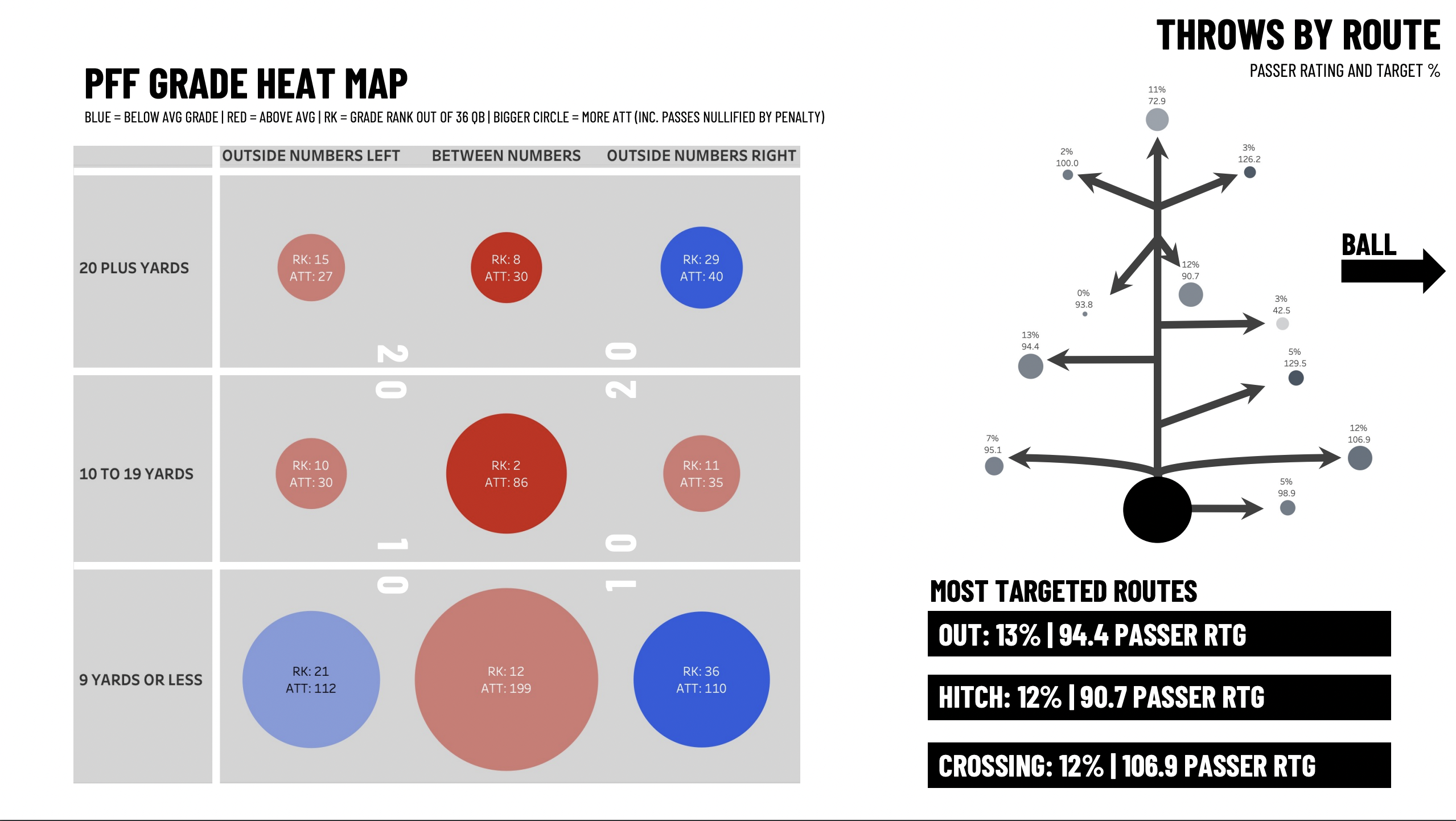 That lines up with where Carr's top targets line up: Darren Waller (tight end), Hunter Renfrow (slot) and Josh Jacobs (backfield) were three of his most-targeted pass-catchers. 
That aspect of Carr's game and the Raiders' passing offense shouldn't change if he remains in Las Vegas. Josh McDaniels should still prioritize this area of the field, but it wouldn't hurt to add another option or two who can consistently win on the outside.  
Taylor Heinicke's downfield accuracy crippled Washington's passing attack
Heinicke's performance in the 2020 NFL playoffs earned him a shot to win the starting job in Washington entering last season. Though he didn't win that job in the offseason, a Week 1 injury to Ryan Fitzpatrick gave him the opportunity to show what he could do over a larger body of work. Unfortunately for Heinicke, his play in 2021 likely isn't going to warrant much more consideration for starting jobs moving forward. 
The heat map below of where Washington ran a higher percentage of its routes shows Scott Turner and company wanted to push the ball downfield, highlighted by the "hot zones" 15-plus yards downfield down the numbers.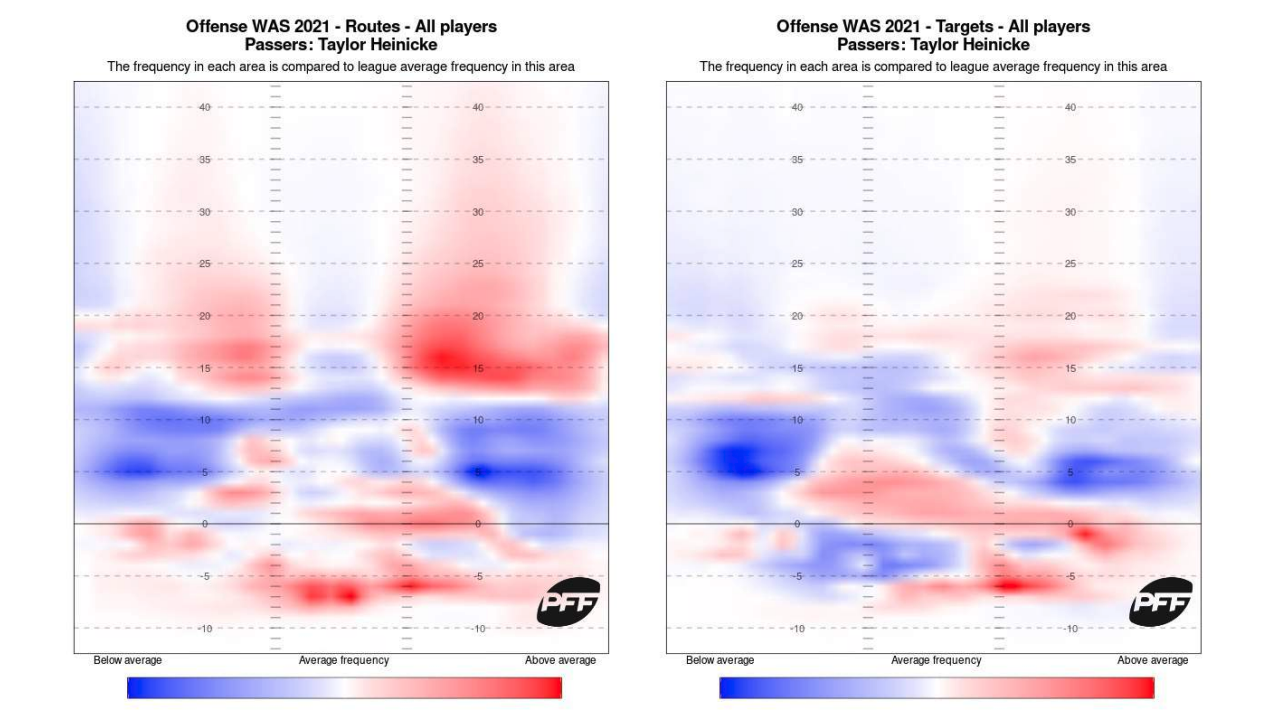 The issue: Heinicke's biggest weakness last season was his downfield accuracy, which took a nosedive on any pass 20-plus yards downfield.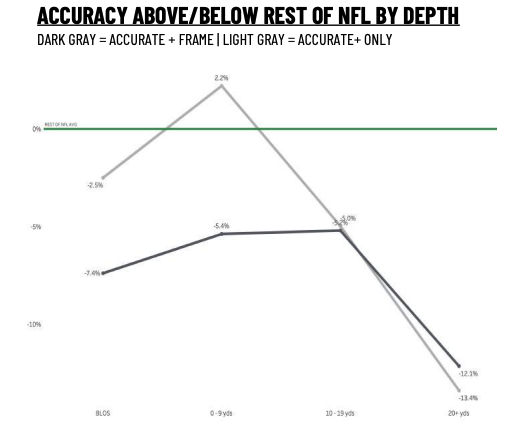 He just didn't give Terry McLaurin many well-placed balls downfield. Finding a quarterback who can push the ball downfield will likely be at the top of Washington's list this offseason. 
Tom Brady went out as one of the NFL's best quarterbacks
The end of Brady's career defied logic. We've seen great quarterbacks like Peyton Manning, Drew Brees and Ben Roethlisberger go out in recent years with waning arm strength and declining play in their final seasons. Brady's career outlasted them all in terms of longevity, and he had a legitimate MVP argument in what turned out to be his final season. 
There wasn't an area of the field where Brady didn't have success.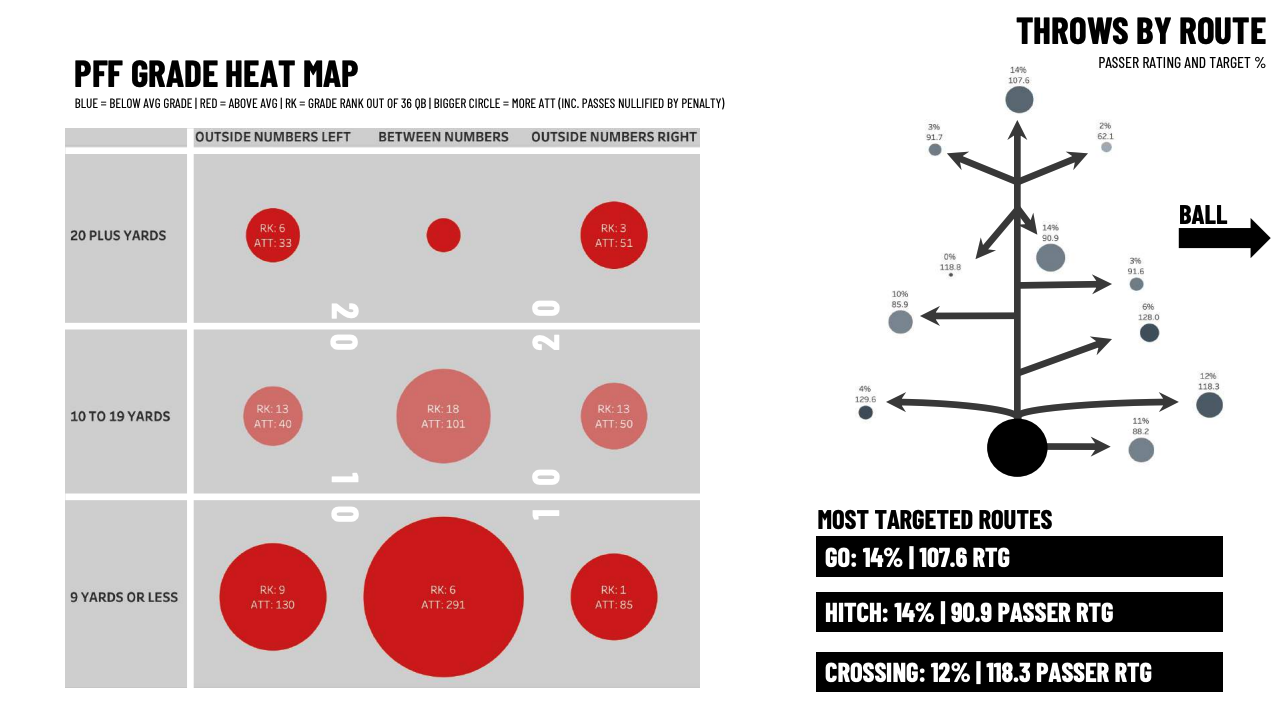 The success Brady had pushing the ball deep in Tampa Bay's offense is what really stands out there. A 44-year-old shouldn't have that level of success 20-plus yards downfield. The only player to complete as many passes as Brady did at that depth was Kyler Murray. There's almost exactly 20 years separating those two.  
An eighth Super Bowl title may have eluded him, but Brady went out on top.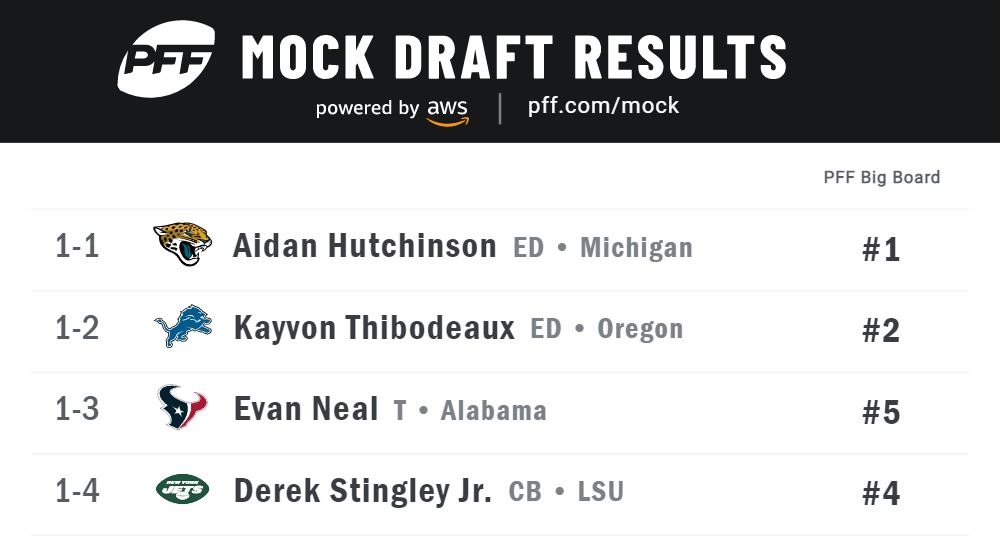 Several young quarterbacks could get stand to get rid of the ball quicker
The first two picks in the 2021 NFL Draft didn't have the starts they were hoping in the midst of the less-than-ideal offensive situations they were thrown into. Both could take a step forward in 2022 with an emphasis placed on getting the ball out quicker. 
Trevor Lawrence recorded an average time to throw 0.4 seconds quicker during his Clemson career (2.45s) than he did as a rookie with Jacksonville (2.85s). Lawrence really struggled on those dropbacks last season where he held onto the ball in an attempt to make something happen downfield when there wasn't anything there.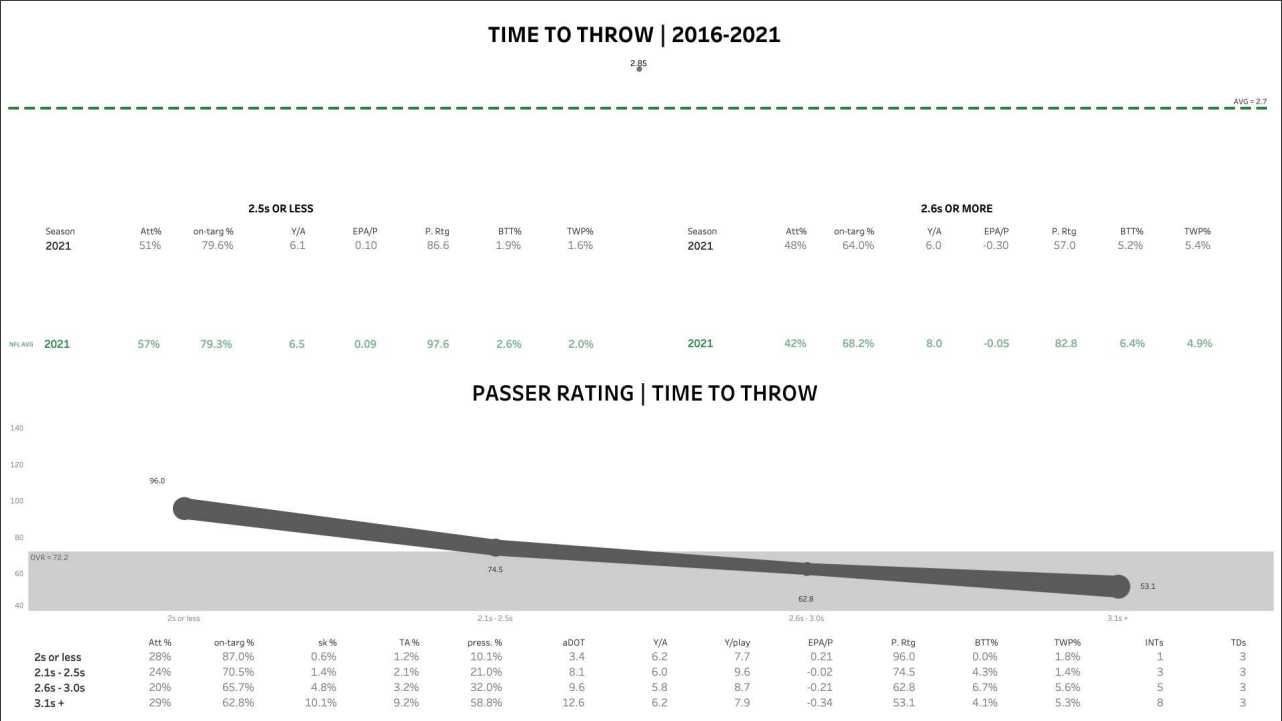 Passer rating certainly has its flaws as a metric, but his decline in passer rating (along with other metrics like EPA per play) later in the play, highlighted in the image above, indicates Lawrence could benefit from taking more "singles" and not always holding out to make the big play. 
Zach Wilson was even further on that scale, with a 3.0 second average time to throw as a rookie. His success early in dropbacks compared to late in dropbacks also paints a similar story.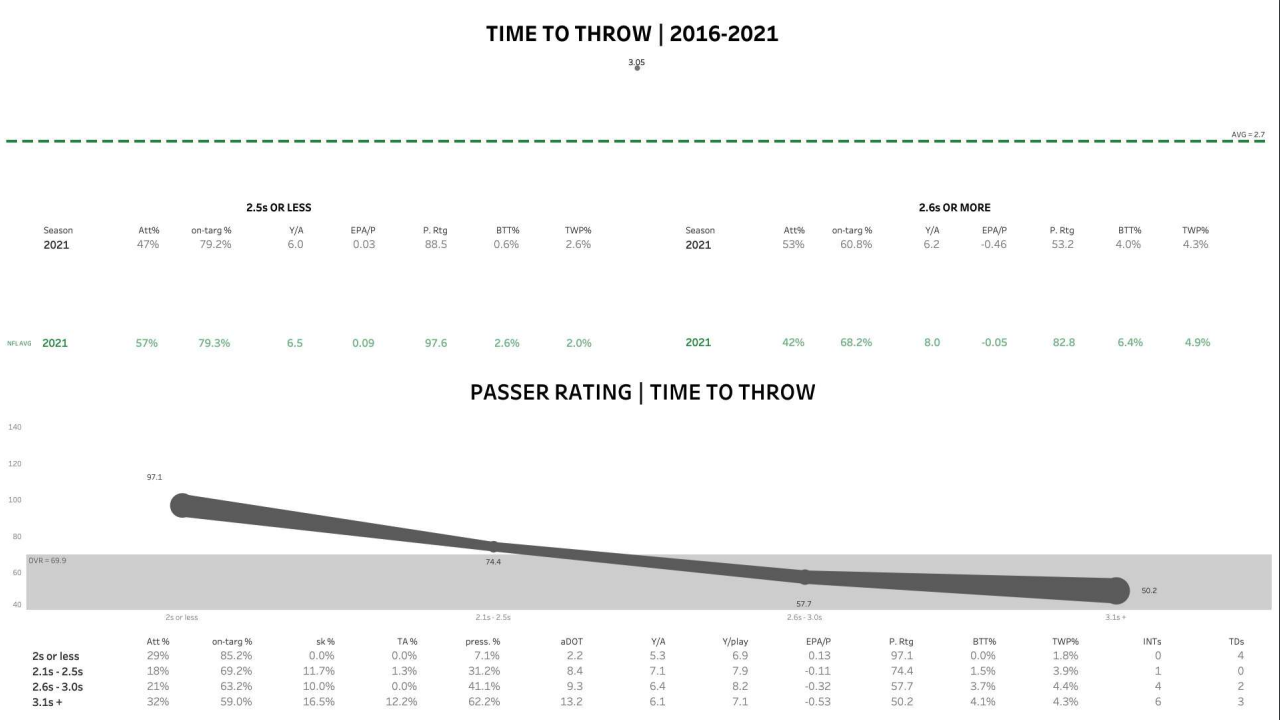 Both quarterbacks are able to create outside of structure. It's a big reason why they were drafted where they were last offseason. However, it's tough to ask them to do that as frequently as they did during their respective rookie seasons while they're making the transition to the speed of the NFL game. 
Creating more easy throws early in the play needs to be a priority for both the Jacksonville Jaguars and New York Jets in 2022. 
Avoiding sacks is an underrated trait for several elite quarterbacks
It's easy to overlook sacks when it comes to quarterback analysis because they don't show up on the passing stat sheet, and sacks are often attributed to the blocking. The ability to maneuver the pocket and avoid big negative plays like sacks under pressure is a skill some quarterbacks have and some don't. It just so happens that a crop of the top young quarterbacks in the NFL appear to have this ability. 
Josh Allen has gotten better at avoiding sacks under pressure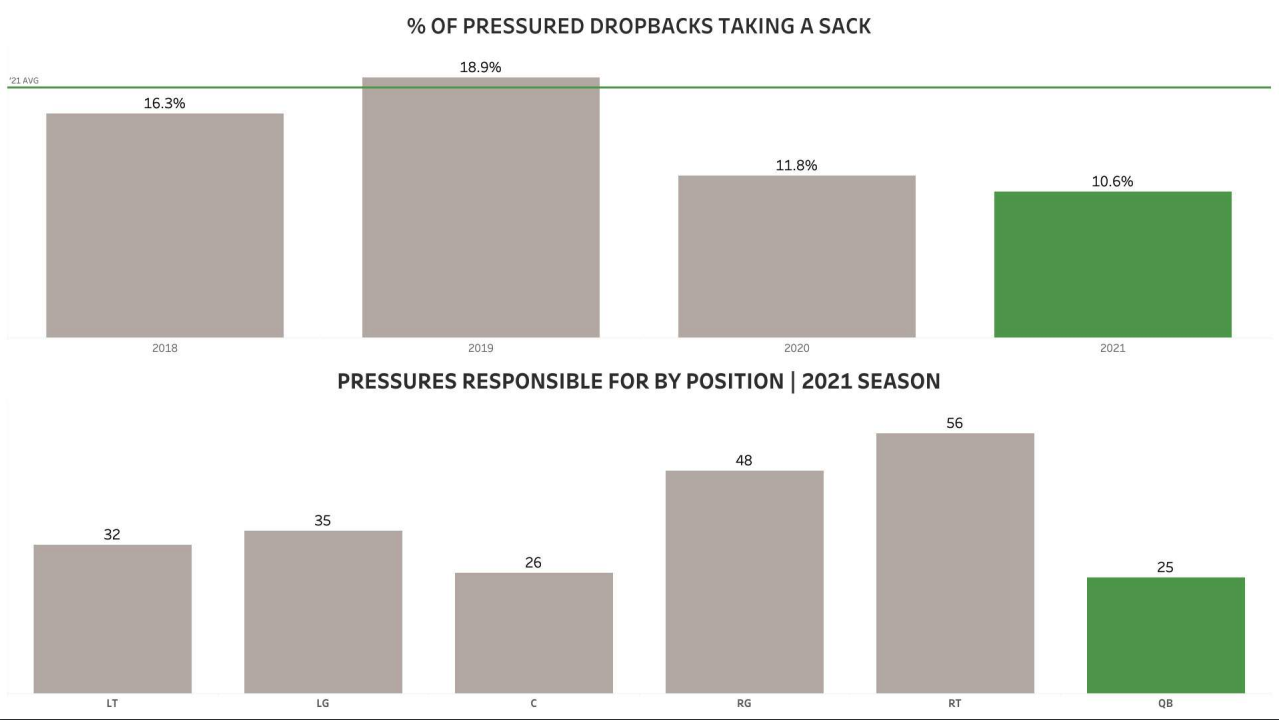 Josh Allen (pictured above), Patrick Mahomes (13.4%) and Justin Herbert (15.6%) all took sacks when pressured at a rate comfortably below the league average last season. Lawrence was right in that cluster, too, at 14.1% — a promising sign for his future development. 
The interesting name on the opposite end of the spectrum is Joe Burrow. Only Baker Mayfield and Zach Wilson took sacks on a higher percentage of their pressured dropbacks than Burrow did last year. A better offensive line would certainly help matters, but there are times where Burrow could stand to get rid of the ball, too. It's one of the few areas for him to clean up following an excellent 2021 season.