Watson will be suspended for 11 games, pay a $5 million fine, undergo mandatory evaluation by behavioral experts and follow their suggested treatment program.

By reaching a settlement, the NFL and NFLPA avoid the situation potentially dragging into the season and reaching federal court. A ruling from appeals officer Peter C. Harvey is no longer needed.

Watson spoke to reporters after the news and maintained his innocence.

"I'll continue to stand on my innocence, just because you know settlements, and things like that happen doesn't mean that a person is guilty or anything. I feel like a person has an opportunity to stand on his innocence and prove that, and we proved that from a legal side, and just going to continue to push forward as an individual and as a person," Watson said.

Watson's suspension takes effect on Aug. 30 when NFL teams are required to cut rosters down to 53 players. He will be eligible for reinstatement on Nov. 28 and will be available to play in Week 13 against his former team, the Houston Texans. 

The Browns announced Thursday that he won't play in their remaining preseason games.




---
Nelson is entering the fifth and final year of his rookie contract and is set to earn $13.75 million in 2022.

"I see that getting done. You know, we've never had a problem, if you look through the history of the franchise, with outstanding players that go on to a second contract, whether it's with Reggie Wayne or Marvin Harrison," owner Jim Irsay said. "I see it getting done."
Nelson has a real argument to blow the doors off the guard market, as his extension could surpass $20 million annually. The highest paid guard is currently Brandon Scherff at $16.5 million per year.

Since entering the league as the No. 6 overall pick in 2018, Nelson has been voted All-Pro each season and has also made the Pro Bowl each season. 

He dealt with a number of injuries and underwent a few surgeries last season, limiting his top-tier ability. He's allowed just four sacks across nearly 2,400 career pass-blocking snaps. Simply put, when Nelson is at his best, there's nobody in his class.




---
Head coach Doug Pederson went on to say that the Jaguars won't rush Robinson back into things, but he's headed in the right direction. Robinson started participating in team drills on Tuesday. He tore his Achilles tendon in Week 16 of last season but avoided the physically unable to perform (PUP) list to start camp, a sign he was ahead in his recovery.

The former undrafted free agent had an up-and-down year under then-head coach Urban Meyer, totaling 767 rushing yards and eight touchdowns. He earned a 77.1 PFF rushing grade. As a rookie, Robinson tallied 1,070 rushing yards and 10 total touchdowns.

The Jaguars have been leaning heavily on former first-round pick Travis Etienne throughout camp and the expectation is he'll carry the workload until Robinson is fully healthy. It's unclear how things will shake out once Robinson is fully back in the fold.




---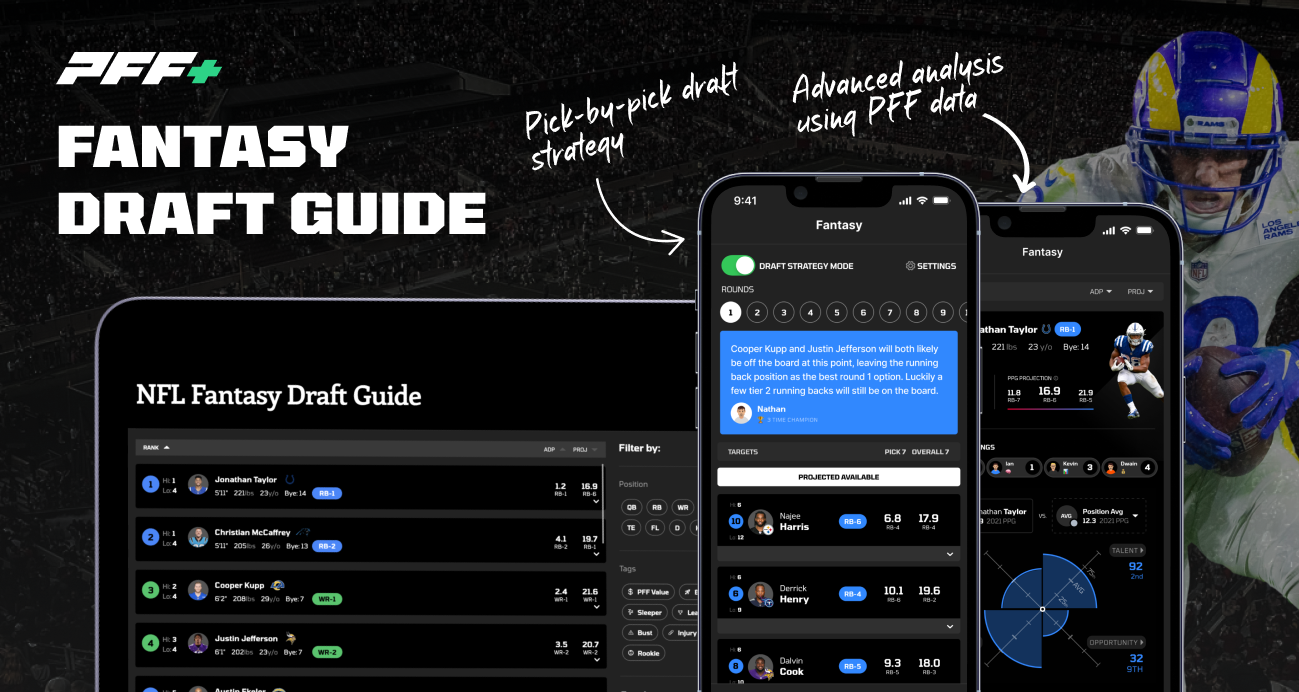 ---
Ogletree suffered a non-contact knee injury during Wednesday's joint practice with the Detroit Lions. Tests confirmed a torn ACL, ending his rookie season.

A sixth-round pick out of Youngstown State, the 6-foot-5 Ogletree impressed coaches throughout camp and was starting to earn first-team reps.

Mo Alie-Cox, third-round rookie Jelani Woods and Kylen Granson are the top remaining options at the position.
---
Smith underwent surgery on his thumb earlier this month, and the hope was for him to return before Week 1. Head coach Kevin O'Connell confirmed Thursday that's still the case.

The Vikings had high hopes for Smith last season, but a meniscus injury kept him out the entire year.

The former second-round pick out of Alabama has 66 catches for 676 yards and six touchdowns over his first two NFL seasons and finished 2020 with a 70.0 PFF grade.

Smith, who is entering the final year of his contract, will be the top tight end on his team for the first time and should benefit with Kevin O'Connell as the new head coach.