These are the right conference championship games. In the AFC, we get two quarterbacks — Patrick Mahomes and Josh Allen — whose arms give them the ability to do ridiculous things on the offense, and those quarterbacks just so happen to be in two of the NFL's best offensive environments. In the NFC, we get two legends — Aaron Rodgers and Tom Brady — facing off in Lambeau. It doesn't get much better.
We've actually already seen both of these matchups this season. Back in Week 6, Kansas City topped Buffalo, 26-17, in a rescheduled game that featured plenty of rain. Meanwhile, the Packers were beaten handily by the Buccaneers, 38-10, for their first loss of the year that same week. 
I went back to both of those October games to look at two big areas that won, or lost, the contest.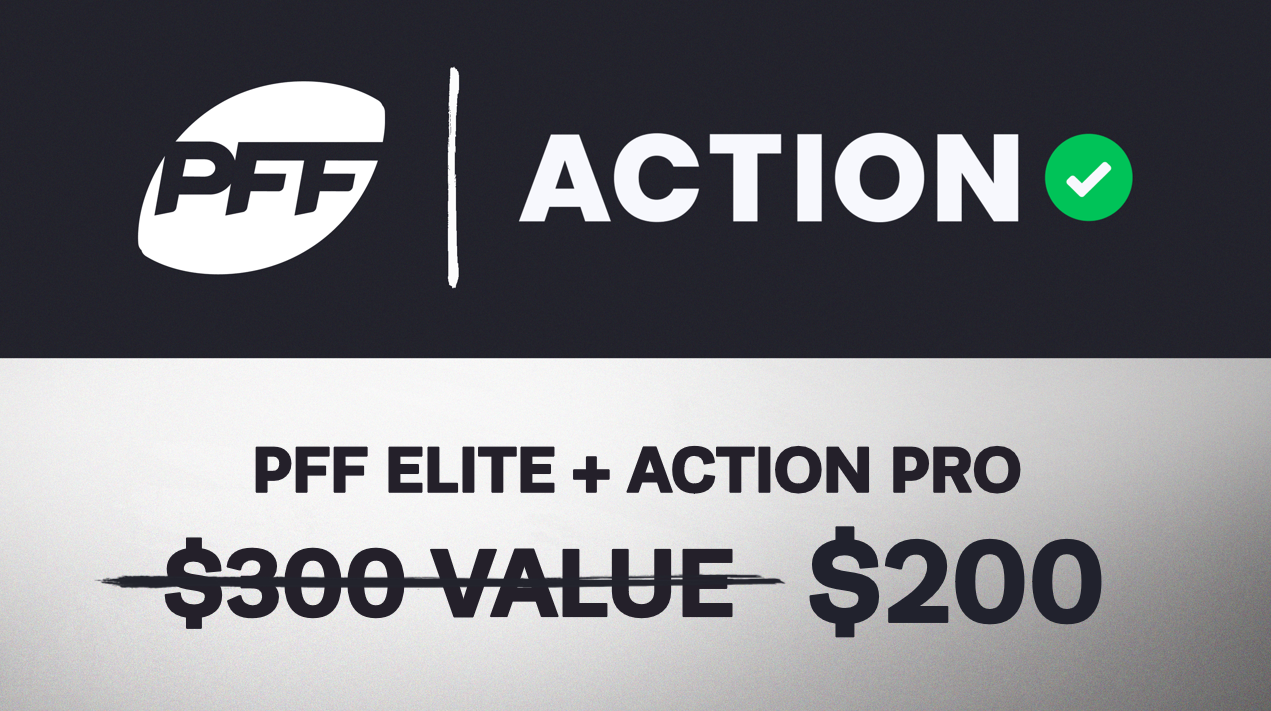 The Bills entice the Chiefs to run the ball, and Kansas City obliges
This game came shortly after it was announced Le'Veon Bell would be joining the Chiefs, but it was Clyde Edwards-Helaire who made a statement that he wasn't going anywhere with his best rushing performance of the season. He carried the ball 26 times for 161 yards with 11 first downs and seven missed tackles forced on the ground. Those 11 rushing conversions were tied for the most by any running back in a single week this season with Dalvin Cook against the Green Bay Packers in Week 8 and Derrick Henry against the Houston Texans in Week 17.
In a way, Edwards-Helaire carrying the ball that many times and the Chiefs running the ball on 58% of their first- and second-down plays — their highest rate of the season — was the desired outcome for Buffalo. The Bills employed six or fewer defenders in the box on 50% of their plays this season, which was already a top-10 rate in the NFL. But that number jumped all the way to 64% in this game.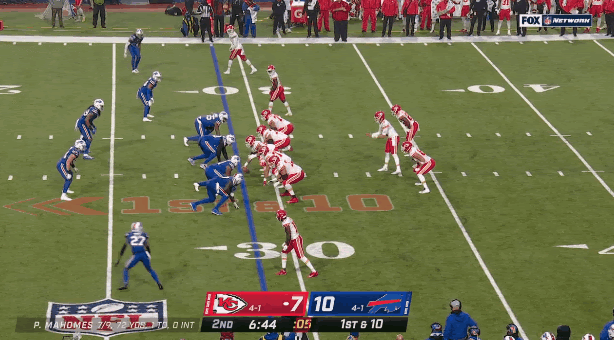 These were the types of looks Kansas City was running into throughout the game. With the offensive line holding its blocks and a strong lead block from Travis Kelce here on A.J. Klein, Edwards-Helaire isn't touched until he's about eight yards downfield. Kansas City averaged 7.9 yards per run play for the game on plays where Buffalo allocated six or fewer defenders in the box. 
Buffalo's strategy is sound. You would rather make Kansas City beat you on the ground than allow Mahomes to torch your defense with explosive plays. However, a run-heavy approach and a passing attack that yielded just a 6.5-yard average depth of target from Mahomes led to the Chiefs averaging 6.4 yards per play — a mark even higher than the team's league-high 6.3 yards per play for the 2020 regular season as a whole. 
It's the execution — particularly up front along the defensive line — that must improve in the second meeting for the Bills' defense.
Chiefs were able to make Josh Allen uncomfortable 
Getting pressure on Allen and forcing him to make plays outside the pocket is a double-edged sword, much like it is with Mahomes. He is fully capable of making the highlight-reel plays that are daggers in the sides of defenses that did their jobs for the first three to four seconds of the play, but Allen has also shown a propensity to try to make something happen each time around, whether or not he should.
Most turnover-worthy plays under pressure | 2020 regular season
It's actually a similar story for Mahomes — but not quite to the same extent as Allen. Only one of those turnover-worthy plays for Allen came in this game against Kansas City, but he was under pressure often with little success when the Chiefs' pass rush was able to get home.
Allen was under pressure on 17 of his 31 dropbacks in the outing, and he completed just four of his 13 passes for 44 yards, one touchdown and an interception on those plays. His most effective solution to the Chiefs' pass rush was what he was able to do with his legs, scrambling four times for 24 yards. Alex Okafor (six pressures), Chris Jones (five pressures) and Frank Clark (five pressures) led the way for Kansas City. 
Even accounting for that, it was still an uncharacteristically poor performance from Allen. A season-low 34.8% of his passes were deemed as having accurate ball location, per PFF's charting data — the only time this season he was under 50%. There are a few explanations for this. 
The first is relatively simple: This game featured far from ideal weather, with heavy rain throughout. The second, though, stems more from what the Chiefs were able to do in coverage. 
Allen had an average depth of target over 11.0 yards in three games this regular season, including in this contest against the Chiefs, and these are his PFF passing grades in those three games: 60.2 against Kansas City, 61.2 against the Pittsburgh Steelers in Week 14 and 63.8 against the New England Patriots in Week 8. Allen may have one of the livest arms in the NFL, but ideally, the Bills want to beat opponents in the short and intermediate parts of the field where the quick separation ability of Stefon Diggs and Cole Beasley gives Buffalo an edge.  
The Chiefs' defense, on the other hand, has had success funneling passes downfield. No team was targeted more times 20 or more yards downfield than Kansas City during the 2020 regular season. Generally speaking, that's not a great thing, but the Chiefs have actually had success on those targets. 
Coverage on targets 20-plus yards downfield | 2020 regular season
Unlike the other defenses that opposing offenses like to target deep, Kansas City produced a top-10 passer rating allowed on those throws. 
One of the big contributing factors for those 85 deep targets is how much press coverage the Chiefs play. A league-high 564 of their coverage snaps this season came with at least one cornerback in a press look, and that was true for 30 of the 31 coverage snaps in this game against Buffalo. Naturally, that's going to cut down on the passes underneath compared to softer coverage shells. 
It's reasonable to expect Buffalo to have more answers for both the Chiefs' pass rush and coverage in what should be better weather conditions Sunday. 
Aaron Rodgers records season-low numbers against Buccaneers' blitz
Since 2006, Rodgers' 106.6 passer rating against the blitz is higher than any other quarterback in the NFL. His 111.7 passer rating against the blitz over the course of the 2020 regular season was the fifth-highest mark in the league among qualifying signal-callers, and yet, the Buccaneers' blitz in Week 6 absolutely stifled Green Bay's offense. 
Tampa Bay blitzed Rodgers a season-high 21 times in that contest, and Rodgers cobbled together a 7.4 passer rating on 17 attempts while taking three sacks and scrambling once for eight yards on those plays.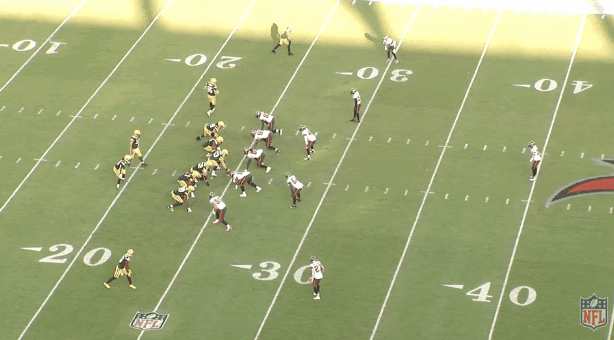 There were plays, such as the one above, where Rodgers makes the right read with a defender closing in — the throw just barely off to a wide-open Marcedes Lewis down the seam. It's not Devin White who ends up with the pressure here, but he has been one of the game's best off-ball pass rushers this season. Both he and Lavonte David ended this game with a sack and multiple hits on Rodgers. 
However, it wasn't always a case of pressure from the blitz forcing Rodgers into his mistakes. Just the threat of pressure appeared to impact some of his passes. Rodgers' worst throw of the game came before the corner blitz had a chance to get home on this play below. He left the ball inside on Davante Adams' out route, and Jamel Dean took advantage for a touchdown going the other way.
Given his success against the blitz throughout his career and the remainder of the 2020 season, it's hard to see those struggles repeating for Rodgers and Green Bay. As Adams said on the Cris Collinsworth podcast, "Our in-game adjustments have taken a big jump since then, so we're able to counter that a little bit better than we were earlier in the year." 
That's something to keep an eye on for Sunday.
Rob Gronkowski delivers one of the season's best performances against Packers' safeties and linebackers
With a lead for much of the game and little offense to speak of from Green Bay after the first quarter, the Buccaneers' passing offense wasn't stressed in this game. Brady had just 166 yards passing, but 78 of those yards went to Gronkowski. The majority of that damage came lined up as an inline tight end, yet his lone touchdown of the game came when split out against Adrian Amos on the play below.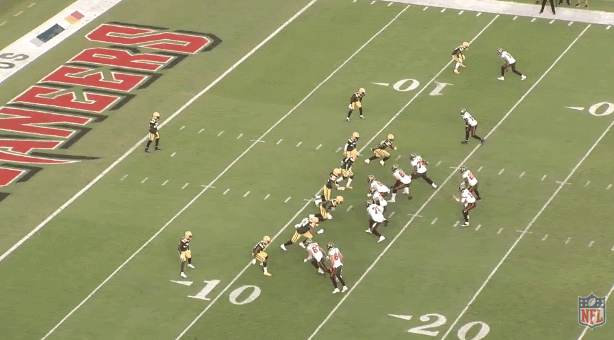 That matchup could play a role in a few high-leverage moments in this playoff affair.
Throughout the year, Green Bay has boasted one of the better defenses in the league when it comes to covering opposing tight ends. The unit's 683 receiving yards allowed to the position was the sixth-best mark in the NFL, and the Packers' 77.7 coverage grade on passes targeting tight ends fell short of only the Pittsburgh Steelers and Indianapolis Colts. In fact, Gronkowski's 78 receiving yards against Green Bay were more than any tight end recorded in a single game against them all season. 
A big part of that is the success that Amos has had with those assignments. No player in Green Bay has been targeted more times in coverage on a tight end than he has, and on those 13 targets, Amos has allowed just six receptions for 35 yards and a touchdown (on the play above) with two interceptions and two additional forced incompletions. He has been one of the best safeties in the league this season. 
It's been Cameron Brate doing the damage lately for Tampa Bay, with 130 postseason receiving yards compared to just 14 for Gronkowski, but whoever is carrying most of the load for the Buccaneers, they'll be hard-pressed to replicate Gronkowski's success back in Week 6 against the Packers.