The Kansas City Chiefs' hopes of winning a Super Bowl are shot if Patrick Mahomes goes down with an injury. There are certain players — including nearly every starting quarterback in the league — who clearly move the needle when they miss time. 
The goal in this piece is not to highlight those players. Instead, we're looking a tier or two below the big names across the NFL at players who would be sorely missed by their respective teams if they were to miss time. This can be due to depth concerns behind them or their significant role on the team in 2021. 
The Cardinals ran man coverage on 46% of their defensive snaps in 2020, the third-highest rate in the NFL — behind just the Miami Dolphins and Detroit Lions. This strategy puts stress on their cornerbacks, a spot that looks to be a potential weakness for Arizona entering next season. 
Murphy improved his coverage grade by nearly 15 points in Year 2, raising it from 48.5 as a rookie to 63.3 in 2020. However, that improvement came within a different role. Murphy spent 72% of his snaps in the slot during 2020 compared to 26% for 2019. There's a chance he could play the boundary more this season, given that Malcolm Butler, Robert Alford, Marco Wilson, Darqueze Dennard, Tay Gowan and Daryl Worley round out the current depth chart. 
Murphy played only four snaps in Arizona's preseason opener last weekend. Two of them came on the outside, while the others came from the slot. His experience playing both inside and out makes him a huge loss if unavailable due to Arizona's lack of cornerback depth.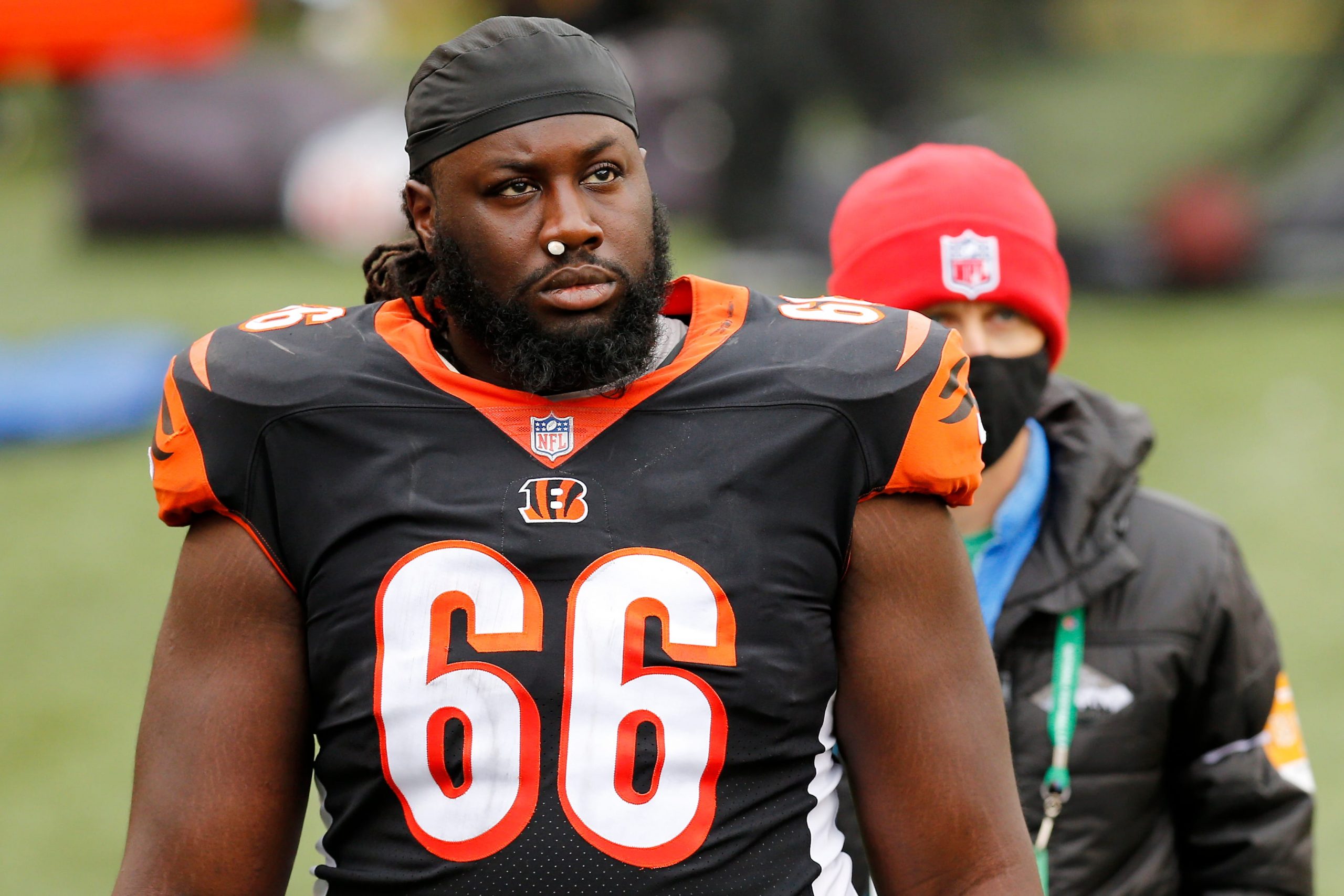 Hopkins isn't a top-flight option at center. His 63.8 PFF grade in 2020 was the highest of his career, but it still ranked just 20th out of 37 qualifiers at the position. However, Hopkins is still Cincinnati's most reliable interior offensive lineman — particularly in pass protection — entering a season in which the team needs to do a better job of protecting quarterback Joe Burrow.
The former Texas Longhorn ranks in the 67th percentile of qualifying centers in pass-blocking grade since 2017. That becomes even more impressive considering when looking solely at his time spent at guard in 2017 and 2018 (93rd percentile). Hopkins has been an above-average pass protector on an interior offensive line still searching for starting answers. 
Jackson Carman, a rookie out of Clemson, was supposed to be one of those answers, but he's been running with the third string of late in training camp. Quinton Spain (56.7 PFF grade in 2020) and Michael Jordan (55.7) are the two first-team guards as of now. Amidst the uncertainty at guard, Cincinnati needs a healthy Hopkins to start the year.   
The Chargers' safety depth chart is top-heavy with Adderley and Derwin James before quickly dropping off to backups Alohi Gilman and Mark Webb. Gilman and Webb have both reportedly had strong training camps, but the former late-Day 3 selections have combined for just 71 NFL defensive snaps.
Adderley doesn't bring a wealth of experience to the table, either. He registered only 10 defensive snaps in a rookie season marred by a hamstring injury in 2019. As a 2020 starter, Adderley played 886 defensive snaps but earned only a 50.8 PFF grade. There's reason to believe he will produce at a higher level in 2021 with James returning and playing alongside him. 
"He's our type of safety," first-year Chargers head coach Brandon Staley said of Adderley earlier this offseason. "He can see in the deep part of the field. He's smooth. He's got a lot of DB traits for us." 
Adderley was a playmaker at Delaware, allowing just seven receptions into his coverage while recording 10 combined interceptions and pass breakups in his final season with the Fighting Blue Hens. The Chargers' defense needs that playmaking from its secondary in 2021.    
Atlanta's offensive line was thoroughly worked by the Tennessee Titans' second-string defensive front in their preseason opener last Friday. Tennessee generated pressure on 59.4% of its pass-rushing snaps during the game. Fortunately for the Falcons, it was also their second-string offensive line that started the game, but the performance became an indictment of their depth up front. 
Lindstrom is the lone starter on the interior who the Falcons can feel comfortable with. Left guard is an open battle between Josh Andrews and Jalen Mayfield, and Matt Hennessy is competing with rookie Drew Dalman for the starting center job vacated by Alex Mack this offseason. There's a lot of uncertainty and projection involved for both of those positional battles. 
Meanwhile, Lindstrom is coming off an impressive second season out of Boston College at right guard. His 77.1 overall grade at the position ranked fifth in the NFL, behind only Wyatt Teller, Zack Martin, Brandon Scherff and Shaq Mason. It's critical that the Falcons can at least rely on Lindstrom for quality play on the interior while they hope for the best from unproven options at left guard and center. 
Defensive coordinator Brandon Staley wasn't the only loss for Los Angeles' defense this offseason. The Rams also parted ways with John Johnson III, Troy Hill, Morgan Fox, Samson Ebukam and long-time defensive lineman Michael Brockers — all contributors to the NFL's top defense in 2020. 
Brockers logged 5,935 regular-season defensive snaps since the Rams drafted him in the first round of the 2012 NFL Draft. That snap count was ninth among all interior defensive linemen in the league. Los Angeles will look to replace his reliable play, mainly against the run, with Robinson in 2021. 
It was somewhat of a lost first season for Robinson with the Rams in 2020. He started the year on the non-football injury list and played just under 150 snaps total, but Los Angeles is relying on a slimmer Robinson to make a bigger impact this season. 
"I feel light. I feel a little bit faster. I feel a little bit more explosive. I feel like I don't have anything dragging or carrying me down," Robinson said while commenting on his new weight (308 pounds) in a late July press conference.
The hope for the Rams will be that he gets back to his 2018 level of play when he earned an 89.7 overall grade with the Detroit Lions. The players listed behind Robinson on Los Angeles' initial depth chart are Eric Banks (2020 undrafted free agent) and Earnest Brown IV (2021 fifth-round pick).     
Vikings' first-round pick Christian Darrisaw recently underwent his second groin surgery since January to address an issue that has limited him early in training camp. That thrusts Rashod Hill, who has played fewer than 200 snaps in each of the past two seasons, into the starting lineup while Darrisaw misses time. Wyatt Davis was another rookie expected to compete for a starting job at right guard, but he found himself behind Oli Udoh and Dakota Dozier in that competition. 
In other words, there is uncertainty surrounding the 2021 draft picks who were supposed to step in and provide clarity along one of the NFL's shakiest offensive lines in recent years. 
O'Neill has been one of few bright spots up front. He has improved his PFF grade every season since Minnesota selected him in the second round out of the University of Pittsburgh. He ended his 2020 season with a 78.0 overall grade that ranked 11th at the right tackle position. Missed time from O'Neill this season would throw the offensive line into more disarray, and it would force both Darrisaw and Hill to produce at respectable levels from the start.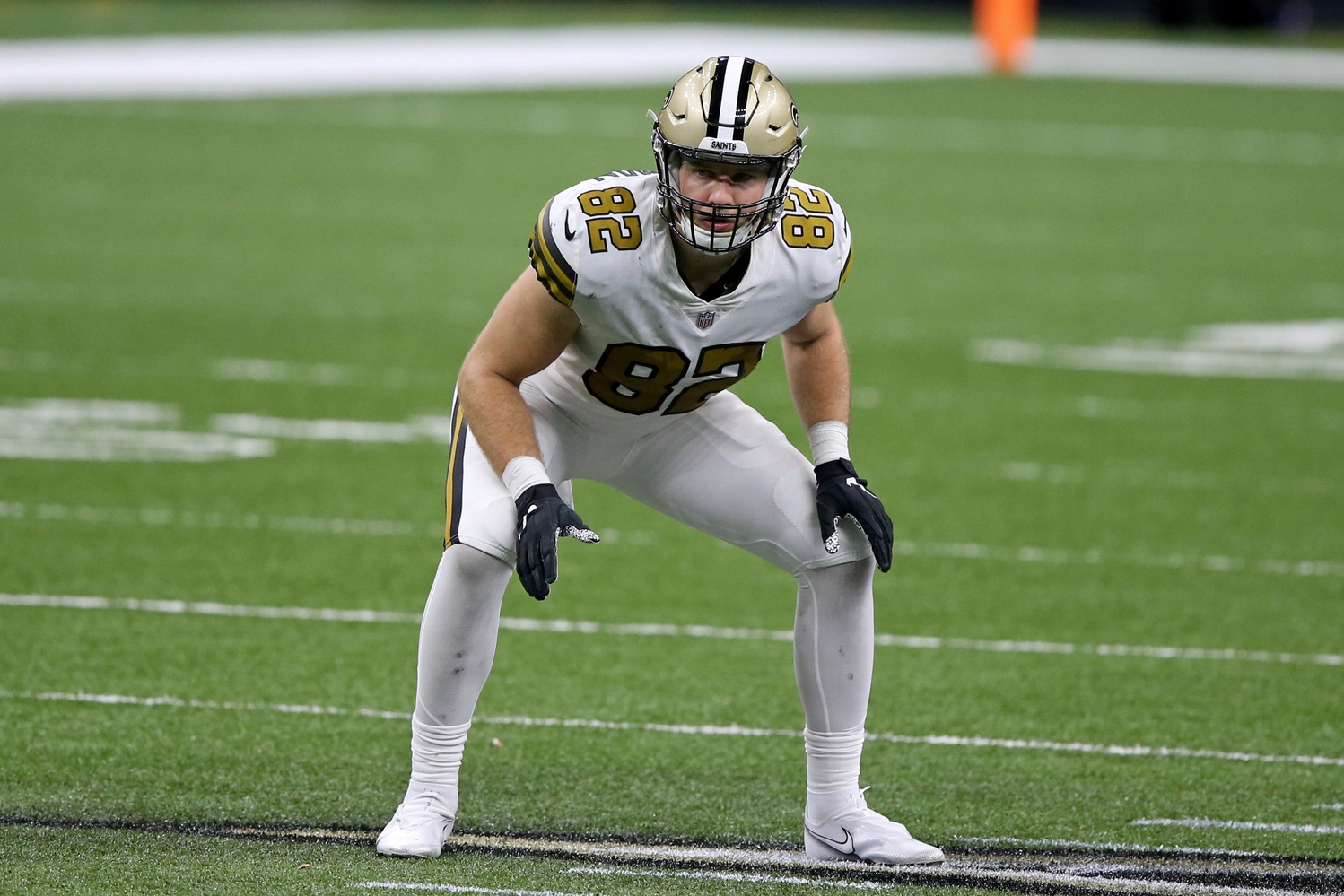 With Emmanuel Sanders now in Buffalo and Michael Thomas expected to miss the start of the 2021 regular season with an ankle injury, New Orleans isn't exactly swimming in quality receiving options for whoever ends up victorious in their quarterback competition.
Tre'Quan Smith, Marquez Callaway and Deonte Harris top the depth chart at wide receiver while Thomas is sidelined, and Alvin Kamara is expected to take on another large receiving role. Trautman is also primed to see a much more prominent role in the offense as the new TE1 after Jared Cook's departure in free agency. 
The 2020 third-round pick didn't see much of a receiving workload as a rookie, but he made the most of his 16 targets. Trautman ended the year with 15 receptions for 171 yards and a touchdown on those looks. His 87.1 run-blocking grade also led all qualifying tight ends last year. 
New Orleans would certainly prefer that Nick Vannett doesn't have to step into the No. 1 tight end role, particularly with the depth concerns already present at wide receiver.   
Kyle Fuller, who has started at cornerback in six of the past seven seasons for Chicago, became a casualty of the reduced 2021 salary cap. The Bears brought in Desmond Trufant to replace Fuller, but Trufant is coming off two injury-riddled seasons with Atlanta and Detroit and was recently listed behind Kindle Vildor on Chicago's initial preseason depth chart. 
A lot is riding on Jaylon Johnson developing into a legitimate No. 1 option at the cornerback position. 
The flashes were certainly there in his rookie season. Johnson made plenty of plays on the ball with 13 pass breakups (tied for fourth in the NFL) in just 13 games played, and his 19.4% forced incompletion rate in 2020 ranked third among cornerbacks who saw at least 50 targets in their coverage. Yet, Johnson ended the year with only a 56.1 coverage grade, as he also gave up his fair share of big plays. 
The Bears need him to stay on the field and take the next step in his development. This cornerback group could fall apart quickly without that happening.