NFL free agency is a year-round process, as teams scout opposing players in an effort to defeat them during the year and perhaps sign them in the offseason.
Now that we're at the end of the 2021-22 NFL season, the free agency picture is coming into focus and teams are beginning to identify potential targets to improve their roster weaknesses.
Here are the top cornerbacks slated to hit free agency in 2022. Click here for PFF's full list of top 100 free agents.
Click here for more PFF tools:
Rankings & Projections | WR/CB Matchup Chart | NFL & NCAA Betting Dashboards | NFL Player Props Tool | NFL & NCAA Power Rankings
Best Bets Tool
---
PFF Free Agency Rank: 6
2021 Snaps: 996
2021 PFF grade: 78.9 (7th of 122)
Jackson played in 2021 on a second-round restricted free agent tender at a value of $3.384 million, presumably seeking an extension before the season. However, former New England Patriots cornerback and 2019 Defensive Player of the Year Stephon Gilmore, who was eventually traded to the Carolina Panthers, was also looking for new money headed into 2021. If Carlton Davis does get franchise-tagged, Jackson could become the top man coverage cornerback available after a full season serving as New England's No. 1 player at the position.
Projected contract: Four years, $72 million ($18M per year, $56 million total guaranteed)
---
PFF Free Agency Rank: 15
2021 Snaps: 304
2021 PFF grade: 77.1 (11th of 122)
After the contentious standoff between the New England Patriots and star cornerback Gilmore ultimately culminated in his placement on the physically unable to perform list to start the season, Gilmore was unceremoniously traded to the Panthers for a 2023 sixth-round pick. While the late future draft pick isn't a substantial sunk cost that puts pressure on the Panthers to get an extension with the South Carolina native, they paid Gilmore around $6 million for his services in 2021. A player-friendly structure on a modest, short-term deal makes sense for both parties, and Gilmore can help Panthers No. 8 overall pick Jaycee Horn develop into the lockdown player Carolina foresaw when drafting him.
Projected contract: Two years, $28 million ($14M per year, $20 million total guaranteed)
---
PFF Free Agency Rank: 16
2021 Snaps: 773
2021 PFF grade: 69.9 (30th of 122)
Carlton Davis is one of very few good, young cornerbacks set to hit the free-agent market and among an even shorter list of cornerbacks with the ability to play man coverage and battle head-to-head with an opposing team's No. 1 wide receiver. This more rare skill set always has a higher earning potential on the open market, but a franchise tag here for around $17 million-$17.5 million might be the most likely outcome.
Tampa Bay went the franchise-tag route with wide receiver Chris Godwin this past offseason, and they may elect to go that route once more as Davis has missed time to injury this past season — just like Godwin did in 2020.
Projected contract: Franchise tag
---
PFF Free Agency Rank: 25
2021 Snaps: 1,153
2021 PFF grade: 76.6 (13th of 122)
Hayward was a cap casualty of the Los Angeles Chargers in the 2021 offseason after earning the lowest grade of his career by a wide margin — 59.5 overall after zero prior grades below 70.0. Not much of a market developed for the 32-year-old, and he eventually signed a one-year, $2.5 million flier with the Raiders and former Chargers defensive coordinator Gus Bradley. All Hayward did this year was regain his elite form, with his 75.0 coverage grade being his fifth 75.0-plus mark in his past six seasons. He thrives playing zone coverage in a predominantly Cover 3 system, and there are a lot of defenses running such a scheme, so he should be playing his way into a better deal for next year.
Projected contract: One year, $6.5 million fully guaranteed
---
PFF Free Agency Rank: 36
2021 Snaps: 1,052
2021 PFF grade: 59.0 (84th of 122)
Williams was the only restricted free agent to receive the first-round tender in the 2021 offseason at a value of $4.766 million, signaling how much the Rams value his contributions. The move may also demonstrate their perception of how he is regarded league-wide if they thought a second-round tender would not have been enough to keep another club from signing him to an offer sheet. A very solid player opposite Jalen Ramsey, Williams has thrived in a zone-heavy scheme but has physical limitations at just 5-foot-9. Nevertheless, opposing quarterbacks rarely fare well throwing into his coverage, and he deserves a payday.
Projected contract: Three years, $40M ($13.33M per year, $22.5 million total guaranteed)
---
PFF Free Agency Rank: 45
2021 Snaps: 1,052
2021 PFF grade: 62.9 (61st of 122)
Nelson was entering the final season of his three-year, $25 million contract signed with the Pittsburgh Steelers and wanted an extension before Week 1. With Pittsburgh already exhausting a lot of resources to retain key players, and with edge defender T.J. Watt set to sign the biggest contract for a defensive player in the entire NFL just months later, they decided an outright release would be better for both parties. Nelson didn't have to leave the state of Pennsylvania, latching on in Philadelphia on a one-year, $2.5 million flier. Operating as the No. 2 alongside Darius Slay, Nelson will look to cash in on a longer-term deal this offseason.
Projected contract: Two years, $14 million ($7M per year, $8.5 million total guaranteed)
---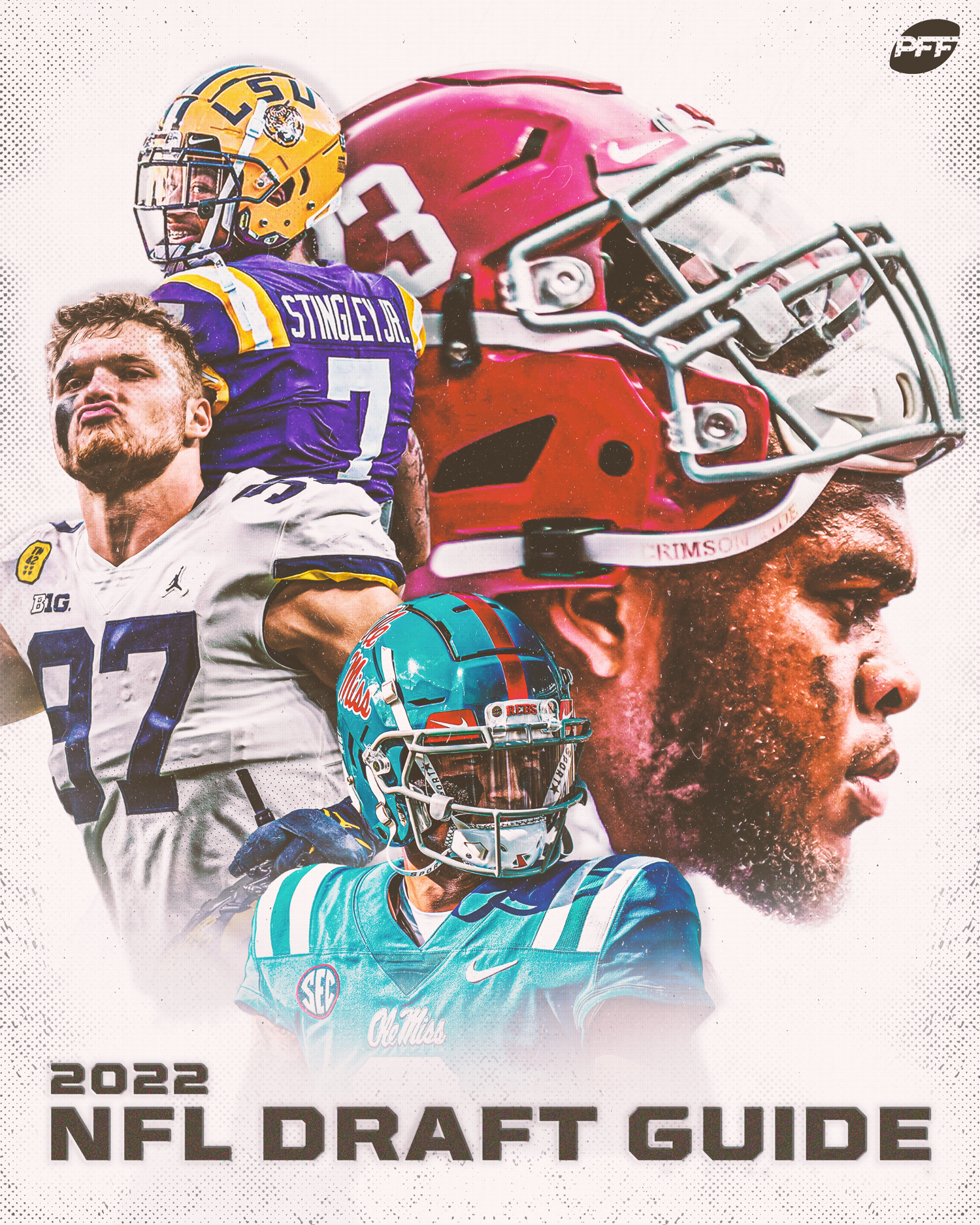 PFF Free Agency Rank: 47
2021 Snaps: 864
2021 PFF grade: 67.8 (36th of 122)
Ward played the 2021 season on a second-round restricted free agent tender and continued to show he can hold up as a man cover corner with good size at 6-foot-1, 200 pounds. If Tampa Bay Buccaneers cornerback Carlton Davis and New England Patriots cornerback J.C. Jackson were to be franchise-tagged or extended by their current clubs, Ward would have an argument as the best cornerback available due to his ability to play out wide in a man coverage scheme.
Ward also excels in an area that every defensive coordinator will love: tackling. He's one of the best pure tacklers at wide corner in the NFL, and his 5% missed tackle percentage is the lowest rate among the top 75 outside cornerbacks in total tackles since 2019.
Projected contract: Three years, $34.5 million ($11.5M per year, $19.5 million total guaranteed)
---
PFF Free Agency Rank: 48
2021 Snaps: 1,002
2021 PFF grade: 78.6 (8th of 122)
Reed had a career year in 2021, playing almost 500 snaps more than his previous season-high and earning a career-best 78.6 overall grade. Working against Reed is the fact he's listed at 5-foot-9 and is primarily an outside cornerback, much like fellow NFC West standout Darious Williams. Nevertheless, Reed has played well since becoming a full-time starter on the outside in Week 10 of 2020, and back-to-back seasons with run defense grades above 85.0 suggest his size isn't always an issue.
Projected contract: Three years, $24 million ($8M per year, $13.5 million total guaranteed)
---
PFF Free Agency Rank: 66
2021 Snaps: 504
2021 PFF grade: 60.0 (78th of 122)
Throughout Callahan's career, it has been a challenge to identify an on-field flaw in his game. This is why he went from an undrafted free agent to signing one of the top contracts for a slot cornerback. However, staying on the field has often been a challenge, and 2021 was no different. He missed a chunk of the season with a left knee injury suffered in Week 8. If he can get back healthy in time for 2022, he should have a handful of suitors vying for his services.
Projected contract: Two years, $10 million ($5M per year, $5 million total guaranteed)
---
PFF Free Agency Rank: 76
2021 Snaps: 717
2021 PFF grade: 61.3 (71st of 122)
The Panthers used the No. 8 overall pick on South Carolina standout Jaycee Horn and then traded for two cornerbacks in Jacksonville Jaguars 2020 No. 9 overall pick C.J. Henderson and Stephon Gilmore this season, but they remain steadfast that those moves don't say anything about their plans for Jackson. It would appear he will at least have a chance to test the open market as Carolina prioritizes signing Gilmore to an extension to mentor their young collection of cornerbacks.
Projected contract: Two years, $20 million ($10M per year, $11.5 million total guaranteed)