Dalvin Cook went off for the second week in a row for the Minnesota Vikings, which sets up one of the league's most conservative offenses for a big day any time it happens. The Vikings easily handled their divisional rivals, winning at home 34-24. 
Editor's note: All of PFF's grades and advanced stats from this game will be finalized and made available to ELITE subscribers within 24 hours of the final whistle.
Story of the Game
Cook ended the game with more than 200 rushing yards, 166 of which came after contact as he broke six tackles on the ground and scored two more touchdowns. His numbers could have been even higher but some of the late work went to Alexander Mattison after the game was deemed safely in hand.
Detroit had the chance to keep pace in what became a shootout, but they turned the ball over every time they threatened — first with Matthew Stafford and then with Chase Daniel after Stafford was pulled from the game with a suspected head injury.
Stafford had two interceptions and three turnover-worthy plays, while Daniel followed up with a terrible interception of his own to give the Vikings three free possessions and chew up some clock for any potential comeback.
Overall, the Vikings only ran 55 offensive plays but almost hit 500 total yards of offense at 8.8 yards per play. They averaged 8.1 yards per rush as a team and almost hit 300 rushing yards. Their passing game was a solid complement, but for the second consecutive week the Minnesota rushing game was virtually unstoppable.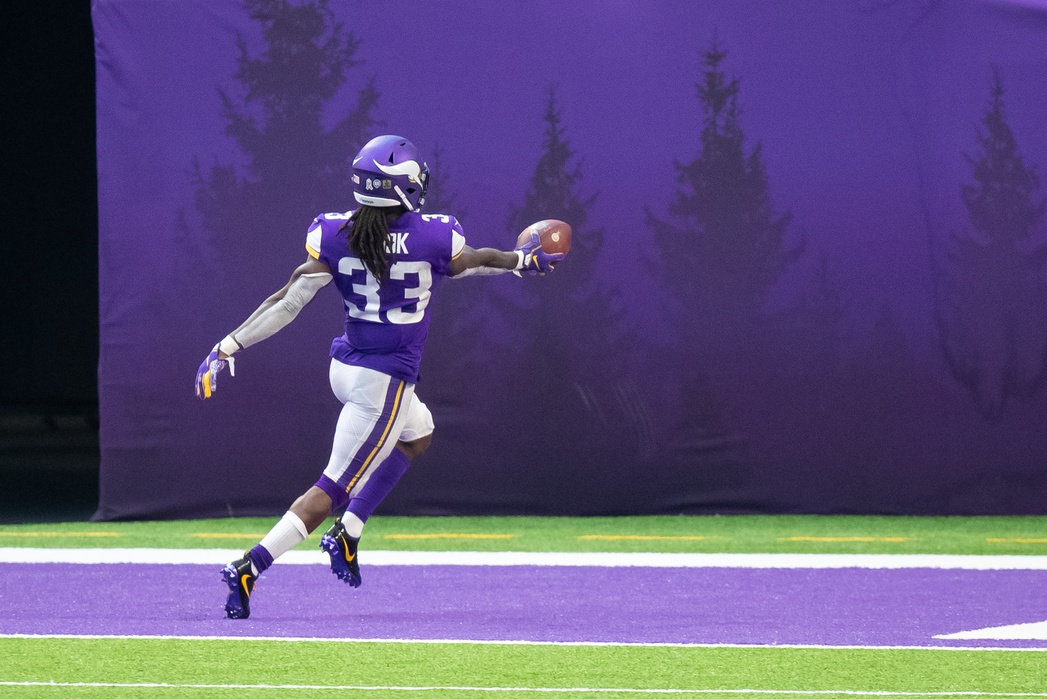 This team's offense was always better than its early-season record and performance, and the defense at least held up its end of the bargain this week with turnovers to seal a comfortable win in the division.
Rookie Watch
Detroit had contributions on offense from a few players this week. Jonah Jackson continued to start at guard but didn't have his best game of the season. He allowed three total pressures on 44 pass blocking snaps. 
Quintez Cephus caught both of his targets for 31 yards, each of which moved the chains with a first down.
In the backfield, D'Andre Swift had three catches for 33 yards and 13 attempts for 64 yards, 24 of which came after contact thanks to four broken tackles.
Top pick Jeffrey Okudah was having another rough day before an injury forced him from the game. He played a total of 26 snaps, giving up three catches for 61 yards and a touchdown.
John Penisini also played 37 snaps on the defensive line and was largely underwhelming.
For Minnesota, Ezra Cleveland got another start at guard and will end up with a below-average grade overall. Justin Jefferson caught three passes for 64 yards, one of which was an impressive big play for Minnesota.
On defense, D.J. Wonnum and Troy Dye each played significant snaps but did little to distinguish themselves, but first round pick Jeff Gladney had one of the better games of his career. He still gave up six catches, but he was good at coming up and making tackles, racking up three defensive stops and avoiding huge plays against him for the most part.
ELITE subscribers can view player grades, advanced statistics, positional snap counts and more in Premium Stats 2.0.