The Buffalo Bills and Seattle Seahawks were similarly ineffective on the ground, and both quarterbacks took multiple sacks and hits in the Bills' 44-34 win in Week 9.
The key difference was turnovers, as Russell Wilson ended the day with two interceptions and two lost fumbles, while Josh Allen played an immaculate game, keeping the ball out of harm's way. Allen finished with zero turnover-worthy plays — only the second time he has done so this season.
Editor's note: All of PFF's grades and advanced stats from this game will be finalized and made available to ELITE subscribers within 24 hours of the final whistle.
STORY OF THE GAME
Allen finished the contest with more than 400 yards passing for the second time this season. The Bills realized early that they would not be able to run the ball and would need to rely on their young signal-caller, and he did not disappoint. It felt like the Bills were playing seven-on-seven for most of their bout with the Seahawks, as they lined up in empty sets on nearly 20% of their dropbacks and let Allen go to work.
Not only did Allen protect the football, but he completed seven of nine passes under pressure for 93 yards and a touchdown. He was also stellar on passes 20-plus yards downfield, connecting on four of six attempts for another 96 yards and one score, with two big-time throws in the mix.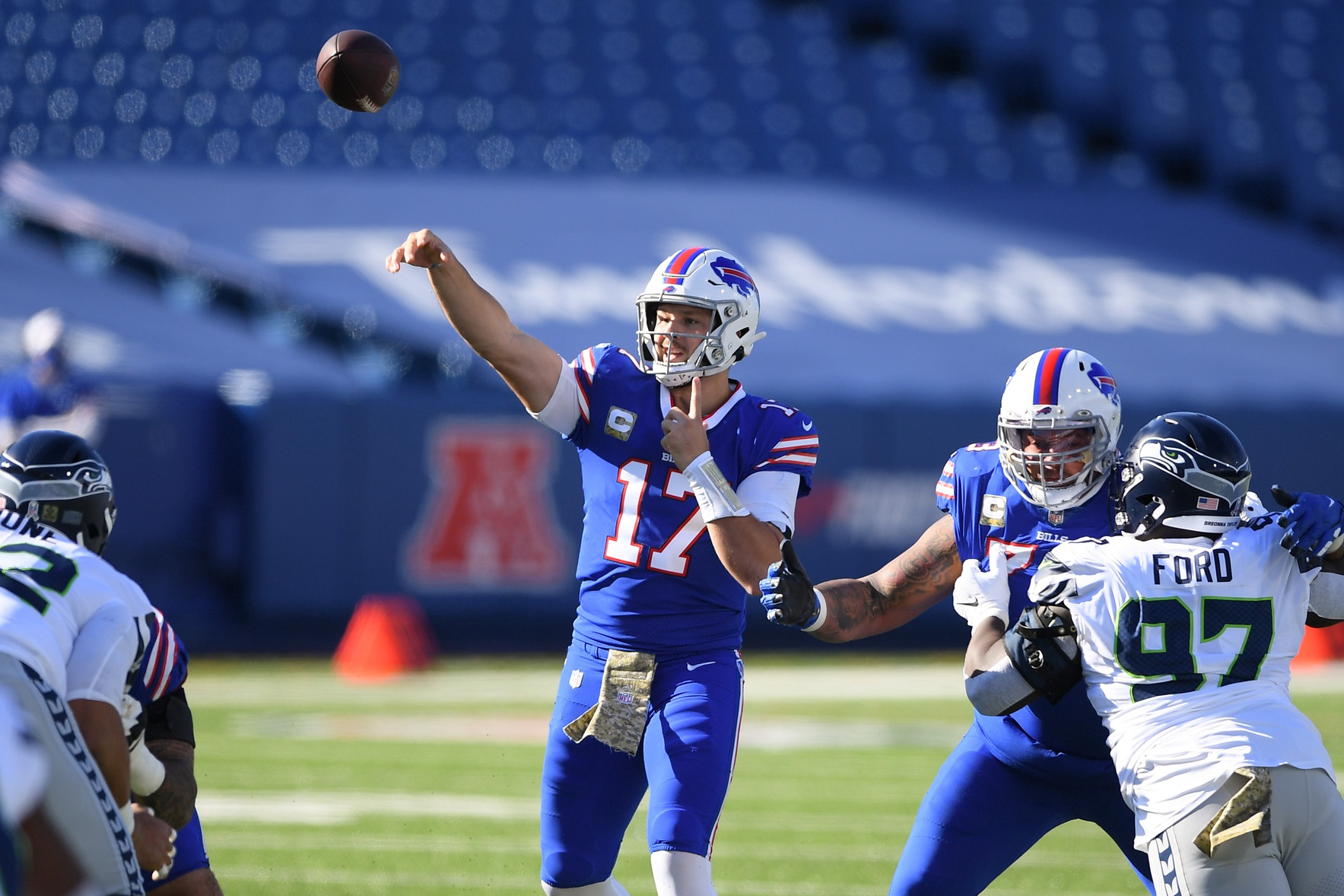 A big reason for Allen's success was the stellar play of receivers Stefon Diggs and John Brown. Diggs was open on seemingly every snap, using his elite route-running ability to haul in all eight of his catchable targets, three of which went for 15 or more yards. Brown was effective as well, catching seven passes for 66 yards and three first downs. 
It was not a great day for the Bills' offensive line, as each lineman allowed at least one pressure, forfeiting five sacks while Allen was responsible for two more. The Seahawks' O-line was quite a bit better outside guard Jordan Simmons, who allowed four QB pressures on his own. The rest of the line gave up just one pressure. Wilson was knocked down and hit much more than that, but most were because he held onto the football for too long or was scrambling right into pressure. 
It was not Wilson's best game — he had four turnovers, though one interception was just a perfect play by cornerback Tre'Davious White, who left his man and read where the pass was going. Outside of that, there really was no area of the passing game in which Wilson outperformed Allen.
Wilson only completed two of six deep passes with one touchdown and one interception and had a 72% completion rate in a clean pocket compared to Allen's 80%. Even on passes outside the pocket — an area of Wilson's game that many hold in high regard — the Seattle QB completed just four of eight attempts for a TD and INT, while Allen went five of five for a score. 
D.K. Metcalf had yet another dominant game, hauling in seven receptions for 108 yards, four first downs and one touchdown. Tyler Lockett was not as productive, as he caught four of seven targets for just 40 yards and no scores. He and Wilson nearly connected on one of the most impressive plays of the day when Wilson launched a pass toward the back of the end zone while being pressured, but Lockett was just unable to reel it in. The Seahawks abandoned the run early facing 17-0 deficit in the second quarter, but it was not efficient either way, as the team finished with 3.4 yards per carry. 
In the end, Seattle drops its second game of the season while Buffalo now cements itself as the team to beat in the AFC East after two decades of the New England Patriots owning the division. 
ROOKIE WATCH
The Seahawks had quite a few rookies on the field today, as guard Damien Lewis (65), receiver Freddie Swain (22), edge defender Alton Robinson (22) and running back DeeJay Dallas (20) all saw 20 or more snaps. Lewis was stellar, creating holes in the run game — though his backs were unable to take advantage of them — and protecting his quarterback. He didn't allow a pressure in pass protection. 
Dallas had a touchdown on seven carries for 31 yards but did not force any missed tackles and did not add much to the offense. Swain had a couple targets but couldn't come down with either, putting up a goose egg in the receptions category. Robinson did not make his impact felt, ending with zero QB pressures or tackles. 
For the Bills, both receiver Gabriel Davis and running back Zack Moss were able to reach the end zone. Davis caught all four of his targets for 61 yards, picking up a first down or touchdown on each reception. Moss had nine carries for a measly 18 yards, but 16 of those came after contact as he was constantly hit behind or at the line of scrimmage.
ELITE subscribers can view player grades, advanced statistics, positional snap counts and more in Premium Stats 2.0.