No team finds crazier ways to lose than the Los Angeles Chargers, who fell to 1-3 in games this season in which they blew a double-digit lead. The Denver Broncos trailed by as much as 21 points, but quarterback Drew Lock found rookie wideout K.J. Hamler for the game-winning touchdown as time expired.
Both signal-callers looked completely different from half to half. While Justin Herbert got off to a hot start and dominated through the first two quarters, Lock erupted in the fourth frame to propel the comeback victory.
Editor's note: All of PFF's grades and advanced stats from this game will be finalized and made available to ELITE subscribers within 24 hours of the final whistle.
Story Of The Game
Herbert looked like the aggressor early, finishing the first half 20-of-27 for 189 yards and two touchdowns. He repeatedly took deep shots and completed four passes targeted 15 yards or more down the field.
The Broncos' offense, meanwhile, looked awful heading into the locker room at halftime, producing all of 60 total yards. But in Lock's defense, he faced pressure on 35.6% of his dropbacks up until that point.
The Chargers' rookie quarterback completed all 13 of his passes for 153 yards and three touchdowns on three consecutive drives by the middle of the third quarter. Down 24-3, Lock's last three drives included going 1-for-5 for 6 yards, a sack and a kneel down.
Phillip Lindsay helped Denver flip the switch in the third quarter with a 55-yard touchdown run before Lock proceeded to get hot and toss three scores of his own. Herbert's aggression eventually worked against him, and cornerback Bryce Callahan picked off a would-be touchdown pass to Mike Williams in the back of the endzone to swing the momentum of the game.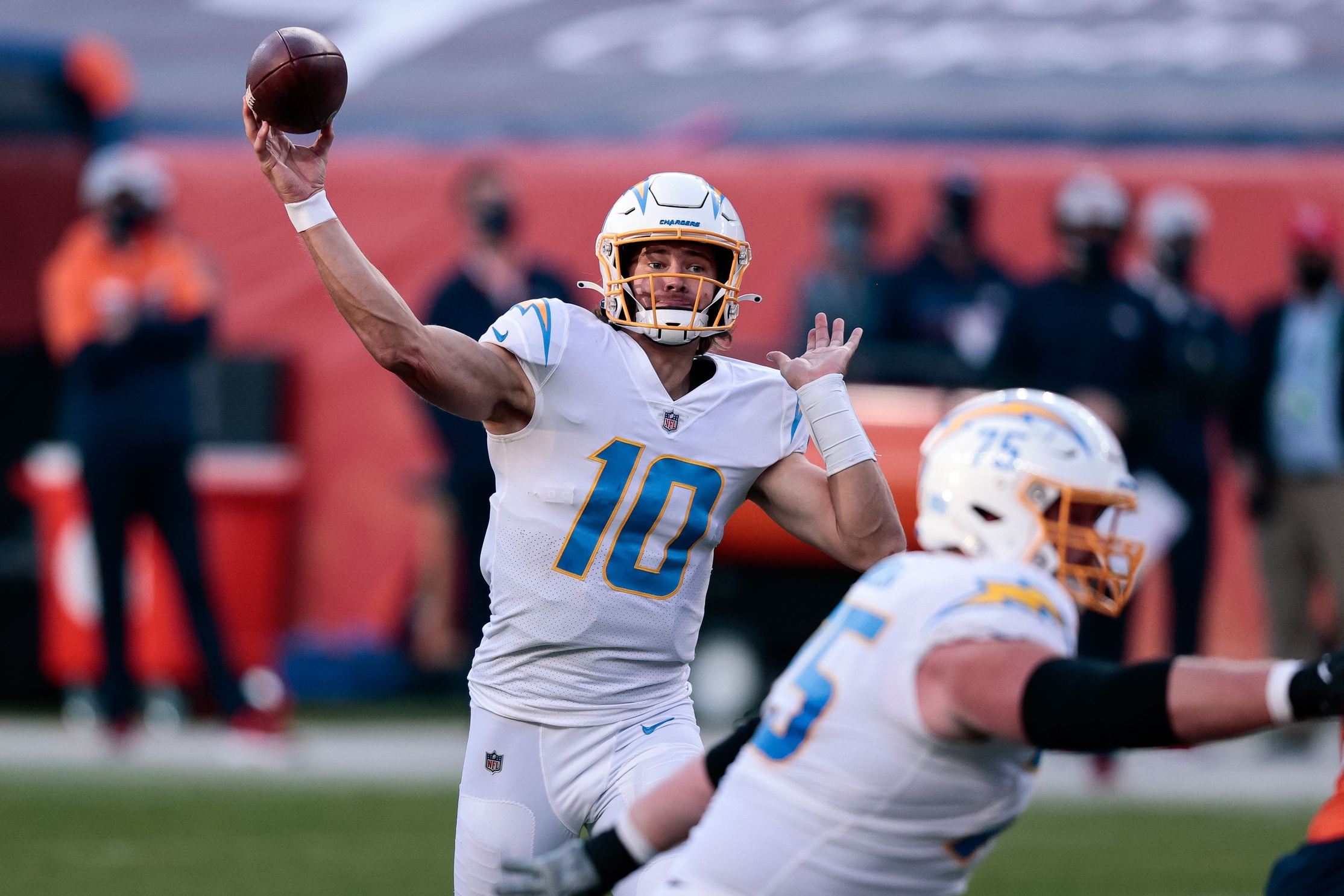 Rookie Watch
The Broncos relied on a number of rookie pass-catchers to help Lock lead a successful second-half comeback. Albert Okwuegbunam and K.J. Hamler caught touchdown passes, and Jerry Jeudy flashed on a 43-yard catch and run. Center Lloyd Cushenberry III held up in the trenches, surrendering two total pressures on 44 pass-blocking snaps.
For the Chargers, fullback Gabe Nabers caught a two-yard touchdown pass from Herbert early on in the game. Linebacker Kenneth Murray played every defensive snap for Los Angeles, surrendering six catches for 58 yards in coverage.
ELITE subscribers can view player grades, advanced statistics, positional snap counts and more in Premium Stats 2.0.