Nick Foles threw two interceptions, and the Chicago Bears' offense was held to just a field goal en route to their second loss of the season — this time to the Jared Goff-led Los Angeles Rams, 24-10. 
The final score made the game seem closer than it truly was, as the Bears could not find their offensive rhythm despite their defense keeping the team in the game. 
Editor's note: All of PFF's grades and advanced stats from this game will be finalized and made available to ELITE subscribers within 24 hours of the final whistle.
STORY OF THE GAME
The Rams' defense, led by star cornerback Jalen Ramsey and defensive tackle Aaron Donald, nearly shut out the Bears, allowing just 2.9 yards per carry on the ground and snatching two interceptions. Although punter Johnny Hekker saw the field more than Los Angeles would have liked — as the Bears' defense was no slouch itself — he pinned Chicago inside its 20-yard line on all five of his punts and added a much-needed swagger.
Ramsey was dominant for much of the night, outside of getting sauced by Bears' rookie receiver Darnell Mooney on a stutter-go and by Javon Wims on a double-move on the last pass attempt of the game — both of which were overthrown by Foles. He corralled his first interception of the season late in the fourth quarter, effectively sealing the Bears' fate.
Donald was his usual stellar self, penetrating the opposition's backfield with ease against both the run and the pass. His 10 total quarterback pressures on initial count would lead all defenders in Week 7. 
The Rams' offense was relatively quiet, with Goff and the passing game posting just over 200 yards. Josh Reynolds was the leading receiver, hauling in four receptions for 52 yards and a score, but he was open on a few more occasions where Goff was just unable to reach him.
Darrell Henderson and Malcolm Brown conducted the backfield, with both averaging over 4.5 yards per carry. Brown took the red-zone touches and kept his legs moving on an insane pile push that set up his goal-line touchdown. 
Foles was sacked four times and pressured on just under 50% of his dropbacks compared to Goff's 22%. It made Foles look uneasy in the pocket, and he was inaccurate on some key throws. David Montgomery was the Bears' backfield, receiving just under 80% of the snaps. He had 19 total touches but netted only 69 yards and zero touchdowns. 
On the defensive side, Khalil Mack and Eddie Jackson were all over the field. Mack forced a sack on Goff and played his role in the run game. Jackson had a game-leading eight solo tackles while also returning a fumble for Chicago's only touchdown of the night.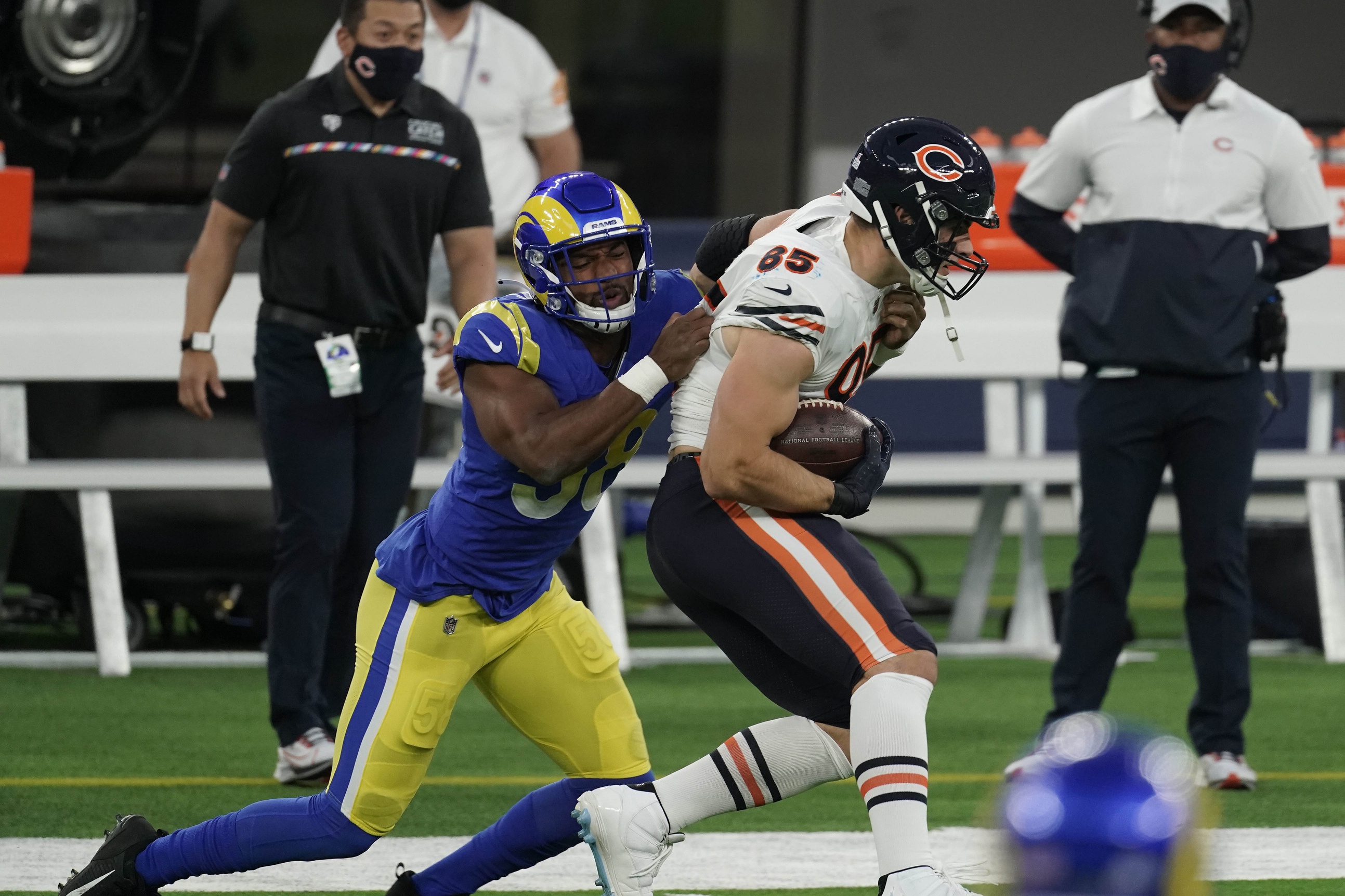 ROOKIE WATCH
There were not many rookie sightings on the field for either side. Rams second-round running back Cam Akers saw just three snaps and recorded no receptions or carries. Third-round safety Terrell Burgess had 12 snaps before leaving the game with a leg injury. The standout of the bunch was third-round edge defender Terrell Lewis, who forced a key fourth-down stop. 
For the Bears, Cole Kmet and Jaylon Johnson all saw more than 20 snaps. As mentioned above, Mooney absolutely cooked Rasmey on a stutter-go backed up to their own goal line, but he was overthrown by a pressured Foles. He caught three balls for 40 yards on the night.
Kmet had a quiet game but missed a defender for a 38-yard reception down the left sideline, finishing the contest with two catches for 45 yards — the second-most on the team. Johnson was the only rookie defender to receive snaps for the Bears, and he continued his strong play this season. He was targeted three times and allowed only one to be caught for 14 yards, forcing an incompletion on another. 
ELITE subscribers can view player grades, advanced statistics, positional snap counts and more in Premium Stats 2.0.