The Los Angeles Rams got away with an expected win in this game, but it wasn't nearly as easy as it was supposed to be. The New York Giants were within a score and chased to tie it up right up until a Daniel Jones mistake in the final seconds cost them a chance to stay alive.
Editor's note: All of PFF's grades and advanced stats from this game will be finalized and made available to ELITE subscribers within 24 hours of the final whistle.
Story of the Game
The low-scoring affair tells you much of what you need to know. The Rams just didn't play well, struggling to overcome a Giants offense that was eviscerated a week ago by San Francisco's B team. The Giants' defense made some plays, but the Rams' struggles on offense were more about their own inaccuracies than the great play from New York.
The strength of the Giants' defense is against the run, and the unit was able to maintain that this week — even against an offensive line that has been vastly improved in 2020, especially on the ground. The Rams totaled just 58 rushing yards and averaged less than a yard per carry before contact, which put the pressure on Jared Goff and the passing game.
Aside from the Cooper Kupp touchdown that ultimately proved to be the difference between the two sides, the Rams' offense couldn't get much going. Goff completed 78% of his passes, but that's partly a product of having an average depth of target of just 5.6 yards, despite that deep touchdown to Kupp. The Rams averaged just 24 yards per offensive drive and will be happy to escape from this game with a win.
The Giants may still be struggling to earn their first win, but compared to some of the other teams dealing with ugly starts to the season, they are still fighting hard and doing all they can to get it. Daniel Jones will have to live with the final pass — underthrown and left inside — which was picked off to end the comeback attempt, and that's going to hurt his grade overall. However, he was still making plays late and was causing problems for the Rams' defense — even when they had receivers bottled up.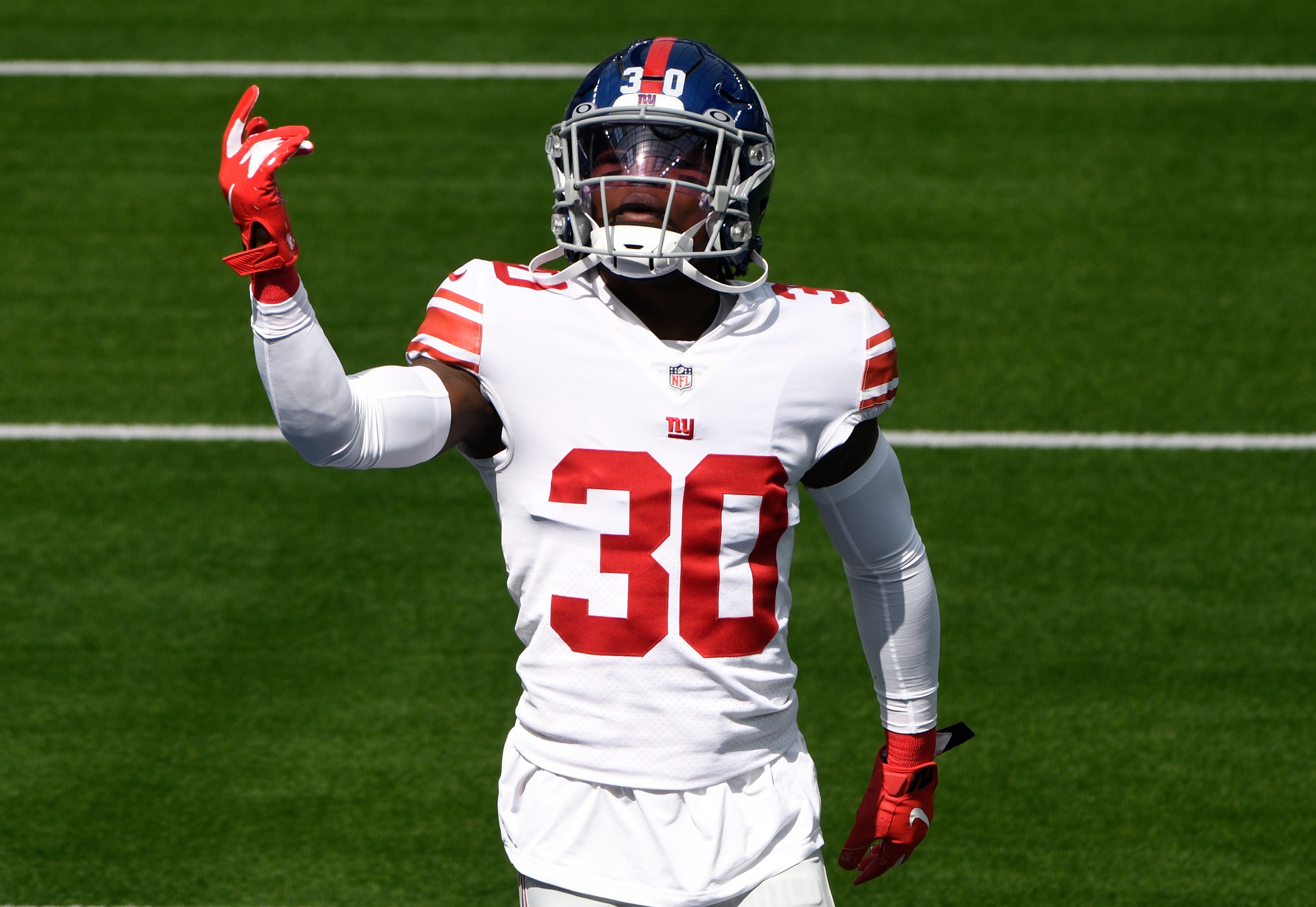 Rookie Watch
Giants first-round tackle Andrew Thomas continued his underwhelming rookie season, again having his fair shares of losses, with most of his worst reps coming today in the run game. As a pass blocker, Thomas allowed four total pressures from 32 pass-blocking snaps, with one of them resulting in a sack.
On defense, the Giants saw significant snaps from linebacker Tae Crowder and cornerback Darnay Holmes. Crowder made some plays, with a pass breakup and had a chance at an interception that he failed to come up with. Holmes was also solid in coverage but struggled a little in the run game, where he got blocked inside at the second level a couple of times.
For the Rams, rookie receiver Van Jefferson barely featured in the game, with just three total snaps. He was targeted once and was open on the play, but Goff overthrew him. On defense, safety Terrell Burgess played 10 snaps and was largely away from the play in a week that didn't feature much in the way of rookie contributions for Los Angeles.