While Los Angeles Rams quarterback Jared Goff seemingly tried to give away the game with a late interception to Jordan Whitehead, it was ultimately Tom Brady who secured the win for Goff and company with a game-ending blunder.
Brady overthrew a well-covered Cameron Brate deep over the middle of the field and into the hands of Rams rookie Jordan Fuller while trailing 27-24 with less than two minutes to play, dropping the Tampa Bay Buccaneers to 7-4 on the season.
Editor's note: All of PFF's grades and advanced stats from this game will be finalized and made available to ELITE subscribers within 24 hours of the final whistle.
STORY OF THE GAME
Brady was simply not his future Hall-of-Fame self on Monday night. The 43-year-old veteran completed just 26-of-48 passes for 216 yards (4.5 yards per attempt), two touchdowns and two interceptions in the contest. He will likely finish PFF's grading reviews in the bottom 10 at his position in Week 11. He also completed just one pass and threw both his interceptions on 18 attempts of at least 15 yards downfield on first review.
Goff wasn't much better for Los Angeles, but his playmakers made up for his relatively forgettable outing. The Rams signal-caller averaged fewer than 6 air yards per target for the game, giving after-the-catch monsters like Robert Woods and Cooper Kupp opportunities to rack up yardage with the ball in their hands. Woods and Kupp combined for 275 receiving yards and one touchdown (Woods) on the night.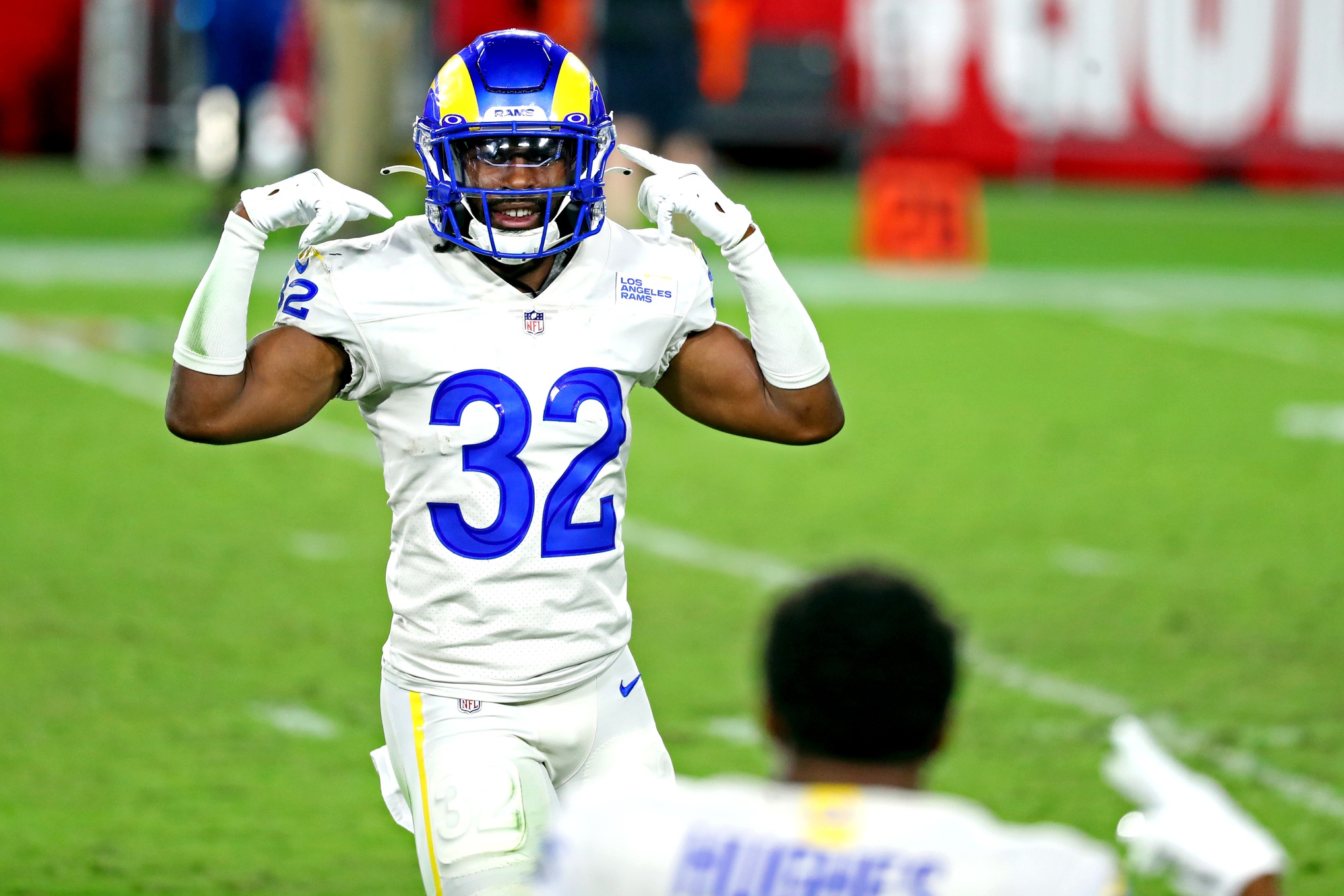 ROOKIE WATCH
Rams rookies Van Jefferson and Cam Akers each scored their first NFL career touchdowns against the Buccaneers on Monday night but did little else outside of their respective end-zone trips. Defensively, Fuller was the man of the hour with his two interceptions, but it's only fair to add the context that the two Brady picks were thrown directly into his chest.
Buccaneers rookie safety Antoine Winfield Jr. recorded an impressive special teams tackle for the highlight reels but turned in a forgettable performance on defense. He missed two tackles on the night and didn't make enough of the splash plays we've become accustomed to from the former Minnesota standout this season. Fellow Bucs rookie Tristan Wirfs continued his strong season in pass protection with what should be just one pressure allowed against Los Angeles once PFF's review process is complete.
ELITE subscribers can view player grades, advanced statistics, positional snap counts and more in Premium Stats 2.0.