A whole game of dangerous plays and errors, punished or otherwise, was erased by Josh Allen in one dagger throw late in the game for the go-ahead touchdown. But there was still one final twist left in the tale.
Just seconds later, Kyler Murray connected with DeAndre Hopkins on a desperation Hail Mary into the end zone to snatch victory from the jaws of defeat for the Arizona Cardinals.
Editor's note: All of PFF's grades and advanced stats from this game will be finalized and made available to ELITE subscribers within 24 hours of the final whistle.
Story of the Game
Murray didn't have his best game passing the football, but he presents problems that defenses just don't have answers to, and he showed that once more against the Buffalo Bills. He added to his rushing touchdown total for the season with two more before scrambling around and unleashing the final pass.
Murray hasn't yet become as consistent as he needs to be, but there may be no more difficult player in the league to scheme a defense against because of what he can do with both his arm and athleticism. 
Though the teams racked up points in this game, it was in large part despite mistakes from both quarterbacks. Allen was picked off by Patrick Peterson, but it was at the third time of asking, and he later threw another before appearing to redeem himself at the death with a touchdown pass that deserved to be a game-winner.
Murray's errors weren't as egregious, but he was largely responsible for a turnover when he left a wide-open pass behind Larry Fitzgerald. The future Hall of Famer contorted himself enough to get his hands on it only to see it pop up when he hit the ground and into the arms of a Bills defender.
While all of the pressure was on Allen as Buffalo was unable to get a run game going, the Cardinals got a 100-yard rushing performance from Kenyan Drake in his return. And Murray chipped in with 61 of his own, scrambling on four of his 11 rushing attempts.
Overall, the Cardinals deserved the win due to fewer mistakes overall, it just took a wild play at the death to ensure things panned out that way.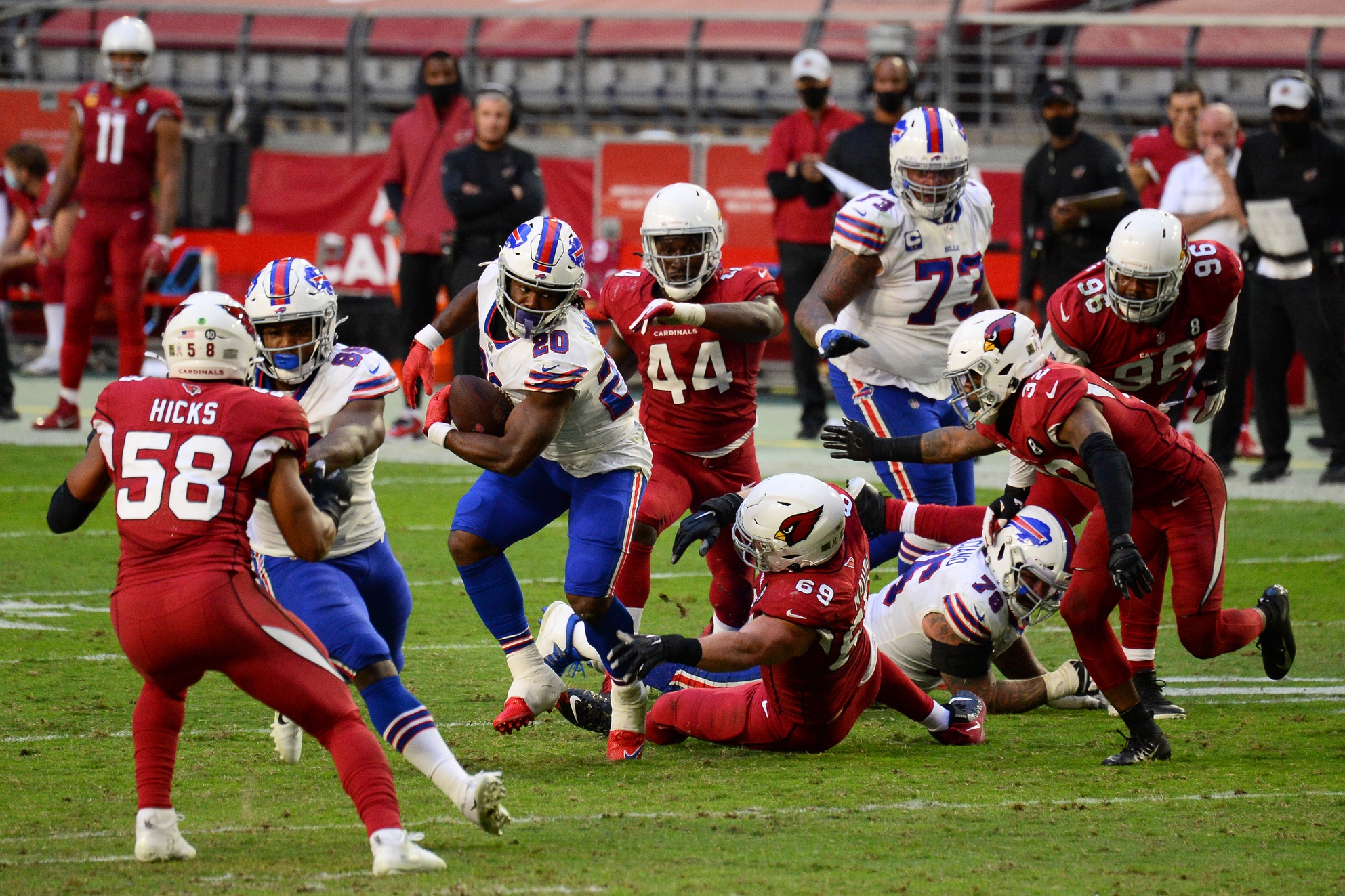 Rookie Watch
Gabriel Davis and Zack Moss each played 36 snaps on offense for the Bills, with Davis coming up empty-handed despite three targets in the game. Moss had seven carries for 19 yards, all of which came after contact, and was also flagged for an illegal block while trying to keep his quarterback clean.
On defense, Buffalo's injuries in the secondary led to seventh-round pick Dane Jackson playing 57 snaps against a formidable group of receivers. Jackson was targeted four times, allowing three catches for 27 yards. He broke up the incomplete pass and was solid overall. A.J. Epenesa saw just eight snaps before injury forced him from the game.
Isaiah Simmons, Arizona's first-round pick, is starting to make a real impact, even if he remains a very limited role player within this defense. Simmons played 28 snaps on defense, had two total pressures from six blitzes and also popped up in coverage several times in the game.
Simmons was thrown at four times, allowing two catches for 33 yards, but he broke up one of the incompletions.
ELITE subscribers can view player grades, advanced statistics, positional snap counts and more in Premium Stats 2.0.