The Cam Newton era commenced in New England in much the same way any other era for the Patriots has over the past 20 years — with a win.
The Miami Dolphins made them work for it late, but the damage done in the first half was enough to hold off a comeback attempt and a brief dusting of Fitzmagic.
[Editor's note: All of PFF's grades and advanced stats from this game will be finalized and made available to ELITE subscribers within 24 hours of the final whistle.]
Story of the Game
The big story heading into the matchup was what the Patriots' offense would look like with Newton at quarterback and whether the team would make use of his rushing threat. Based on this outing, not only will New England make use of Newton's rushing threat, but the team will lean heavily on it.
Newton led the team in rushing in pretty much every possible category. He had more carries (15), yards (75), yards after contact (39), first downs (8) and touchdowns (2) than any other Patriots ball-carrier, and it was clearly a staple of an offense whose receivers still didn't look like they were going to elevate the passing game.
Cam Newton with career red zone rushing TD # 5⃣8⃣

Meanwhile in Chicago…pic.twitter.com/pUp6NjkIK6

— PFF (@PFF) September 13, 2020
The Patriots embraced some of the classic Carolina run concepts that Newton makes possible, such as running pure quarterback-power plays, and don't seem inclined to dial back on the traits that make him such a unique threat in order to preserve his durability over the course of the season.
The Patriots' offensive line also largely had its way with Miami's defensive front, controlling the line of scrimmage and answering some of the questions that surrounded it entering the year.
On the other side of the ball, Ryan Fitzpatrick was picked off three times by the Patriots' defense, with Stephon Gilmore gaining some measure of revenge for what was his worst game last season. Fitzpatrick was a little unfortunate at times, but his offensive line held up, which is a good sign for him and the Dolphins going forward. The unit surrendered just four combined pressures on the day.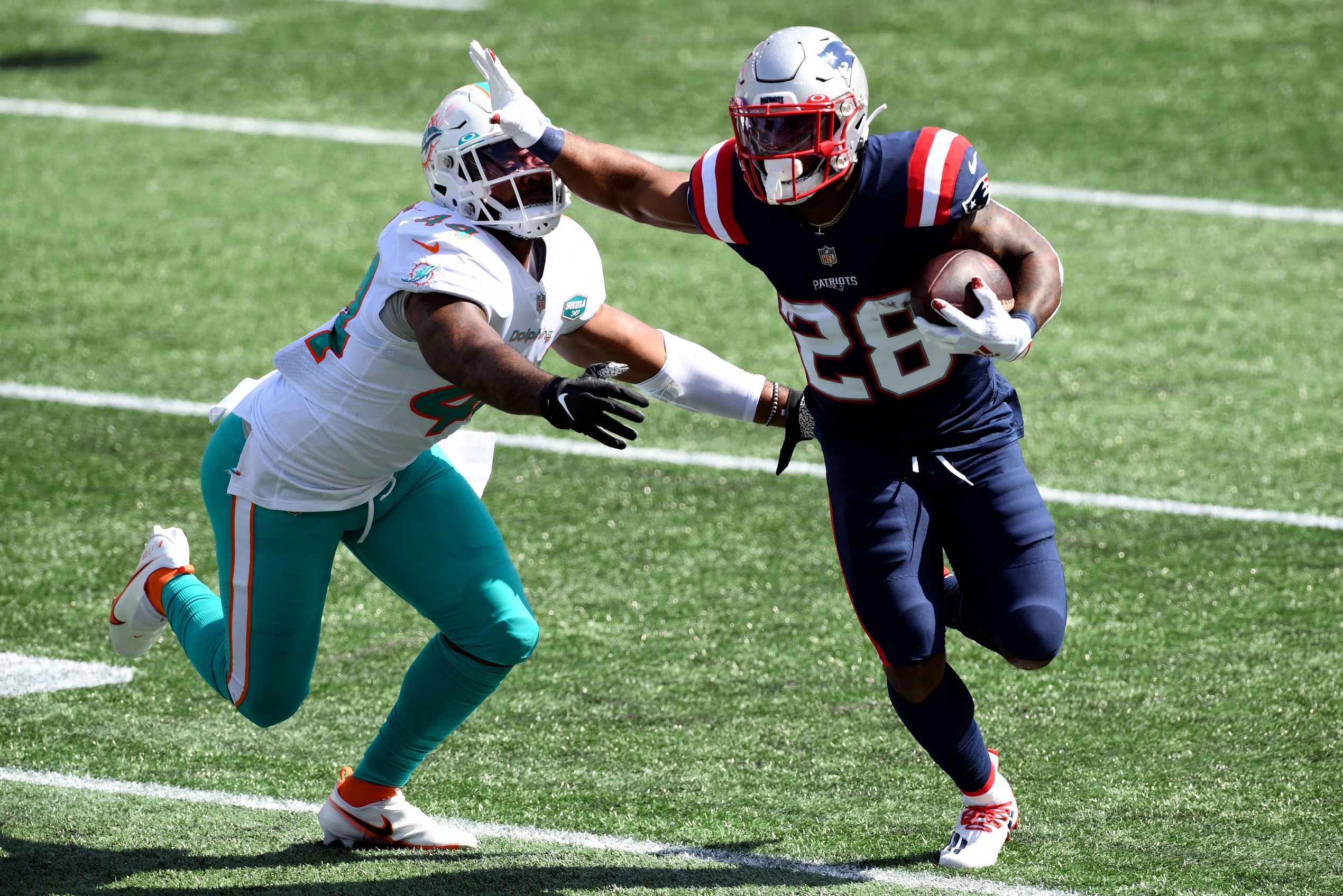 Rookie Watch
Obviously, Tua Tagovailoa didn't make it onto the field, but Miami had plenty of draft picks to feature. Austin Jackson played all game at left tackle and had a solid debut, particularly in pass protection. We expected Jackson's transition to the NFL to be a little bumpy, given his lack of consistency in college, so this was an encouraging performance. Fellow first-rounder Noah Igbinoghene also featured plenty, seeing 33 defensive snaps. He won't grade out well due to some iffy run fits against a team that was throwing some creative looks at the Dolphins' defense.
Second-rounder Raekwon Davis saw 27 snaps, all but four of which were run plays. And like Igbinoghene, he struggled, getting manhandled at times by the New England offensive line.
For the Patriots on offense, the most snaps among rookies came from Michael Onwenu, who played as a sixth offensive lineman 21 times as part of their run-heavy game plan. Safety Kyle Dugger and edge defender Anfernee Jennings both got on the field for a handful of snaps, with Jennings notching a defensive stop and flashing well in the run game. 
ELITE subscribers can view player grades, advanced statistics, positional snap counts and more in Premium Stats 2.0. Use promo code KICKOFF30 here to save 30% off your new PFF subscription today.