The San Francisco 49ers have one of the best offensive minds in the NFL in Kyle Shanahan, who notoriously utilizes motion and heavy personnel packages to cause chaos for the defense. He was among our top five offensive playcallers heading into the year, but today, the offense just did not click the way it normally does. 
However, the game's biggest story surrounded the Arizona Cardinals, as we got to see the connection between Kyler Murray to DeAndre Hopkins for the very first time. To no surprise, we heard "Murray to Hopkins" quite a bit in their first game together, and we will likely be hearing that a lot from here on out.
Editor's note: All of PFF's grades and advanced stats from this game will be finalized and made available to ELITE subscribers within 24 hours of the final whistle.
STORY OF THE GAME
The Niners' passing attack started the game with a few really nice plays out of those heavier personnel packages, the Raheem Mostert 71-yard touchdown catch being a perfect example.
In the first half, Jimmy Garoppolo attempted nine passes in personnel groups with two or fewer wide receivers on the field and averaged 16.4 yards per pass, though 75% of that yardage came after the catch. But outside of those plays early in the game, we didn't see many positive sparks from the 49ers. With three or more wide receivers on the field, San Francisco produced -0.7 expected points added per pass, by far the lowest among offenses on such plays today.
George Kittle getting hurt right before the end of the first half had a clear impact on the team, but the bigger issue was Garoppolo on that drive. On first down in that final set, wide receiver Kendrick Bourne ran a crisp route to create separation, but Garoppolo was late and Patrick Peterson broke up the pass. On the final throw of the game, Jimmy G was incredibly late on the out-route, allowing Byron Murphy to make a play on the ball and thus securing the loss for San Francisco.
Not having Brandon Aiyuk or Deebo Samuel (and Kittle for the second half, as he was pretty much a decoy) didn't help matters, but the fact that he ended the game with the fifth-worst negatively graded throw rate and worst positively graded throw rate of the week says a lot about today's performance.
For the Arizona Cardinals, Hopkins verified that he would continue to be a game-changer for his team. He was targeted on nearly a third of his pass patterns and had averaged 3.1 yards per route run by the end of the game. Hopkins also broke three tackles on his 14 catches.
Murray didn't exemplify "darkhorse MVP" status as a passer, but he made some incredible plays with his legs. He scrambled eight times throughout the game and turned four of those into 10-plus-yard gains. Murray did avoid negatively graded throws at a better rate than he did last year, but he did have an average depth of target of only 5.6 yards.
ROOKIE WATCH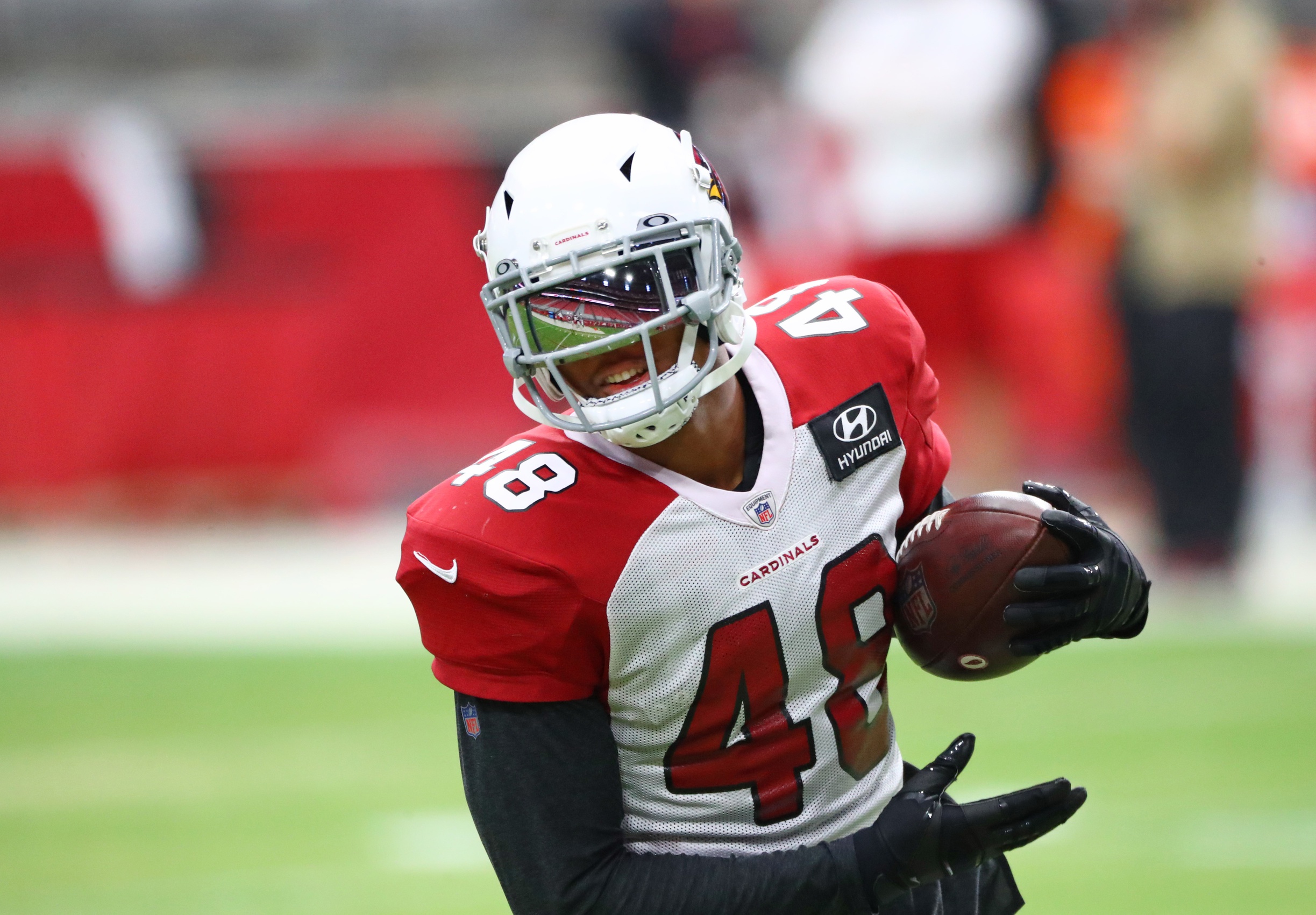 Isaiah Simmons was the marquee rookie to watch in this one, and Arizona used his versatility and athletic ability a little bit more than they initially said they would. He logged 18 snaps in total, lining up in the box, slot, defensive line and at outside corner. What he did in coverage, however, was nothing like what we saw from him at Clemson. On his eight coverage snaps, Simmons was targeted three times — he allowed three catches for 86 yards and two touchdowns.
Raheem Mostert is FLYING⚡️

— PFF (@PFF) September 13, 2020
Again, remember it's only Week 1 and that these guys didn't have a preseason. It was a bad day for Simmons, but I wouldn't put much stock into it just yet. 
San Francisco's Javon Kinlaw didn't really have any bad plays on his card, but he was largely ineffective throughout the game for the Niners. On his 40 snaps played, Kinlaw recorded one pressure and one run stop.
ELITE subscribers can view player grades, advanced statistics, positional snap counts and more in Premium Stats 2.0. Use promo code KICKOFF30 here to save 30% off your new PFF subscription today.