The Cardinals had a massive rebuilding effort after the 2018 season, but the organization is moving in the right direction. The 2020 offseason will be remembered mostly for the addition of wide receiver DeAndre Hopkins in a steal of a trade with the Houston Texans. Hopkins immediately upgrades Arizona's offense, and the trickle-down of his presence is felt throughout the roster. Arizona didn't have to force a wide receiver in the draft, instead opting for do-it-all defensive playmaker Isaiah Simmons, whose versatility adds a crucial piece to the back seven. In the third round, the Cardinals selected tackle Josh Jones — a first-round-caliber player on many draft boards — in what could become one of the steals of the draft.
A combination of the Hopkins splash move, value-based drafting and a 2019 draft class that could take a major step forward this season should have the Cardinals improving as much as any team in the league.
Subscribe to PFF's EDGE or ELITE subscriptions to get access to the following tools, charts, etc. 
– All Premium Article Content
– Fantasy Football Rankings & Projections
– Fantasy Football Draft Guide, Cheat Sheets & Advanced Stats
– Fantasy Football Mock Draft Tool (DraftMaster)
– Fantasy Football Strength of Schedule Matrix
– NFL Player Grades
– NFL Premium Stats
Additions/Subtractions
Additions/players brought back:
WR DeAndre Hopkins (via trade)
WR Larry Fitzgerald (re-signed for one-year, $11 million)
RB Kenyan Drake (transition tag)
EDGE Devon Kennard (signed for three years, $20 million)
DI Jordan Phillips (signed for three years, $30 million)
LB De'Vondre Campbell (signed for one year, $8.5 million)
T D.J. Humphries (re-signed)
Losses:
RB David Johnson (via trade)
QUARTERBACK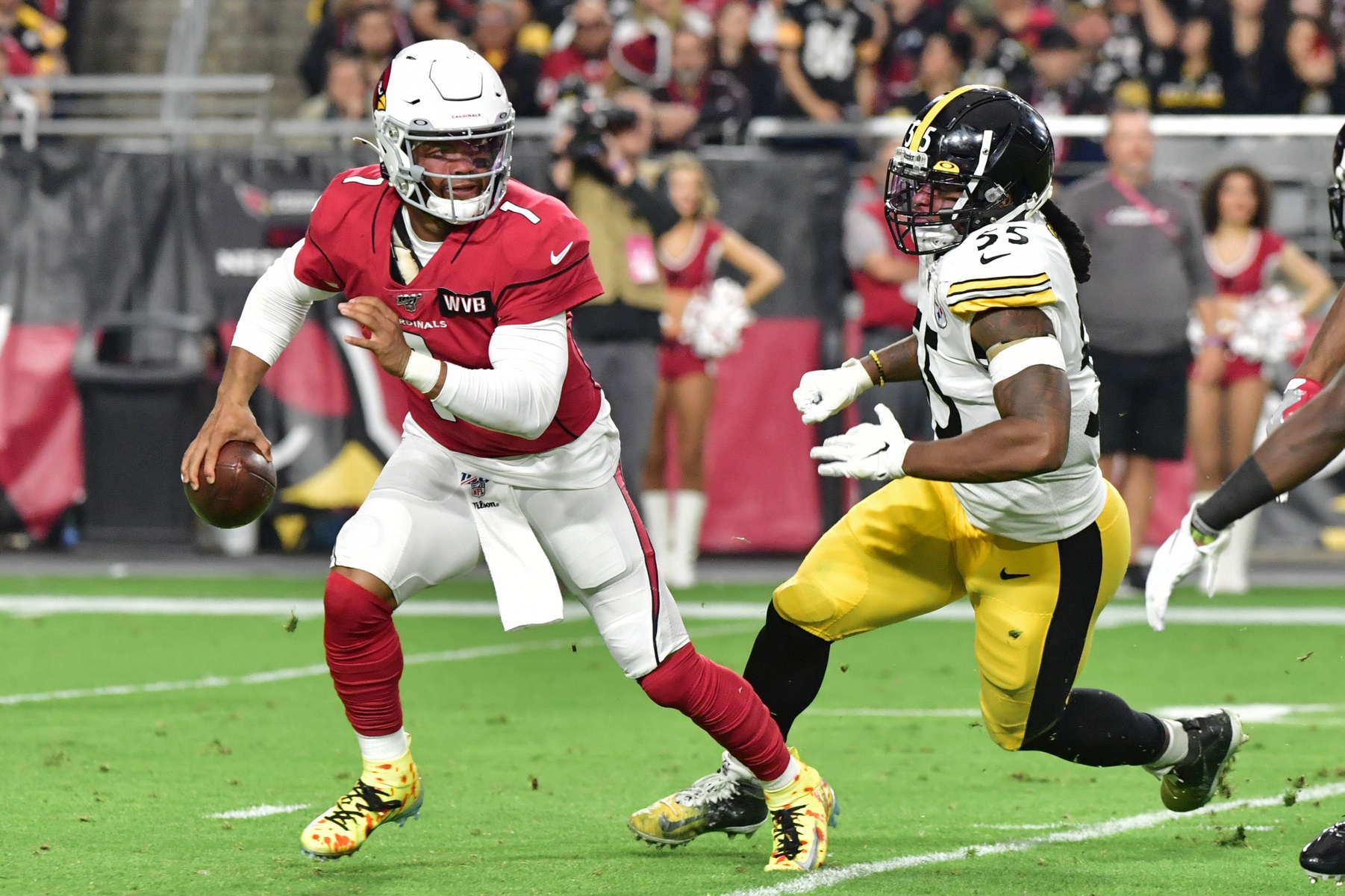 Here's what I wrote about Kyler Murray at the end of the 2019 season:
There was a point in Murray's season when it looked like a perfect, natural progression for a rookie with superstardom was right around the corner. He started off with some rookie mistakes before hitting a hot streak, and a strong finish would have had Murray primed for a second-year breakout that has become commonplace around the NFL. Unfortunately, he put together the two worst games of his season in Weeks 13 and 14, perhaps taking some of the luster away from an otherwise solid rookie campaign. Regardless, Murray showed off the velocity and touch to create plays down the field, and, when combined with his dynamic running ability, he has game-changing big-play ability moving forward. That scrambling ability also leads to Murray taking too many sacks, many of which were his own doing and not the fault of poor blocking. He must find the proper balance and cut back on the negative plays.
We've seen enough to be excited about Murray heading into Year 2, but there are plenty of concerns, as well. He ranked last in the league in clean-pocket passing grade and just 27th out of 39 qualifiers at avoiding negatively graded throws — two areas that remain stable for quarterbacks. The addition of DeAndre Hopkins should allow Murray to play more aggressively at all levels of the field while opening up the rest of the receiving corps to play to their respective strengths. Murray's athleticism brings a baseline of production to the offense in the running game, and the better supporting cast should lend itself to a better season in Year 2.
RUNNING BACK
A midseason trade for Kenyan Drake worked out for both sides, as he averaged 5.3 yards per carry after averaging only 3.7 in his first six games with the Dolphins. Drake has the burst to make do when given space to run, and that's exactly what happened in Arizona's spread-heavy system. 
Backup running back Chase Edmonds also averaged over 5.1 yards per carry last season, posting a strong 76.3 rushing grade. Most importantly, Cardinals running backs averaged 2.06 yards before contact per rush last season — second-highest in the NFL — so that spread rushing attack is off to a good start despite the run-blocking grades not matching the production. 
The Cardinals also added seventh-round pick Eno Benjamin, another tackle-breaker with the big-play potential to benefit from their system. The big question heading into 2020 is whether Drake's production continues and if the Cardinals can get more out of the passing game from their top backs.
WIDE RECEIVER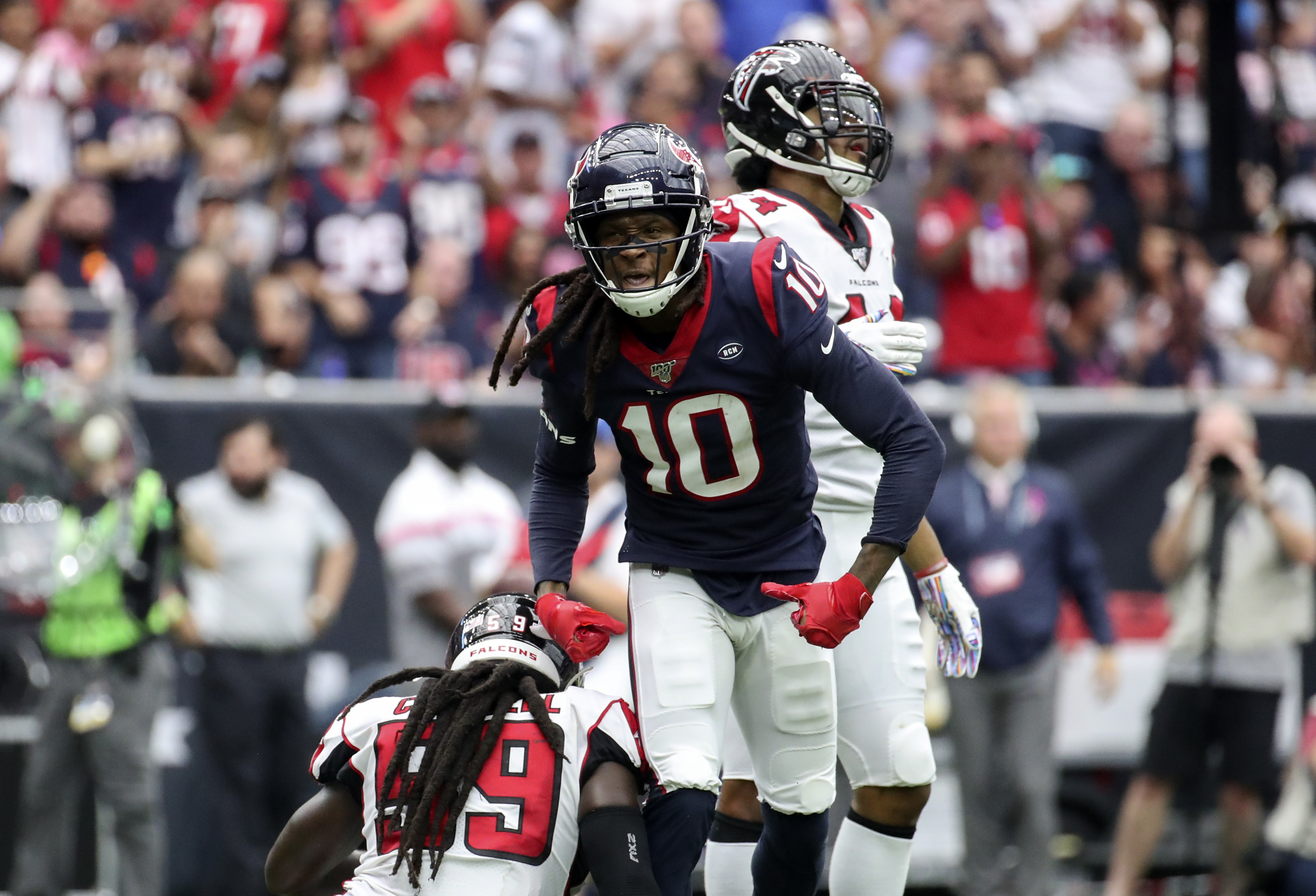 Arizona's receiving corps is starting to take shape with DeAndre Hopkins now in the mix. He is one of the best move-the-chains options in the NFL and will immediately become a weapon for Kyler Murray in the middle of the field and in the back-shoulder game. Hopkins' presence takes the pressure off Larry Fitzgerald, who rarely drops passes and is still a viable possession receiver. However, he's more of a complementary option at this point in his career.
Fitzgerald tied for the league lead with 24 catches on screens last season, and while he's OK after the catch, those are passes that are better off going to Christian Kirk or Andy Isabella this season, as they bring more explosiveness with the ball in their hands. Kirk averaged just 10.4 yards per reception last year on 68 catches, while Isabella saw the field just 157 times as a rookie, flashing his big-play ability with 21.0 yards per reception — including an 88-yarder. Both players should be used down the field more often while Hopkins and Fitzgerald work the short and intermediate game.
TIGHT END
The tight end position didn't become a prominent part of Arizona's offense until Week 5 last season, and it became a good change of pace for schemed-up throws like screens, releases and throwbacks. Maxx Williams led the way with 490 snaps and a career-high 79.1 overall grade, flashing his ability to work the seam while also posting the top run-blocking grade in the league (84.7).
The Cardinals must replace Charles Clay, who led the tight end group with 18 catches and 237 yards in 2019. Dan Arnold has the size, burst and catch radius to become a red-zone threat as he did late last year with two touchdowns after coming over from the New Orleans Saints.
This is a position where the Cardinals could look to add depth, even if it's not heavily featured in their offense.
OFFENSIVE LINE
Arizona's offensive line ranked just outside the bottom 10 in 2019, a major improvement from their standing as the worst unit in the league in 2018. We saw a career-high 76.3 pass-blocking grade from left tackle D.J. Humphries that ranked 25th in the league — and the team rewarded him with a new contract this offseason— while left guard Justin Pugh was also strong in pass protection, earning an 82.2 pass-blocking grade on the year that ranked ninth among guards. Right tackle Justin Murray had the lowest pass-blocking grade of the regular starters, at 67.3, a number that would have ranked first among the regulars in 2018. Right guard J.R. Sweezy produced his best pass-blocking grade since 2013, and center A.Q. Shipley continued his usual strong play in pass protection, grading above 70.0 for the sixth straight season.
There's still room to upgrade at right tackle, and third-round rookie Josh Jones will compete with Murray for that starting spot on the line. Jones is a first-round caliber prospect who fell to the third despite posting the highest grade among tackles in the draft class, at 93.4 overall.
The line was protected by the new scheme just enough, and much of the pressure the Cardinals faced as a team came from quarterback Kyler Murray, who was charged with 42 pressures and 23 sacks on his own. Overall, the Cardinals finished with the ninth-best pass-blocking grade and the ninth-worst run-blocking grade among NFL teams. If this unit can take another step forward, it may be all the Cardinals need if Murray and the playmakers continue to develop.
DEFENSIVE LINE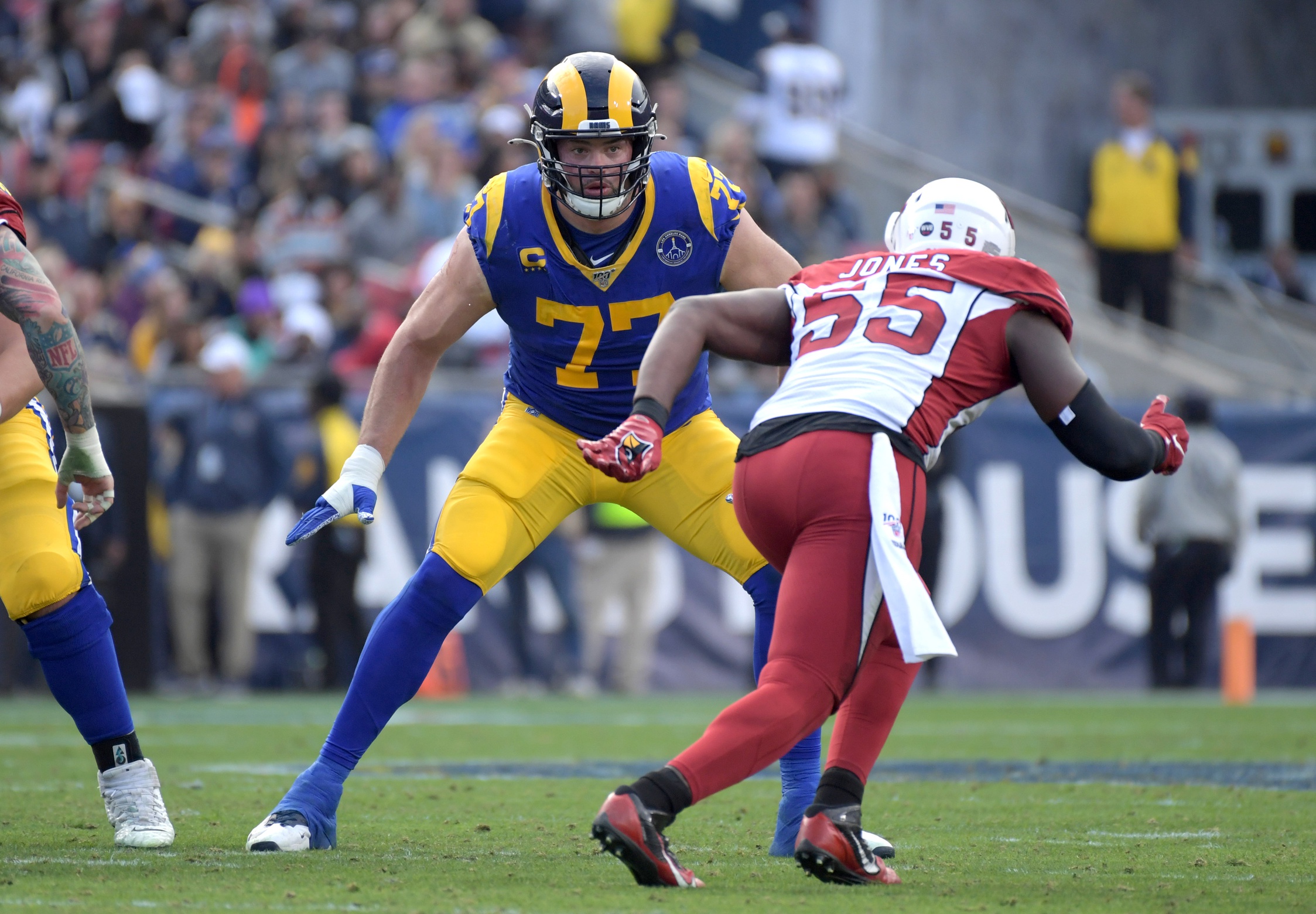 The Cardinals' pass rush started and ended with Chandler Jones last season, as he had the fifth-highest pass-rush grade among edge defenders (90.0) while ranking eighth in pressures (75) and second in sacks (19) during the regular season. Interior defensive lineman Rodney Gunter ranked second on the team with 34 pressures and edge defender Terrell Suggs ranked third with 33 before moving on to the Kansas City Chiefs. No returning Cardinals defensive lineman had a pass-rush grade above 70.0 last season.
That puts plenty of pressure on the rest of the group to complement what Jones brings on the other side. Devon Kennard comes over from Detroit, where he graded at 69.1 overall last season, but he has yet to post a pass-rush grade above 60.0 in his career despite getting over 850 opportunities to rush the passer over the past two years. Kennard is a solid run defender, but he lacks the athleticism to challenge top tackles off the edge. Zach Allen played just 144 snaps last year as a rookie and had only five pressures to show for it. Free agent Jordan Phillips had 10 sacks last year but only 19 other pressures on 362 rushes, good for a pedestrian pass-rush grade of 60.5.
Another high-sack season is unlikely, and Phillips has never played the run as you'd expect from a 341-pounder (career-high 61.4 grade came last year). Interior defender Corey Peters is a reasonable run defender who is a below-average pass-rusher. Fourth-round pick Leki Fotu has a chance to make an impact, but it may be in the second half of the season if he can sort out his pad-level issues against the run. Overall, it's the Chandler Jones show up front, and the Cardinals desperately need one or two pass-rushers to step up their game.
LINEBACKER
Arizona addressed a major weakness when they selected Isaiah Simmons in the first round of the 2020 NFL Draft, as their linebacking corps was one of the league's worst last season. Many analysts tried to figure out where Simmons' best fit at the next level, but the Cardinals have him at linebacker, where they had the third-worst coverage grade in the league last season (32.0).
Former first-round pick Haason Reddick is coming off the worst year of his career, as he struggled mightily in zone coverage on his way to a 29.2 coverage grade while providing little else in the run game or as a pass-rusher. He may be relegated to creative blitz packages if he's not dealt prior to the season. Jordan Hicks also had the worst overall grade of his career, at 61.0, but he has three-plus years of solid coverage grades under his belt and there's a good chance he bounces back to pair with Simmons and solidify the middle of the defense for Arizona. The Cardinals also add De'Vondre Campbell to the mix after four years in Atlanta where he posted subpar coverage grades but missed only 23 of his 291 tackle attempts.
| | |
| --- | --- |
| Team | Linebacker Coverage Grades |
| Jaguars | 28.4 |
| Lions | 31.8 |
| Cardinals | 32.0 |
| Raiders | 38.4 |
| Jets | 39.0 |
SECONDARY
If the Cardinals are going to become a breakout team in 2020, they must get better play from their cornerbacks. Patrick Peterson is the star, but he hardly played like one last year after returning from a six-game suspension. Peterson's 64.3 coverage grade was his worst in five years, brought on by the fact that he faced a plethora of strong route-runners who got the better.
Patrick Peterson Coverage Stats | 2019
| | | | |
| --- | --- | --- | --- |
| Receiver | Targets | Rec | Yds |
| Robert Woods | 11 | 7 | 113 |
| Odell Beckham Jr. | 8 | 4 | 26 |
| Emmanuel Sanders | 6 | 4 | 90 |
| Michael Thomas | 4 | 4 | 40 |
| Mike Evans | 4 | 3 | 63 |
| Deebo Samuel | 2 | 2 | 30 |
| Diontae Johnson | 2 | 2 | 32 |
| Bennie Fowler | 2 | 2 | 19 |
| Jarvis Landry | 2 | 0 | 0 |
| Marquise Goodwin | 2 | 1 | 5 |
 Beyond Peterson, the Cardinals are hoping for Robert Alford to bounce back as the starter on the outside after he missed all of 2019. Alford's last full season in 2018 saw him grade at 53.1 in coverage, the worst mark of his career after a few stellar seasons in Atlanta. If Alford does emerge opposite Peterson, that leaves 2019 second-round pick Byron Murphy to man the slot after he had his struggles on the outside as a rookie last season.
He finished with a 49.1 coverage grade while allowing a 110.3 passer rating and nine touchdowns into his coverage. Murphy did rank in the 47th percentile in coverage grade on his 197 snaps there last season, much better than his 16th percentile mark on the outside, so the move could pay dividends over a full season. The other name to watch is Chris Jones, who made the most of his 275 snaps with a 72.6 coverage grade and five pass breakups last season.
Budda Baker posted the second-best grade on the defense behind Chandler Jones, performing well as a run defender and reasonably as a coverage player who lines up all over the field. Baker lines up in the slot, in the box and as a deep safety, and he works downhill as well as any safety in the league. The question is his ability to produce on those difficult assignments, as he had some ugly reps last season against wideout Tyler Boyd and tight end George Kittle. Jalen Thompson, a 2019 fifth-round pick, was solid on 607 snaps last year, grading at 64.4 overall and outplaying fellow rookie Deionte Thompson (50.9 overall grade). The Thompsons will battle for snaps opposite Baker, and their development is crucial for Arizona's secondary.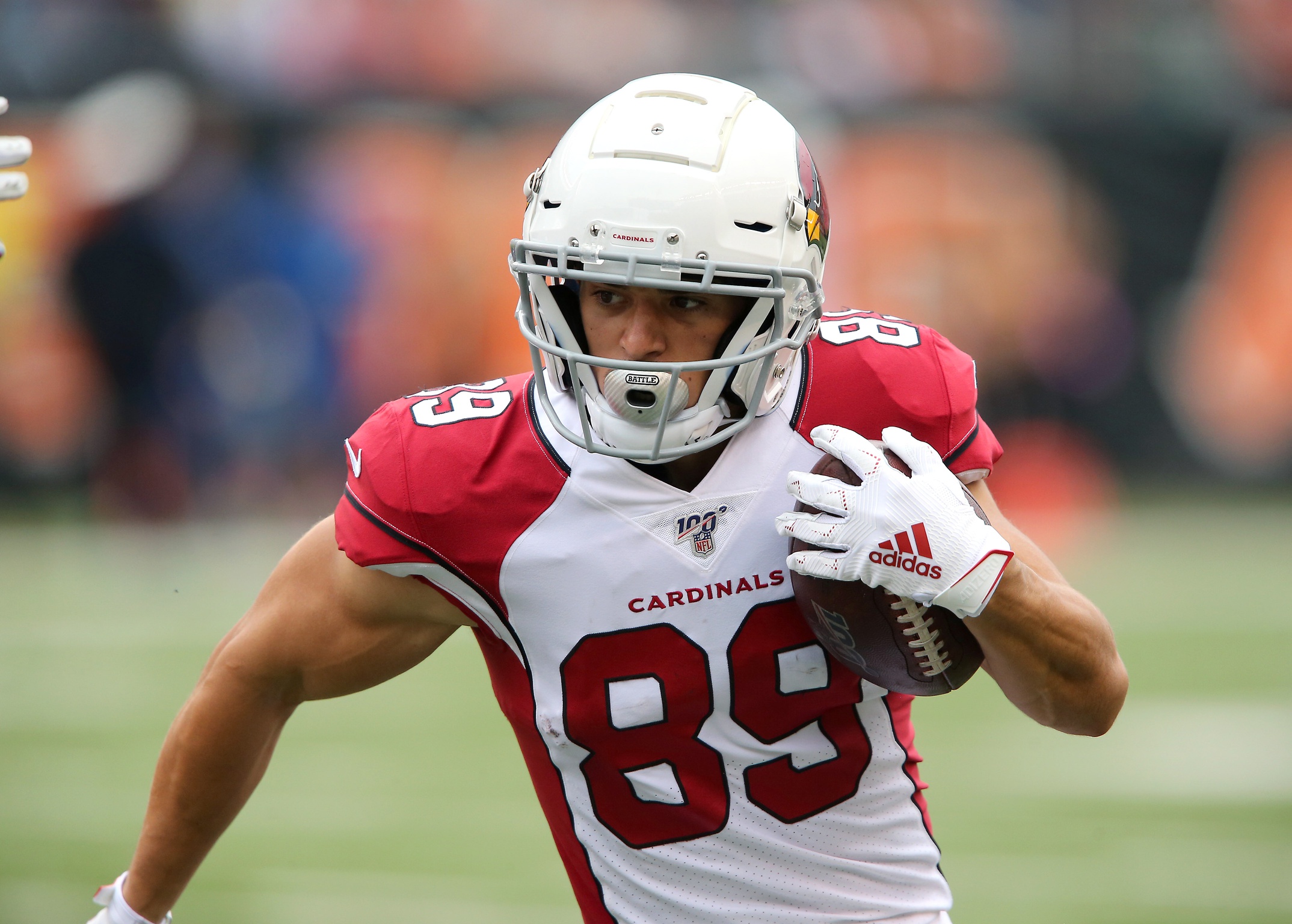 The Cardinals' season could come down to the development of their two 2019 second-round picks. Murphy showed excellent zone instincts and ball skills at Washington, but he looked overmatched in one-on-one situations last season. His skill set fits well in the slot. Isabella has the look of a possession slot receiver, but he's at his best using his sub-4.4 speed running through the secondary. Press coverage and physicality is an issue for him, but schemed-up free releases should allow him to become a much-needed vertical threat in this offense.
Draft Class Review
The Cardinals had one of our favorite drafts, starting with Isaiah Simmons in the first round and one of the steals of the draft with Josh Jones in the third round. Grabbing two starters at valuable positions is a great starting point, and adding DeAndre Hopkins for a second-rounder is the icing on the cake. The interior defensive line should get at least one contributor between fourth-round picks Leki Fotu and Rashard Lawrence.
Best Bet
It is a well-priced future market in Arizona, with the Cardinals win total set at seven. They have the lowest odds to finish fourth in the NFC West, as bettors don't seem to be buying into a breakout campaign for Kyler Murray in Year 2. Our fantasy projections agree with this outlook — we have Murray projected to finish well under his 3850.5 passing yards. Since we have consensus with betting markets on Arizona's future price, the only viable bet to make for the Cardinals is Kyler Murray to finish under his total passing yards.