It is no big secret that offseason player acquisitions carry with them at least some kind of inherent risk, a "boom or bust" potential that can primarily be related to how well a player fits into a team's system of operation. So, teams should pay close attention and be sure to cast players in a familiar role, one they have been successful in before, and avoid forcing them into a scheme that is ill-suited for their skill set. 
Here, we look at two of the top cornerbacks in the NFL and examine why the acquisitions of Byron Jones and Darius Slay could yield drastically different results despite their similarly high price tag.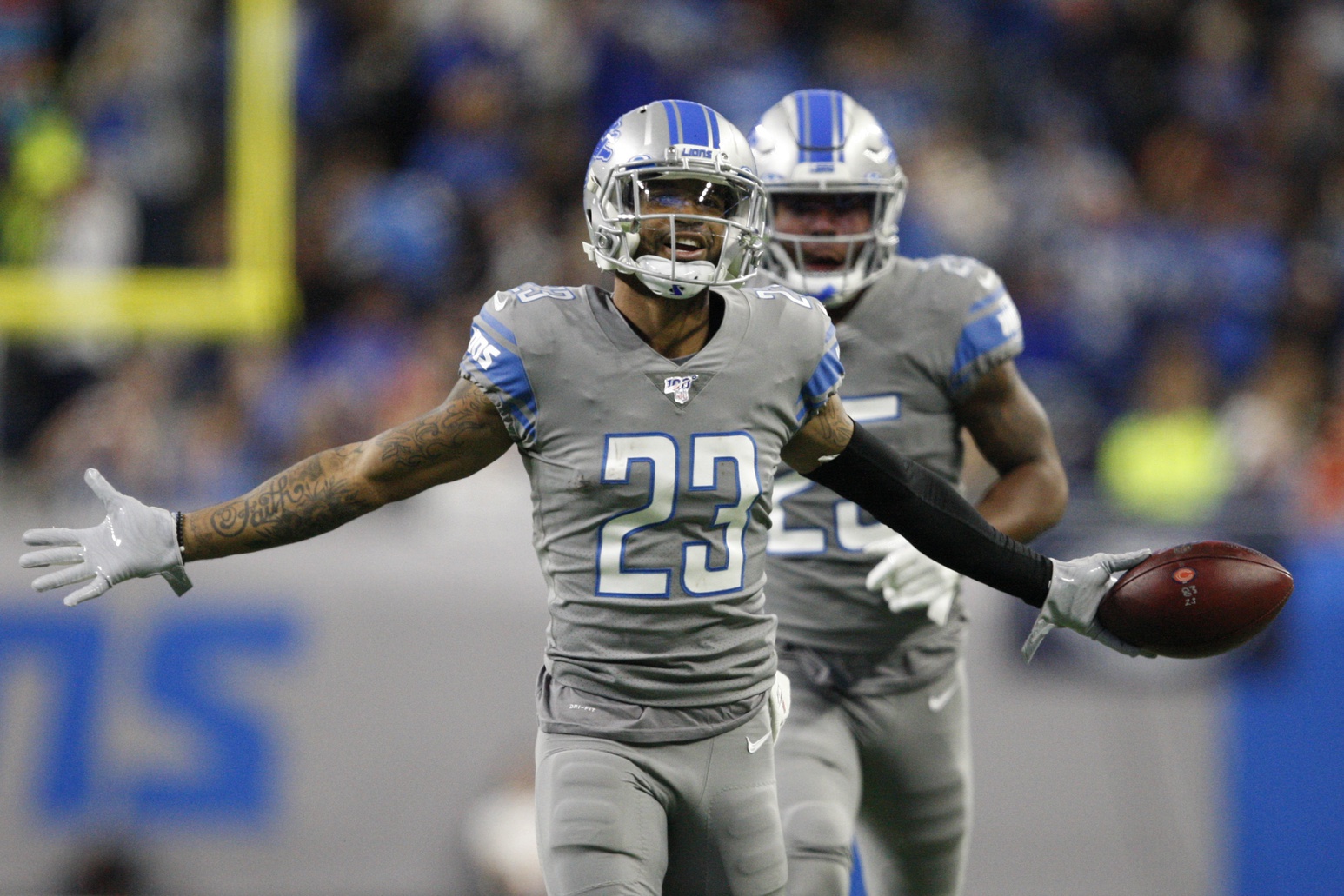 Slay is fit to fly with the Eagles
When the Philadelphia Eagles traded a third- and a fifth-round draft pick to the Detroit Lions and signed veteran cornerback Darius Slay to a three-year, $50 million contract (over $16 million annually, per OverTheCap), they envisioned him as the cornerstone of their rebuilt secondary. Eagles defensive coordinator Jim Schwartz, who drafted Slay as head coach of the Lions in 2013, believes the seven-year veteran is more capable than his 70th-ranked 56.4 coverage grade from one year ago.
Darius Slay: PFF overall grades and rank by year (2014-19)
| | | | |
| --- | --- | --- | --- |
| Season | Man-coverage snaps | PFF overall grade | Grade rank |
| 2019 | 261 | 56.4 | 92nd of 126 |
| 2018 | 212 | 75.0 | 24th of 125 |
| 2017 | 184 | 80.6 | 16th of 125 |
| 2016 | 128 | 80.4 | 12th of 125 |
| 2015 | 203 | 78.1 | 10th of 125 |
| 2014 | 149 | 70.9 | 27th of 124 |
Slay steadily improved over his first five seasons, but following Matt Patricia's appointment as head coach in 2018 — and the defense's subsequent shift to a man-coverage-heavy scheme — Slay saw his coverage grade melt.
In 2019, Patricia asked his defensive backs to play 347 snaps of man coverage, the most of any defense in the NFL. The Lions allowed 229 combined first downs and touchdowns, the second-largest total league-wide, while yielding a 28th-ranked 107.5 passer rating to opposing quarterbacks.
Slay gave up three of the Lions' 33 touchdown passes allowed — the latter figure being the fourth most among teams — and he allowed 1.40 yards per coverage snap, his worst single-season average since his rookie year.
While playing a high volume of man coverage snaps, Lions defenders played blind with their backs to the quarterback, and they were limited to a league-low seven interceptions, with Slay hauling in just two picks himself. Combined, the Lions' defensive backs forced an incompletion on only 11.2% of their targets in coverage, which ranked 18th among the league's 32 secondaries. 
However, by signing with the Eagles, Slay can expect to have more playmaking opportunities in a scheme that featured zone alignments on 58% of their 637 coverage snaps one year ago, a rate that far surpassed the Lions' (37%).
Due to injuries, Jim Schwartz was forced to use a rotation of six different players at cornerback last season, but now Slay will be expected to add stability and production to an Eagles secondary that earned PFF's 21st-ranked coverage grade (61.6) a season ago. And by playing in a scheme that features a high volume of zone, Slay will be able to make better use of his film study and play recognition to make more plays and earn higher coverage grades.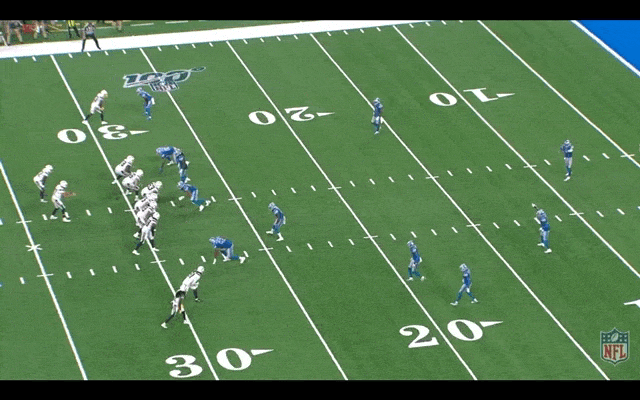 Zone coverage provides defenders a better vision of the quarterback and a faster break on the ball while in flight. More importantly, zone coverage allows an intuitive player like Slay to read the pattern of combination routes by opposing receivers to better anticipate the quarterback's intentions. His prowess for making plays on the ball is evident by his career total of 89 forced incompletions, which ties Stephon Gilmore as tops in the NFL since 2013.
When the Lions traded former teammate Quandre Diggs to the Seattle Seahawks before last year's trade deadline, it further placed Slay on an island and contributed to his desire to move on after the season. While some players improve with a change of scenery, most tend to improve immediately when their weekly gameplan assignment allows them to become a hero and not a victim in man coverage.
Along with an increase in zone-coverage looks, look for Slay to feel right at home and take flight with the Eagles in 2020.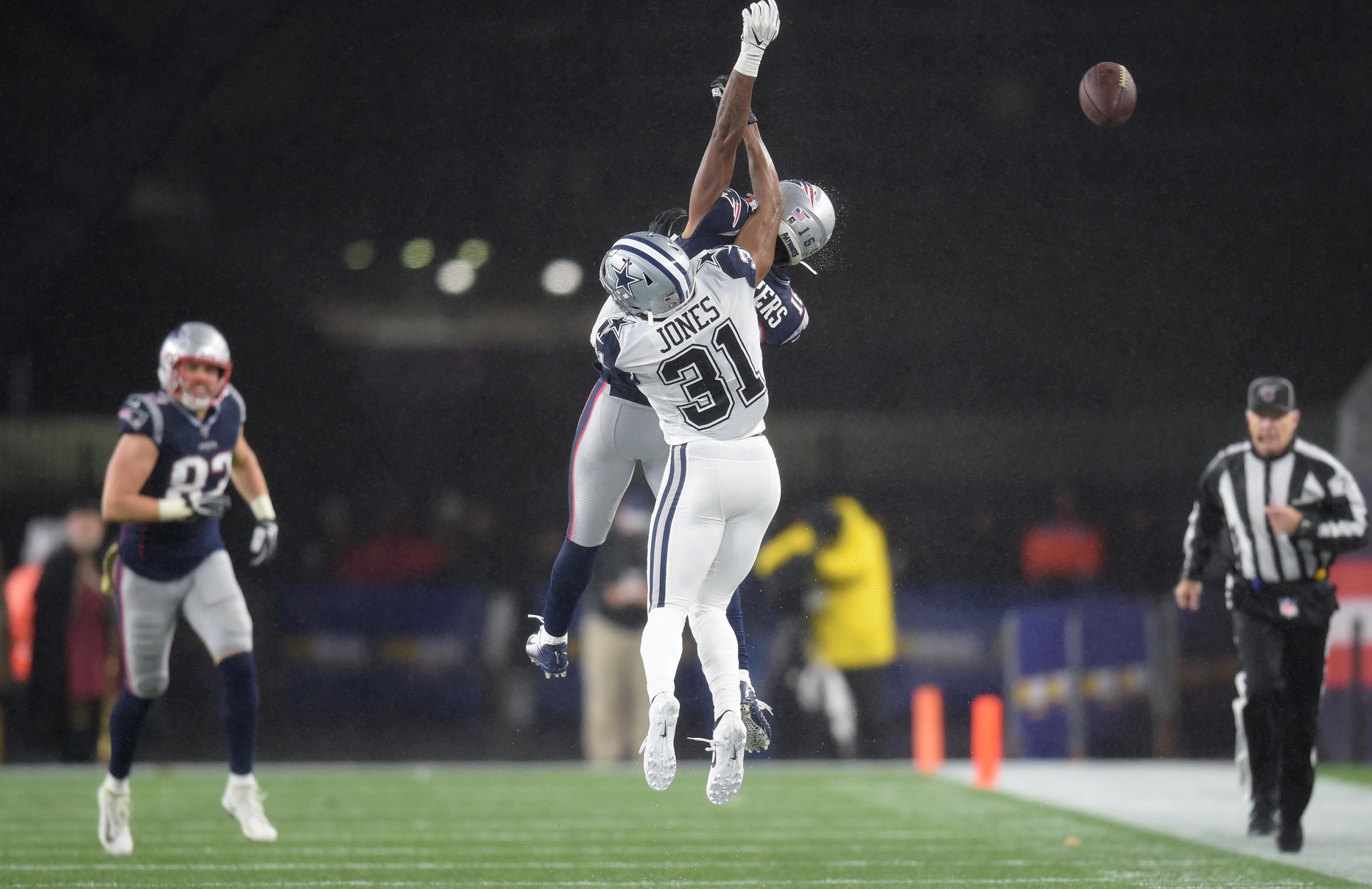 Difficult days For Jones
Before the Dallas Cowboys selected Byron Jones in the first round of the 2015 NFL Draft, he amazed us with his 44 ½-inch vertical and 12-foot-3 standing broad jump at the NFL Scouting Combine. Helped further by his impressive 4.43-second 40-yard dash, Jones was thought to be an athletic player who could provide versatility for any team that needed a Swiss Army knife in its secondary.
During his five seasons in Dallas, Jones indeed proved to be a versatile talent who can play both safety and cornerback, and he also proved to be durable by starting 73 of his 79 career games. He's recorded 4,712 snaps across his five seasons in the NFL, the most among defensive backs since 2015.
He's earned an impressive career cover grade of 90.9 while allowing only 6.4 yards per reception and just 0.79 yards per coverage snap, and his 56 total forced incompletions rank 17th among all defenders in the NFL since 2015. So, after finishing last season as PFF's 32nd-ranked secondary, the Miami Dolphins made Byron Jones the NFL's highest-paid cornerback by signing him to a five-year, $82 million contract ($16.5 million annually, per OverTheCap). 
Byron Jones: PFF overall grades and rank by year (2015-19)
| | | | |
| --- | --- | --- | --- |
| Season | Zone coverage snaps | PFF Overall grade | Grade Rank |
| 2019 | 368 | 76.1 | 14th of 126 |
| 2018 | 398 | 79.9 | 13th of 125 |
| 2017* | 323 | 65.3 | 61st of 92 |
| 2016* | 336 | 74.6 | 25th of 98 |
| 2015 | 232 | 68.1 | 41st of 125 |
*Seasons were played at safety
Under defensive coordinator Rod Marinelli and secondary coach Kris Richard, the Cowboys employed a high volume of zone coverages, which included a lot of Cover-3, 3-Seam and Cover-2 alignments. In 2019, the Cowboys' secondary ranked sixth among defenses in PFF grade (88.9) while playing zone coverages 87% of the time, and Byron Jones' 76.1 coverage grade earned him the 17th spot on our top 25 players at his position.
However, Jones will now be asked to excel in a Dolphins defense that used man coverage more than all but three other teams (Detroit, New England, Houston) in 2019.
In comparison, the Dolphins ranked second league-wide with 205 press-man coverage snaps, a figure that far exceeded that of the Cowboys (126, 16th). And on those snaps, Jones earned a 27.9 coverage grade across 37 targets.
While Jones has been a consistently good player in zone coverage, his press-man coverage result has been less than average, and his lack of big plays in the passing game just doesn't quite square with the $54 million in guaranteed salary.
This should serve as a flashing red light for those who expect Jones to quickly become a shutdown press-man defender. Asking Jones to move from a team that played 82% zone last season right into a heavy press-man coverage scheme the very next year is merely expecting a square peg to fit into a round hole. The Dolphins' coverage scheme places a high burden of responsibility to cover speed in space — Minkah Fitzpatrick demanded a trade under the burden of Miami's lofty expectations and cornerback Xavien Howard saw his coverage grade slump from 75.3 in 2018 to a disappointing 57.0 in 2019.
In fairness to Jones, though, even the league's best man defenders will struggle to consistently earn high grades while covering the opponents' No. 1 options from week to week. However, the Dolphins can still get a better return on their investment by rightly matching their scheme to the players' known skill sets. Anything else is asking for mixed results.