Now through Week 11 of the 2019 NFL season, we at PFF have updated our power rankings using PFFELO.

Like any ELO system, it adjusts the ranking of a team after each game based on what happened in the game and the perceived strengths of the team and its opponent prior to the game. As opposed to most other ELO systems, PFF ELO doesn't use the final score to update the rankings. Instead, we compute what the final score should have been based on the player grades. Thus the predictive power of our grades carries over to a strong predictive power of our ELO rankings, though we should note that other variables go into our season-long or game-by-game projections.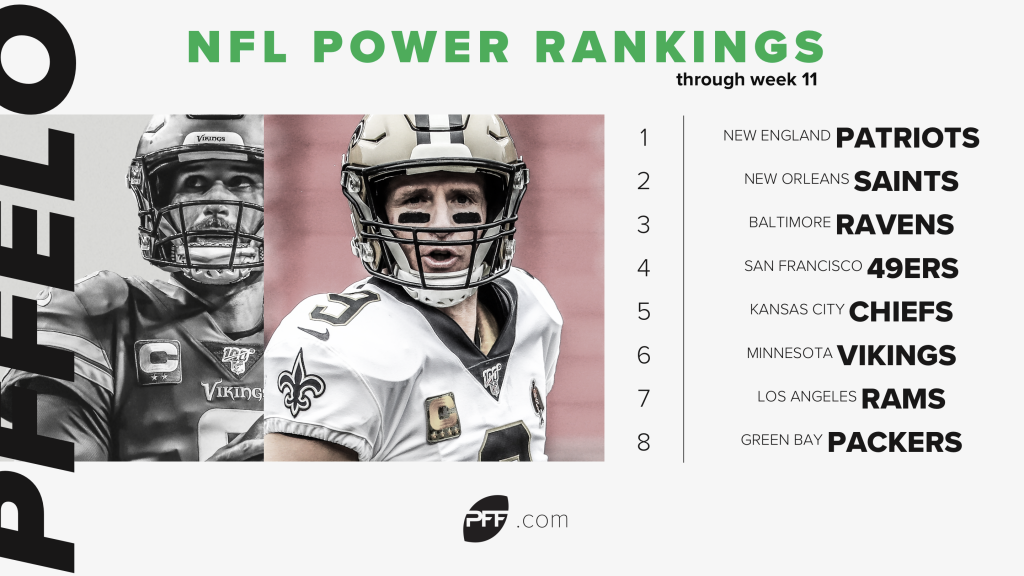 Last Week: 1st
The Patriots' hard-fought 17-10 victory over the Eagles in Week 11 secured their spot atop the PFF ELO rankings for another week, despite one of Tom Brady's worst performances of the season. Brady provided the Eagles with five turnover-worthy plays while taking five sacks. You're not going to win too many games in the NFL with that sort of performance from your quarterback, but the Patriots showed on Sunday that they can, thanks in large part to their league-best defense.
Last Week: 2nd
The Saints did enough to fend off the Buccaneers in Week 11, but there is a reason to be concerned about Drew Brees. In his three games since he returned from the thumb injury that sidelined him for five weeks, Brees has managed an average depth of target of only 5.4 yards downfield — 37th among the 37 quarterbacks who've attempted at least 50 passes since Week 8. He's thrown 20-plus yards downfield on just eight of his 123 pass attempts in that span, which is also the lowest deep-pass rate of any quarterback over the last month. There is no denying the firepower that lies within the Saints' offense but if this team wants to continue their push through the NFC, they need their quarterback, who has been lethal targeting the intermediate range of the field over the last few years, to get back to his best.
Last Week: 3rd
The Ravens continued to rip through their competition with a comfortable 41-7 win over what figures to be one of the AFC's top contenders in the Houston Texans. As PFF data scientist Timo Riske recently wrote, the Ravens' offense is taking the league by storm. Lamar Jackson's tremendous season is at the center of that improvement. He is currently PFF's second-highest-graded rusher, regardless of position, and the fifth-highest-graded passer.
Last Week: 4th
The 'Niners were able to fend off the resurging Cardinals last weekend, but that was in spite of abysmal pass protection. The team's offensive tackles, Mike McGlinchey and Justin Skule, allowed 14 pressures between them in Week 11 as Jimmy Garoppolo faced pressure on 45.8% of his dropbacks. They'll need a much better performance in Week 12 if they want to retain a top-five spot in our ELO Rankings, as the Packers' edge unit currently ranks fourth in the league in total pressures (119), while they also rank tied for fourth in pressure rate (30.6%).
Last Week: 5th
After losing four of their last six coming into the Week 11 divisional matchup with the Los Angeles Chargers, the Chiefs needed a win to get back on track, and they got just that in Mexico City. Their offense wasn't its usual self, though. Patrick Mahomes had a passer rating of just 72.7 and a PFF passing grade of 59.9. The defense, though, picked up the slack and was able to make Philip Rivers uncomfortable with pressure. Continued contributions like that from the defense would be a welcome sight in Kansas City.
Last Week: 6th
Over the past five seasons in the NFL, there have been 100 games in which a team trailed by at least 20 points at halftime. On Sunday, the Minnesota Vikings became the first of those teams to end the game with a victory. Kirk Cousins stayed true to his current form, completing 29 of his 34 passing attempts from a clean pocket for 319 yards, three scores, zero interceptions, two big-time throws and one turnover-worthy play. From Week 1 to Week 5, Cousins earned a PFF passing grade of just 64.8, 22nd among signal-callers, but from Week 6 on, he's earned a PFF passing grade of 92.0 that tops the position over that span.  If they continue to get this level of play from Cousins then the Vikings can be a nuisance in the NFC, but the question is—as it always has been—how long can Captain Kirk keep it up?
Last Week: 8th
The Rams emerged as 17-7 victors from a desperately ugly Week 11 game, but it's still concerning to see the differences between this year's Rams outfit and last year's eventual Super Bowl contenders. At this time last year, their offensive line had allowed just 94 total pressures and earned an 83.2 pass-blocking grade, Jared Goff's 122.1 passer rating on play-action ranked fourth in the league and the offense was generating 0.335 EPA per pass play. Through 11 weeks this year, their offensive line has allowed 145 total pressures and earned a 53.2 team pass-blocking grade, Goff's 52.8 rating on play-action ranks 33rd among 35 qualifying quarterbacks and the offense is generating just 0.107 EPA per pass play. They're still winning games, sure, but they're far from dominating in the way we saw just a season ago.
Last Week: 7th
The Packers spent Week 11 on bye but have dropped down a spot in our ELO rankings thanks to the play of teams around them. Quarterback Aaron Rodgers is still in the upper echelon of quarterbacks and currently ranks fourth among signal-callers in PFF passing grade, but his lack of receiving options remains troubling — only Davante Adams (89.3, fourth among receivers) has earned a receiving grade north of 75.0, while the combination of Allen Lazard (72.8), Jake Kumerow (62.9), Marquez Valdes-Scantling (59.5), Geronimo Allison (55.2) and Ryan Grant (52.9) have combined to generate a 61.8 receiving grade on the year.
Last Week: 13th
The Detroit defense buckled up to stop the Dallas rushing attack in Week 11, and that allowed Dak Prescott & Co. to put together another excellent performance through the air. Through 11 weeks, Dak has essentially written his own cheque, earning single-game grades of 70.0 or higher in six of his 10 games this season while leading an offense that has generated a league-second-best 0.274 EPA per pass play.
Last Week: 9th
The MVP discussion will start to heat up in the coming weeks and at the forefront of that discussion will be Seattle signal-caller Russell Wilson, who currently leads in the NFL's quarterbacks in both overall grade (91.0) and passing grade (89.4) while standing fourth in clean-pocket passer rating (118.4) and second in passer rating under pressure (108.7). In what would also be a huge bonus for the Hawks as they get set to take on an Eagles secondary that has earned a 58.9 coverage on the year, head coach Pete Carroll has said he's hopeful that he'll get wideout Tyler Lockett back this week — he and Wilson have combined to generate a passer rating of 130.7 together, which is the best mark among qualifying QB-WR tandems since PFF started grading games in 2006.
Last Week: 14th
Jacoby Brissett returned from injury in Week 11, and he turned in his best performance of the season to date. The numbers won't pop out at you—15/24, 148 yards, one touchdown and one interception—but Brissett provided two big-time throws compared to no turnover-worthy plays on his way to an 84.3 overall grade for the week. It's the reverse of what we saw from Brissett pre-injury (100.1 passer rating despite just a 60.1 passing grade).
Last Week: 11th
It's hard to spin Sunday's result for the Texans as anything but a disappointment. Their matchup with the Ravens was pegged as one of the best games of the week, highlighting two of the most exciting young quarterbacks in the game, and they simply weren't able to hang with a red-hot Baltimore team. Deshaun Watson took six sacks and was unable to get anything going through the air or on the ground, as the Texans recorded the second-lowest EPA per play mark of any team in the NFL last week.
Last Week: 10th
The only quarterback in the NFL who has suffered more dropped passes than Carson Wentz is Dak Prescott. Entering Week 12, the Eagles' pass-catchers have combined to drop 23 passes and—with the exception of the recently IR'd DeSean Jackson—not a single wideout has earned an overall grade north of 70.0. Wentz and his tight ends can't do it all — at some point, this receiving corps has to step up if they want to make it to January.
Last Week: 12th
Outside of the end-of-game activities that dominated the headlines, the story of Thursday's game against the Browns for the Steelers was that their offense is among the worst in the NFL in its current state. Yes, they were operating with Tevin Jones, Johnny Holton and Trey Edmunds at the end of the game due to injury, but Mason Rudolph has shown that he's not a long-term solution, regardless of his weapons. Rudolph is currently PFF's third-lowest- graded quarterback on the season.
Last Week: 18th 
The Titans benefitted from the performance of teams around them last week, jumping three spots in the PFF ELO rankings despite being on a bye in Week 11. Since Ryan Tannehill took over as the starter in Week 7, the Titans have been a top-10 offense in terms of EPA per play. Given that they've had a top-10 defense in EPA per play allowed over the course of the season, that improved play from Tannehill and their offense has them in position to chase a wild card spot in the AFC.
Last Week: 23rd
Last week against the Panthers, the Falcons finally showed up in a game after what has been a disastrous 2019. Matt Ryan and the passing game clicked throughout, with a number of deep connections to Julio Jones and Calvin Ridley. Through 11 weeks, the perennially efficient Jones ranks tied for seventh among wideouts in yards per route run (2.38), while the defense, which has taken its fair share of flak this season, has allowed just -0.326 EPA per pass play since their Week 9 bye, the seventh-best mark among teams over the last two weeks.
Last Week: 15th
The Bears' defense wasn't able to fully stymie the Rams' offense in Week 11, but they have been the reason behind their team's relative relevance in 2019. The secondary, in particular, has been good. They have allowed a passer rating of just 93.1 (15th) against quarterbacks from a clean pocket and a passer rating of 59.1 (5th) when the pass-rush has moved the opposing signal-caller off his spot. Mitchell Trubisky, on the other hand, continues to be a problem for this team — only Dwayne Haskins and Josh Rosen have earned a worse passing grade on passes thrown past the first-down marker than the former second overall pick.
Last Week: 19th
Beating a Bengals team that has looked hopeless for the entirety of the season by seven points isn't the prettiest of wins, but a win is a win. That is especially true considering that win moved the Raiders to 6-4 on the season. The emergence of Darren Waller has been huge for Oakland. He brought in five receptions for 78 yards last week, and on the season, Waller has a receiving grade of 86.1. That ranks third among tight ends behind only George Kittle and Mark Andrews.
Last Week: 21st
The Bills continue to do what they're supposed to do — beat bad teams. That is how they've amassed a 7-3 record despite only beating one team with a record above .500. John Brown has a big game against the Dolphins, catching nine of 14 targets for 137 yards and two touchdowns. On the season, Brown is PFF's 16th highest-graded wide receiver. His 23 receptions of 15 or more yards are fourth most of any wide receiver this season.
Last Week: 17th
Another week, another neon sign pointing to the fact that the Chargers' pass protection unit is among the worst in the league and Philip Rivers is no longer capable of bailing out the offense while under pressure. Under pressure against the Chiefs, Rivers completed 6-of-15 passes for 74 yards and two interceptions. Making plays under pressure had been a strength for Rivers in recent seasons, but now that it has become a definitive weakness, the Chargers offense as a whole is in trouble.
Last Week: 22nd
It was ugly, but the Browns 21-7 win against the Steelers was a step in the right direction despite the lack of discipline that has seemed to surround Freddie Kitchens' tenure as head coach. The defense took full advantage of their opportunity against Pittsburgh by generating pressure on nearly 50% of their pass-rushing snaps (49%) and forcing four turnovers. That defense takes a big hit moving forward, though, with the loss of Myles Garrett (PFF's highest-graded edge defender so far this season).
Last Week: 20th
The Brandon Allen-led Broncos have been competitive in both games, beating the Browns in Week 9 and losing narrowly to a good Vikings team in Minnesota. Brandon Allen's 44% completion percentage against the Vikings wasn't what moved the needle, though. It has been a cast of underrated defensive players that includes Alexander Johnson (92.0 overall grade on the season), Justin Simmons (90.7) and Shelby Harris (86.0).
Last Week: 16th
After slowing considerably over the last month or so, The Kyle Allen 2020 campaign has now ground to a full stop after his desperately poor showing against the rival Falcons in Week 11 — a performance that earned a 43.6 overall grade thanks to a whopping six turnover-worthy plays, four of which ended in the grateful hands of a Falcons defender. Despite the poor quarterback play, however, Christian McCaffrey has been exceptional in the passing game, earning a league-second-best 92.3 receiving grade through the season's first 11 weeks.
Last Week: 24th
Nick Foles returned to the starting quarterback role for Jacksonville, but his return was underwhelming in a 33-13 loss to the Colts. Foles' underlying stats weren't terrible (6.3 yards per attempt and a passer rating of 92.2). His PFF numbers (59.3 passing grade and three turnover-worthy plays) were less impressive, however. Foles has been a volatile passer throughout his career, and the Jaguars got the lower end of that volatility in Week 11.
Last Week: 25th
Jameis Winston's volatile play really has kept us from witnessing what could have been a top-tier offense this season. Wide receivers Mike Evans and Chris Godwin rank eighth and fifth, respectively, among receivers in receiving grade this season, with the pair of them combining to haul in 28 contested catches and tally 50 plays of 15 or more yards. Winston, though, has made mistake after mistake this year with no signs of improvement on the horizon. Jameis is Jameis: He's produced a turnover-worthy play in every single game he's played this year, and he's produced three or more turnover-worthy plays in five of his 10 games.
Last Week: 26th
With Matthew Stafford at the helm of this offense, the Lions' passing game ranked seventh among teams in team passing grade while ranking sixth among outfits in EPA per pass play. With Jeff Driskel leading the charge over the last two weeks, though, the Lions have fallen to 19th in team passing grade and 12th in EPA per pass play. Defensively, the Lions are struggling in most facets under Matt Patricia — they rank 29th among teams in team tackling grade, 27th among teams in pass-rush grade, 25th in team coverage grade and 27th in team run-defense grade.
Last Week: 28th
The Jets have begun to use their do-it-all safety Jamal Adams as an edge rusher in recent weeks. It's safe to say that it has been working, as his six sacks lead all defenders over the past three weeks. In all, he has nine pressures in 21 pass-rushing snaps over that stretch. For a team that has generated edge pressure on 14% of its pass-rushing snaps this season, Adams may legitimately be the best edge rusher they have.
Last Week: 27th
Kyler Murray completed 24-of-33 attempts for 150 yards and two touchdowns against the 'Niners in Week 11, putting up a 112.0 passer rating from a clean pocket in the process. Murray's care with the ball has been promising so far, as he's recorded only nine turnover-worthy plays on 417 pass attempts (for reference, Daniel Jones has recorded 22 on 324), but this team's coverage unit—one that has allowed a 32nd-ranked passer rating on throws into their coverage—needs to be better if Kliff and Kyler are to have a chance.
Last Week: 29th
The Washington Redskins have all but checked out of the season, that much was evident in Week 11. Since Bill Callahan took charge in Week 6, the team's pass-catchers have combined to move the chains just 94 times, 31st among teams in that span, while the offensive line has stumbled to a 25th-ranked pass-blocking grade and the coverage unit has allowed a 22nd-ranked passer rating on throws into their coverage. Dwayne Haskins is fighting a losing battle in Washington, but rookie wideout Terry McLaurin provides a reason for hope. Through 11 weeks, McLaurin has earned a receiving grade of 83.6 that ranks ninth among the 101 qualifying wideouts league-wide.
Last Week: 30th
The Dolphins' two-game winning streak came to a halt against the Bills in Week 11, and it was largely because they couldn't buy a stop on defense. They posted the third-worst EPA allowed per play of any team last week. On the season they have generated pressure on just 29% of their defensive snaps (lowest in the NFL), but even when the pressure does get home, they have struggled in coverage. The Dolphins have allowed a passer rating of 104.0 on targeted passes when they record a pressure (worst in the NFL).
Last Week: 31st
The Giants remain in the penultimate spot after they spent Week 11 on bye. Daniel Jones has been up and down this year, though it has been mostly down, as only Jameis Winston (26) and Philip Rivers (24) have more turnover-worthy plays than Jones (22) on the year, though Winston has attempted 52 more passes and Rivers has attempted 130 more passes. The coverage unit has also been a problem — they have allowed 0.161 EPA per pass play through 11 weeks, 25th among teams, and they've allowed a passer rating of 110.7 that ranks 27th.
Last Week: 32nd
The Bengals were competitive for nearly the entire game against the Raiders—more than can be said for most of their games this season—but ultimately, they lost their 10th consecutive game of the 2019 season. Ryan Finley hasn't shown a whole lot of promise in his two starts so far this season. His passing grade of 38.2 ranks dead last among 48 quarterbacks with 50 or more dropbacks. That only strengthens the argument for the Bengals to look towards quarterback in the draft, and they'll likely be doing so with the first overall pick.