PFF Senior Analysts Sam Monson and Steve Palazzolo reviewed the film, advanced stats and grades to offer their key takeaways from Week 11 of the 2019 NFL season.
[Editor's Note: All ELITE subscribers have access to PFF's advanced statistics and grades referenced below. Subscribe today to gain access!]

Jamal Adams might be the Jets' best pass-rusher
Jamal Adams has been the best player on the Jets for a while now, but as a safety, it would seem odd for that to extend to the pass-rush. Lately, the team has been lining him up as a true edge rusher, beyond simply having him as an add-on blitzer from his safety spot. This week, he lined up on the edge 14 times, rushed the passer on 13 occasions and had three sacks and a hit, leading the team in both sacks and total pressures. Adams has an obvious speed advantage over most pass-blockers, but he also has strength, physicality and pure playmaking ability — he may legitimately be the best pass-rusher on this roster.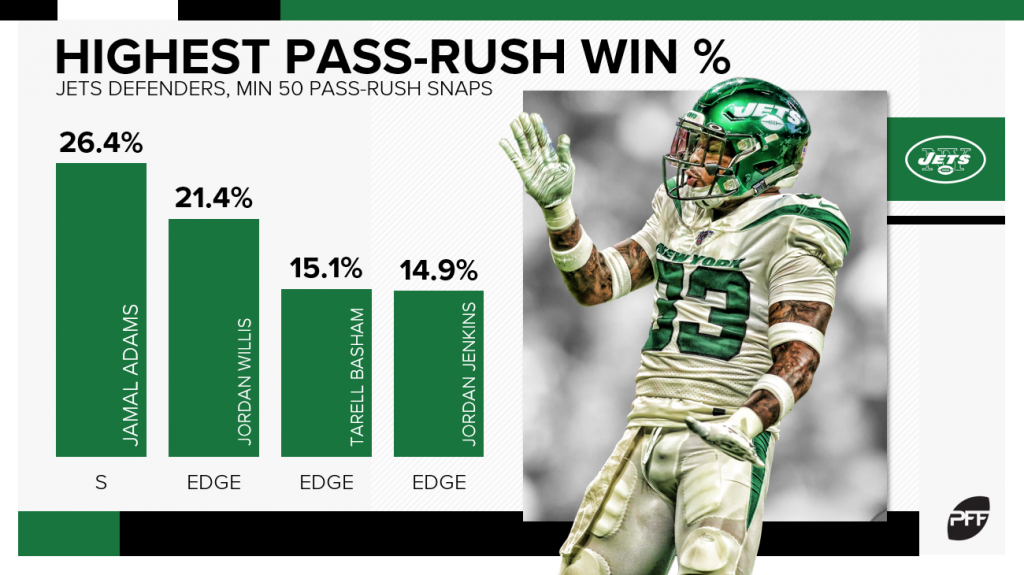 Time to worry about Clelin Ferrell?
We're only a week removed from the narrative surrounding Clelin Ferrell being one of optimism thanks to a three-sack performance against the Los Angeles Chargers under the bright lights of prime time. The problem, though, is that those are three of just four sacks on the season, and they constituted the only pressures he got that night — against one of the worst tackle situations it is possible to face. This week, against another of the worst, he registered just one solitary hurry. That marks the seventh occasion (out of only nine possible) that he has failed to register either a sack or hit thus far in his rookie season, and he is now being consistently outshined by fellow rookie Maxx Crosby. 
There is no longer any gameplan to stop Lamar Jackson and the Ravens' offense
Last season in the playoffs, the Los Angeles Chargers broke out an unusual defense to combat Lamar Jackson and the Baltimore Ravens' offense. In place of linebackers, the team played with four safeties on the field to try and defend the run with speed as opposed to power, and it worked incredibly well. Baltimore gained just 90 rushing yards as a team, and Jackson wasn't good enough as a passer to exploit any weaknesses that opened up as a result. The leaps he has made this season mean that right now, he is good enough, and I don't think the same gameplan would enjoy the same kind of success. Jackson now ranks top-five in PFF passing grade and still remains one of the most dynamic rushing threats in the game. We have reached a point where I don't know if anybody even knows what the gameplan to slow him down should be, regardless of whether you can execute it or not.
The Rams may have offensive line upgrades in-house
The Rams' offensive line has been a hot mess this season thus far. They have slipped from being one of the best units in the game to one that has allowed more pressure than any other line other than the Chargers. Rob Havenstein's collapse in play has been spectacular, but the rest of the unit has struggled, as well. Injuries forced them to play a pair of rookies on Sunday night against Chicago, and both players acquitted themselves well. Bobby Evans at right tackle, in particular, looks like a very viable alternative to Havenstein after he allowed zero pressures from 21 pass-blocking snaps last night.
The Patriots' offense is becoming an issue
The Patriots have had about two decades of outstanding offensive play, but there are some concerns now, as they are no longer moving the ball in the same, efficient manner with which we've become accustomed. While Tom Brady is missing more throws than he has in the past, the entire unit appears out of sync. Brady has a passer rating of just 48.5 when pressured behind a leaky offensive line, while the receiving unit has not created consistent separation to create outlets when he's facing heat. Throw in a subpar rushing attack and one of the worst groups of tight ends in the league, and New England is still looking for an efficient way to move the ball. 
Are the Falcons becoming what we thought they were?
There was not a more disappointing first-half team than the Falcons and their 1-7 start, but they've won division games each of the last two weeks while allowing a total of only 12 points. Coming into the year, we expected to see an explosive offense and a reasonable defense, the latter of which has positively regressed from one of the league's worst during this two-game stretch. It's likely too late for the Falcons to go on a run, but they'll be a difficult matchup down the stretch, especially if they pressure the quarterback on 46% of dropbacks as they did against Kyle Allen and the Carolina Panthers yesterday.
For Deshaun Watson, "hero ball" has its ups and downs
Houston Texans quarterback Deshaun Watson has filled up the highlight reels in his two-plus years in the league, and he came into the week in the thick of the MVP discussion on the strength of his high-end plays. Watson was tied for sixth in big-time throws coming into the game but also tied for seventh in turnover-worthy plays (14 total), despite being charged with just five interceptions. In this game, the volatility came back to bite, as Watson tried to do too much on two separate plays, holding the ball over nine seconds for a strip-sack and later throwing back across his body right to a Ravens defender for an easy interception. Watson has incredible playmaking ability outside of structure, but it can also get him into trouble late in the down as it did in this pivotal matchup against the Ravens.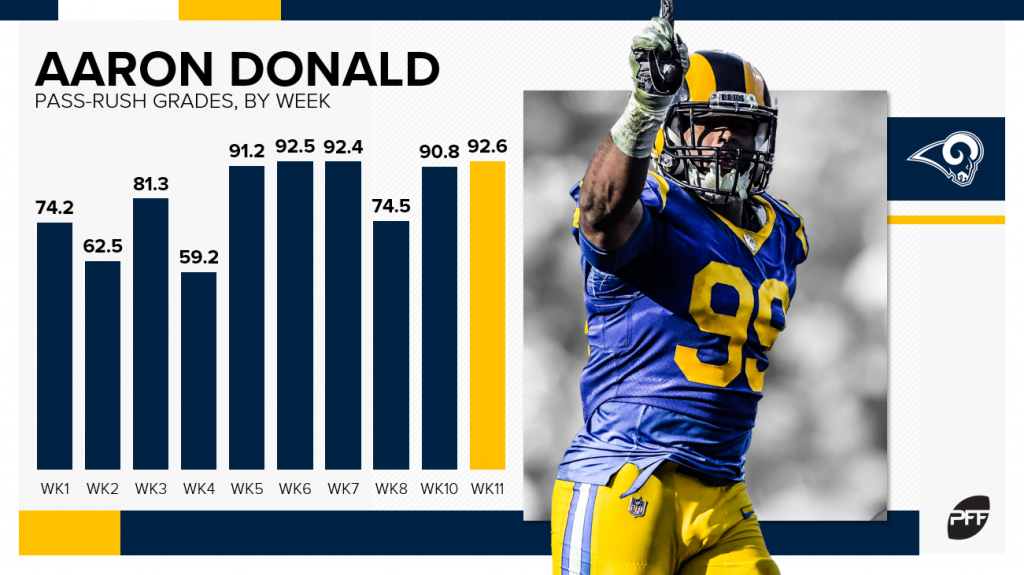 Aaron Donald is still Aaron Donald
While Aaron Donald is the highest-graded defensive player in the NFL, Week 11 provided a nice primetime reminder of just how dominant he can be. He finished with a season-high 93.3 overall grade against the Chicago Bears, picking up eight pressures (two sacks, two hits, and four hurries) and a batted pass on 45 rushes, and he had another sack negated by a defensive hold. Donald won 27.7% of his pass rushes to lead all interior defensive linemen in Week 11.