The PFF Top 101 is done for another season, and it's important to note just what rarefied air anybody who made the list is in. Around 2,500 players take the field over the course of an average NFL season, so to be ranked inside the top 101 of them means you had a fantastic season.
Following that logic, just because you didn't make the list, doesn't mean you didn't have a fine season; it just wasn't good enough to crack the top 101 of all players in the NFL.
As a reminder, the list factored in only 2019 play, not overall level of talent, and playing time was a significant factor that would deviate from PFF grades alone. So let's take a look at some players that didn't quite make the list, and attempt to explain why:
There's no doubt Mathieu made a huge impact on the Kansas City defense, and you could argue that they don't have a Lombardi Trophy right now if it wasn't for his contributions over the season. At his best, he was outstanding, and he had five games over the season with a PFF grade north of 80. The issue was consistency, and for all of those big impact games, there were others where he simply wasn't a factor. Had Mathieu turned a few of the average games into good games, he would certainly have found himself on the list, because his high-end play was spectacular.
The gold standard for pass protection at the NFL level was set this season by Baltimore's Ronnie Stanley. Bakhtiari still ended the season with the second-best PFF pass-blocking grade at the position, but he allowed 12 more pressures than he did a season ago, and more than double the number of penalties. His run blocking – an area he had improved over the past couple of seasons, also took a slight step backward and he ended the season just outside of the list looking in on those that made it.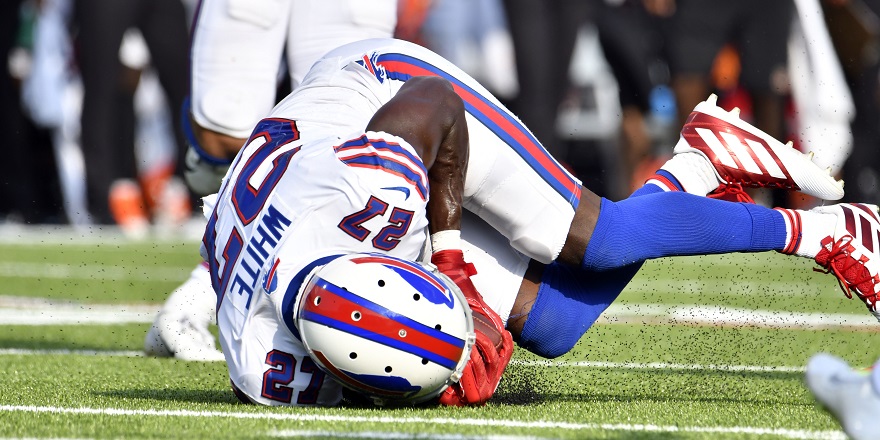 The most controversial omission of the Top 101. White was an Associated Press All-Pro cornerback this season, but not a PFF All-Pro. Some of his coverage numbers were excellent, but the PFF grade captures all of the ways those numbers can mislead or paint an inaccurate picture that can compound over time. White didn't surrender a touchdown, but he ranked just 26th in yards surrendered per snap in coverage at more than double the figure of Richard Sherman, who led the league. 39 corners also allowed catches at a lower rate than White in coverage. He had a solid year, but was actually significantly better as a rookie two years ago.
Playing time factors into the Top 101 in a way it doesn't as much for overall PFF grades. Williams was a significant part of the improved 49ers defense this year, but even including the playoffs he was only able to tally 734 defensive snaps over the season, compared to some other defensive backs that were on the field for 500 more. Obviously, as a sub-package defender that's not his call, but ultimately we leaned in the direction of players that were simply asked to do more over Williams for the list.
Allen is one of the best route-running receivers in all of football and has one of the best releases off the line of anybody. His tape is teaching material, and we know him to be an elite player at this level. But with his quarterback struggling this season, Allen had a slight step back in performance. He caught 70.7% of the passes thrown his way, almost five percentage points down on last year, while averaging less per reception and after the catch. He still had a solid year, but not quite good enough to make the list, such are the fine margins amongst the game's best.
Another player to make the list a season ago, Byard was ranked all the way at 45th this time a season ago. He ended that campaign with an overall PFF grade of 88.4, and ranked among the game's best players. This season, however, that took a step backward. He did record two more interceptions than a season ago, but he also surrendered three more touchdowns when in primary coverage, and his overall PFF grade sank to 79.4, which was still a good grade, but enough of a drop to cause him to narrowly miss the list.
2019 was a strong year for wide receiver play, and you could make a solid argument Moore belongs on the list given the quarterback situation he was dealing with in Carolina. The issue with lists like these, of course, is that you could do the same thing for dozens of players, and ultimately some have to miss out. Moore ended the season with the 15th-best overall PFF grade despite Kyle Allen seemingly aiming for defensive backs as much as he was for Moore for much of the year. Five drops and two fumbles were also plays that counted against him in the narrow margins that cost him a spot.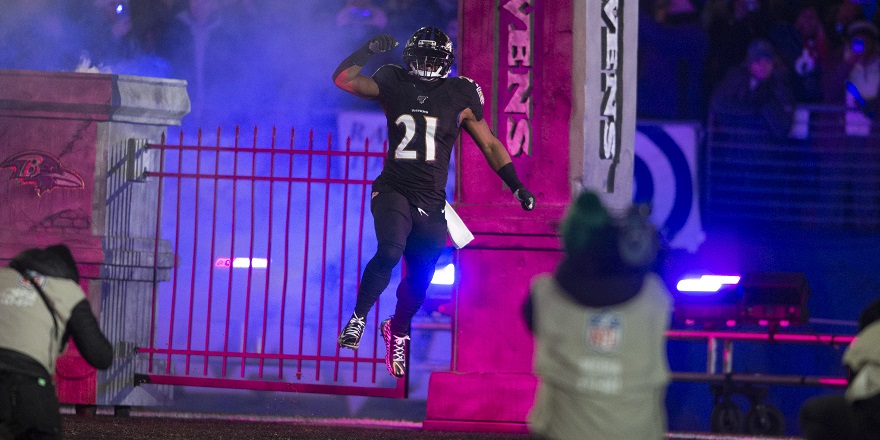 Evaluating the Ravens offense this season is an extreme challenge because of how unique that system is and the impact Lamar Jackson has on every other player on it. That extends to Ingram, who had an excellent season as the primary running back for the team, but obviously benefitted by what Jackson's threat does to defenses. The other thing that counted against Ingram is that he played just 530 total snaps including the playoffs. That he was used in a rotation is obviously not Ingram's fault, but it's hard not to lean toward other backs like Christian McCaffrey who played almost twice the snaps over the season.
Barrett is a player PFF has championed since he came into the league and was vastly outperforming his rotation role in Denver. It's ironic, therefore, that the year in which he was chasing the single-season sack record is the season in which we would urge people to pump the brakes. It's not that Barrett was bad this season — it was his career-best pass-rush grade — it's just that he wasn't as good as that shiny sack number. Of Barrett's sacks, eight of them were either unblocked or of the clean-up variety, and 20 defensive linemen had a better overall pass-rushing win rate. Barrett was good, but sacks are a horrible way of measuring that. When you measure it more accurately, he wasn't quite that good.
Barrett's former teammate, Miller has made the PFF Top 101 seven times in his career. Only six players have more appearances, and the only season prior to this one that he failed to make it was an injury-shortened year in which he was still phenomenal when he was playing. 2019, however marked the lowest overall PFF grade (79.3) of his career. In fact, it was the first season in which his grade has dipped below 90 (which is insane, btw). He still generated pressure (77, total), but this season was winning far less decisively and having less impact. 75.3% of his total pressures this year were hurries compared to just 63.5% over his career before this season. It was also the first year in which he didn't record a single forced fumble.