We've seen the jukes. We've watched the defenders fall to the ground and the adoring fans go wild. Every time Bijan Robinson touches the ball, something special seems to happen. But he's not just a human highlight reel; he's already becoming the focal point of the Atlanta Falcons offense and an incredibly productive running back.
Here are the 10 most interesting data points from his opening two games.
---
Editor's note: PFF's Premium Stats is the most in-depth collection of NFL and NCAA player performance data. Subscribe today to get full access!
---
• Through two weeks, 37.9% of Robinson's rushes have resulted in either a first down or touchdown, tied for the highest percentage among all running backs with at least 20 rush attempts.
• No running back has more targets (11), receptions (10) or first-down conversions (5) as a receiver. 
• Robinson's 86.1 overall grade ranks first at the position.
• While Christian McCaffrey leads the league in rushing yards (268), Robinson is in second place (180). However, the Falcons back does lead the league in rushes of 10 or more yards, with seven.
• Robinson has forced seven missed tackles as a runner and another four as a receiver. His 11 combined forced missed tackles ranks fourth among all running backs. 
• His 111.8 elusive rating ranks third among all backs with at least 20 touches.
• The eighth overall pick from the 2023 NFL Draft has forced 74.2% of people who believed a running back should never be drafted in Round 1 to reconsider their position (OK, this number may be made up, but he does rank in the 80th percentile or above in seven of the eight most stable metrics for running backs).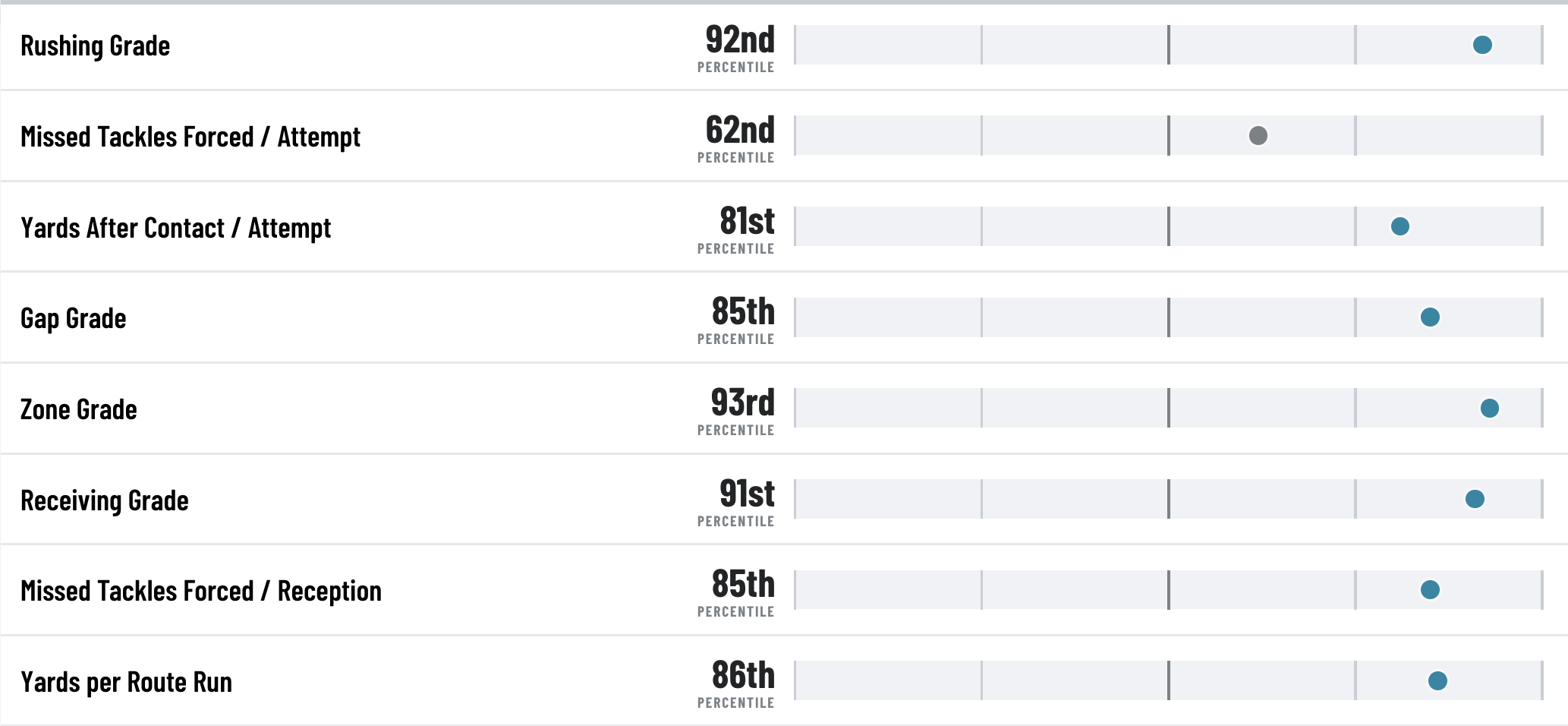 • Looking for an area for improvement? Robinson has stayed in to pass block only twice, and he was beaten both times.
• Of all the running backs with at least five first-down rushes, Robinson has the second-highest grade (85.8).
• The 89.0 rushing grade Robinson has picked up in the first two weeks is the highest score a rookie running back has ever achieved (minimum 15 rushes).
Are we witnessing something special? It's too early to tell for sure, but it will be a fun ride finding out.