Stade de Reims have become one of the most talked about clubs in all of Europe as they lay siege to Ligue 1's heavyweight clubs to stand an outside chance of grabbing a place in the Europa Conference League next season.
Victory away to Monaco last weekend extended their unbeaten run to 19 games, which has propelled the north-east based club to 8th in the table and four points off qualifying for European cup competition.
45 years on from Reims contesting the 1958/59 Champions League final against the might of Alfredo Di Stefano's Real Madrid, the head coach leading the team's charge this season is not only the continent's youngest individual to hold the job but does not hold a UEFA Pro Licence.
Much has been made about Will Still's interest in the football simulation game Football Manager, but an adoration for football appears to run through the Still family with his brother Edward the current head coach of Belgian club Eupen where he is assisted by younger brother Nico.
At 30, he has taken Reims to five-straight clean sheets as the momentum behind their unbeaten run shows no signs of abating. This is despite losing Wout Faes and El Bilal Troure to Leicester City and Almeria, as well as goalkeeper Pedrag Rajkovic to Mallorca.
Faes and Rajkovic, aged 24 and 26, may have been considered senior leaders at a club whose recruitment is structured towards developing talent, like midfielders Jens Cajuste, Dion Lopy and attacking option Alexis Flips. In his second game in charge, Still named a line-up with an average age of 24.0 – the fourth-youngest team named by a Ligue 1 team this season.
They face the stern challenge of Marseille on Sunday who lie second in Ligue 1. Reims do, however, hold a marginally better defensive record than Marseille – 26 goals to 27 goals conceded – and it is in defence where we will dig into the three key figures behind Still's immediate success.
Yunis Abdelhamid, defender
Challenge grade: 95.8
The former Morocco international arrived at Reims back in 2017 and has been a veteran presence in the middle of the defence for Still.
His league-leading PFF challenge grade of 95.8 is nothing short of exceptional especially considering his involvement in 384 challenge events, the fourth-most by any player in Ligue 1. Abdelhamid has displayed elite quality to match the high volume and has been ably partnered at the back by Emmanuel Agbadou, who has graded at 82.4 on challenges.
Abdelhamid has not been as elite as a ball carrier but his production has still been serviceable. A grade of 68.2 for ball carrying, which encompasses dribbles, carries and tackle resistance, ranks 36th out of 87 qualifying central defenders.
There is another year remaining on the current contract of Abdelhamid, who will turn 36 in September.
Junya Ito, winger
Ball carry grade: 77.9 / Crossing grade: 80.4
Ito has been used to good effect on the right wing in Still's predominant formation of 4-2-3-1 and finished as Japan's best creator at the 2022 FIFA World Cup, where he featured in all four of the nation's matches and created three goal-scoring chances.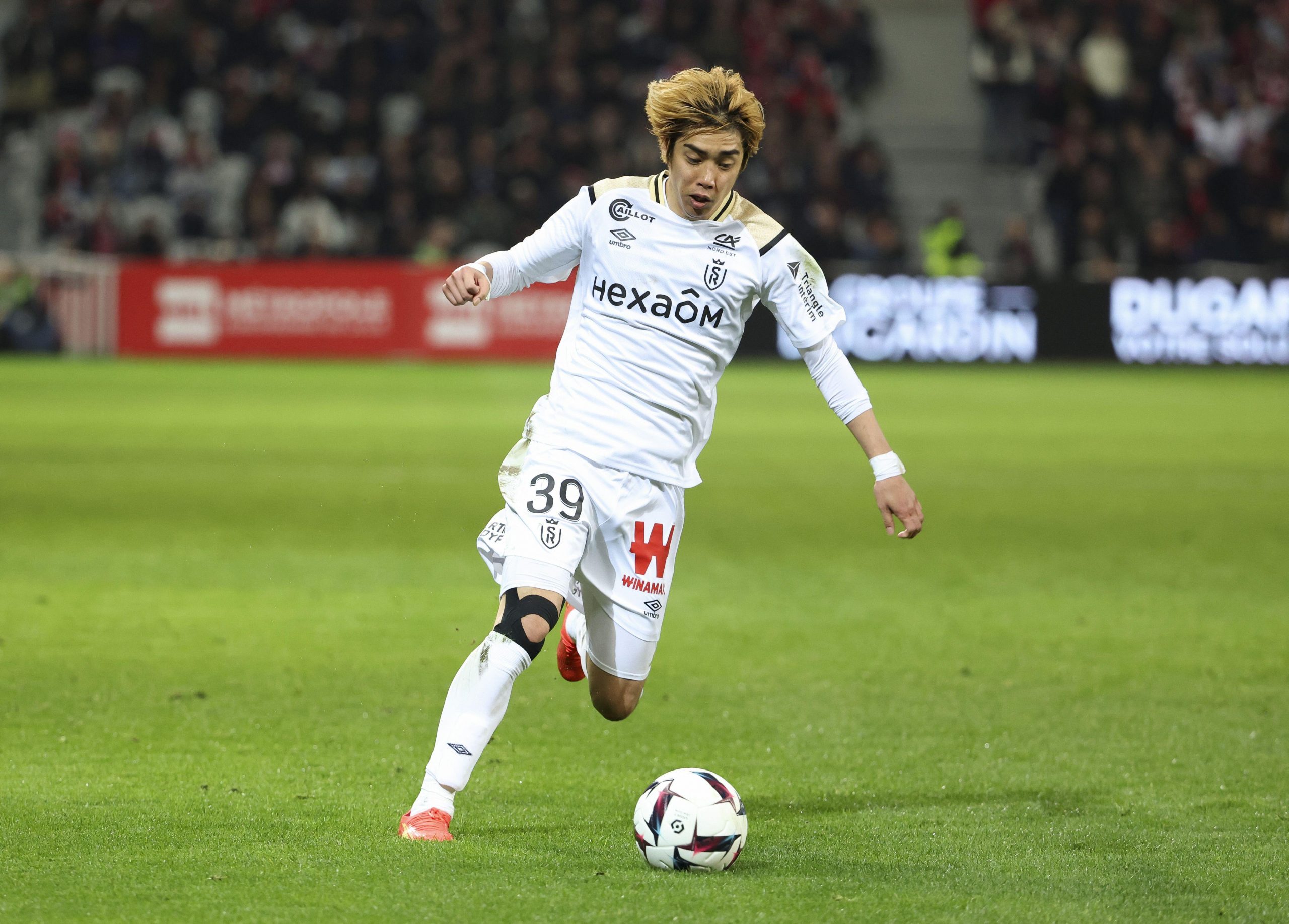 A ball-carrying threat, Ito's grade of 77.9 is the 13th-best among all wingers while the 233 events which have contributed to the generation of his grade is the 11th-most.
Good ball retention is matched also by Ito's effect in providing an end product as his crossing grade of 80.4 would suggest. That is worthy of being ranked 16th among 108 attacking midfielders.
Folarin Balogun, striker
Shooting grade: 75.1
Arsenal may be a little busy with the small matter of winning the Premier League title race, but if they looked across the English Channel at the performance of on-loan striker Folarin Balogun they will see a player who is fifth in Ligue 1's goalscorer charts.
Balogun alone has contributed 45.7% of Reims goals in the league this season, as the scorer of 16 in 26 appearances. No other player above him in the charts has been as integral to goal contribution – Kylian Mbappe, 27.9%, Jonathan David, 37.2%, Alexandre Lacazette, 38.1%, Wissam Ben Yedder, 29.1%.
All four do possess a higher shooting grade than Balogun's 75.1 but it has nonetheless been a season to remember for the 21-year-old, who has the 20-goal milestone within his sights.
USMNT interim head coach Anthony Hudson recently said there had been dialogue with the Reims loanee over committing his international future to USA, due to Balogun's eligibility for Nigeria, England, and the USA.