Running back handcuffs is an old school idea in fantasy football that dates back to back to a different era of the NFL. Two decades ago, the league was very different. It was a ground-and-pound game that featured far more bell cow backs than we have in the league today.
In 1998, Jamal Anderson led the league with 410 carries. There were 11 backs with over 300 carries and 25 who topped 200. Last year, Ezekiel Elliott led the league with 304 carries. He was the only back to top 300 and just 14 running backs went over 200 carries. At the same time, we saw 47 running backs (and two quarterbacks) go over 100 carries last season, which was eight more than back in 1998. In other words, the ball is being spread around more in today's NFL run games.
Sure, you can thank Captain Obvious over here, but here's the thing: Fantasy players know that there are far more committee backfields today than there have ever been in the NFL, yet a lot of them still hold on to the idea of handcuffing in drafts.
Oftentimes, spending a late-round pick on a true handcuff is a mistake. The player takes up prime real estate on your bench for the first few weeks of the season, and he's almost always the first to go when you need to free up that bench spot. So why draft a guy who you're just going to cut after Week 3? It's a strategy that doesn't make much sense, which is why I tend to draft all of my running backs in the early and middle rounds.
At the same time, handcuffing does still have its place in modern fantasy football. It makes a lot of sense to handcuff in best ball drafts where you can't work the waiver wire during the season. And in traditional redraft leagues, handcuffing is something you should have in your arsenal when we reach mid-November. Scooping up key handcuffs down the stretch of the fantasy season can often be the difference maker that leads you to a fantasy championship.
While handcuffing in traditional drafts is an antiquated strategy, there are some players we might designate as handcuffs who have independent value. These premium options are very much on the fantasy radar and do not require an injury to the starter to be relevant. At the same time, if the other back on their team went down, these players would jump up to at least RB2 territory and perhaps higher. Looking at this year's running back crop, there are five backs who stand out as premium handcuffs.

[Editor's Note: All EDGE & ELITE subscribers have access to Jeff Ratcliffe's fantasy rankings. Sign up today to gain access!]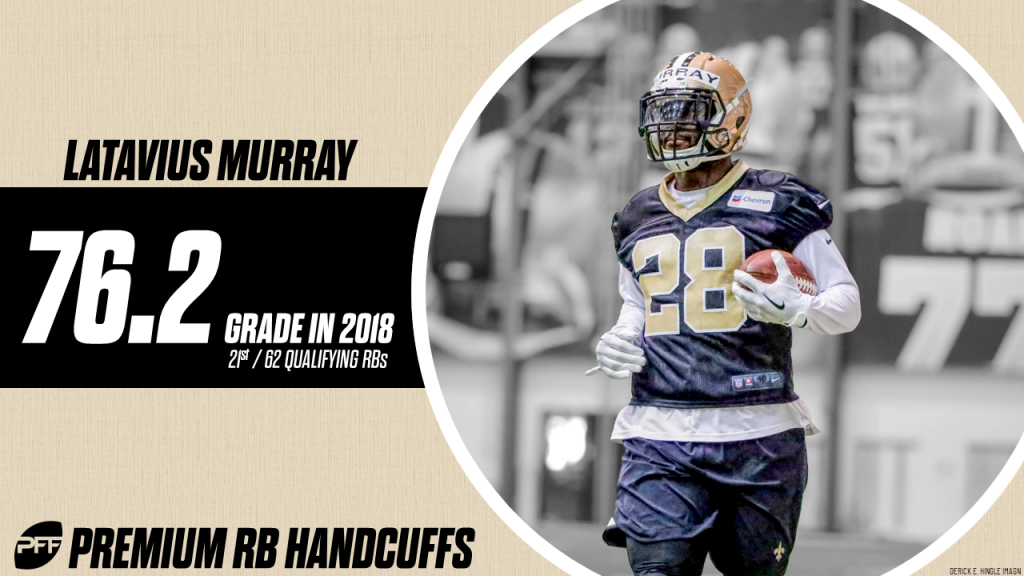 No one is going to mistake Murray for the lead back on the New Orleans depth chart. But unlike a lot of the handcuffs in the league, Murray has enough value to warrant consideration even if you don't own Alvin Kamara. With Mark Ingram now in Baltimore, Murray will slide into the 1A role in the Saints' offense, which means we're likely to see him 10-touch per game range.
While that isn't enough to sustain consistent RB2 numbers, Murray has weekly upside in the potent New Orleans offense. He's also arguably the top handcuff in 2019. If something happened to Kamara, Murray would be an instant top-15 fantasy running back with the potential to be even more valuable.
Heading into last season, Penny looked like he had a chance to take control of the Seahawks' backfield after Seattle selected him in the first round of the 2018 draft. But that wasn't the case, as Chris Carson held serve and went on to rack up 247 rushing attempts and finish as a top-20 fantasy running back.
Entering this year, Carson is still in the driver's seat, but there's plenty of meat on the bone for Penny in the extremely run-heavy Seahawks offense. He's also generated some positive offseason buzz for his conditioning. With Mike Davis now in Chicago, Penny is the clear No. 2 in the Seattle backfield, which is enough to give him fringe RB3 value, and he's positioned as one of the league's better handcuffs. If Carson went down with injury, Penny would be an instant RB2.
One of the hotter names in fantasy entering the 2019 season, Henderson brings a dynamic skillset to the table and has the ability to turn any touch into a big play. Of course, the Rams selecting Henderson on Day 2 certainly raised some eyebrows in the fantasy community after how Todd Gurley's 2018 season ended.
Obvious questions abound in Los Angeles regarding Gurley's 2019 status and how Henderson will fit into their plans. While some see Henderson as a potential breakout option who will share the backfield with Gurley, the safer play is to view him as a complementary piece with boom-or-bust weekly potential who would see a premium fantasy boost if Gurley missed any time.
At this time last year, fantasy momentum started to build for Freeman and he ended up going as high as the third round in drafts. Right backfield, wrong player, as Phillip Lindsay seemingly came out of nowhere and became one of the biggest fantasy surprises in recent memory.
While 2018 was disappointing for those who spent a priority pick on Freeman, it isn't wise to completely write him off just yet. Freeman's efficiency numbers paled in comparison to Lindsay's, but he faced base defense on 48% of his runs, which was far higher than  Lindsay's 35%. Freeman also flashed upside in Week 17, especially as a receiver, catching eight balls on 10 targets. Lindsay is still the preferred fantasy option in Denver, but Freeman offers handcuff-plus value at a discounted price.