Football is back, which fantasy football is back, which means DFS is back, which means I am back doing this column every week for PFF.
This column is long, but it's also really valuable. How valuable? Well, last year, one weekly reader walked away with wins of $100,000, $40,000, $30,000, and $7,000 across multiple weeks. How's that for a testimonial?
Essentially, in this column, I'll be listing the top value plays/my top plays of the week, grouped by position, and ranked and tiered in some sort of descending order.
Keep in mind, we're looking only at the players available on the main slate on both FanDuel and DraftKings. Please also note the "salary rank" under each player's name; one player might be a terrific play on one site, while being a terrible play on another.
Quarterbacks
Salary rank – DK: QB13, FD: QB8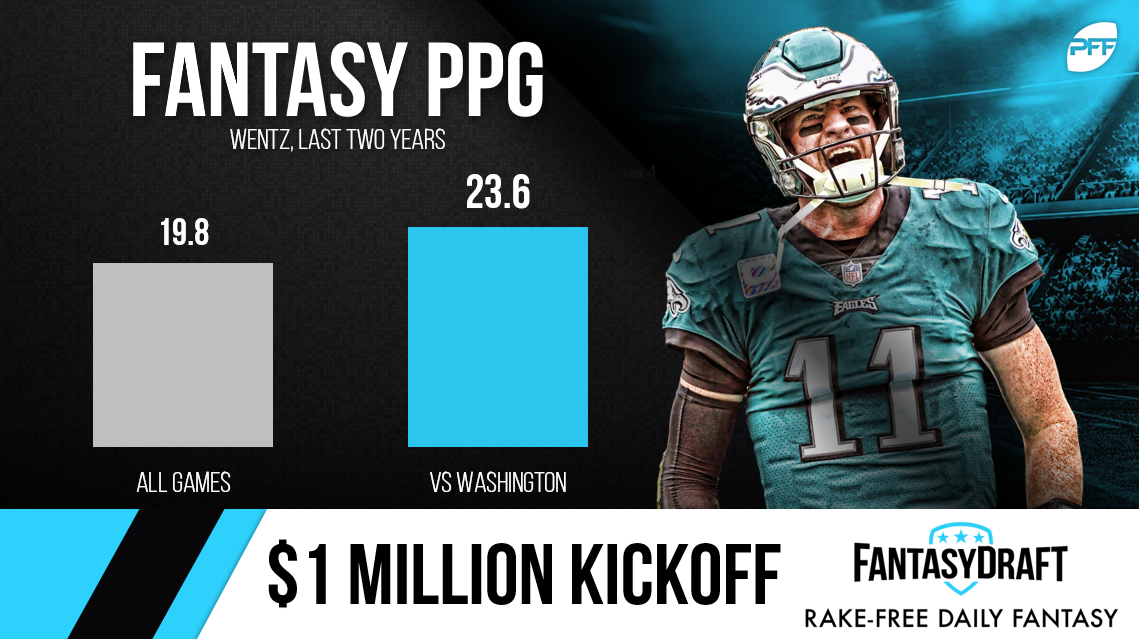 Wentz is easily the most mispriced quarterback of Week 1. Over the past two seasons, Wentz ranks fourth in fantasy points per game (19.8). This offseason, he ranked seventh at the position in season-long ADP. In spite of this, he ranks just 13th in salary on DraftKings. If he performs in line with his average over the past two seasons, his $5,700 salary offers a 3.4X value. If he performs in line with his average against Washington over the past two seasons (23.6 fantasy points per game), he offers a 4.1X value. With the second-highest implied point total on the slate, either Wentz smashes value, or we get a bit unlucky with the running backs vulturing all his touchdown upside. While Wentz is a better value on DraftKings this week, he's still a top-two play on FanDuel as well, and with added contrarian appeal. Wentz is only the eighth-most-tagged quarterback on FanShareSports this week, implying shockingly low ownership for a player who should be the chalk.
DK: QB3, FD: QB9
Over the past two seasons, Winston has averaged 20.6 (in 2018) and 17.8 fantasy points per game (in 2017) when playing on at least 75% of the team's snaps. For reference, among all quarterbacks, those numbers would have ranked sixth-best (last year) and eighth-best (in 2017). He's priced at the low end of that spectrum on FanDuel this week (ninth in salary), and far away from where he sits in our Week 1 projections (fifth).