Are you a fantasy football fanatic, a DFS junkie, or just someone intrigued by the new and improved XFL? Well, if so, I have good news — DraftKings and FanDuel are both offering contests for the XFL, and we're putting out content in support of those contests.
Following up on Jeff Ratcliffe's XFL Primer and rankings, in today's article I'll be breaking down the best plays of the Week 1 DFS Slate on the DraftKings side of things.
Quarterbacks
Josh Johnson, Los Angeles Wildcats
As a 10-year NFL journeyman, Johnson is easily the most experienced quarterback in the XFL. And he's also probably the best quarterback in the XFL – as every other starting quarterback either never made it to the NFL or had their career cut short much more quickly. At age 33, Johnson is far removed from the 2008 NFL Combine, when he ran a blazing fast 4.53 40-yard dash after back-to-back college seasons with 700-plus rushing yards. Even so, he probably still has the best rushing upside of any XFL quarterback. In 2018, he played in four games for the Washington Redskins, averaging 5.8 rushing attempts and 4.5 rushing fantasy points per game.
Running back
De'Veon Smith, Tampa Bay Vipers
Marc Trestman's Vipers were the only team to leave Phase 1 of the XFL Draft with just one running back, selecting Smith in the third round. When in the NFL, Trestman was viewed as a cheat code for fantasy running backs – across 12 seasons, his RB1 averaged over 65 receptions per season. For perspective, just three seasons ago, only two running backs eclipsed 60 catches. Given Trestman's historical preference for a bell cow running back (rather than a committee) and how heavily targeted those bell cow running backs are, Smith is clearly the top tournament play at the position.
Trey Williams, Seattle Dragons
Williams is reunited with his AAF head coach – and the most run-heavy head coach in the AAF – Seattle OC Mike Riley, who selected Williams in the first round of the XFL Draft. Though he'll likely continue to split work with Kenneth Farrow (Seattle's second round pick) as he did in the AAF, based on draft capital it seems odd Williams is $3,100 cheaper than Farrow on DraftKings.
Cameron Artis-Payne, Dallas Renegades
Like with Josh Johnson, just based on the fact that Artis-Payne spent four full seasons in the NFL, he's probably one of the best running backs in the XFL. Though he might not be as talented as Christine Michael, and he doesn't have much pass-catching upside, it might not matter too much. With the Renegades heavy favorites (6.5 points), he's too cheap at $6,800 on DraftKings.
Wide receiver/tight end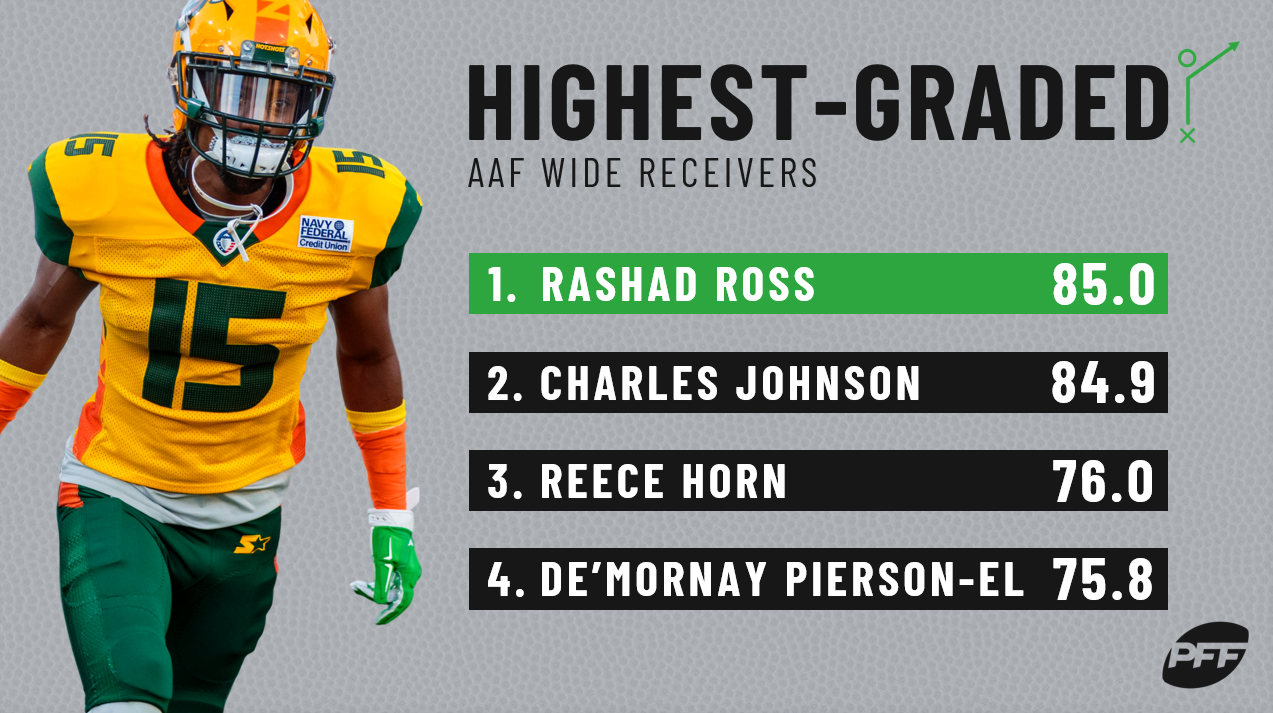 Rashad Ross, WR, Los Angeles Wildcats
Though Ross is the most expensive wide receiver on the slate, he's also the player most worth paying up for. In last year's AAF, Ross led all receivers in touchdowns (by two) and ranked second in receiving yards (148 more than the next-closest player). As probably the best receiver in the league, catching passes from one of the better quarterbacks in the league, he's not someone you'd want to fade in Week 1.
De'Mornay Pierson-El, WR, St. Louis Battlehawks
DraftKings did a good job of pricing up all the other AAF superstars, but they overlooked Pierson-El. Among all AAF wide receivers, he ranked top-five in receiving yards, yards per route run, PFF grade, and air yards, though he ranks just 13th in salary this week. Drafted as his team's WR1, in the third round, he's a top value.
Seantavius Jones, WR, Tampa Bay Vipers
Like with the running back position, it's hard not to get excited about Tampa Bay's wide receivers given Trestman's fast-paced pass-heavy history as a play-caller. At 6-foot-4 and 216 pounds, Trestman might view his second-round pick similarly to Alshon Jeffery (6-3, 218) who totaled over 2,500 yards in two seasons with Trestman.
Khalil Lewis/Sammie Coates, WR, Houston Roughnecks
In seven NFL seasons, June Jones' offense ranked top-six in pass attempts six times, and bottom-six in rush attempts five times. While Houston's offense is one of the most-enticing, it feels difficult choosing between Lewis and Coates. Lewis doesn't have much of a pedigree to add to an atrocious showing at his 2018 Pro Day, but he was drafted as the team's WR1 in the second-round. In contrast, Roughnecks teammate Coates was drafted a round later, but he ran a 4.43 40-yard dash at the 2015 NFL Combine before spending four seasons in the NFL. Coates rightfully ranks higher in salary, but he's $5,200 more expensive than Lewis on DraftKings, making the second-rounder look like the far better value.