The WR/CB matchup chart is one of the most popular fantasy football tools we have here at PFF. It's an invaluable tool that allows you to see matchups at a more granular level. In the past, we've only offered this tool for the NFL, but that all changes today. Introducing the brand new XFL fantasy football WR/CB Matchup Chart.
If you're new to this chart, there are a few things to keep in mind. First and foremost, the chart displays primary coverage and not all coverage. We are not suggesting Receiver X will be covered by Corner Y all game. Receivers move around the formation, and the percentage of routes they run from each spot is displayed on the chart. The only exception here is if we expect shadow coverage. In that case, the receiver's name would appear in ALL CAPS. However, we did not see any shadow coverage in Week 1, so there are no shadow situations projected for this week.
You may also be asking what data we're using here. Since the goal is to compare these players on an even playing field, the data below comes from a combination of NFL preseason data and Week 1 XFL data. That gives us a slightly larger sample size and thus a better picture of the matchups than had we just used Week 1 data.
The most important column is the matchup advantage column in the middle. The higher the number, the better. Green is good. Red is bad. This column takes a few things into account, but the major piece of data here is PFF grades. We also show targets per route (T/R), fantasy points per route (F/R), catch rate (C%) and yards per route run/covered (YPRR/YPRC).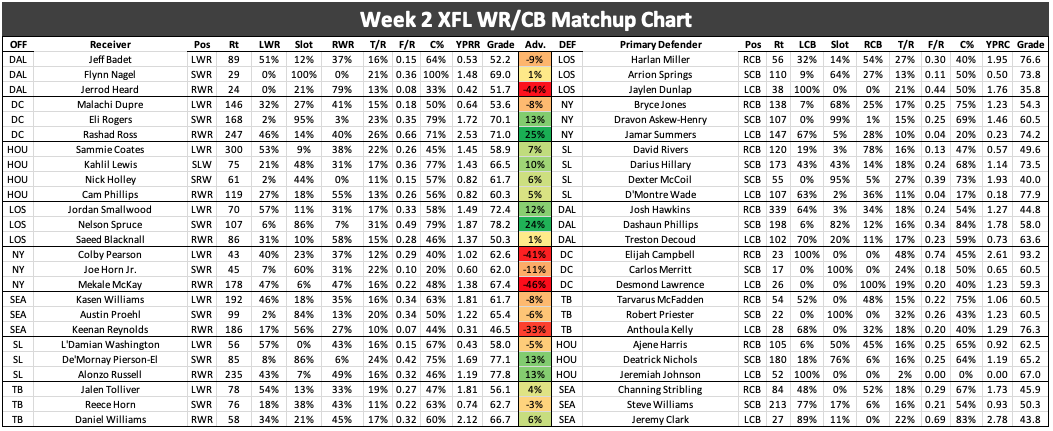 Upgrades
Week 1 standout Nelson Spruce should see another heavy workload against Dallas. The Renegade's fast-paced offense bodes well for a lot of plays in this contest, and Spruce's matchup is favorable. Rashad Ross may not have seen a ton of volume in Week 1, but he made the most of his two catches and could be in store for a bigger day against New York. It's also worth noting that we included all four Houston receivers on the chart. The Roughnecks don't use a tight end in their run-and-shoot offense.
Downgrades
The biggest downgrades of the week go to the New York duo of Mekale McKay and Colby Pearson. A big reason for this poor matchup grade is the play of Elijah Campbell. The DC corner led the position in PFF grading for Week 1, notching two pass breakups on six targets and allowing just 10 receiving yards on three catches in his coverage.