(As we head into the 2019 fantasy football season, we're taking a trip around the league to identify the offseason moves we'd most like to see each team make for fantasy purposes. Today: Washington)
It feels like ancient history now that Washington started 6-3 and went into the final seven weeks of the season easily controlling their own destiny in the NFC East. Injuries started piling up (and it was a big pile), the team went 1-6 the rest of the way, the Washington not only missed the playoffs, but they were three games out of the division lead and on their fourth quarterback when all was said and done.
None of that is to say Washington was particularly close to being a great team, however. It had a competent enough defense (its 79.7 overall PFF defense grade was middle of the pack), but the offense was lacking. Adrian Peterson, an emergency signee in the preseason, more than held his own, but the team's receivers were a big disappointment, as was high-profile offseason acquisition Alex Smith. And Smith's ugly midseason injury threatens not only to keep him out for the start of training camp, there is legitimate question whether he'll play at all in 2019 … or ever again.
So there are plenty of moves for Washington to make. Here are three suggestions.
(Keep up with the whole offseason wish list series here.)
Three offseason moves we want to see for Washington
For the love of god, find a way to stay healthy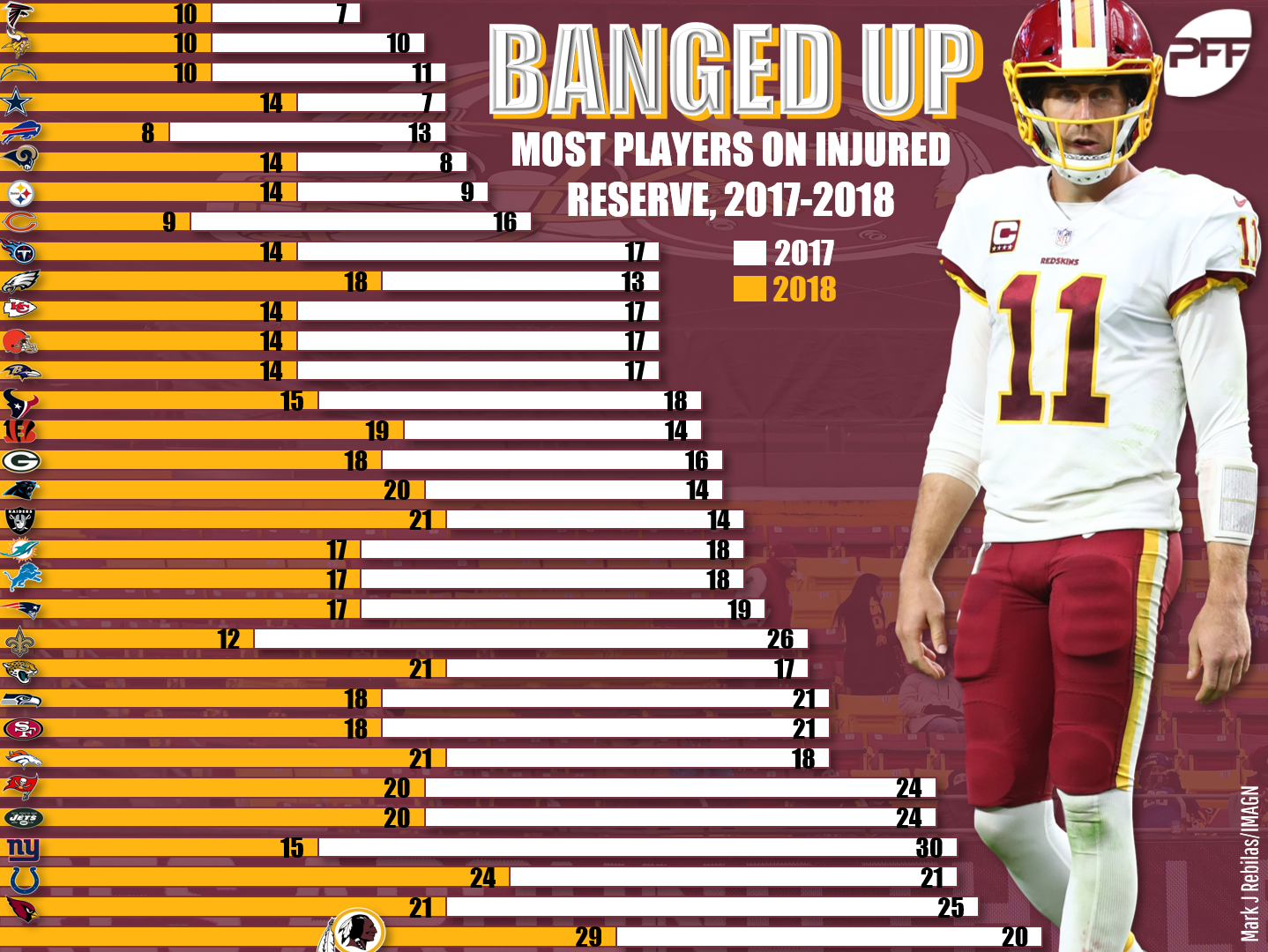 Washington lost the most player-games to injured reserve in 2018 … after being just as injury-bit in 2017. Rookie running back Derrius Guice didn't even make it to the start of his first year before tearing his ACL, and Smith and Colt McCoy were lost for the year as well. Free agent receiver Paul Richardson only played seven games before getting hurt. Jordan Reed couldn't stay healthy (again). Worst, the team was down to finding stray turnstiles to slot into the offensive line as players went down over and over (and over). If the team can't find a way to keep its best players on the field, then all the offseason moves in the world won't matter. Health is top priority for Washington in 2019, one way or another.
Everyone wants Smith to make a full recovery. But at this point, anything you get from him in the near-to-intermediate future is a luxury. Washington should proceed as though the team has no quarterback, and that means bringing in Bridgewater this offseason as a free agent signing. Bridgewater has easily the highest ceiling of the available free agents. He has one of the lowest floors, as well, if he can't regain the promise he showed in Minnesota, but for a Washington team that has high aspirations, the ceiling is what to look for.
Draft offensive linemen
The Washington offensive line situation in 2018 would have been comical if it hadn't been so depressing. Center Chase Roullier was the only lineman to top 1,000 snaps on the season; nine different players saw at least 200. Six different guys landed on IR. Players were signed of the "Oh yeah, I've heard of him once" vintage. Over the whole season, Washington's pass-blocking and run-blocking grades were actually respectable, all things considered, but both definitely tailed off as the season went on, indicative of the battle of attrition the team was definitely losing.
Getting the key linemen healthy (see above) is the main point here, but if any team desperately need O-line depth in 2019, it's this Washington franchise. The team only has five picks in the seven rounds of this year's draft, but does have each of its first three picks still, and there should be some serious O-line attention paid with some of them.