(As we head into the 2019 fantasy football season, we're taking a trip around the league to identify the offseason moves we'd most like to see each team make for fantasy purposes. Today: the Tampa Bay Buccaneers)
It has blown my mind all year that if you made Ryan Fitzpatrick and Jameis Winston into one man in 2018, Rymeis Fitzpaston would have been fantasy's No. 2 quarterback for the season. That's one of the craziest stats of the entire 2018 season, especially considering the team had to change starter for performance reasons three different times.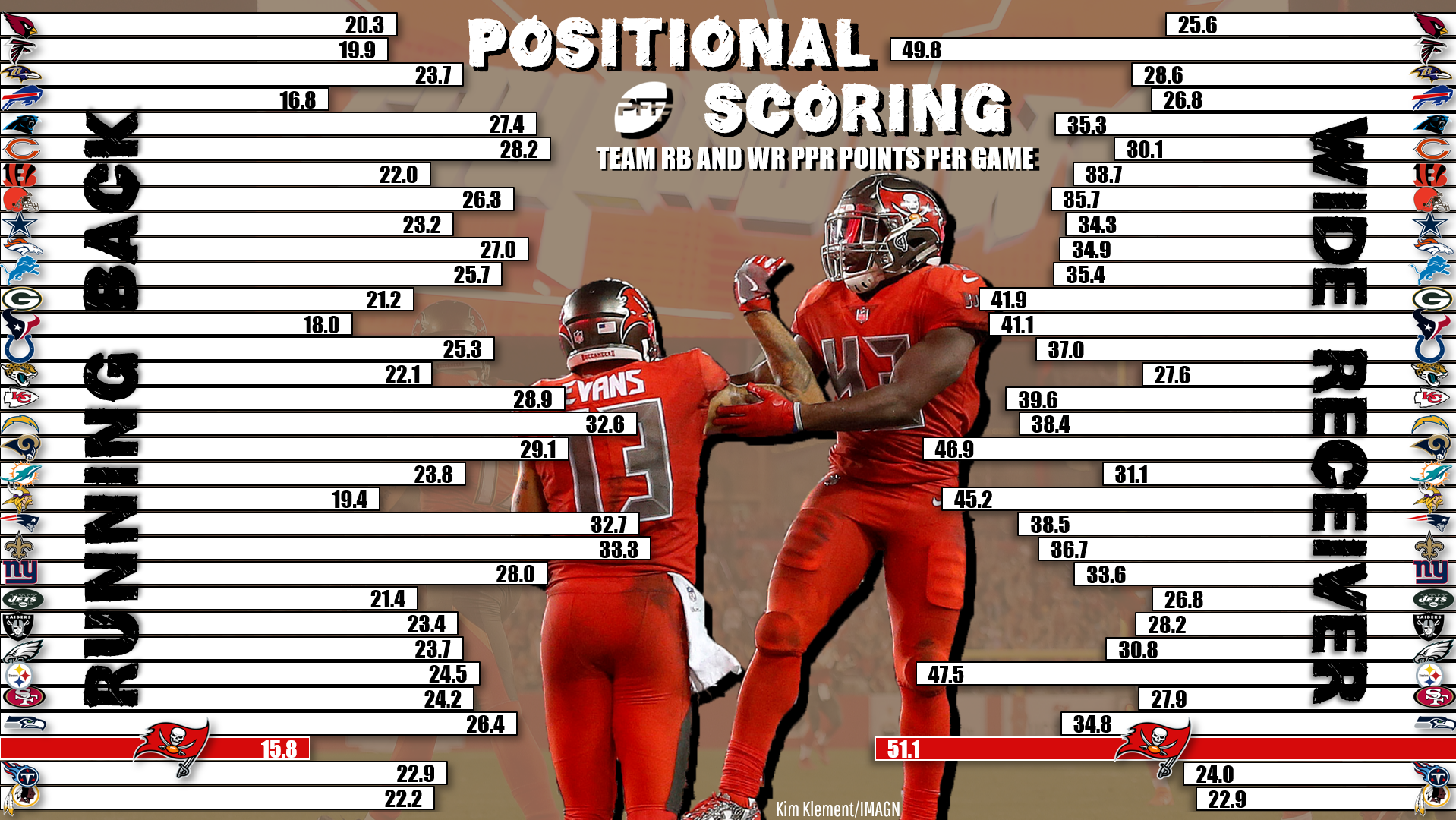 Also in the blows-my-mind category (and yes, connected): No team got more fantasy points from its receivers in 2018 than the Buccaneers, while no team got fewer fantasy points from its running backs. This team was an all-or-nothing passing juggernaut, and there was a lot of that "all," as the Buccaneers led the league with 5,125 passing yards for the year.
But with Fitzpatrick and Adam Humphries hitting free agency, DeSean Jackson maybe leaving as well, and that aforementioned gaping hole in running back production, the Buccaneers have plenty of room to restock this offseason and keep their fantasy potential high.
(Keep up with the whole offseason wish list series here.)
Three offseason moves we want to see for Tampa Bay
The Buccaneers should kick the tires on Le'Veon Bell, as should every team with a hole at running back. But with a lot of needs across the roster and the fourth-least cap space in the league, signing the superstar might be a bit pie-in-the-sky. Instead, the team should go one notch down and look at Coleman, a running back they are more than familiar with after facing him twice a year over his career in Atlanta.
Peyton Barber did the lion's share of the backfield work for Tampa Bay in 2018, and did manage a respectable 871 rushing yards, but that was largely volume-related; his 3.7 yards per carry ranked 47th of 61 qualified backs. His playing time came in large part because 2018 second-rounder Ronald Jones was a massive disappointment as a rookie; injury and poor performance held Jones to only eight games and 23 carries, and even those few carries were a huge letdown as he put up only 44 yards.
Coleman, who was a mild disappointment himself in Atlanta after taking the No. 1 job in light of Devonta Freeman's injury, likely won't be as expensive as some expected to be before the 2018 season before of his struggles, but still presents an upgrade on everything Tampa Bay trotted out in the backfield last season.
Tampa Bay O-line definitely bears a big portion of the blame for the team's backfield struggles. Other than Ali Marpet's breakout season back at guard, the Bucs' line was a disappointment in 2018, especially Donovan Smith at left tackle, as the impending free agent allowed more than 50 pressures per season in his time with Tampa. Nsekhe, hitting free agency after four years with Washington, could slide right into the vacated left tackle slot and really stabilize the team's run-blocking after putting up a top-15 run-blocking grade in 2018.
With Mike Evans and Chris Godwin (and perhaps Jackson), the Buccaneers have receivers. What they don't have, assuming Humphries leaves as a free agent, is an enticing slot option. Evans and Godwin combined for 39 slot targets in 2018 … or less than half Humphries' total of 81. Beasley, who sounds like he's almost certainly heading out of Dallas, could slide right into Humphries' role in Tampa Bay and keep the team's receiving game plenty flexible.