(As we head into the 2019 fantasy football season, we're taking a trip around the league to identify the offseason moves we'd most like to see each team make for fantasy purposes. Today: the Philadelphia Eagles)
There's a price associated with winning a Super Bowl, and that price is usually paid in the form of no cap space. Just as a crazy random example with no relevance whatsoever, the Eagles, Super Bowl champions of two seasons ago, are now entering the 2019 offseason with less cap space than, well, me. Per OverTheCap, the Eagles are already over the 2019 cap by almost $14.5 million dollars, and while teams can move around money like chess pieces and clear up space, it just wouldn't be realistic to project this team to be in on a Le'Veon Bell type. Not with their accounting.
But with a franchise quarterback, one of the league's candidates for No. 1 tight end and a promising 2018 rookie behind him, and a good receiver corps, the good news for Philadelphia is this isn't a roster that needs to make a long list of moves to stay relevant, other than perhaps the secondary.
So as the Eagles gear up for another run, here are three moves we'd like to see them make this offseason.
(Keep up with the whole offseason wish list series here.)
Three offseason moves we want to see for Philadelphia
The fill-in performances Foles has offered over the last two seasons are equal parts impressive and hilarious, a Tebow-esque run of defying expectation that you can't help but laugh at and be impressed by in equal measure. The bare minimum you can say about Foles at this point is that he's one of the league's better backups, and while I wouldn't be excited about him as the starter for my favorite team, the truth is he's better than some of the guys who had to start in 2018.
A good backup quarterback is an insane luxury in the NFL, but the Eagles, who are up against the cap as is (or, you know, way over it) can't afford that luxury. Don't spend what little resources you have retaining  a spare tire you hope to never use when the car needs a new timing belt and brake pads and you only have a few bucks. The Eagles exercised Foles' option, which led to him opting out, which leads to the question of whether the Eagles let him go or franchise tag him in search of a trade. But no matter what, Foles shouldn't be an Eagle in 2019.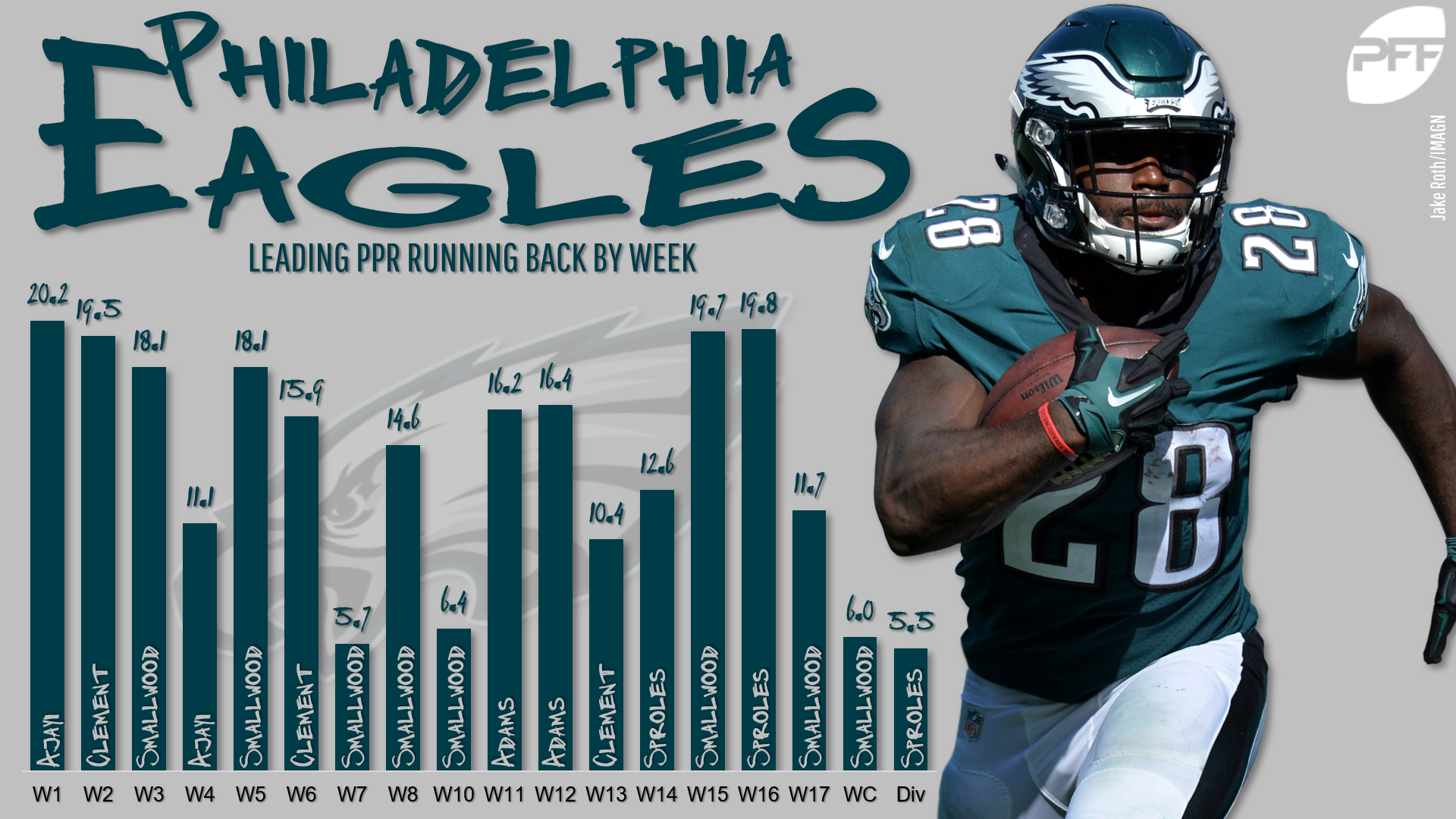 Darren Sproles is both an impending free agent and older than modern cinema, so while it always makes sense to at least investigate bringing him back as long as he wants to play, best guess is he calls it a career this offseason. And with Ajayi hitting free agency, the Eagles will have Corey Clement, Wendell Smallwood, and Josh Adams as its backfield committee heading into the 2019 season. None of the three managed to really distinguish himself after Ajayi tore his ACL last year, so while at least the first two and maybe all three will have a roster spot in 2019, the Eagles would do well to look at retaining Ajayi. Considering his slow start to the season and his rest-of-season injury, he isn't likely to command a premium salary, and he has enough upside that the Eagles could consider him a bit of a buy-low investment by keeping him around.
The Eagles' highest-graded returners in 2018, with no minimum number of returns: DeAndre Carter (now with Houston), Darren Sproles (free agent), Golden Tate (free agent), Boston Scott (31 career snaps played between offense and special teams). There's a huge opening for a returner on this roster, and if he can help out elsewhere, even better.
Patterson would fit that role. One of the league's excellent kick returners, he could fill that role without a blink. And with Tate, Mike Wallace, and Jordan Matthews entering free agency, the Eagles have a bit of a hole behind Alshon Jeffery and Nelson Agholor. People said of Patterson in New England that if there were a coach who could figure out the best way to use a weapon like Patterson it'd be Bill Belichick. Well, Doug Pederson would be fine to do that as well. Patterson could be a multi-purpose weapon for the 2019 Eagles without commanding top dollar.