Obviously, a lot happens each week in the NFL. Less obviously, some of it means a lot for fantasy football and some doesn't. Each week in this space, I'm running through the key lessons from each game.
This is what we learned in the Week 5 games.
Wilson is only limited by his team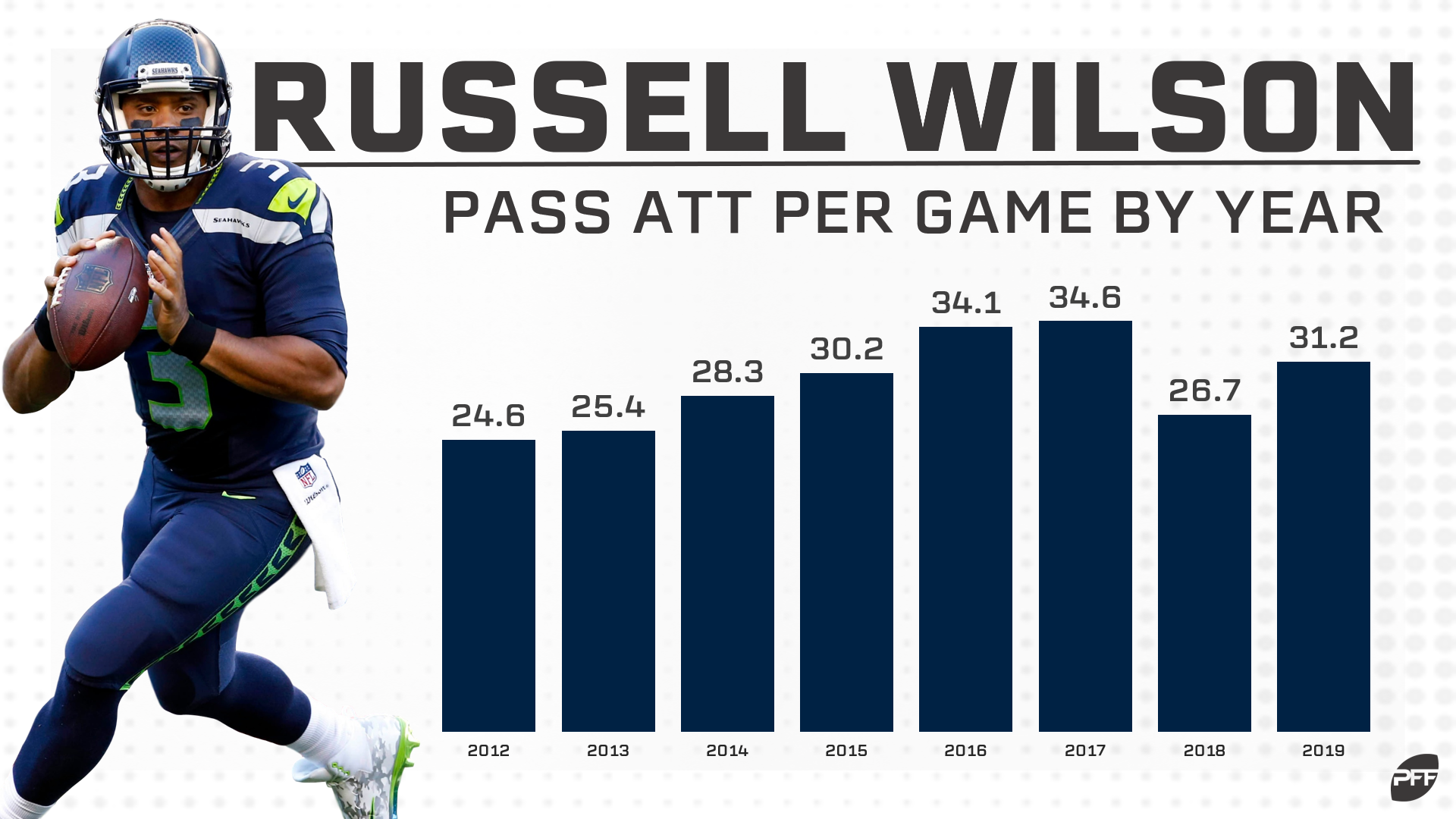 If the season were to end right now, Russell Wilson would have a 12:0 TD:INT ratio and set career-highs in PFF grade and passer rating. If he were getting dropbacks at the rate of a guy like Matt Ryan or Kyler Murray, we'd be talking about Wilson setting QB scoring records. Instead, the Seahawks keep him in check. He's had under 30 pass attempts three times in five games, including 20 in Week 1 and 23 Thursday night. From an efficiency standpoint, it doesn't get much better. But his raw totals are going to lag behind, by design, and we just get to be frustrated by that.
Gerald Everett season?
Everett was quiet over the first three weeks, catching 6-of-6 targets but only totaling 43 yards. The last two weeks, though, he's jumped that up to 12 catches on 17 targets for 180 yards and a score. Everett was PFF's No. 4-graded tight end a year ago, more limited by workload than his own production. At 23 targets, Everett is already almost halfway to his full-season total last year, and he's past halfway to his yardage total. Tyler Higbee is getting healthier, so he could limit Everett, but the Rams are looking his way more now. Everett needs to be owned in most fantasy leagues, even if he's a dicey start.
Chase Edmonds? Chase Edmonds
The Cardinals' No. 2 back was third on the team in carries (8) and rushing yards (68) and fourth in targets (4). Obviously, he's not a fantasy factor as long as David Johnson is healthy (though he did have a touchdown and 86 total yards Sunday), but he and Alexander Mattison are 1 and 2 in "best handcuffs to own."
Tyler Boyd's offense
A.J. Green is still out, and now John Ross has joined him. Auden Tate was a non-factor in the first half, and while he did score in the second, it was clear Sunday that the Bengals offense is going to go through Boyd. He was 10-of-14 receiving for 123 yards and the late, game-tying touchdown. He's a low-end WR2 as long as he's by himself.
Lower the ceiling on Allen
Josh Allen's been fine this year. He's rushed for three scores and has 5 passing touchdowns. Of course, he also has 7 interceptions. And worst for his fantasy ceiling, his rushing isn't meeting what it was meeting a year ago. In Weeks 12-17 last year, Allen ran for 90-plus yards four times in six games. So far this year, he's run for at least 20 yards every game, but hasn't had 50 in a game yet. Allen will run enough to keep him as a QB2, but he isn't offering anything like QB1 upside right now.
Walker plummeting
Delanie Walker had a huge Week 1 for fantasy, with 5 receptions for 55 yards and 2 touchdowns turning into 22.5 PPR points. He has 24.7 in four games since. More damning, his targets have disappeared. After 7.0 targets per game through Week 3, Walker has had 2 targets per game the last two weeks. He looked like an easy TE1 early on, but his usage lately suggests he's barely even a TE2.
There's no Tyrell Williams backup
With Williams out Sunday, five different Raiders (Josh Jacobs, Darren Waller, Hunter Renfrow, Foster Moreau, and Trevor Davis) reached at least 4 targets, and no one topped five. No one reached 50 yards rushing. All three of the team's touchdowns were runs. Waller's a mid- to low-end TE1 and Jacobs is an RB2, but other than them, there isn't really a part of this offense you want, Williams or no Williams.
The long dark tea-time of Allen Robinson's soul
Robinson's career has featured as his quarterbacks Blake Bortles and Mitchell Trubisky, with a little bit of Chad Henne and now Chase Daniel thrown in for good measure. Daniel's 75.0 career passing grade (entering Sunday) is easily the best of that list, and Daniel's career line also includes a 7:5 TD:INT ratio and an 88.6 career passer rating. That Robinson still managed a 7-97-2 line and has been a productive receiver for the majority of his career is remarkable. He's a low-end WR2 with the Bears, but just imagine what he could be.
Not the new normal for Minnesota
Regardless of whether you believe in the "squeaky wheel" narrative for Adam Thielen — I think there's something to it, but who knows how much — it's also true that the Vikings faced maybe the league's worst secondary in their big Sunday win. Thielen had 130 yards and a pair of scores, and Kirk Cousins topped 300 passing yards. But even at that, the team had 34 rushes against 27 pass attempts Sunday. This is still a ridiculously run-heavy offense.
Where have you gone, Golden Tate?
The veteran receiver returned from suspension Sunday to make his Giants debut, and it was particularly underwhelming. He was targeted six times (well behind Sterling Shepard and Evan Engram), catching three of them for 13 yards. Tate spent most of his time in the slot (29 slot snaps, compared to 11 for Shepard and 10 for Engram), which in theory should be a valuable role. And considering it was his first game in a new offense with a new quarterback, it's far too early to bail on Tate. But it was not an exciting Giants debut.
Teddy Bridgewater starting to work it?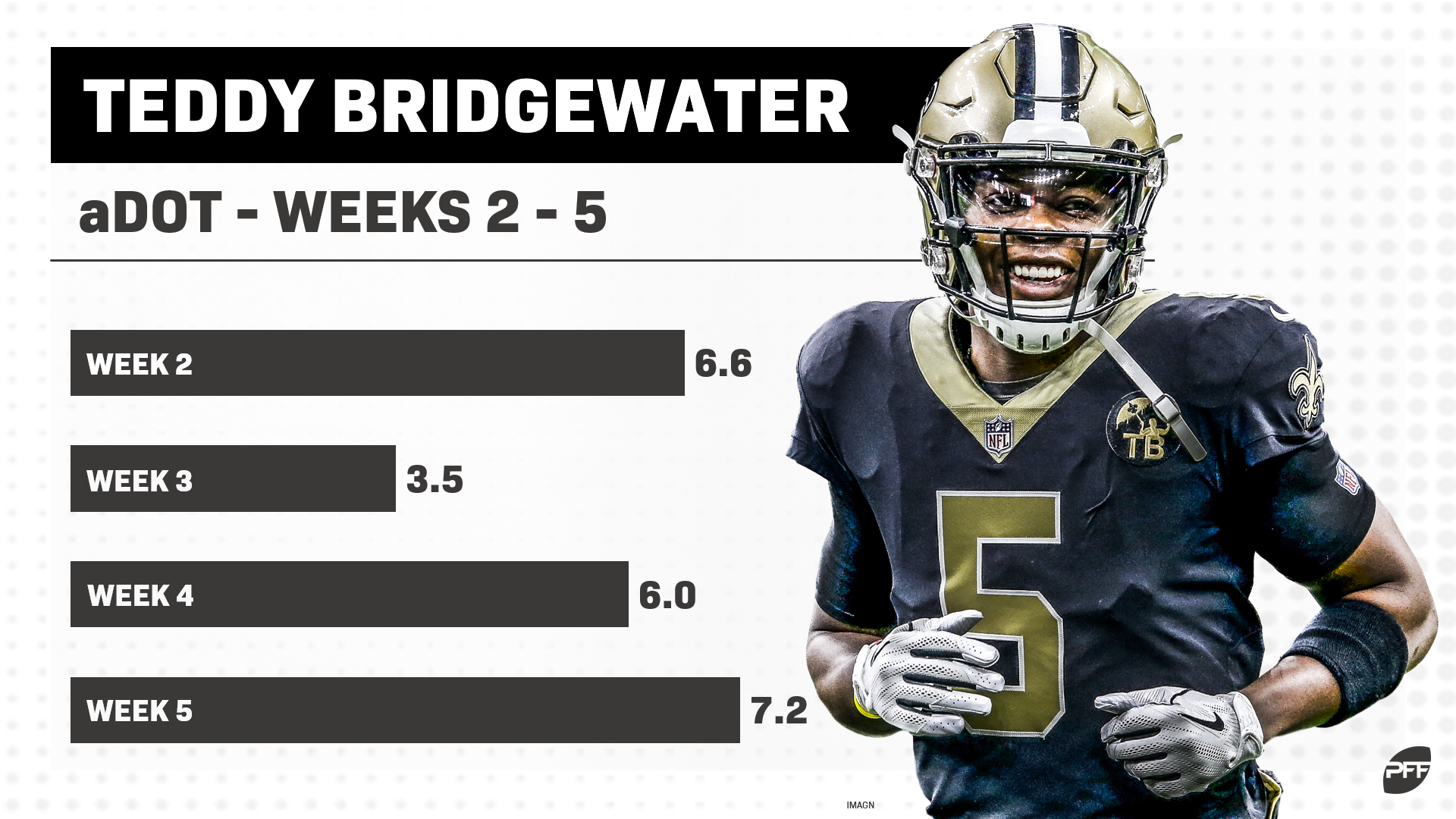 In Bridgewater's first three games after taking over the injured Drew Brees (including his abbreviated Week 2 appearance), Bridgewater played it extremely safe, with a 5.4-yard average depth of target (including a lowly 3.5 yards in Week 3). Sunday, he and the offense opened it up a bit, with an average 7.2-yard aDOT. It led to arguably the second-best game of Bridgewater's career. This year is his first significant game action since the end of 2015, so maybe we needed to give him a little time to bounce back. If the Bridgewater we saw Sunday is the Bridgewater we'll see going forward (yes, allowing that it was the Tampa Bay pass defense), he'll flirt with fantasy relevance.
O.J. Howard is droppable, Mike Evans (come on) isn't
Five games into the year, Howard's line (for the season) is 11 catches on 14 targets for 141 scoreless yards. He's only topped 3 targets in a game once. I'm bailing. If there is any live body on the wire, feel free to move on from Howard. … But not Evans. I'm sure it was an emotional reaction, but I saw people on Twitter Sunday say that they were moving on from Evans. Maybe he's behind Chris Godwin now (maybe not, but maybe), but he's still a perfectly fine WR2 the rest of the way, even if it's going to be more inconsistent than we had grown accustomed to.
Jordan Howard ahead of Miles Sanders?
Sanders saw his offensive snap count fall each week from Week 1-4, while Howard's rose each week. Those trends reversed Sunday, with Howard playing 25 snaps compared to Sanders' 26, but Howard is still getting the valuable work. He had 13 carries Sunday compared to Sanders' 9 (Sanders did have 5 targets, Howard 0), and got the 1-yard touchdown. Ultimately, this is a frustrating-for-fantasy committee, but gun to my head, I'd prefer Howard going forward.
Bell or bust
The Jets are truly going to test whether Le'Veon Bell can hold up this season, because he's getting a crazy amount of touches. Bell has 98 touches (carries plus receptions) through four games, a pace of 392 over a full season. In the last decade, only four players (including Bell himself in 2017) have had more than 392 touches in a season. The quantity is even more striking when you note that most of the players with massive touches are doing what they're doing in big-time offenses, whereas Bell is the only game in town for the Jets. Outside of Bell's 22 touches Sunday, the Jets offense on the whole had 12 touches (4 carries, 8 receptions). He only managed 88 scoreless yards Sunday, but with the workload he's getting, he's going to be a fantasy factor as long as his body holds up.
Worry about Jackson?
Lamar Jackson started the season like an MVP candidate, with 596 passing yards, 7 touchdowns, and 0 interceptions in Weeks 1-2. In three weeks since, he has 675 yards, 4 touchdowns, and 5 interceptions. His passing yardage has literally fallen every week, down to a season-low 161 Sunday. Jackson's rushing will keep him fantasy-relevant all year, but he's not at the top of the heap like he was a few weeks ago.
Steelers out of fantasy options?
Ben Roethlisberger is done for the year. After a scary hit Sunday, who knows when we'll see Mason Rudolph again. That leaves Devlin Hodges and whoever the Steelers might sign off the street as the team's quarterback, at least until Rudolph returns (which, to be clear, could be Week 6 — we don't know). And Hodges might be a wonderful person, but there's no reason to think he's ready to be an NFL starter. If you have JuJu Smith-Schuster or James Conner, you probably still have to start them (though I'd be looking), and the rest of the Pittsburgh offense is off the board.
Edelman is gamescript-proof
Julian Edelman has at least 7 targets in all but one game so far this year despite the Patriots winning four of their five games by at least 16 points. He hasn't put up monster numbers so far (only two touchdowns, and Sunday was his first time over 100 yards), but even in situations where you'd expect the team to stop pressing their No. 1 receiver, he is getting the work. That security makes him an easy WR2.
Aw, Washington
What do you want? The only player on Washington's team you're considering in fantasy is Terry McLaurin (whose 3-catch, 51-yard game was better than it seems because he did it in Stephon Gilmore shadow coverage), and even he has a low ceiling considering the offense he's a part of. And now the head coach is out. Just stay away.
McCaffrey No. 1 every week, no matter what
Next week, Ezekiel Elliott faces the Jets. David Johnson draws the pass-on-able Falcons. Derrick Henry has a nice Denver matchup. I could make all sorts of arguments for top-tier running backs. And it's all irrelevant. Assuming Christian McCaffrey's late-game injury isn't anything to be concerned about, he's the No. 1 running back in each week's fantasy rankings every week, even in Week 6 against a strong Tampa Bay run defense. He's just a cheat code.
D.J. Chark, WR1?
Five games, five touchdowns. Chark has been a monster for the Jaguars this year. He entered Week 5 as the No. 10 PPR receiver and made a big jump Sunday, with 164 yards and 2 touchdowns. He's a must-start at this point, with genuine WR1 potential.
Hi, Will Fuller
Fuller, Weeks 1-4: 14 receptions, 183 yards, 0 touchdowns. Fuller, Week 5: 14 receptions, 217 yards, 3 touchdowns. After a very quiet start to the year, Fuller's full season line now looks about like we might have guessed. No, the highs won't continue to be this high, but the lows won't be as low either. Fuller is still essentially what you drafted him to be: A weekly flex play with serious WR2 potential and weekly WR1 upside.
How high is Matt Ryan's potential?
Ryan has 300-plus passing yards every game this season. Only eight players have ever had a longer streak. He has multiple scores in four of five games, three passing touchdowns in three of five. Ryan had the No. 14 all-time fantasy quarterback season a year ago. He could top it this year.
Still a backfield committee in Denver
Phillip Lindsay had the big game Sunday, with 114 rushing yards and a score, plus 33 receiving yards, but Royce Freeman was right there as well, carrying the ball 13 times himself for 61 yards and gaining 6 receiving yards on 2 receptions. Lindsay has the big side of the committee, and both guys were helped by for-once favorable gamescript, but ultimately, these are two guys who will flirt with fantasy relevance all year long (Lindsay a low-end RB2, Freeman a middling flex option).
Austin Ekeler, receiver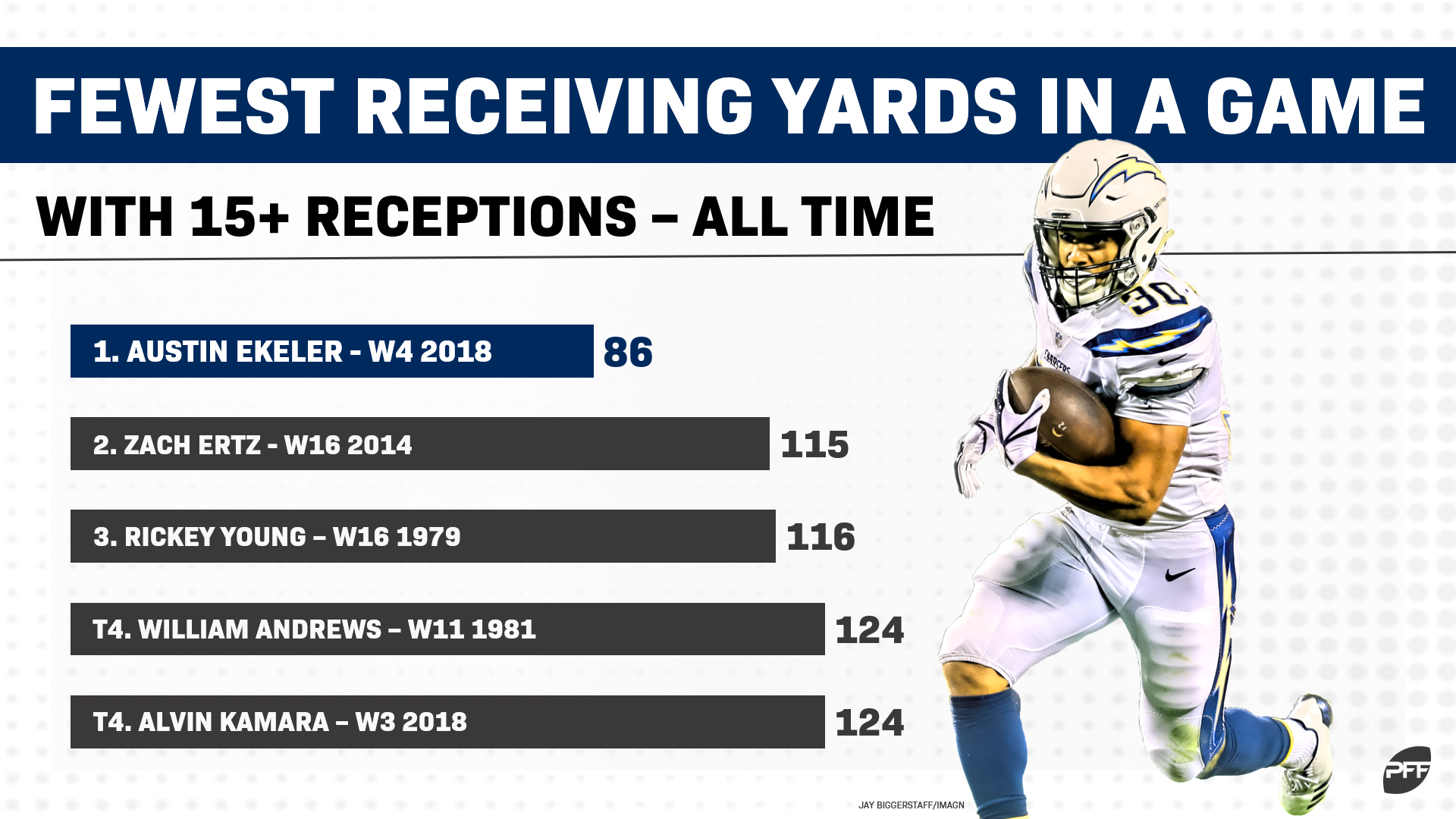 With Melvin Gordon back, Ekeler became the backup ball-carrier for the Chargers. But he was still a massive fantasy factor, because he had a whopping 15 receptions Sunday. That he only gained 86 yards on those receptions (the fewest receiving yards all-time for a player with 15 or more receptions) is frustrating, but in PPR leagues, Ekeler still gave you 22.3 points. There's no real reason to expect Ekeler to stop being a big contributor in the receiving game, even if 15 receptions might be out of reach most weeks. His fantasy value hasn't gone anywhere.
Aaron Jones, freed
Jamaal Williams is hurt. Dexter Williams is apparently not ready, considering he was inactive. Tra Carson was the Packers' backup running back Sunday, but was a non-factor. Jones, though, had 19 carries, 7 receptions, 182 scrimmage yards, and 4 touchdowns. It was an absolutely monster game for a back that the fantasy community has been pining for, and as long as Jamaal Williams is out, there's no reason not to have Jones firmly among the RB1s.
Amari Cooper, matchup proof?
As our own Scott Barrett noted before the season, Cooper has been one of the most cornerback-sensitive receivers in the league in his career … until this year. Yes, Marshon Lattimore shut Cooper down in Week 4, but Cooper had 70 yards and 2 scores in Xavien Howard's coverage in Week 3 (plus 12 yards elsewhere), and he escaped Jaire Alexander and put up 226 total yards and a touchdown Sunday. Cooper has been shadowed in all five games this year, and while he hasn't always thrived in the specific coverage, he has 5 scores in five games and is firmly among the WR1s.
The Colts figured out how to attack the Chiefs
Indianapolis asked virtually nothing of Jacoby Brissett Sunday night. He attempted 29 passes (compared to 45 team carries) and averaged only a 4.4-yard depth of target on those attempts. It's no secret that the way to (theoretically, at least) beat the Chiefs is to attack its poor run defense and keep the ball out of Patrick Mahomes' hands, and for the Colts Sunday it worked. It helped that Marlon Mack 132 rushing yards on 29 carries) was back healthy after two weeks of being on the injury report.
Not such a backfield committee
After missing two games in a row, Damien Williams returned Sunday and was the only show in town for the Chiefs backfield. Granted, the Chiefs trailed for most of this game so didn't actually run at all that much, but Williams got nine of the 14 carries the Chiefs had Sunday … and the other five went to Mahomes (3), Anthony Sherman (1), and Mecole Hardman (1). LeSean McCoy was limited to two touches, catching both of his targets and losing a fumble, and Darrel Williams played only 12 snaps and didn't have a touch. We'll want to see one more game that way before landing on any conclusions, but for Sunday at least, it was Damien Williams' job.