What did we learn about those teams this weekend, and what does it mean for them — from a fantasy perspective — in 2019?
Three of the four road teams on Wild Card weekend came out with a win, but the underdogs were crushed in the Divisional Round, as all four home teams advanced. The Colts, Cowboys, Chargers, and Eagles (must not be good to be a team that starts with 'C') are now looking to the draft and 2019.
Maybe Nyheim Hines isn't the longer-term pass-catching back for Indianapolis. Hines ended the regular season with five straight games with at least three receptions, including one massive game with nine catches. Then, in the Wild Card round, Hines didn't record a target — but that was easy to explain away because the Colts played with the lead the whole time.
However, in the Divisional Round, Indianapolis was trailing big the entire game and Hines still didn't catch a pass. These two games put a damper on his 2019 draft stock.
Marlon Mack can be gamescripted out of games. We learned this during the regular season, but then Mack's usage increased every week from Week 6 onward, and it became viable to wonder if he was a bell-cow back.


The more Marlon Mack plays, the more of the Colts' workload he dominates.

Venue/weather adjustments for this week: https://t.co/CUnj0Xe5Ft pic.twitter.com/Fn9RnD7O7k

— PFF Fantasy Football (@PFF_Fantasy) January 11, 2019


That questions was answered during the Divisional Round when the Mack received just nine carries and failed to catch a pass with the Colts playing from behind all game. The nine carries aren't a massive surprise, but the 0 receptions are a bummer, because it means Mack will be essentially impossible to trust in 2019 in games in which the Colts aren't favored.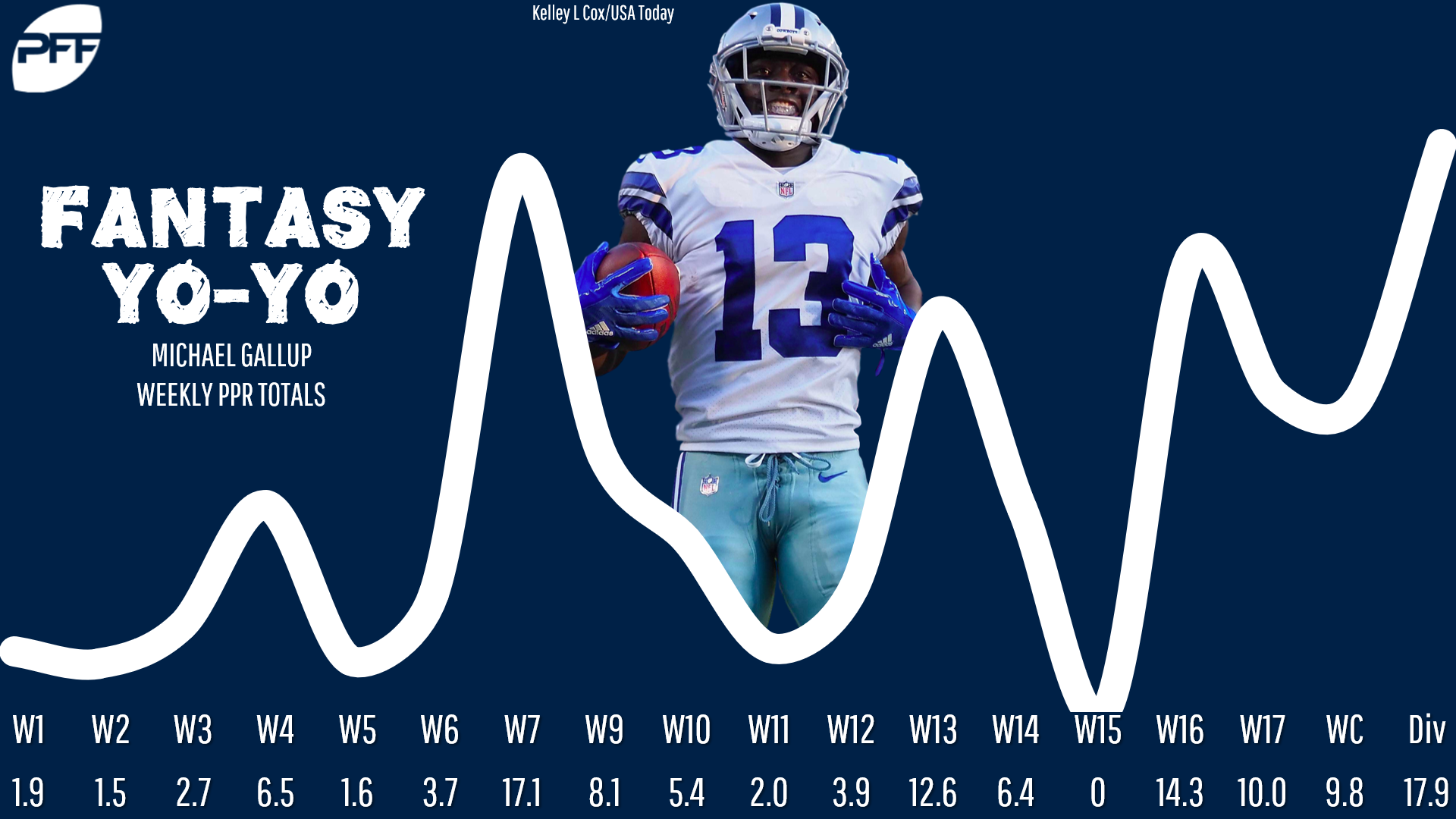 All right Michael Gallup, we see you. The rookie came up huge with six catches for 119 yards, making Gallup, Amari Cooper, and Ezekiel Elliott as the only Cowboys players with more than two catches last week. Over his final six games, Gallup had four good/great outings: 5-76-0 (vs. Saints), 3-53-1 (Buccaneers) 2-18-1 (Seahawks), and 6-119-0 (Rams). Gallup is definitely a player to be excited about in 2019.
Don't draft Cole Beasley. He's a guy people will draft because they recognize the name and every once in a while he makes insane catches. He's the kind of player I would have drafted in previous seasons because the "safety" was appealing to me, but for everyone serviceable Beasley game, you get three sink-your-lineup games. Beasley finished the Divisional Round game with one catch for 15 yards. He had three catches for 28 yards the week before. He finished with fewer than 50 receiving yards in 11 of 18 games and he went touchdown-less in 16 of 18.
The Mike Williams breakout season is going to be awesome, and it could come as soon as 2019. Williams had a breakout season in the touchdown department in 2018, as he hauled in a team-high 10 touchdowns. But he had just 43 receptions for 664 yards on the year, which obviously leaves plenty of room for growth.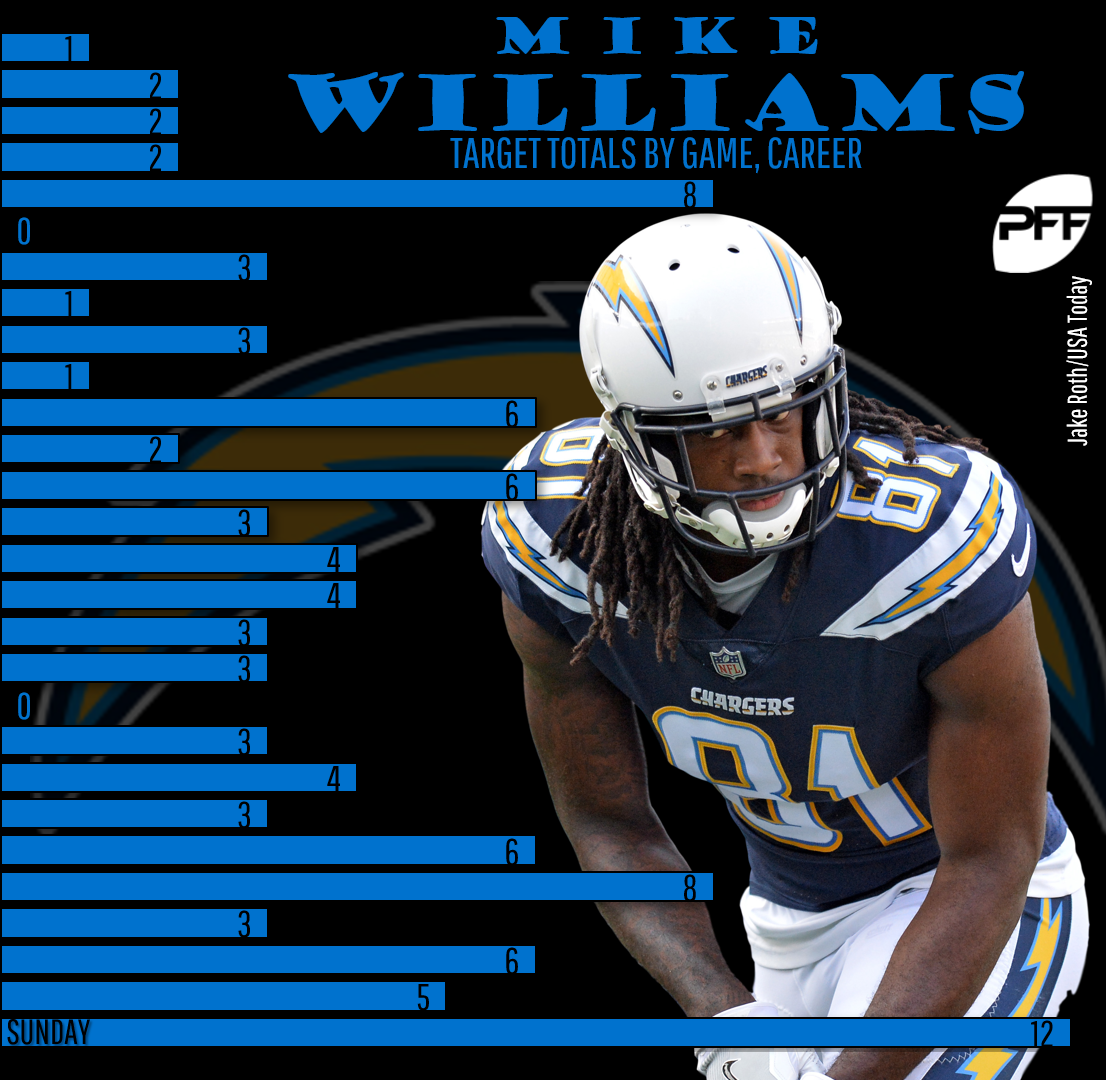 Look for Williams to put it together everywhere next season. He was solid in the Divisional Round with five catches for 68 yards — and it would have been a 100-plus yard performance save for a 40-plus-yard drop. Importantly, Williams saw 12 targets, a career-high. (His previous best was eight targets against the Chiefs in Week 15). Simply put, Williams came up big for the Chargers in big games and was used more and more down the stretch. He's a touchdown regression candidate for 2019, but an overall breakout prospect as his reception and yardage totals should skyrocket.
Here's to hoping Melvin Gordon can get fully healthy. It was a real bummer to see Gordon gain just 26 total yards on 10 total touches, especially considering he's so good in the passing game. Over the first 10 games of the year (pre-injury), Gordon averaged 6 targets per game. Over his final four games (post-injury), Gordon averaged just 2.25 targets per game. It's too early to know where Gordon will land in 2019 redrafts, but his knee health is definitely a situation to monitor.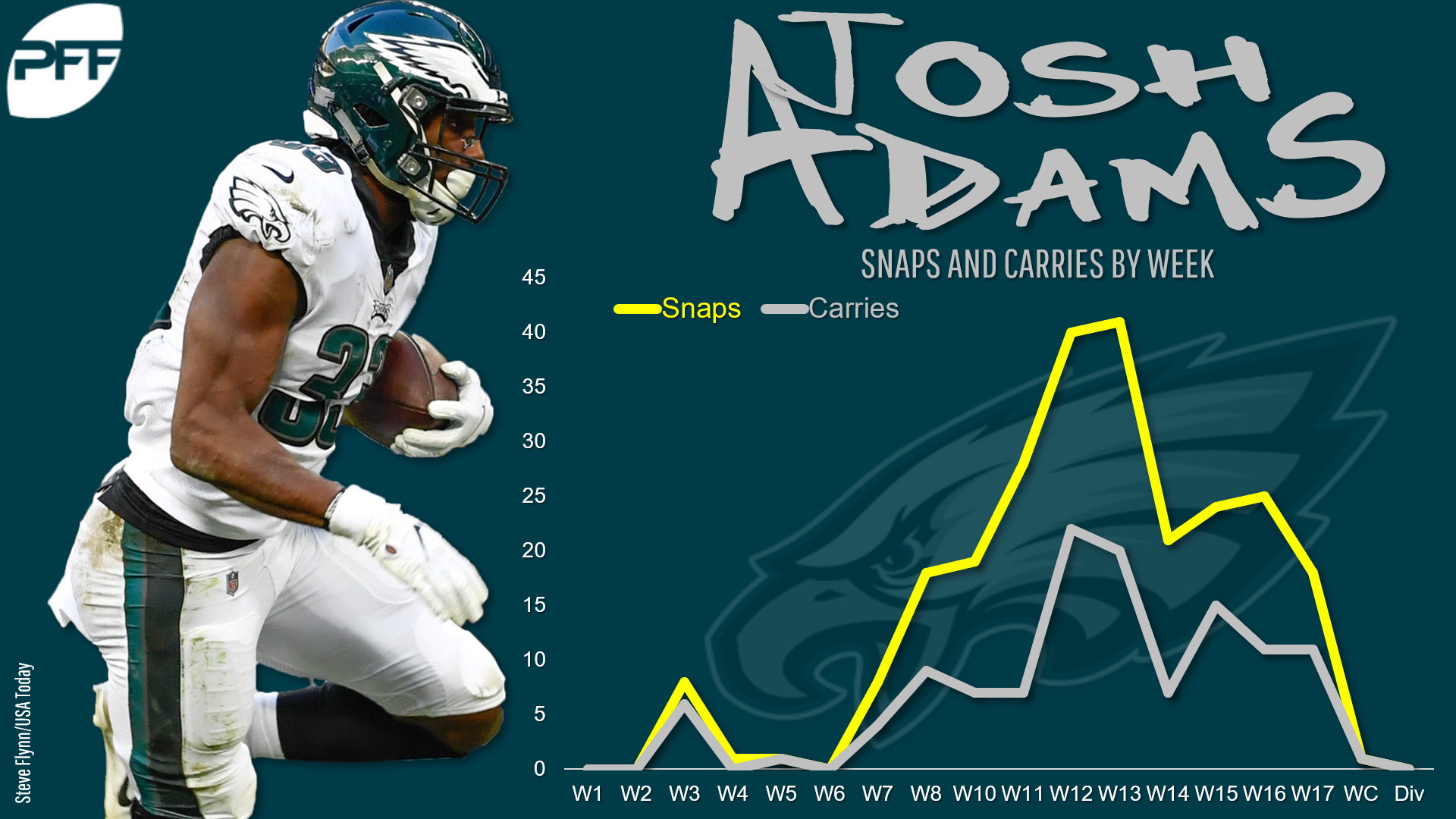 Josh Adams suddenly has a massively unclear future in Philadelphia. We kind of learned this in the Wild Card Round, when Adams had just one snap, but then he had no snaps in the Divisional Round to put the final nail in the coffin.
Adams was a UDFA who started the season on the practice squad before appearing to win the starting job in Weeks 11-13, where he gained 222 yards and two scores on 49 attempts. Something went south, though, as Wendell Smallwood took over lead back duties in the playoffs. Adams is now questionable to make the team in 2019.
Alshon Jeffery will be an under-the-radar WR2 in the 2019. The last-minute dropped pass is haunting, but don't let it overshadow that Jeffery came on strong over the last month-and-a-half, with at least 50 receiving yards and six straight games and at least five receptions in five of those games.
How much of that was due to Nick Foles? It's impossible to know other than it did coincide with Foles going under center; but it's not like Jeffery is a bad player with Carson Wentz (had had logs of 8-105-1, 8-74-2, and 7-88-1 in three of his first four games this year with Wentz). Jeffery will return strong in 2019 as an under-the-radar WR2 as people question how much of his late-season surge was due to Foles.