(Playing AAF DFS this week? Win a one-year subscription to PFF Elite by playing this DFS contest on Fanball!)
Are you an absolute fantasy football fanatic, a DFS junkie, or just someone intrigued by the new Alliance of American Football League? Well, if so, I've got good news for you. FanBall has a DFS platform for the AAF and we've got content for it.
See below for how I'll be attacking the Week 8 AAF slate over on FanBall.
Make sure you're also checking out our rankings and projections and Jeff Ratcliffe's WR/CB matchup chart for Week 8 of the AAF inaugural season.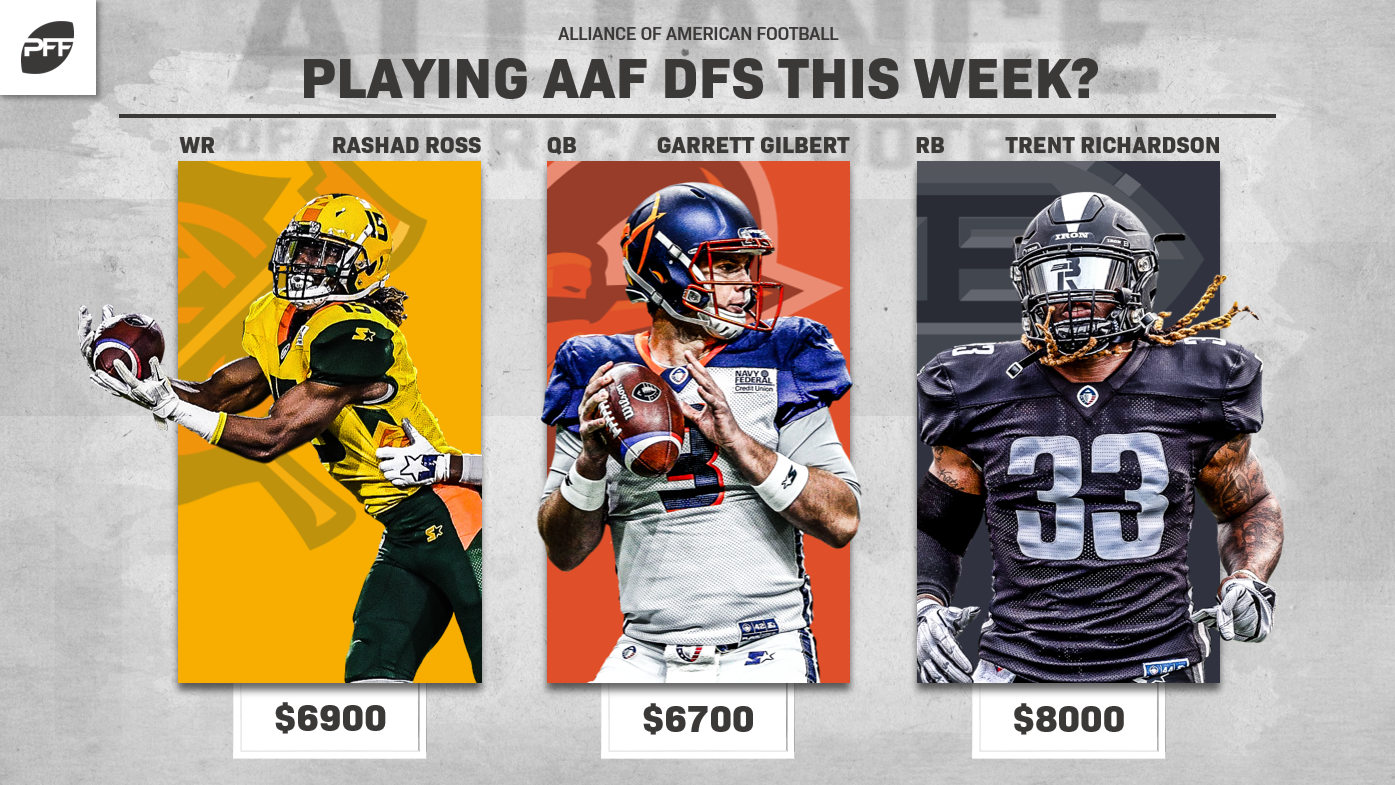 Quarterbacks
This week, just like almost every week since Week 2, we're really only looking at Garrett Gilbert ($6,700) and John Wolford ($5,800). Gilbert ranks first in fantasy points per game (22.2), passer rating (103.3), and PFF grade (83.7). Wolford ranks second in fantasy points per game (21.8), passer rating (92.7), and PFF grade (78.1). After them, no one really comes close.
Although there's not much separating these players in terms of production or efficiency, there's a drastic difference between them in salary. Gilbert is the highest-priced quarterback on the slate, while Wolford (and I have no idea why) ranks just fifth, and is $900 cheaper. For that reason, I prefer Wolford this week, though Gilbert has the slightly better matchup. Gilbert's opponent (Memphis) is giving up the second-most fantasy points per game (20.1), while Wolford's opponent (San Antonio) is giving up the fourth-most fantasy points per game (17.4).
If you're going to play any other quarterback this week, it'd be Johnny Manziel ($5,300) if he's announced as the starter, due to price, rushing upside, and college pedigree.
Running backs
We're a little thin at the running back position this week.
Even at his rising salary, Trent Richardson ($8,000) is still the chalk, averaging 22.2 fantasy points per game and 20.2 weighted opportunity points per game. That's, respectively, 9.9 and 7.7 points better than the next closest running back. He was one of only two running backs last week with a snap share over 55%, playing on a whopping 82.4% of his team's snaps. Zac Stacy (74.3%) ranked right behind him, followed by Bishop Sankey (54.3%). He's an easy must-play this week, at home against an Atlanta defense that is giving up the most fantasy points per game (31.1, 6.2 more than next closest).
Stacy ($6,700) has serious efficiency concerns, averaging just 2.27 yards per carry over his last five games, but is head and shoulders above every other non-Richardson running back in terms of volume. Stacy has ranked behind only Richardson in weighted opportunity points in each of the past two weeks, drawing 25 carries, eight targets, and the majority of the red-zone work over this span. At home against Orlando (fourth-most fantasy points per game allowed), this could be a get-right spot for him. Gamescript won't be favorable, but he's seen good volume as a receiver, and Orlando leads all defenses in receiving yards allowed to opposing running backs.
When adjusting for salary, the second-best running back play on the slate is either Bishop Sankey ($4,900) or Terrell Watson ($5,000), despite a tough matchup against Salt Lake. Ja'Quan Gardner was placed on IR this week, opening up more playing time for both running backs. Last week, Sankey saw 12 carries and one target for 60 yards, while Watson turned 10 carries and four targets into 93 yards and a touchdown. Both are strong plays in their own rights, though I prefer Watson, and especially if Salt Lake is favored.
De'Veon Smith ($5,300) feels like points-chasing after his three-touchdown game last week but is firmly in play again this week. He'll command the far majority of his team's goal-line snaps up against a Memphis defense (second-most fantasy points per game allowed to opposing running backs) that has been hemorrhaging points (second-most points allowed), and whom Orlando should beat easily.
Receivers
High-priced
As usual, Charles Johnson ($7,600) vs. Rashad Ross ($6,900) is basically a coin-toss for the best high-end wide receiver play on the slate. Johnson is the better value per our projections, though Ross has the better matchup, averages more fantasy points per game (17.8 to 17.5) for the year, and is $700 cheaper.
Mid-tier
Quinton Patton ($5,500) leads all wide receivers in targets over the full season (93) and over the last three weeks (34). He also ranks third in air yards over the full season (834) and fourth over the last three weeks (340). He's been woefully inefficient, however, but is cheap enough to where it might be worthwhile to bet on a regression to the mean.
Jalin Marshall ($5,800) ranks well in all usage and production stats, and has seen consistent usage, though his production has been very hit-or-miss on a week-to-week basis. He's one of our top values when contrasting projection and salary.
Tight end Nick Truesdell totals 50.1 fantasy points (most) and 221 yards (fifth-most) over the past three weeks. He's just $5,200 this week.
Daniel Williams ($5,600) played his first game was Week 5, earning only one snap. Since then, he's seen a whopping 23 targets (most), while reaching at least 15.0 fantasy points in both games. Of these names, he's definitely my favorite option.
Cheaper options/punt plays
Jamal Robinson ranks third in air yards (275) and sixth in receiving yards (124) over the last two weeks. He's only $4,200 this week.
Amba Etta-Tawo has played in just two games this year, totaling 11 targets and 87 yards in those games. He's a strong value at only $4,100.
Adonis Jennings has seen four, eight, and five targets over the last three weeks, while totaling 116 receiving yards and ranking seventh in air yards (304) over this span. He's just $3,900.
Injury-related values
Dontez Ford ranks second among all wide receivers in fantasy points per game over the last four weeks, but was absent last week, and is now on IR. This makes Nelson Spruce ($6,200) and Brian Brown ($3,800) especially strong plays. Spruce saw a league-high 14 targets last week, after totaling nine and seven targets in the two weeks previous. His 28.6 fantasy points last week was the fourth-most by any wide receiver this season. He might be the best value at the position this week. Brown is exceptionally cheap, after seeing five, six, and eight targets over the last three weeks, while ranking 12th in air yards over that span. He might be your best option of the cheaper wide receivers.