In its most boiled-down form, DFS involves the process of identifying the highest-scoring players at each position in a given week. With close to 20 playable options at the quarterback and tight end positions, along with even more at the running back and wide receiver positions, it is a feat in itself to identify one position correctly.
To finish at the top of a DFS contest, you must hit on basically all skill positions and circumvent the randomness associated with selecting defenses. Doing all of this while also fitting under the confines of a salary cap makes DFS one of the most difficult setups to beat consistently, especially in large-field tournaments.
Being first and foremost a data company, PFF has the ability to build and train models not only on public data but also on PFF specific data, such as receiving grades and pass routes run, among a litany of other variables. Utilizing specific variables, we can build a model tuned to predict performances where a pass-catcher goes over a certain site-specific scoring threshold. This threshold is defined at 25 DraftKings, 20 FanDuel or 20 Yahoo receiving fantasy points.
This model provides the percentage chance that each receiver will meet or exceed our fantasy-point threshold for the site, given their historical opportunity. The model won't be right on every player, but it is useful in identifying the performances that we want to unearth in our DFS lineups. 
Calvin Ridley, D.J. Moore and Diontae Johnson were identified as hits by the model in Week 2. Injuries played a role in a few players' situations, while Julio Jones, Adam Thielen and Allen Robinson can be labeled only as misses. The tight end position split into similar stories. This is the point of the season where recent historical data starts to help shape future projections. 
Let's dive into the best plays, according to the blowup model, while providing some context on how to attack these situations in DFS. This week, I am going to focus on the lower-priced options for write-ups while providing context for each specific site. Yahoo has been added as a site, with the full list of players and percentages found at the bottom.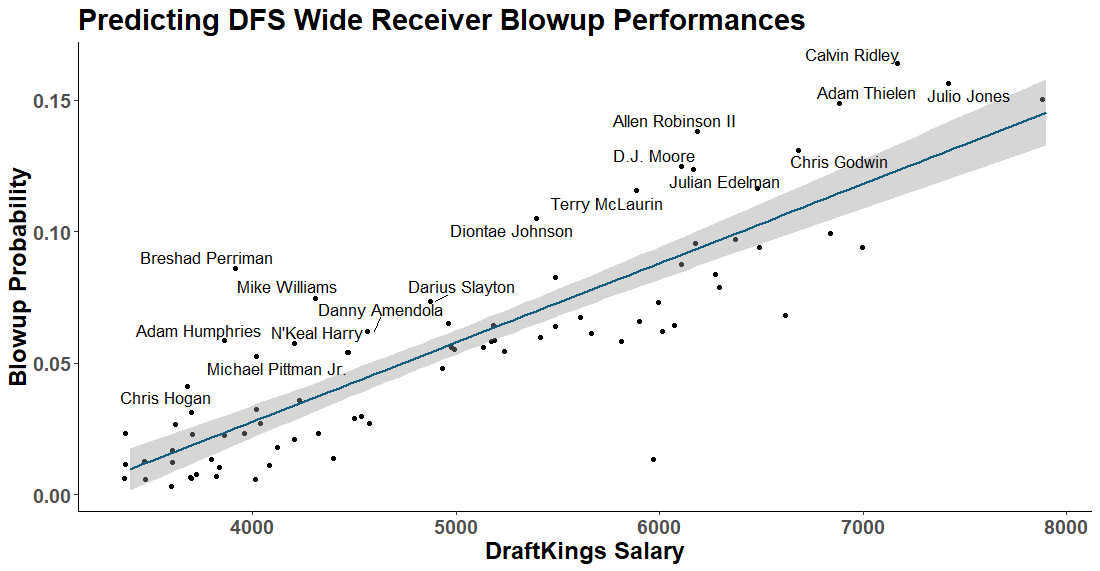 Johnson has emerged as the go-to target in this passing offense. He has received over 30% of the Steelers' passing targets and 34% of the air yards. He has been targeted on 29% of his routes, which ranks seventh among all pass-catchers with at least 50 pass routes. He is still being priced as a borderline WR2 option while being overlooked by DFS players due to the low totals occurring in his matchups.
He has the biggest advantage of any Steelers wide receiver, according to our matchup chart. The Steelers' No. 1-ranked defense typically caps the fantasy production for their skill players in any given matchup. If the Texans' offense is able to be productive Sunday, we could finally see the full blowup game happen for Diontae Johnson. 
Subscribe to PFF Edge to continue reading
Already have a subscription? Sign In