Kyler Murray is averaging 46.3 dropbacks and 6.3 rushing attempts per game, which puts him in elite historical company.
Robbie Anderson

could takeover

Marquise Brown's role on the outside opposite of DeAndre Hopkins

if Brown is out for an extended period of time.

Amari Cooper's 28% target share is seven percentage points above his career-high mark. He is averaging 8.8 targets per game, which also tops his previous career-high (8.0).
Editor's note: This year, PFF collaborated with Matthew Berry's Fantasy Life to bring readers the NFL Fantasy Football Utilization Report.
---
Volume is king in fantasy football, and this report will help you understand which players are due more or less according to their roles. It is a great way to know who is overperforming (sell high) and underperforming (buy low) based on historical data tied to metrics we know drive volume.
Overall offense: Which teams are enabling winning volume and efficiency across game scripts
Quarterbacks: How involved is each quarterback in the running game and who is unlocking upside for their weapons
Running backs: Which backs are handling early downs, short-yardage and passing downs
Tight ends: Who is running enough routes and meeting critical targets per route thresholds
Receivers: Which receivers are in the most routes and operating broadly within the offense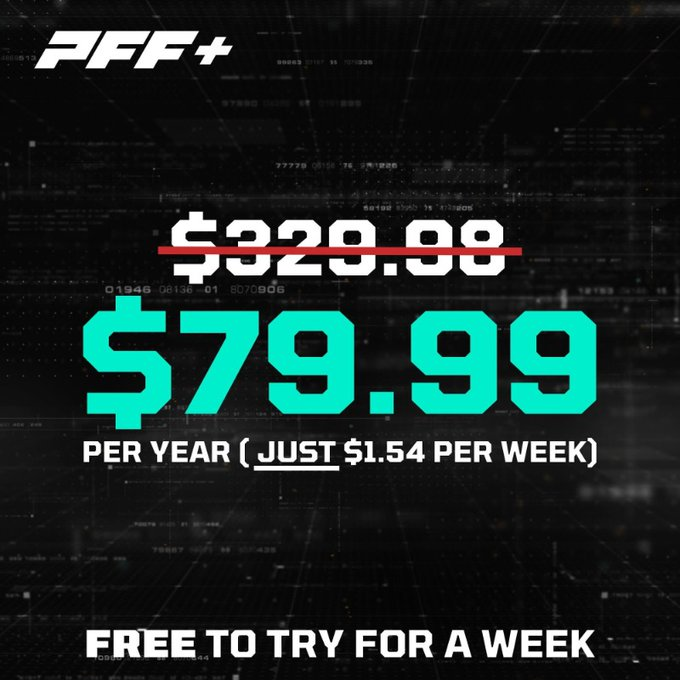 Waiver Wire
To make the waiver wire section of this column, a player must be rostered less than 50% of the time in typical leagues like Yahoo or ESPN. If players are trending upward in utilization or performance and are over that threshold, they will be found under the upgrade or buy-low section.
WR – Robbie Anderson
Anderson was traded to the Cardinals on Monday for a 2024 sixth-rounder and a 2025 seventh-rounder. The veteran could takeover Marquise Brown's role on the outside opposite of DeAndre Hopkins if Brown is out for an extended period of time.
The Cardinals rank No. 2 in non-overtime passing plays per game (46.5), which is a dramatic improvement over the Panthers (34.8).
Anderson's adjusted career target share (19%) is slightly above the NFL average and is WR3-worthy in PPR formats based on data since 2011.
Anderson's adjusted target shares and targets per game by season:
If we estimate Arizona at 42 to 45 dropbacks per game for the remainder of the season, we can quickly get an idea of how many targets Anderson might earn if he can secure between 80 and 90% route participation. That would place his targets per game somewhere between 6.4 and 7.7 targets per game using his career target rate (TPRR) average of 19%.
These estimates are for games without Hollywood. If Brown returns, we should expect Anderson to move into a rotational scenario, and his route participation would make him unusable in most fantasy leagues.
If Brown is out for an extended period of time, this FAB recommendation probably ends up being too low. If you are in need of a WR3 and need to win now, don't hesitate to the higher end of the recommended range below.
WR – Wan'Dale Robinson
Robinson returned to the lineup in Week 6 and posted a juicy 36% TPRR. He was limited to a 35% route participation, but that should expand over the coming weeks. 
No one from this Giants receiving corps is demanding targets, so it is wide open for the second-round rookie to go as far as his talent will take him in the target department.
The Giants' offense is only averaging 34.5 dropbacks per game, but Robinson is a stash WR5 that could turn into an upside WR3 as the No. 1 option in a low-talent WR room.
RB – Latavius Murray
Murray overtook Melvin Gordon for the lead early-down role in Week 6. Murray handled 47% of snaps and 68% of the rushing attempts. He also saw some work in LDD situations (27%). 
The near 33-year-old back could serve as a fill-in option but doesn't carry much of a ceiling in a three-way committee in an offense that isn't scoring TDs. 
WR – Tyquan Thornton
Thornton made the most of his opportunity with Nelson Agholor inactive and Kendrick Bourne knocked out of the game. The second-round rookie registered a season-high 73% route participation and has a 20% TPRR in two games. 
Bourne and Agholor are journeymen, and DeVante Parker also hasn't done much this season (13% target share), meaning we could see Thornton climb the depth chart to make some noise as the season progresses.
RB – Kyren Williams
Williams should come off of IR after the Week 7 bye and challenge for snaps. The coaching staff has been very positive about the rookie, and he could make more sense than Darrell Henderson on passing downs in a pass-happy offense. 
Henderson has never registered an RB2-worthy TPRR with a career average of 14%, which is even lower this season at 11%. The Rams need other playmakers in the passing game outside of Cooper Kupp, and Williams could help provide a spark on a team that is passing the ball above the NFL average in trailing, close and leading game scripts.
Given how weak the Rams' depth chart is, Williams is a priority add — he has a clear path to taking earning snaps and possibly even taking over the No. 1 job without an injury.
TE – Greg Dulcich
Dulcich popped the 80% route participation threshold in his first game (81%). He only earned 13% of the targets (3), but he has an opportunity to blossom as the season moves forward. 
The Denver offense is an albatross around the rookie's neck, but the tight end position is as thin as ever, and he carries the allure of unknown upside in the talent department. Treat him as a high-end TE2 with upside. 
TE – Daniel Bellinger
Bellinger posted a season-high 82% route participation. He has two 20% target share games in the last four weeks, pushing him into mid-range TE2 territory.
The Giants' receiving corps is as bad as they come, so the rookie has a chance to carve out a significant role.
Sell High
WR – Josh Palmer
Palmer pulled in 9 receptions on 12 targets (20%) in a pass-heavy effort from the Chargers offense. However, the second-year WRs' underlying data remains subpar. 
He has a 1.06 YPRR (-0.80 vs. historical WR3s), 16% TPRR (-5) and his PFF receiving grade (58.4) ranks 41st out of 45 receivers with at least 200 routes in 2022. 
The Chargers' No. 3 WR can still come through as a handcuff to Keenan Allen or Mike Williams, thanks to the high-volume attack (see JuJu Smith-Schuster and Gabe Davis). He is a low-end WR3 option when the Chargers are down a pass catcher, but should be treated as a mid-range WR5 overall.
Palmer is a sell right now — especially in dynasty formats, where a league mate might take the Week 6 box score (12 targets) as a sign of things to come.
Buy Low
QB – Kyler Murray
The Cardinals' offense is struggling in 2022, and Murray is the No. 7 fantasy QB, averaging 19 points per game. Many are low on Murray after spending a Round 6 selection on him in fantasy drafts, but the underlying data paints a picture of optimism.
Murray is averaging 46.3 dropbacks and 6.3 rushing attempts per game, which puts him in elite historical company. Since 2011, only five QBs have hit those thresholds (minimum 12 games), and they averaged 22.4 fantasy points per game. Three registered 23.5-plus points per game, and only one didn't register a top-5 finish in points per game (Robert Griffin III in 2013).
The former No. 1 overall NFL draft pick ranks No. 4 in designed rushing attempts at 17%, but his scramble rate is only 4% — a full two percentage points below his career average of 6%. In Week 6, Murray scrambled a season-high 9% of dropbacks. There is room for improvement in Murray's rushing totals. His career high is 8.3 attempts per game (2020).
He could lose Marquise Brown (foot), but DeAndre Hopkins returns next week, and the Cardinals added Robbie Anderson via trade. With Rondale Moore and Zach Ertz serving as plus options, Murray still has plenty of weapons if Brown is out long-term.
In a year where the difference between the best QBs and the low-end starters is as large as ever, Murray makes a great buy-low target. His underlying data tells us he has much more in common with the elite performers and could provide similar upside down the stretch. If we are wrong, we have likely already seen his floor as the QB7, which is likely still a significant upgrade if you are hurting at the position.
WR – Christian Kirk
Christian Kirk started the season off with back-to-back top-20 finishes but has only one since then (Week 3). 
The Jaguars' big offseason acquisition is averaging only 7.5 points per game over the last three contests, but his underlying target share of 27% says bigger days are coming. 
Kirk remains a mid-range WR2 and is a great buy-low candidate if a manager in your league is wavering based on three consecutive finishes outside the top-24 WRs.
WR – Drake London
London is the clear-cut alpha with a 32% target share. So far, things have worked out perfectly for the Falcons, thanks to close game scripts. London has big days ahead when the team is forced to throw the ball more — no team in the NFL runs more than the Falcons right now (52%).
Rookie WRs demanding a 30%-plus target share sporting a 2.23 YPRR don't grow on trees. Buy the top-notch talent profile, knowing game scripts could easily flip (see the Colts and Michael Pittman Jr. in 2022).
Upgrades
RB – Darrell Henderson
Henderson dominated 71% of the snaps in Week 6 with Cam Akers no longer a factor. He still shared the rushing workload with Malcolm Brown but led the way with a 66% route participation and a 10% target share. 
The Rams' offense is struggling to run the ball and could remain a pass-heavy team, which makes Henderson a mid-range RB2 moving forward as long as he can hold off Kyren Williams for passing-down work.
WR – Amari Cooper
Cooper has 11 or more targets in three out of the last four games. He saw 12 against the Patriots' man-heavy unit in Week 6 but was only able to corral four receptions.
The veteran's 28% target share is seven percentage points above his career-high mark. He is averaging 8.8 targets per game, which also tops his previous career-high (8.0).
Since 2011, WRs that average 8.5-plus targets per game score 17.7 fantasy points per game — slightly ahead of Cooper (15.0) in 2022.
Despite playing with a journeyman QB in a run-heavy attack, Cooper is a high-end WR2 pushing for low-end WR1 consideration.
WR – Chris Godwin
Godwin is due for an eruption game. He registered a season-high 91% route participation along with a 31% target share in Week 6.
The sixth-year WR has three consecutive top-30 finishes and his YPRR now stands at 2.07 on the season — the best mark on the Buccaneers.
Godwin is a mid-range WR2 moving forward with WR1 upside.
Downgrades
RB – Melvin Gordon III
Gordon was battling a neck injury coming into this contest but was listed as probable. He handled only 16% of snaps and 14% of attempts. The veteran wasn't involved on passing downs or short-yardage situations.
The Denver backfield is a situation to avoid unless one RB declares themselves as the obvious choice, and that doesn't seem likely at the moment. 
Gordon is only an RB5 stash moving forward and can be released in small formats.
---
JUMP TO A TEAM:
ARZ | ATL | BLT | BUF | CAR | CIN | CHI | CLE | DEN | DAL | DET | GB | HOU | IND | JAX | KC | LVR | LAC | LAR | MIA | MIN | NE | NO | NYG | NYJ | PHI | PIT | SF | SEA | TB | TEN | WSH
---
Team ranks:
Drives that end with a TD: 18% (21

st

)

Plays per minute: 2.38 (4

th

)

Neutral play clock remaining: 8.9 seconds (22

nd

)

Time of possession: 52% (7

th

)
Regulation play ranks:
Plays per game: 70.5 (2

nd

)

Dropbacks per game: 46.5 (2

nd

)

Rush attempts per game: 24 (16

th

)
Pass-play rate by game script vs. 2021 NFL average:
Trailing by four or more points: 70% (+0)

Within three points: 58% (-2)

Leading by four or more points: N/A
We are six games in, and the Cardinals still don't have enough plays with a lead (3%) to calculate their pass rate vs. expectation. Not good, y'all.
Pass-volume environment: Above Average
Run-volume environment: Average
The Cardinals' passing volume is great, but underlying data tells us they want to be a more balanced team. They have trailed by four-plus points more than any other team (76%), and the pace could slow in closer games.
Quarterbacks
Buy low:

Some will question Kyler Murray as a buy-low suggestion, but he is the archetype we want in fantasy. The TDs haven't come yet, but he is a top-notch dual-threat asset that we have seen produce huge fantasy points over the last two seasons. Only Lamar Jackson, Jalen Hurts and Josh Allen offer a higher designed-rush share (17%).
Rest of the season: 
Kyler Murray: top-seven QB
Running backs
Monitoring:

James Conner (ribs) and Darrel Williams (knee) missed Week 6.

Chill:

Eno Benjamin didn't come through in the box score, but his utilization was fantastic with Conner and Williams out. He bogarted 87% of the snaps, 58% of rushing attempts and registered a robust 87% route participation. His efficiency was terrible (2.6 yards per attempt), but we should expect something closer to 3.5 or 4.0. If the Cardinals are banged up again in Week 7, fantasy managers shouldn't hesitate to go back to Benjamin – think Deon Jackson. Benjamin would rank as an RB2 again in that scenario.
Rest of season:
James Conner: mid-range RB2 upon return

Eno Benjamin: high-end RB2 while Conner and Williams are out

Darrel Williams: stash RB6
Receivers and tight ends
Monitoring:

Marquise Brown landed awkwardly on a jump ball at the end of the game and could be out for the season due to a foot injury.

Upgrade:

Robbie Anderson was traded to the Cardinals on Monday for a 2024 sixth-rounder and a 2025 seventh-rounder. Anderson could takeover Marquise Brown's role on the outside opposite of DeAndre Hopkins. Anderson's 19% career TPRR is below the WR3 threshold (21%) but just above the NFL average (19%). So, he is an average target earner, but we have seen him pop some seasons with a 22% target share in 2017 and a 24% target share in 2020. Anderson is a high-end WR4 with WR2 upside if Brown is out. He is available in over 85% of Yahoo! leagues.

FAB: 10-30%
Monitoring:

DeAndre Hopkins returns to the lineup in Week 7 and could immediately operate as a high-end WR2 if Brown is out.
Rest of season: 
Marquise Brown: high-end WR2 (if healthy)

DeAndre Hopkins: high-end WR3; high-end WR2 if Brown is out

Rondale Moore: high-end WR4; low-end WR3 if Brown is out

Robbie Anderson: high-end WR4 with WR2 upside if Brown is out; WR5 if Brown is OK

Zach Ertz: mid-range TE1
---
Team ranks:
Drives that end with a TD: 23% (12

th

)

Plays per minute: 2.07 (27

th

)

Neutral play clock remaining: 8.2 (28

th

) 

Time of possession: 49.9% (16

th

)
Regulation play ranks:
Plays per game: 59.0 (25

th

)

Dropbacks per game: 27.7 (32

nd

)

Rush attempts per game: 31.3 (2

nd

)
Pass-play rate by game script vs. 2021 NFL average:
Trailing by four or more points: 53% (-17)

Within three points: 49% (-11)

Leading by four or more points: 36% (-15)
Pass-volume environment: Poor
Run-volume environment: Good
Quarterbacks
Rest of season: 
Marcus Mariota: mid-range QB2