Rookie RB Kenneth Walker has demonstrated a high-end skill set on his limited opportunities in 2022.
Rachaad White is the clear-cut No. 2 option behind Leonard Fournette, and his role is growing. Over the last two games, he has had a 40% snap share and a 38% route participation. 
The Cardinals are moving Rondale Moore all over the field, and he has a 19% target share in his first two games back.
Editor's note: This year, PFF collaborated with Matthew Berry's Fantasy Life to bring readers the NFL Fantasy Football Utilization Report.
---
Volume is king in fantasy football, and this report will help you understand which players are due more or less according to their roles. It is a great way to know who is overperforming (sell high) and underperforming (buy low) based on historical data tied to metrics we know drive volume.
Overall offense: Which teams are enabling winning volume and efficiency across game scripts
Quarterbacks: How involved is each quarterback in the running game and who is unlocking upside for their weapons
Running backs: Which backs are handling early downs, short-yardage and passing downs
Tight ends: Who is running enough routes and meeting critical targets per route thresholds
Receivers: Which receivers are in the most routes and operating broadly within the offense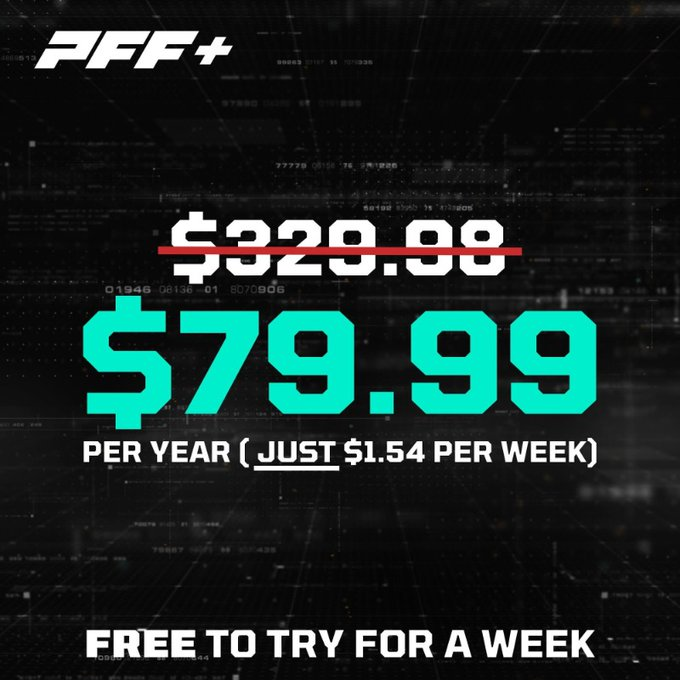 Waiver Wire
To make the waiver wire section of this column, a player must be rostered less than 50% of the time in typical leagues like Yahoo or ESPN. If players are trending upward in utilization or performance and are over that threshold, they will be found under the upgrade or buy-low section.
RB – Kenneth Walker III
Walker made this column last week as a top-flight handcuff thanks to a great talent profile and the ascending Seahawks offense (sixth in drives converted to TDs).
With Rashaad Penny out for the season, the rookie will immediately step into a role similar to Dameon Pierce as the early-down back. After Penny left the game in Week 5, Walker handled 88% of the snaps and 100% of the rushing attempts. He also played one of three LDD snaps.
Walker has demonstrated a high-end skill set on his limited opportunities in 2022.
Walker vs. the three-year NFL average:
Walker wasn't a receiving option coming out of college, but so far he is earning targets, and the Seahawks have been giving him LDD work all season. Based on this data, there is a chance he will grow into more passing-down work, which would make him a bonafide high-end RB1.
Some of you reading this have no shot at Walker on the wire, but don't be afraid to make a big move to acquire him. When talent, utilization and team environment align, it creates moments to be bold, and this is one of those moments. You can pay a high-end RB2 price tag and still have upside remaining.
Walker is available in 54% of Yahoo leagues and 52% of ESPN leagues. He is the No. 1 waiver priority of the 2022 season, so get your chips in the middle of the table.
RB – Rachaad White
White makes this section of the Utilization Report for the second consecutive week, with Kenneth Walker III serving as a reminder as to why talented young RB handcuffs are so valuable. No, we can't predict injuries, but we should focus on talented players in good situations, and White fits those criteria.
He is the clear-cut No. 2 option behind Leonard Fournette, and his role is growing. Over the last two games, he has had a 40% snap share and a 38% route participation. 
The rookie has RB1-overall upside if something happens to Fournette and could end up with some stand-alone value in deeper formats. His profile is similar to Tony Pollard's over the last two games. White is available in 65%-plus of Yahoo leagues and is a priority waiver target.
WR – Rondale Moore
Moore was a suggested waiver add last week after a strong weekend in multiple utilization departments. In Week 5, the fantasy points followed (13.1).
The Cardinals are moving Moore all over the field, and he has a 19% target share in his first two games back. DeAndre Hopkins will only miss one more game, but Moore remains a young talent we shouldn't hesitate to put our chips on. Talent always has outs.
Moore is available in over 80% of Yahoo and ESPN leagues.
WR – Alec Pierce
Pierce has a 20% TPRR and out-targeted Michael Pittman Jr. in Week 5 (26%) despite running fewer routes (74%).
Parris Campbell continued to work ahead of Pierce, but it is only a matter of time before the rookie earns a full-time role. His 2.06 YPRR is over three times as high as Campbell's (0.60). 
The Colts are one of the worst offenses in the NFL, with only 11% of their drives converting to TDs (31st). However, their trailing scripts keep them throwing the ball. They rank 11th in dropbacks per game (41.4), which means more than one WR can survive in this offense in PPR formats.
Pierce is available in 92% of Yahoo leagues.
QB – Geno Smith
Smith has three consecutive top-seven finishes and has the No. 1 PFF passing grade (87.9). The Seahawks' pass-volume environment is only producing 34.4 non-overtime dropbacks per game (25th), but it is improving over the last three games for three reasons:
Pace: Seattle ranks sixth in the time remaining on the play clock in neutral situations (11 seconds).

Efficiency: They rank sixth in the percentage of drives that convert to TDs (28%).

Defense: Opponents score a TD on 35% of drives (the most in the NFL).
Now that is a cocktail for fantasy success.
The journeyman QB is only rostered in 36% of leagues and is a low-end QB1 moving forward. He has shown enough to be in lineups over players like Matthew Stafford, Aaron Rodgers and Russell Wilson.
RB – Eno Benjamin
Benjamin will carry RB1 upside in Week 6 if James Conner (ribs) and Darrel Williams (knee) cannot play. He would carry high-end RB3 status if Williams plays and Conner doesn't.
Benjamin's sample size is small, but he is above the league average in missed tackles forced (0.27) and yards after contact (3.13). He is available in 89% of Yahoo leagues and could provide short-term relief with a slight chance to carve out more work if he performs admirably.
RB – DeeJay Dallas
Dallas will have a larger role backing up Kenneth Walker III after the loss of Rashaad Penny for the season. Travis Homer will also eventually return, but Dallas will get an opportunity to lock down a role starting in Week 6.
RB – Dontrell Hilliard
Hilliard is a low-end RB3 thanks to his steady role in the passing game (33% TPRR). He has a 19% and 23% target share in the last two games.
If Derrick Henry went down, Hassan Haskins would help ease the Burden, but Hilliard might push for 40% to 50% of the rushing attempts and offer low-end RB2 contingency value.
RB – Myles Gaskin
Gaskin is pushing Chase Edmonds for the RB2 role, and Raheem Mostert has a long injury history. It wouldn't be surprising to see Gaskin in a starting role this season. 
Historically, Gaskin has been a plus option in the passing game, which means his bid for Edmonds' role could stick if he gets the chance. 
Sell High
We don't have a major new sell-high candidate after Week 5, but many of the same names from the previous three weeks have unchanged situations or utilization profiles. 
However, in a similar vein, Taysom Hill, Randall Cobb and Dyami Brown all outperformed their utilization by wide margins. It is doubtful any of them can carve out a season-long role that makes them more than a low-end addition to your fantasy roster. 
You can make a case for Hill due to his TE designation in many leagues. He is a boom-bust TE2 option that could turn into a high-end TE1 if he starts at QB.
Buy Low (or Buy High)
RB – Dameon Pierce
Technically, this is a buy-high, given that Pierce is the RB8 on the season, but he has room for a role expansion that would catapult him to fantasy greatness.
The Texans' offense isn't a great place for an early-down back to reside, but the team is committing almost all of the rushing attempts to Pierce over the last four games (79%, 80%, 100% and 81%). He has handled 100% of the snaps inside the five-yard line in 2022, so the TDs will continue as long as Houston can get the ball into position to score. 
Pierce saw his highest LDD snap share of the season (20%), which is a step in the right direction — if coaches trust him in pass pro, we could see the rookie carve out more work coming out of the bye week. The former Florida Gator had a 70-plus PFF grade in receiving and pass blocking in 2021 — he is capable of taking on passing downs from the aging Rex Burkhead.
If you like to gamble on league-winning upside, now is the time to buy Pierce despite his price tag. His floor is a mid-range RB2, and if he ever gets even half of the passing work, he has top-six upside.
RB – Travis Etienne
Etienne's preseason profile was correctly forecasted. He is the lead passing-down option and owns a 65% snap share when the team trails by four-plus points. In Week 5, he saw a season-high route participation rate (57%) and rush share (43%).
If the Jaguars' early-season success was a mirage, Etienne will have low-end RB2. However, his fantasy points still hinge on the game script and Jacksonville is probably somewhere in between what we thought before the season and how they looked the first two weeks.
Etienne is back to high-end RB3 status and makes a decent buy-low option.
Upgrades
RB – Raheem Mostert
Mostert bagged a top-18 RB finish in Week 5 with 19.2 points despite a struggle-bus performance from the Dolphins' offense.
He bogarted 72% and 69% of snaps in the last two contests. Most importantly, he surpassed Chase Edmonds for the passing down work. 
Mostert has played over half of the LDD situations (60%) and over 90% of the two-minute offense snaps in Weeks 4 and 5. 
The 30-year-old RB is a low-end RB2 moving forward and if the Dolphins get back to their high-scoring ways, he could improve his status further. He is available in 30% of Yahoo! leagues, so check your wire to ensure he isn't available in smaller formats. 
WR – George Pickens
Pickens has back-to-back top-24 finishes and is ahead of Chase Claypool in TPRR (17%) on the season. Kenny Pickett got the passing game over the 300-yard hump for the first time this season, but the Steelers didn't have any TDs. 
Pickens is a boom-bust option at the moment but could become the No. 2 in this offense, and if the offensive efficiency improves, the TDs could eventually come – he leads the team in ADOT (16.7) and is tied for first in endzone targets (29%). Pickens is an upside WR4 moving forward and is available in 45% of leagues.
WR – Isaiah McKenzie
McKenzie missed Week 5 (concussion), but he could be the full-time slot option moving forward. 
Khalil Shakir scored 16.5 points in that role in Week 5. There is a chance the two split work similarly to how things were with Jamison Crowder. However, it is a gamble worth taking, given the Bills' offense. If he takes over all of the slot work, he becomes a high-end WR4 with upside.
McKenzie is available in half of Yahoo! leagues, so give your waiver wire a look.
WR – Michael Gallup
Gallup has 85% and 89% route participation levels in his first two games back – an encouraging development. 
In Week 5, he came up small in the box score with 8.4 fantasy points but registered a powerful target share at 33%. 
Gallup is a low-end WR3 moving forward. He is still available in 49% of Yahoo! Leagues.
Downgrades
RB – Chase Edmonds
Edmonds lost the starting role to Raheem Mostert, and Myles Gaskin is challenging him for the RB2 spot. Edmonds is dropable in smaller formats and should be on the bench in large leagues. 
He is only an RB5 stash option heading into Week 6.
---
JUMP TO A TEAM:
ARZ | ATL | BLT | BUF | CAR | CIN | CHI | CLE | DEN | DAL | DET | GB | HOU | IND | JAX | KC | LVR | LAC | LAR | MIA | MIN | NE | NO | NYG | NYJ | PHI | PIT | SF | SEA | TB | TEN | WSH
Team ranks:
Drives that end with a TD: 22% (14

th

)

Plays per minute: 2.39 (6

th

)

Neutral play clock remaining: 9 seconds (22

nd

)

Time of possession: 52% (7

th

)
Regulation play ranks:
Plays per game: 70.6 (2

nd

)

Dropbacks per game: 46.4 (3

rd

)

Rush attempts per game: 24.2 (16

th

)
Pass-play rate by game script vs. 2021 NFL average:
Trailing by four or more points: 69% (-1)

Within three points: 62% (+2)

Leading by four or more points: N/A
Pass-volume environment: Above Average
Run-volume environment: Average
The Cardinals' passing volume is great right now, but underlying data tells us they want to be a more balanced team. They have trailed by four-plus points more than any other team (80%) and the pace could slow in closer games.
Quarterbacks
Rest of season: 
Running backs
Monitoring:

James Conner (ribs) left the game in the second quarter and Darrel Williams (knee) was knocked out in the third quarter. 

Waiver Wire:

Eno Benjamin will carry RB1 upside in Week 6 if both backs are unable to play. He would carry high-end RB3 status if Darrel Williams plays and James Conner doesn't. Benjamin's sample size is small, but he is above the league average in missed tackles forced (0.27) and yards after contact (3.13). He is available in 89% of Yahoo leagues and could provide short-term relief with a slight chance to carve out more work if he performs admirably.

FAB: 5-10%
Rest of season:
James Conner: mid-range RB2 upon return

Eno Benjamin: low-end RB1 if Conner and Williams are out; high-end RB3 if Conner out

Darrel Williams: stash RB6
Receivers and tight ends
Waiver/Upgrade:

Rondale Moore was a suggested waiver add last week after a strong weekend in multiple utilization departments. In Week 5, the fantasy points followed (13.1). The Cardinals are moving Moore all over the field and he has a 19% target share in his first two games back. DeAndre Hopkins will only miss one more game, but Moore remains a young talent we shouldn't hesitate to put our chips on. Talent always has outs.

FAB: 20-30%
Rest of season: 
Marquise Brown: low-end WR1 until Hopkins returns; mid-range WR2 after

DeAndre Hopkins: mid-range WR2 upon return

Rondale Moore: high-end WR4 with WR3 upside

Greg Dortch: free agent

Zach Ertz: mid-range TE1
---
Team ranks:
Drives that end with a TD: 21% (15

th

)

Plays per minute: 2.14 (19

th

)

Neutral play clock remaining: 7.7 (28

th

) 

Time of possession: 49% (23

rd

)
Regulation play ranks:
Plays per game: 59.6 (22

nd

)

Dropbacks per game: 29.8 (31

st

)

Rush attempts per game: 29.8 (3

rd

)
Pass-play rate by game script vs. 2021 NFL average:
Trailing by four or more points: 53% (-17)

Within three points: 51% (-9)

Leading by four or more points: 43% (-8)
Pass-volume environment: Poor
Run-volume environment: Good
Quarterbacks
Rest of season: 
Marcus Mariota: mid-range QB2