In best ball drafts, most people typically draft two or three quarterbacks to ensure a solid points base each week. There are several schools of thought when it comes to choosing where to draft quarterbacks, but there are essentially three common strategies:
Two mid- or high-tier quarterbacks

One top quarterback, one or two mid- to late-tier quarterbacks

Three late-tier quarterbacks
Subscribe to
Most of the time, a third quarterback is either a low-end starter who might net two starting weeks on the year or an upside backup. For the purpose of this article, we'll mostly ignore those types and focus more on the first two strategies and see which pairs line up best according to strength of schedule in 2020. 
Methodology
In order to find these quarterback pairings, I leveraged PFF's Strength of Schedule tool. For each team, I compared the weekly fantasy matchup for quarterbacks against the 31 other teams in the league. I used absolute difference in matchup value and recorded whether player A or player B had the better matchup.
I then summarized these values by taking the average of the absolute difference of matchup values and also summed how often player A had a better matchup. To find good quarterback pairings, we want to find a combination where both quarterbacks are contributing to your team. So we want pairs where the sum of positive player A matchups is closer to eight. This can favor one quarterback or the other if we have them ranked higher.
Note: The values found in the live tool are subject to change, since they're based on current rosters and can be affected by injuries, opt-outs and trades. The values in this article will not be updated after publication.
The top 10 quarterback pairs by PFF SoS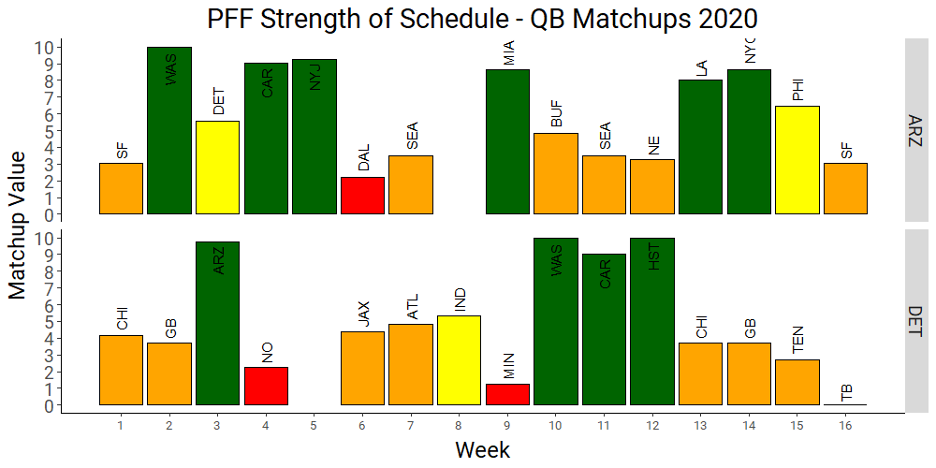 | | |
| --- | --- |
| Avg Abs Difference | Quarterback Favored |
| 4.82 | Even |
Murray costs a premium pick for a QB with a single season under his belt, but he still represents some fun upside now that DeAndre Hopkins is in town. The PFF consensus rankings have him as QB5 but he is being drafted four rounds later than Lamar Jackson.
With this pairing, you'll be starting slow and ending slow: the 49ers and the Bears Week 1 and the 49ers again or the stout Buccaneers defense in week 16. That being said, there isn't a single overlap of great matchups between these two players.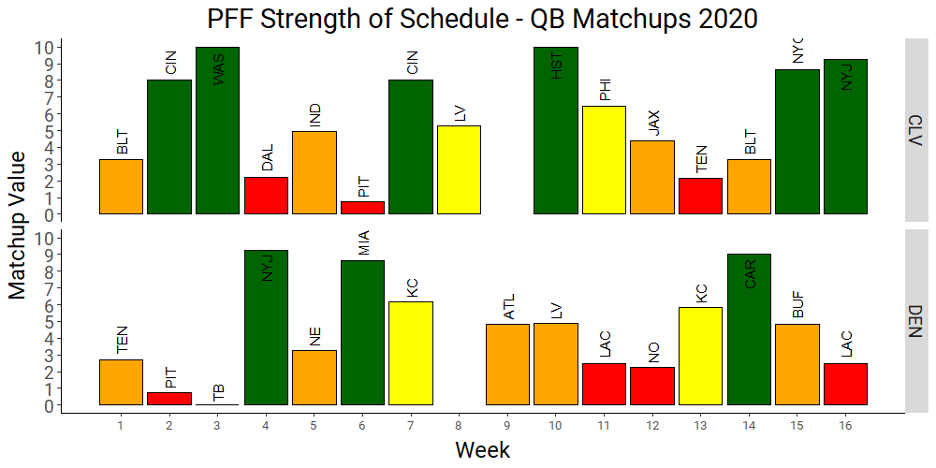 | | |
| --- | --- |
| Avg Abs Difference | Quarterback Favored |
| 4.86 | Baker Mayfield +3 |
I call this the rollercoaster pairing. You never know which one of the two will be your starting quarterback for the week. That being said, Mayfield does have the biggest schedule advantage at plus-3 out of any of the pairings listed in this article. Both Mayfield and Lock are going after the 11th round right now. And just listen to this combined receiving corps: Odell Beckham, Jarvis Landry, Austin Hooper, David Njoku, Courtland Sutton, Jerry Jeudy, K.J. Hamler and Noah Fant — and that's without mentioning the running backs.
The weakest links here are Week 1 with two tough matchups and bye-week matchups against the Raiders and the Falcons — two teams that are middle of the road, defensively speaking. Outside of that, Mayfield and Lock alternate good matchups quite nicely. If you draft this pairing, hang on — it's going to get fun.
Subscribe to PFF Edge to continue reading
Already have a subscription? Sign In