Week 1 of the USFL has come and gone. Here are the key highlights for anyone who missed it:
Of course, plenty of football went on, as well. Check out my Week 1 USFL review for full notes on every touchdown scored, offensive and defensive players of the game, key fantasy football workload metrics and overall thoughts. More USFL goodness can be found weekly on The PFF Fantasy Football Podcast.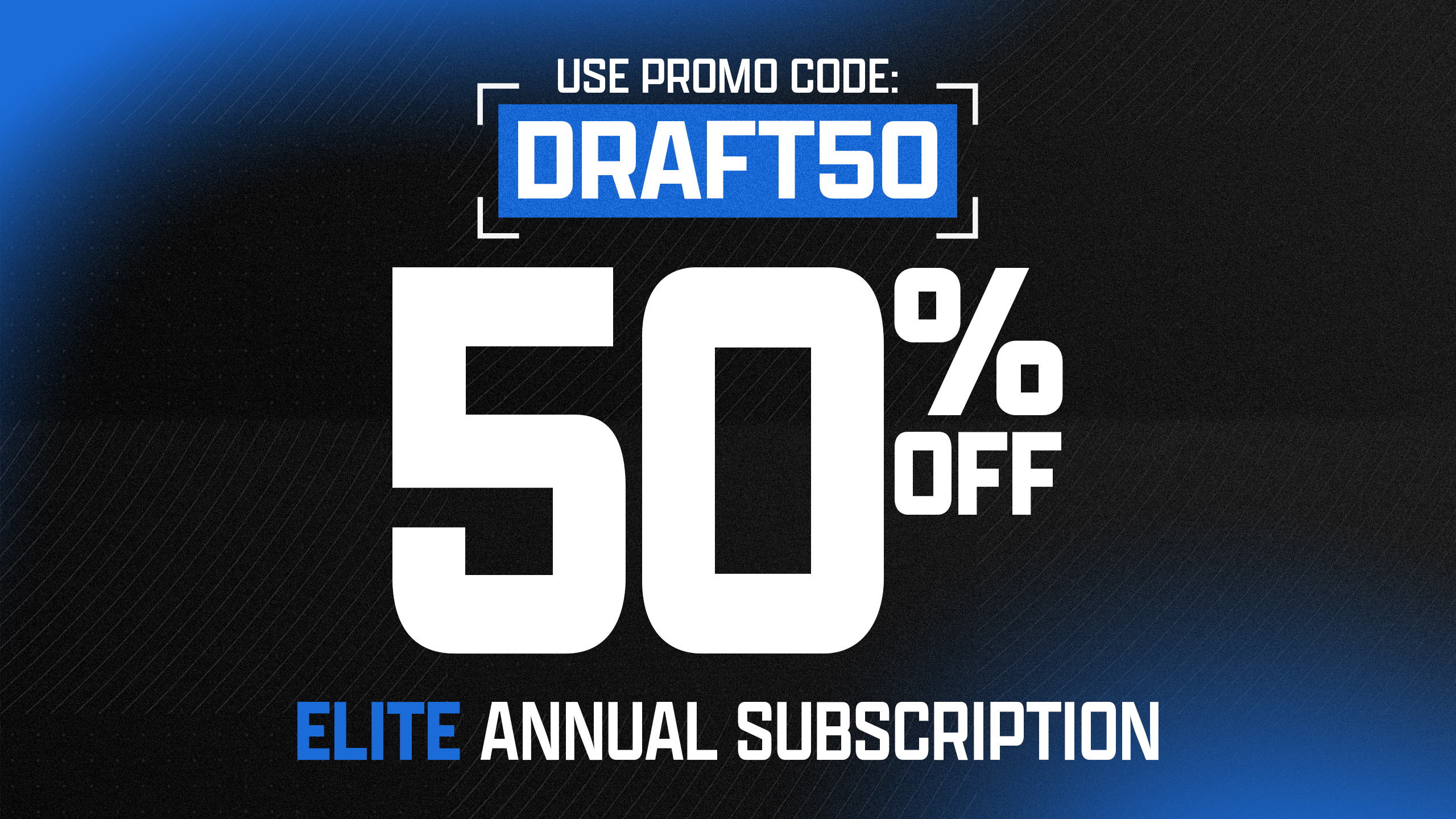 What follows is a three-part breakdown of how each team stacks up after one week, Week 2 DFS thoughts and best Week 2 USFL bets.
USFL after one week of action
The following table denotes PFF USFL team grades on offense and defense:
PFF USFL team grades from Week 1 pic.twitter.com/vGiW0LqJEP

— Ian Hartitz (@Ihartitz) April 20, 2022
Key takeaways
None of these offenses should be called "good" at this point in time. Not even if there's a fire.
The Gamblers are popping as the best passing offense more so because of their lack of volume than anything. Clayton Thorson dropped back just 20 times and averaged a hideous 4.3 yards per attempt. His 6.5-yard average depth of target (aDOT) was the third-lowest mark in the league among 11 quarterbacks with double-digit dropbacks.
A rather terrible first half by Shea Patterson earned plenty of grief from Twitter, but he largely played well when not dropping the snap or when his receivers weren't dropping the football. In all, they combined to drop a league-high four passes.
Patterson posted a league-high 76.8 PFF passing grade, averaging 7.7 yards per attempt with a robust 87% adjusted completion rate while posting a hefty 10.3-yard aDOT.
The Breakers and Stars didn't have their best opening performance passing the ball, but at least the latter offense seemed to recognize that attempting to move the ball through the air is probably a good idea.
The leaders in pass-play rate in Week 1 were as follows:
Stars (70% pass-play rate)

Stallions (67%)

Bandits (55%)

Maulers (49%)

Gamblers (47%)

Panthers (46%)

Breakers (45%)

Generals (44%)
The Generals pop out as having the best receiving room largely thanks to Randy Satterfield, who electrified the entire country on the league's first play from scrimmage.
HOW ABOUT THAT FOR A FIRST PLAY.

Luis Perez hit Randy Satterfield for a 49-yard strike.

????: @FOXSports, @NBCSports & @PeacockTV pic.twitter.com/QKJ0NxcsnR

— New Jersey Generals (@USFLGenerals) April 16, 2022
Satterfield, Alonzo Moore and KaVontae Turpin are each full-time starters, while ex-NFLers Darrius Shepherd and J'Mon Moore were limited to just 16% and 9% route rates. Funny how that works.
The Breakers and Gamblers stand out as having the two most effective rushing attacks. This is largely thanks to the performance of PFF's two highest-graded rushers, Mark Thompson (Gamblers) and Jordan Ellis (Breakers), who each forced four missed tackles in Week 1.
Thompson looks like the real-deal Holyfield and averaged an absurd 5.2 yards after contact per carry. Hopefully, the Generals don't feed their goal-line two-point conversations to Dalyn Dawkins (5-foot-7, 183-pounds) over Thompson (6-foot-2, 235-pounds) next week.
Unfortunately, Ellis isn't in the clear either: He was out-snapped (55% vs. 47%) and ran a lower percentage of routes (63% vs. 30%) compared to teammate T.J. Logan.
The single biggest offensive liability might be the Generals' pass blocking. Somehow, they were pressured on 22 of 32 dropbacks (68.8%). No other USFL team was pressured on more than 38% of their dropbacks. Luis Perez truthers better hope this was more a result of the Stallions' pass-rush, as failure to correct the pass protection could lead to more high-volume rushing days for De'Andre Johnson.
The Maulers' pass-blocking ability was rather great in Week 1. Maybe head coach Kirby Wilson won't needlessly run the ball into loaded boxes until his team is down multiple touchdowns next week.
On the other side of the ball, credit to the Stallions for making life so difficult on the New Jersey offensive line. Their 68.8% pressure rate easily tops the league, while the Panthers (38.1%), Gamblers (33.3%) and Stars (33.3%) are the only other teams above even 23%.
The Stallions also did a great job at the catch point. The league's top defenses in contested target rate are as follows:
Stallions (32%)

Gamblers (22.2%)

Panthers (22.2%)

Generals (16.7%)

Bandits (12%)

Stars (11.5%)

Maulers (9.7%)

Breakers (8.8%)
The Bandits happily blitzed on a robust 53.3% of their opponent's dropbacks. Only the Panthers (38.1%), Breakers (34.1%) and Stars (31.4%) cleared the 30% mark. The Generals (16.7%) and Stars (13.3%) seldom sent additional rushers in Week 1.
Going along with the thought of loading the box, the Bandits (28.1%) joined the Maulers (20.3%) as the only defenses to load eight-plus defenders in the box on more than 20% of their opponent's plays. The Stallions (4.7%) and Generals (1.6%) largely refrained from bringing additional run support.
My USFL Power Rankings entering Week 2
Tampa Bay Bandits (1-0):

It looked like things might get awfully ugly after Jordan Ta'amu effortlessly led the offense down the field for a touchdown on the first possession of the year, but Tampa will certainly settle for a 14-point victory. A bad second half from Ta'amu wasn't ideal, but he's still firmly in the conversation as the USFL's best quarterback.
New Orleans Breakers (1-0)

: Kyle Sloter didn't even play well, yet the Breakers managed to take down the cohesive Stars without too much trouble. This team will be scary (by USFL standards) if Sloter gets the passing game humming *and* the defense remains feisty.
Birmingham Stallions (1-0)

: J'Mar Smith filled in more than admirably for an injured Alex McGough and seems capable of leading an above-average USFL offense. The real game-changing factor might just be this Stallions' pass rush: They'll be capable of beating any team in the league if their front seven is as dominant as they looked in Week 1.
Philadelphia Stars (0-1):

A loss to potentially the league's best team isn't anything to hang your head about, particularly as the Stars came a pick-six away from winning. Their pass-happy attack consistently produced plus matchups on the outside, and this plus pass rush deserves credit for limiting Sloter so well.
Michigan Panthers (0-1)

: It's certainly easy to make fun of a team featuring Jeff Fisher, Shea Patterson and Paxton Lynch, but Michigan had plenty of chances to win in Week 1 despite their

horrific first half

. The defense played rather well. A better effort from start to finish should lead to better luck on the scoreboard in future matchups.
Houston Gamblers (1-0)

: The Gamblers lost the time of possession battle (37 vs. 23) and were outgained (363 vs. 174) against the Panthers, who scored zero points on drives that reached the Houston 4-yard line (fumble led to scoop-and-score touchdown), 14-yard line (turnover on downs to end game) and 25-yard line (missed field goal). A win is a win, but I believe the Panthers beat the Gamblers six or seven times out of 10. 
New Jersey Generals (0-1):

The complete inability to protect Luis Perez seemingly led the Generals to abandon their passing game. Credit to De'Andre Johnson for making the most out of the situation anyway, but this pass protection could be bad enough to nuke their chances more weeks than not. Throw in a defense that allowed three consecutive touchdowns to end the game, and it could be a long season for the New Jersey faithful.
Pittsburgh Maulers (0-1):

The Maulers posted a league-low 42.9% pass-play rate in the first half of their blowout loss to the Bandits. Their insistence on utilizing as many offensive linemen as possible would be a lot cooler if they could average more than 0.8 yards before contact per carry. The defense might be good enough to keep Pittsburgh in some games, but it's tough to imagine this squad rallying behind head coach Kirby Wilson after the

absurdly stupid De'Veon Smith issue

.
DFS DraftKings Preview
There were plenty of issues with DraftKings' season-opening USFL DFS performance, but they're back with a $100K Friday Sweat tournament that will reward $25,000 to first place. Hell to the yeah.
One thing to keep in mind ahead of Friday and the rest of the weekend is the potential for injured players to return to action. This USFL Twitter list includes all eight teams, and they tweet out their injury reports and roster moves throughout the week. Key situations to keep an eye on will be listed in each ensuring section about the best positional targets.
Quarterback
Injury situations:
Stallions QB Alex McGough (ankle)

: Didn't practice on Tuesday and may have lost his starting job to J'Mar Smith anyway. Still, it'd be a lot easier to get behind Smith in DFS with a full game's worth of snaps guaranteed to come his way.
Who even plays all the time anyway:
J'Mar Smith should be the Stallions' full-time quarterback if Alex McGough (ankle) is ultimately ruled out. Bryan Scott and Jordan Ta'amu were the only quarterbacks to play 100% of their offense's snaps last week. It seems likely that Kyle Sloter and Shea Patterson take the majority of their offense's snaps ahead of Week 2, but the Generals, Maulers and potentially the Gamblers seem to be in full-on two-QB mode, something that should generally be faded in fantasy land.
Favorite play: Shea Patterson ($10,400)
Patterson was arguably the USFL's best quarterback in Week 1, but there's a chance the public will dismiss all that and instead focus on his widely mocked fumble that turned into a scoop-and-score. Stacking Patterson with his favorite (and seemingly only healthy) receiver Lance Lenoir is preferred. It'd make sense if things slow down even more for Patterson against one of the league's bottom two defenses in blitz rate.
Favorite fade: Kyle Lauletta ($9,400) and Josh Love ($6,100)
Lauletta played well behind Josh Love in Week 1. The Maulers only started throwing the ball once it was abundantly clear that they were in comeback mode. Love should be projected for more fantasy points than Lauletta independent of pricing, but the answer to which quarterback to roster in DFS is simple: no.
Running back
Injury situations:
Gamblers RB Mark Thompson (thigh)

: Limited on Tuesday with backup Dalyn Dawkins (hamstring) practicing in full. Note that Dawkins was limited last week with the same issue, so he's probably fine. Thompson wasn't on the injury report last week. Practice squad RB Devwah Whaley would seemingly be the next man up.

Stallions RB Jordan Chunn (hamstring)

: Limited on Tuesday after missing last week's game. Chunn's return to action would seemingly form a three-back committee with Tony Brooks-James and C.J. Marable.

Panthers RB Reggie Corbin (leg)

: practiced in full after missing last week's game. Stevie Scott and Cameron Scarlett essentially split work down the middle during his absence. Michigan could utilize an annoying three-back committee should they elevate Corbin back to the active roster.

Stars RB Matt Colburn (knee)

: Didn't practice on Tuesday. Colburn led the way in both snaps (56%) and routes (52%) over Darnell Holland last week. Practice squad RB Paul Terry would be the next man up should Colburn miss time, but it'd make sense if Holland got a bigger role regardless.

Generals RB Mike Weber (knee)

: The Generals released Weber seemingly due to injury, meaning Trey Williams should continue to lead a two-back committee alongside Darius Victor. 
Who even plays all the time anyway:
CJ Marable (63%) and Trey Williams (61%) were the only two running backs to play at least 60% of their offense's snaps last week. Still, the potential return of Jordan Chunn could limit Marable's overall stranglehold on this backfield. Williams profiles as the week's top workhorse, while the next best bets are T.J. Logan (particularly if Ellis winds up being sidelined) and Darnell Holland (assuming Colburn is out).
Favorite play: Trey Williams ($5,300)
The largest concern with Williams is everyone figuring out that he's several thousand dollars underpriced, thus elevating his ownership to a level that should probably be faded in tournament land. Still, if there's ever a time to eat the chalk in DFS, it's on an egregiously cheap three-down running back, which is exactly what Williams profiles as with Weber completely out of the picture.
Favorite fade: Stevie Scott ($7,900)
Scott nabbed a goal-line touchdown last week, but just barely worked ahead of Scarlett in snaps (51% vs. 49%) and routes (47% vs. 39%) alike. The potential return of Reggie Corbin could lead to a dreaded three-back committee in which Corbin could feasibly work as the clear-cut No. 2 back if his preseason draft position means anything.
Wide Receiver and Tight End
Injury situations:
Stars WR Christian Rowland (shoulder) and Devin Gray (ankle)

: Rowland got in a limited session on Tuesday while Gray was sidelined. The Stars' spread-heavy offense fed Rowland team-high marks in targets (8) and air yards (61) last week despite him only working in the slot and finishing fourth in route percentage (73%). The absence of Gray could be more of a boost to Maurice Alexander and Bug Howard than anyone. Practice-squad WR Brennan Eagles could also be activated depending on how many receivers if any, are ultimately ruled out.

Generals WR Darrius Shepherd (hamstring), Randy Satterfield (chest), KaVontae Turpin, Alonzo Moore (illness), J'Mon Moore (hamstring)

: Shepherd practiced in full, while Satterfield and Turpin were limited. Both Alonzo and J'Mon were sidelined completely. What a mess — these injuries help explain why Shepherd and Moore worked as the offense's No. 4 and No. 5 wide receivers last week. 

Panthers WR Jeff Badet (hamstring), Joe Walker (leg), Ray Bolden (Achilles, hip), Lance Lenoir (chest)

: Neither Badet nor Walker practiced to start the week, while Bolden was limited and Lenoir was a full go. The Panthers were content to feature three separate tight ends with route rates of at least 36% last week. The absence of multiple starting receivers could lead to more of the same. Note that Bolden was inactive last week.

Generals TE Braedon Bowman (ankle), Nick Truesdell (groin), Woody Brandom (knee)

: Neither Bowman nor Truesdell practiced on Tuesday, opening up a potential every-down role for Brandom. Last week one of Brandom or Bowman ran a route on 97% of the Generals' dropbacks. Recently signed Wes Saxton could certainly see some early work, but Brandom is the front-runner for featured duties.
Who even plays all the time anyway:
Stallions

: Victor Bolden, Marlon Williams and Osirus Mitchell literally ran a route on 100% of their offense's dropbacks. TE Cary Angeline (92%) was a true every-down player and racked up a solid four targets and 41 air yards for his troubles.

Generals

: Randy Satterfield (94% routes), Alonzo Moore (84%) and KaVontae Turpin (81%) worked in three-receiver sets, but there's heightened uncertainty here with Shepherd and Moore potentially injured mid-game. TE Woody Brandom (71% snaps, 50% routes) has a chance to see his role expanded due to the team's injury situation.

Gamblers

: Isaiah Zuber (100% routes) and JoJo Ward (90%) were the offense's only two wide receivers with a snap rate above even 40%). TE Brandon Barnes (81%) was also plenty involved in the passing game.

Panthers:

Lance Lenoir (83% routes) was the clear-cut No. 1 receiver in targets (9) and air yards (94), as well. The offense's plethora of injuries makes him a fair play as the slate's highest-projected receiver. 

Breakers

: Johnnie Dixon (90% routes), Chad Williams (87%) and Jonathan Adams (77%) worked well ahead of presumed No. 1 target Shawn Poindexter (43%). TE Sal Cannella (87%) racked up a team-high seven targets and finished behind only Adams in air yards (66 vs. 70).

Stars

: Jordan Suell (98% routes), Diondre Overton (91%), and Devin Gray (80%) were the top-three receivers in routes, but Chris Rowland (73%) easily led the way in targets (8) and air yards (61) while working from the friendly confines of the slot. TE Bug Howard might have caught a touchdown, but he ran a route on a measly 32% of Bryan Scott's dropbacks.

Bandits

: No Bandits wide receiver ran a route on more than 66% of Jordan Ta'amu's dropbacks. That man was Jordan Lasley, who also led the way with five targets and 71 air yards. He's the only potential play here, as Tampa Bay is rotating *six* receivers at the moment. TE Cheyenne O'Grady led the way in targets (10), air yards (70), snaps (100%) and routes (91%) alike. It's not an exaggeration to call O'Grady the Bandits' clear-cut No. 1 passing-game option.

Maulers

: Delvon Hardaway (97% routes) and Bailey Gaither (90%) were the only two wide receivers to play even half of the offense's snaps in this offense.
Favorite play: Breakers WR Johnnie Dixon ($6,600), Jonathan Adams ($4,000), Chad Williams ($3,100)
DraftKings is insisting Shawn Poindexter remains the No. 1 wide receiver in New Orleans despite him working as the WR4 in routes last week. There isn't a more affordable group of wide receivers than New Orleans. A bounce-back performance from Kyle Sloter could help these under-priced gems boom in a major way.
Favorite fade: Maulers WR Jeff Thomas ($9,100), Breakers WR Shawn Poindexter ($8,500), Bandits WR Rashard Davis ($8,300)
I want whatever the DraftKings price-setter was smoking when they got to the wide receiver section. The slate's No. 3 through No. 5 highest-priced receivers worked as their own offense's No. 3, No. 4, and No. 5 wide receiver in terms of routes run last week. Don't chase these high price tags.
Cheap Punts
The following players figure to find themselves running a route on a majority of their quarterback's dropbacks, yet are rather egregiously underpriced:
Stallions WR Marlon Williams (100% routes, $3,000)

Breakers WR Chad Williams (87%, $3,100)

Stars WR Chris Rowland (73%, $3,400)

Panthers WR Devin Ross (72%, $3,500)

Maulers WR Delvon Hardaway (97%, $3,600)

Generals WR Alonzo Moore (84%, $3,700)

Stars WR Diondre Overton (91%, $3,800)

Breakers WR Jonathan Adams (77%, $4,000)
Week 2 Best Bets
Season ATS record: 2-2
Michigan Panthers (0-1) vs. New Jersey Generals (0-1)
Spread: Generals -1.5
Game total: 42.5
The Panthers had higher highs on both offense and defense than the Generals in Week 1. I'll gladly take the dog and fade public perception that Jeff Fisher and company are simply a joke. Give me the Panthers +1.5
Pittsburgh Maulers (0-1) vs. Philadelphia Stars (0-1)
Spread: Stars -6.5
Game total: 37.5
Arguably the league's most run-heavy offense faces off with definitively the most pass-heavy group. It's 2022 — gimme the Stars -6.5 despite the gaudy spread. I also don't hate sprinkling some cash on an awfully low game total.
Birmingham Stallions (1-0) vs. Houston Gamblers (1-0)
Spread: Stallions -3.5
Game total: 40.5
Both the Stallions and Gamblers are undefeated, but the former squad looked far better on offense and defense alike during their victory. I'll ride with Birmingham -3.5 in hopes that their potentially generational (lol) pass rush causes problems for a Gamblers offense that never quite got off the ground in Week 1 anyhow.
New Orleans Breakers (1-0) vs. Tampa Bay Bandits (1-0)
Spread: Bandits -2.5
Game total: 40.5
An early-season matchup between possibly the USFL's top-two teams, Jordan Ta'amu and company are getting the benefit of the doubt after their dominant 14-point win in Week 1. I side with Tampa Bay -2.5 thanks to the Breakers-Stars game being far more of a back-and-forth affair.