The road to fantasy football glory is paved by opportunity, with passing targets and rushing attempts the bricks upon which it's built. As we do every year at this time, we'll conduct a post-free-agency examination of the unaccounted-for targets and handoffs from the previous season and begin projecting who will assume them on current rosters.
Unsigned players remain available, albeit largely uninspiring options. The NFL draft is fast approaching, however, and represents the offseason's final significant roster altering event. While we will again survey the landscape once the draft dust settles, many fantasy degenerates are already picking players. Let's begin with six offenses with the most combined unclaimed handoffs and PFF-charted targets.
New England Patriots
(Unclaimed: 302 handoffs and 82 PFF-charted targets)
New England has, by far, the league's most unclaimed handoffs due to LeGarrette Blount's current status as an ex-Patriot. Even if he's brought back to Foxborough for the third time, further muddying the backfield waters, he won't sniff 300 carries again. Rex Burkhead's $3.15 million contract is the largest the Patriots have handed a running back since 2010 (Fred Taylor) and all but guarantees some level of rushing involvement. Despite prevailing opinion, Burkhead can run inside, as evidenced by his 4.5-yards-per-carry average on between-the-tackles runs last year (5.3 yards between the guards). He is the same size as BenJarvus Green-Ellis and close to Stevan Ridley – a pair of former Patriot "big backs."
New England's 66 missing tight end targets are the league's second-most, and some of Martellus Bennett's leftovers will funnel toward Dwayne Allen. He was our ninth-graded tight end in 2014 before injuries set in. The return of Rob Gronkowski, however, will soak up many of those targets – and we haven't even mentioned trade acquisition Brandin Cooks, plus the continued presences of Chris Hogan and Malcolm Mitchell. Every mouth in this offense will have a little less to chew on than we'd like, taking steam out of volume-reliant weapons like Julian Edelman. The Patriots ran four additional plays per game once Tom Brady returned from suspension (67.0), but they'd need to average 80 snaps to keep everyone consistently productive — other than Brady himself.
Minnesota Vikings
(196 handoffs, 161 targets)
The Vikings switched Adrian Peterson for Latavius Murray, and the former Raider steps into a boatload of opportunity. Of course, Jerick McKinnon lurks as arguably their best running back and should see a meaty chunk of the leftover 196 handoffs and 47 backfield targets from 2016. Starting in Week 11, McKinnon was PFF's ninth-highest-graded running back and ranked 12th in elusive rating – while Murray placed 43rd and tied for 39th, respectively. Blessed with a top-three offensive line in Oakland, Murray had only eight runs of at least 15 yards on 195 carries, while his two rookie backups combined for 14 such runs on 25 fewer carries. Murray is a pedestrian running back and McKinnon's presumed passing-downs role is likely to expand.
While the Vikings have a healthy 161 unaccounted-for targets from last year, only 12 are missing from their tight end group. However, Kyle Rudolph's whopping 25-percent target share, which helped him score the third-most fantasy points at his position, appears safe. Minnesota lost Cordarrelle Patterson and Charles Johnson, and with them a combined 937 snaps and 101 targets. There isn't a ton of room for Stefon Diggs (109 targets) and, to a lesser degree, Adam Thielen (89) to pack on more looks, but Laquon Treadwell should assume some of the available workload if he takes a step forward after whiffing on a one-catch rookie year. Either way, those unclaimed opportunities provide a buffer for Rudolph's workload and he again shapes up as a solid MFL10 selection (TE10, mid-ninth round).
New York Giants
(198 handoffs, 153 targets)
There is a lot of meat on the bone here, as the Giants bid adieu to Rashad Jennings' replacement-level production, freeing up more than 220 opportunities (181 handoffs). For now, most of those are ticketed for second-year back Paul Perkins, with a momentarily healthy Shane Vereen theoretically adding most of Jennings' passing game workload (41 targets). The question is whether or not New York imports a higher-profile veteran running back than Shaun Draughn, or if they draft one? Perkins is a divisive player in fantasy circles, but has at least shown a knack for avoiding tackles. He ranked first in elusive rating during his final season at UCLA, and as a rookie led all Giants backs in rushing grade by a sizeable margin.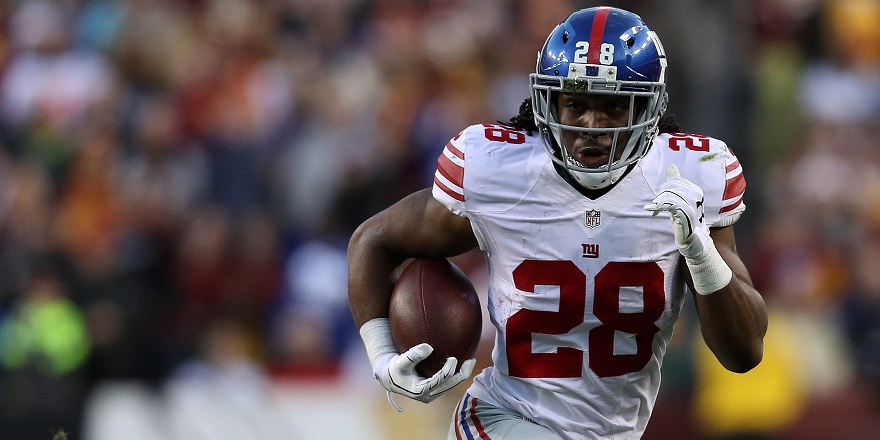 New York's 153 unclaimed targets rank seventh, but 64 came from the backfield and 21 from the tight end spot. There will be an opportunity pinch at wideout with Brandon Marshall now in the picture. Victor Cruz left behind 68 targets, or just over half as many as Marshall saw last year (122). The Giants run a ton of three-wide sets, but routes run don't always translate into targets seen. While a declining Eli Manning threw the seventh-most passes last year, if New York's defense continues to ascend, it could lead to fewer dropbacks. The Giants led on only 30.6-percent of snaps, which ranked 22nd-highest and should improve. A shrinking passing pie will hurt slot man Sterling Shepard, who was already due for touchdown regression.
San Francisco 49ers
(152 handoffs, 177 targets)
An unaccounted-for 329 combined opportunities looks like a false signal due to the departure of head coach Chip Kelly and his fast-paced offense. However, the 49ers weren't quite so high-volume last year despite operating at Kelly's signature pace. They ran only 62.3 plays per game (eight-fewest), meaning a majority of those 329 unclaimed opportunities should carry over under Kyle Shanahan. New fullback Kyle Juszczyk theoretically soaks up some available carries, although he's likely to siphon a more appreciable chunk of the 46 missing running back targets. Carlos Hyde will get as many touches as health permits in an offense traditionally fantasy-friendly for running backs. He has ranked top-12 in yards-after-contact-per-attempt in each of the last three seasons despite increasingly pathetic supporting casts.
San Francisco's new No. 1 wideout, Pierre Garcon, will not hurt for opportunity either. Over 130 receiver targets are unclaimed, and Shanahan's X-receivers usually get fed – including Garcon seeing 174 looks in 2013 while both were in Washington. While Brian Hoyer is a pedestrian passer at best, we've seen him facilitate fantasy viability for his pass-catchers. He will be able to keep Garcon and perhaps one other receiver fantasy-relevant – potentially tight end Vance McDonald. Keep tabs on the snap outlook of Falcons import Aldrick Robinson, who tied for fifth in fantasy-points-per-opportunity among 130 qualifying wideouts, and lands on a more upwardly-mobile depth chart than he climbed in Atlanta.
Los Angeles Rams
(41 handoffs, 278 targets)
The Rams have the league's most unclaimed targets by a sizable margin (66 more than second) and added only one receiver of note. Robert Woods never saw 100 targets while playing second fiddle in Buffalo's run-based offense despite starting 48 games over four seasons. It would be surprising if he doesn't break the century mark considering his five-year, $39-million contract and a gaggle of unseasoned and uninspiring teammates (hello, Tavon Austin). Even Austin, who was fantasy's 21st-highest-scoring wideout in 2015, will have every opportunity to rebound from a crushingly inefficient 2016. At least his price is right – as it will be for second-year wideouts Pharoh Cooper, Mike Thomas, Nelson Spruce and Marquez North.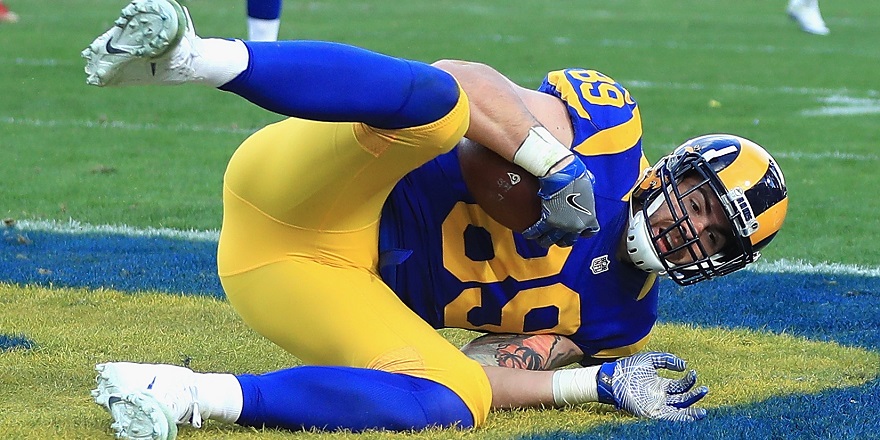 Despite their Jared Goff handicap, tight end is another intriguing area. An NFL-high 74 tight end targets are unclaimed and ticketed mostly for 2016 fourth-round pick Tyler Higbee. His passing-game grade ranked third among draft-eligible tight ends coming out of Western Kentucky and Higbee has drawn positive reviews from new head coach Sean McVay – who knows something about utilizing tight ends. Higbee is backed up by fellow second-year tight end Temarrick Hemingway, who is interesting in his own right, but he has a firm grip on a job in which even Lance Kendricks was mildly fantasy relevant. It may be voluminous, but it won't be pretty for Rams' pass-catchers unless Goff — who threw short of the first down marker on a pathetic 65 percent of his third- and fourth-down passes — takes an improbably large step forward.
New Orleans Saints
(140 handoffs, 140 targets)
The Brandin Cooks trade left 112 unaccounted-for targets, and with Tim Hightower still a free agent, the Saints also have 133 unclaimed handoffs. They are annually top-five in pass attempts, so Cooks' workload will need to go somewhere. Ascendant second-year wideout Michael Thomas has little room to add onto his 119 looks, as New Orleans' busiest pass-catchers don't typically stray far from a 20-percent target market share. Willie Snead is an affordable bet and should crest 100 targets for the first time, but he's already seen 95 and 96 looks in his two seasons. The newly imported Ted Ginn is far from a perfect receiver, never grading far above average — and usually below it – but has never played with a passer in Drew Brees' neighborhood.
Between Ginn and fantasy punchline Coby Fleener, prices are attractive for the shakier pieces of this high-octane offense — if we have the stomach for it. Hightower or a similarly capable backup for Mark Ingram — DeAngelo Williams comes to mind — can still be brought in. For now, the former first-rounder has a choke-hold on early-downs carries and has finished top-12 in points-per-opportunity during two of the last three seasons. One worry is his reliance on passing-game involvement, which made up 42 and 45 percent of his PPR totals the last two seasons. Only David Johnson and Le'Veon Bell had a higher percentage among top-12 PPR backs last season. With Travaris Cadet and his 50 targets from last season re-signing, and second-year athlete Daniel Lasco in his second season, any downtick to Ingram's targets could have an outsized effect on his fantasy viability.
Check back later this week for Part Two, where we examine teams with a significant number of unaccounted-for handoffs or PFF-charted targets, as well as offenses whose lack of unclaimed opportunities leave little wiggle room.