Your draft may be over, but if you're like me, you're already looking to improve your roster. One of the best (and most fun) ways to achieve this is through trading.
Today, we're bringing you the first trade value chart of the 2018 NFL season. There are no universal truths or values when it comes to fantasy trades; individual team needs need to be taken into account, and putting a value on intangibles is subjective, at best.
But the trade value chart can help you cut through the noise to gain a strong sense of what one player is worth in relation to another.
The trade value chart uses our rest-of-season projections to assign values to every relevant player. The dollar amounts assume a 12-team league and a starting lineup of 1 QB, 2 RB, 2 WR, 1 TE, and 1 flex. The players are displayed in order of their standard league values, but we've included the PPR values for those players as well.
Below is the Week 1 fantasy football trade value chart, but before that, I'll highlight some of the things that jumped out at me.
Holy Rob Gronkowski, Batman. Our current projections have Gronkowski going for nearly 1,200 yards and scoring over 11 touchdowns this year, which vaults him way up the trade value chart in standard leagues. With a complete lack of depth in New England at receiver (Chris Hogan is their only serious wideout to open the season), Gronkowski could be in for a monster year.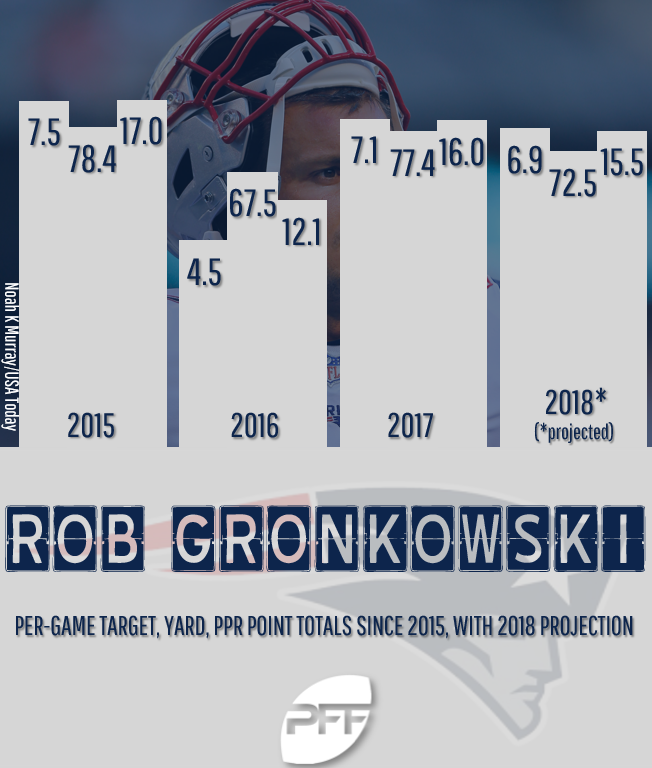 Don't sleep on T.Y. Hilton. Don't forget, the last time Hilton had a healthy Andrew Luck throwing him the ball, Hilton led the league in receiving yards in 2016. We have Hilton flirting with the 1,500-yard barrier again in 2018.
Here are a few players whose values I could see rapidly rise within a few weeks: Marquise Goodwin, Sony Michel, Emmanuel Sanders, Jordy Nelson, Tyler Lockett, Jamaal Williams.
Will Goodwin be the primary target in San Francisco? Will Michel assume the profitable Dion Lewis role in New England? Sanders looked like Case Keenum's favorite target in the preseason. Nelson has drawn praise in Oakland — and he is just one season removed from scoring nearly as many PPR fantasy points (306) as Antonio Brown (307). Lockett is primed for an increase in targets in Seattle, while Williams will get the first crack at the starting running back post in Green Bay.
Check out the full chart below. Remember, these values are not written in stone. Rather, they are meant to serve as a guide to help you make the best deal possible.
Subscribe to PFF Edge to continue reading
Already have a subscription? Sign In