For nearly two decades we could essentially set our watch by the New England Patriots. We knew exactly what to expect from them for fantasy purposes, and often that was good things with Tom Brady under center. But Brady's departure throws things completely out of whack in New England. A team in transition with uncertainties at quarterback and a lackluster group of skill position players typically doesn't translate to appealing fantasy football production. Alas, the initial release of our 2020 fantasy football projections doesn't paint a favorable picture for the Pats this upcoming season.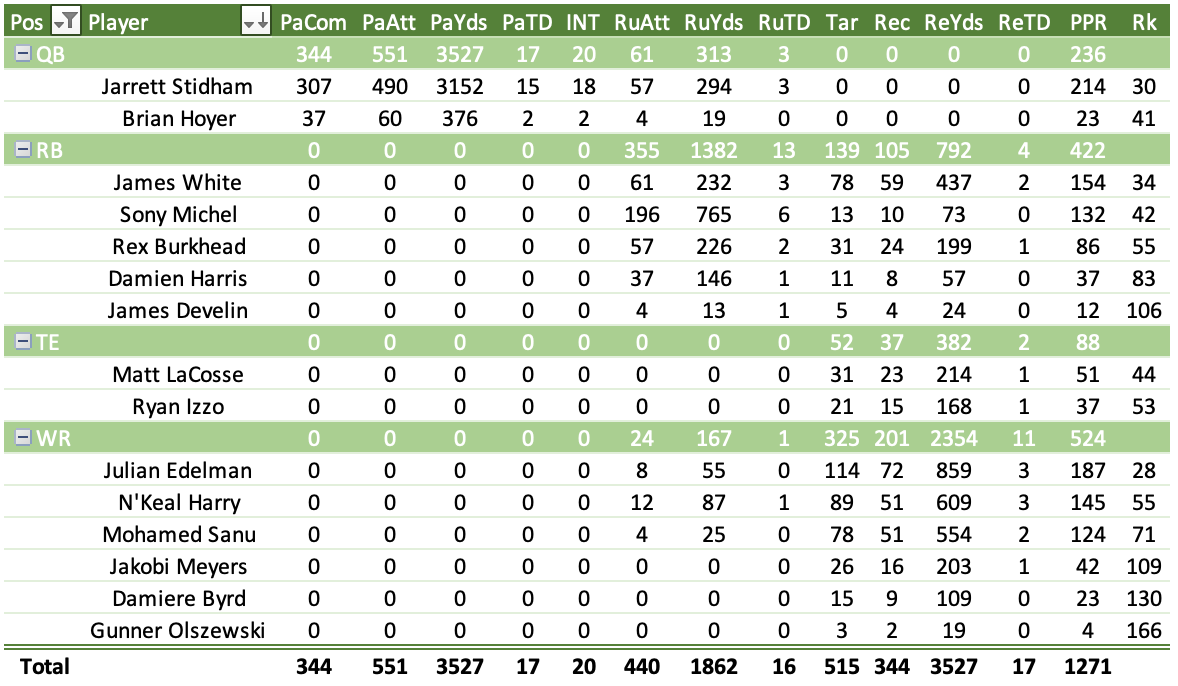 As of this writing, Jarrett Stidham sits atop the Patriots' quarterback depth chart. The team brought back veteran Brian Hoyer, but Stidham appears to have the edge on the job. Of course, a lot can change between now and the start of the season. New England could certainly address the position in the draft or even potentially sign Cam Newton or Jameis Winston (though signing either player seems unlikely at this point). What is clear is that Stidham will likely be one of the worst fantasy options at the position if he is in fact the starter this season.
The Brady ripple effect doesn't just stop there. With Brady under center, Julian Edelman was a near-lock for WR2-plus production. Edelman is coming off a strong 2019 campaign where he posted the second triple-digit reception season of his career and finished eighth among wideouts in PPR scoring. His numbers take a nosedive with Stidham as the assumed starter. It'll be tough to trust him as anything more than a WR3 option, and there's almost no fantasy appeal to the rest of the Patriots' wideouts.
Likewise, Brady showed an affinity for James White out of the backfield. Since the 2015 season, White leads all running backs in targets (417), receptions (328), receiving yards (2,979) and receiving touchdowns (24). That last number is nine more than any other back has scored over that span. While we still have White projecting out sixth among backs in targets and receptions, his efficiency drops off from 9.1 yards per catch to just 7.4 with Stidham. White should still be in the RB3 conversation, but his days as an RB2-plus look numbered.
As for Sony Michel, we still expect him to carry the load in the backfield, but the overall expected offensive decline projects to limit his opportunities. Michel has averaged 15.7 carries per game over his two-year NFL career with over 200 totes in each season. We have him just under that plateau with 196 projected carries, which averages out to just 12.3 per game. Limited opportunity and a low weekly ceiling are setting Michel up to be a hard fade this year.
[Find the full collection of analysis and insights on PFF's 2020 fantasy football projections for all 32 NFL teams. Check back as more articles will be added each day.]