In some ways, you could argue the Pittsburgh Steelers were the platonic ideal of a passing offense in 2018, at least for fantasy football purposes. The team's No. 1 pass-catcher in any given game averaged 112.4 yards per game across the season, fourth in the league. Their No. 2 receiver averaged 80.3, best.
There are teams that averaged a lot of yards from their No. 1 pass-catcher and didn't get much from the next man up. There are those that had a low total for the No. 1 and the No. 2 came close to matching it. Every variation on that theme popped up in 2018, but the Steelers, whose No. 2 receiver averaged 71.4% of the yards of the No. 1 across the season (seventh-highest percentage), balanced all the traits the best.
Interestingly, a year ago the Steelers went to almost the opposite extreme. Their No. 1 pass-catcher had more yards (a league-leading 128.9), but their No. 2 was down at 61.3 — still sixth-best, but the No. 2/No. 1 percentage was all the way down to a league-low 47.6%.
Below is a chart of the highest and lowest percentages in the league (remember, it's the team's top receiver in a given game, not total — in other words, the name might change week-to-week, but it's the top yardage-getter) and then some thoughts on what that might mean for fantasy.
Team
#1 receiver
#2 receiver
#2/#1 percent
Team
#1 receiver
#2 receiver
#2/#1 percent
1
CLE
76.1
56.9
74.8%
17
ARI
68.5
42.7
62.3%
2
WAS
65.3
48.6
74.5%
18
GB
103.2
63.4
61.5%
3
LAR
96.8
71.8
74.2%
19
BUF
68.5
41.9
61.1%
4
CAR
80.9
59.6
73.7%
20
BAL
73.5
44.8
61.0%
5
JAX
66.1
48.1
72.7%
21
KC
118.8
71.8
60.4%
6
NE
89.9
65.0
72.3%
22
DEN
84.2
50.6
60.1%
7
PIT
112.4
80.3
71.4%
23
OAK
91.8
54.8
59.7%
8
NYG
96.7
67.5
69.8%
24
ATL
114.4
67.8
59.2%
9
PHI
94.6
65.1
68.8%
25
DET
91.3
53.8
58.9%
10
LAC
89.2
61.1
68.5%
26
DAL
92.4
54.1
58.5%
11
MIN
98.5
66.6
67.6%
27
IND
95.7
55.1
57.5%
12
CHI
81.7
54.8
67.1%
28
NYJ
76.7
43.4
56.6%
13
TB
114.1
74.6
65.3%
29
HOU
107.2
60.5
56.4%
14
SEA
80.1
51.4
64.2%
30
CIN
86.7
48.8
56.3%
15
NO
95.7
60.0
62.7%
31
MIA
74.5
41.8
56.1%
16
TEN
70.5
44.1
62.6%
32
SF
102.6
54.4
53.0%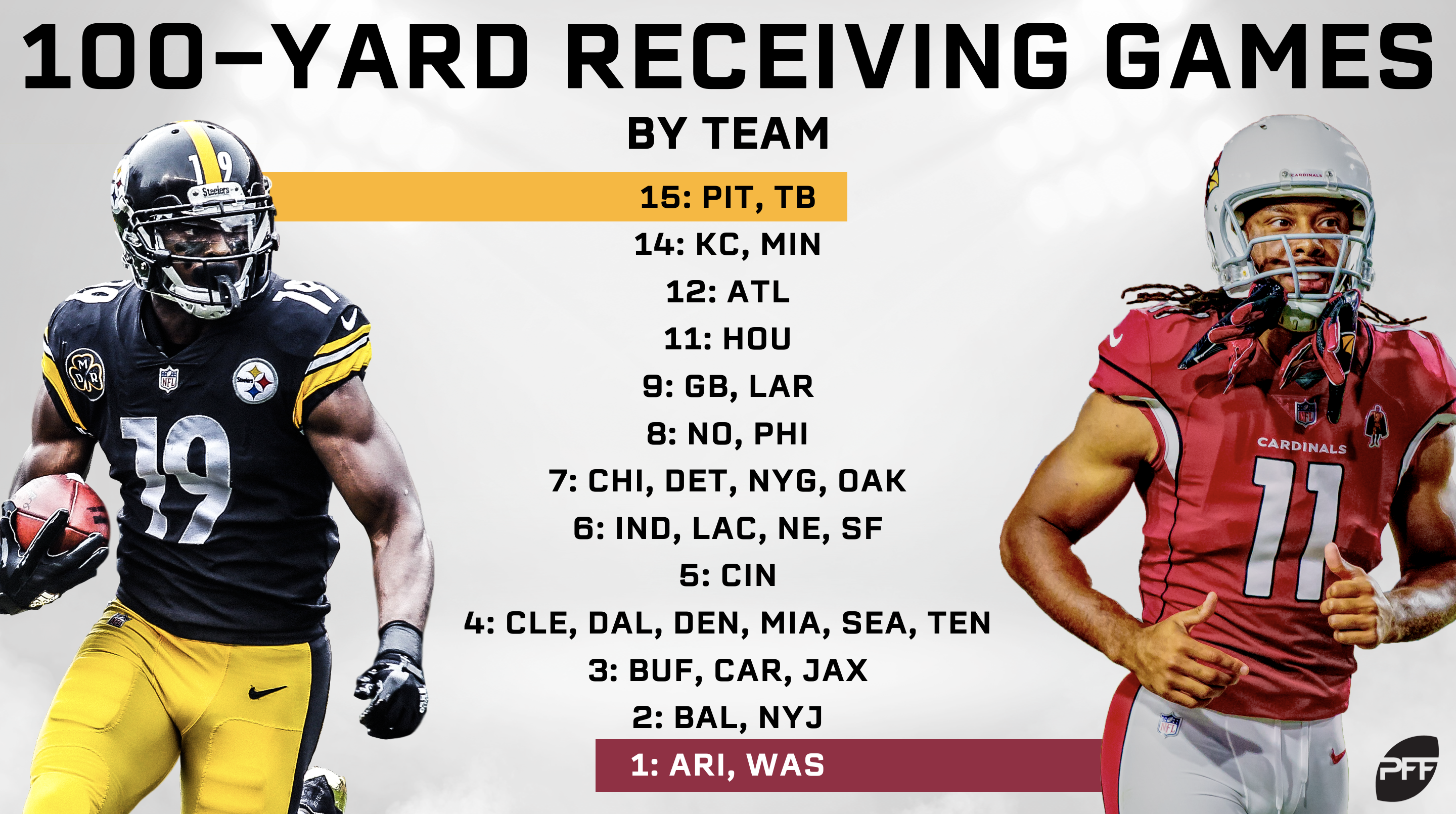 The Chiefs got the most yardage from their weekly No. 1 receiver at 118.8 yards per game, led by Travis Kelce and Tyreek Hill, who led the team in receiving in a game seven times each (Sammy Watkins and Damien Williams led the other two games). Interestingly, while Kelce was the Chiefs' No. 2 pass-catcher another six times, Hill was never the team's No. 2. He is at the elite of the receivers, but he's developing a serious boom-or-bust profile.
The Texans averaged 107.2 yards per game from their No. 1, 60.5 from their No. 2. The anti-Tyreek Hill, DeAndre Hopkins was first or second on the team in receiving yards a full 15 times (10 firsts, five seconds). His only week out of the top two was week 14, when Ryan Griffin and Demaryius Thomas led the way.
Washington had only one 100-yard game from a pass-catcher all season (and bonus points if you could guess that Maurice Harris was that receiver), averaging a league-low 65.3 yards from their No. 1 pass-catcher. For reference, 65.3 yards per game works out to 1,044.8 yards over a full season. You could have cherry-picked the best Washington receiver each game and still only finished 19th in the league in receiving yards.
The Jaguars had the second-lowest average from their No. 1, at 66.1 yards. They had three 100-yard games, but managed to cram two of them into Week 4, when Dede Westbrook and Donte Moncrief both reached the mark (Keelan Cole in Week 2 was the third).
Nine teams failed to get even 50 yards per game out of their No. 2 pass-catcher, with Miami (41.8 yards) and Buffalo (41.9) at the bottom of the pack. In fact, along with the Jets' fourth-worst 43.4, the AFC East had three of the bottom four slots.
Ten different teams got fewer yards from their No. 1 pass-catcher than the Steelers did from their No. 2; five got fewer than the Chiefs and Rams did from theirs.
The Rams had the third-highest percentage of yards from their No. 2 compared to No. 1, behind only the woeful Washington offense and the average Browns. And with a full 96.8-yard average from their No. 1, the Rams being that high in percentage is actually impressive, a testament to the team's deep slate of wide receivers. If you're going to draft a team's second receiver in 2019, the Rams are probably the best bet.
The 49ers had the lowest No. 2/No. 1 percentage, almost dropping below half. The team's No. 1 pass-catcher averaged 102.6 yards per game (seventh-best), while the No. 2 averaged 54.4 (19th). Obviously, this owes a lot to George Kittle, who led the team in receiving 10 times and finish second another four. Of the 49ers' four 100-yard receiving games in 2018, Kittle had four, with Marquise Goodwin and Dante Pettis nabbing one each.
Despite having Tyler Boyd and A.J. Green both healthy and on the field for half of the season, the Bengals had the third-lowest percentage, at 56.3%. The Bengals averaged 60.9 yards per game out of their No. 2 before the bye, but that dropped to 37.0 afterward, when Green was essentially out for the year. If Green and Boyd can both show they are healthy in 2019, that offense should support two pass-catchers.
The Colts had the second-lowest percentage in the league in 2017, sitting at 49.4% under Jacoby Brissett's quarterbacking. But that didn't rise that much in 2018, at 57.5%, sixth-lowest. This just isn't an offense that spreads the ball around that much in a given game, at least until the Colts show they can develop another receiver to go alongside T.Y. Hilton. Be careful when using any Colt receiver other than him, even in DFS, until we get a good reason.